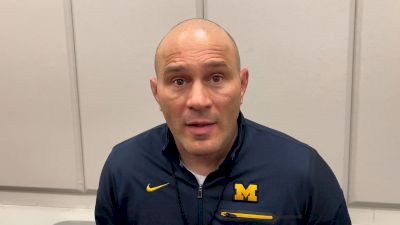 Unlock this video, live events, and more with a subscription!
Get Started
Already a subscriber? Log In
Unlock this article, live events, and more with a subscription!
Get Started
Already a subscriber? Log In
Consolation action is underway for day 2 of the Big Ten tournament. Michigan, Iowa and Penn State all have athletes in the backside looking for key team points. Michigan has the most still working for 3rd place. Given their slight lead, a buffer will be essential, especially considering Penn State's finalist firepower.
Consolation semis are beginning soon.
Michigan - 143
125
Nick Suriano wmd Dylan Shawver, 18-6
Semis - Nick Suriano wbf Devin Schroder
1st Place: Nick Suriano wmd Eric Barnett, 12-4
Points: 23
133
Dylan Ragusin dec Jake Gliva, 5-1
Dylan Ragusin dec Rayvon Foley, 3-1
Roman Bravo Young wbd Dylan Ragusin, 4-0
Dylan Ragusin wbd Chris Cannon, 7-2
Next Match: 3rd Place - Dylan Ragusin vs Lucas Byrd
Points earned: 11.5
141
Stevan Micic lbd Parker Filius, 7-4
Stevan Micic wbd Danny Bertoni, 9-7
Stevan Micic wbd Cayden Rooks, 6-5
Stevan Micic wbd Franki Tal-Shahar, 4-3
Jakob Bergeland wbd Stevan Micic, 3-0
Points Earned: 13
149
Mike Van Brill wbf Kanen Storr
Kanen Storr wbd Alec White, 5-1
Kanen Storr wbd Yahya Thomas, 8-7
Michael Blockhus wbd Kanen Storr, 7-5
7th Place -Beau Bartlett wbd Kanen Storr - 3-1
Points Earned: 4
157
Will Lewan wbd Sebas Swiggum, 6-2
Will Lewan wbd Chase Saldate, 3-1
Will Lewan wbd Brady Berge, 3-1
Ryan Deakin WBD Will Lewan, 7-2
Points Earned: 15
165
Cameron Amine wbd Kasper McIntosh, 5-1
Cameron Amine wmd Caleb Fish, 11-1
Cameron Amine wbd Carson Kharchla, 3-1 SV
1st Place - Alex Marinelli wbd Cameron Amine, 2-1
Points Earned: 16
174
Logan Massa wbd Troy Fisher, 8-3
Logan Massa wbd Mikey Labriola, 6-5
1st Place: Carter Starocci wbd Logan Massa, 5-1
Points Earned:15
184
Myles Amine wbd Isaiah Salazar, 9-3
Myles Amine wbd Kaleb Romero, 4-2
1st Place - Myles Amine wbd Aaron Brooks, 6-4 SV1
Points Earned: 19
197
Pat Brucki wbd Michial Foy, 8-3
Pat Brucki wbd Jacob Warner, 3-1
Eric Schultz wbd Pat Brucki, 3-2
Pat Brucki wbd Thomas Penola, 3-2
3rd Place - Pat Brucki wbd Jacob Warner, 3-2
Points Earned: 12.5
285
Mason Parris TF Brad Wilton, 18-3
Mason Parris wbd Lucas Davison
Gable Steveson wmd Mason Parris, 14-6
Mason Parris wbd Luke Luffman, 8-2
3rd Place -Greg Kerkvliet WBD Mason Parris, 5-3
Points Earned: 13
Penn State - 141.5
125
Michael DeAugustino wbd Drew Hildebrandt, 5-3 SV1
Pat McKee wbd Drew Hildebrandt, 6-3
Points Earned: 0 *Hildebrandt can wrestle for 9th but cannot earn team points.
133
Roman Bravo-Young wmd Matt Ramos, 11-3
Roman Bravo-Young wbd Dylan Ragusin, 4-0
1st Place - Roman Bravo-Young wbd Austin DeSanto, 3-1
Points Earned: 20
141
Nick Lee TF Joey Zargo, 16-0
Nick Lee TF Jakob Bergeland, 16-1
1st Place - Nick Lee MFF Jaydin Eierman
Points Earned: 24
149
Beau Bartlett wbd Michael Blockhus, 3-2
Austin Gomez wmd Beau Bartlett, 12-4
Beau Bartlett wbf Christian Kanzler
Mike Van Brill wbd Beau Bartlett 2-1 TB1
7th place - Beau Bartlett wbd Kanen Storr, 3-7
Points Earned: 7.5
157
Brady Berge wmd Garrett Model, 10-2
Brady Berge wbd Kaleb Young, 5-3
Will Lewan wbd Brady Berge, 3-1
Brady Berge wbf Kendall Coleman
3rd Place - Brady Berge wbd Kaleb Young, 3-1 SV
Points Earned:15.5
165
Creighton Edsell wbd Hayden Lohrey, 3-1 SV
Alex Marinelli wbd Creighton Edsell, 8-2
Cael Carlson wbd Creighton Edsell, 3-2
Points Earned: 1
Edsell Eliminated
174
Carter Starocci wbf Connor O'Neill
Carter Starocci MFF Michael Kemerer
1st Place: Carter Starocci wbd Logan Massa, 5-1
Points Earned: 23
184
Aaron Brooks wbf Kyle Cochran
Aaron Brooks wbd Taylor Venz, 7-2
1st Place - Myles Amine wbd Aaron Brooks, 6-4 SV1
Points Earned: 17
197
Max Dean wbd Greg Bulsak, 6-2
Max Dean wbd Cam Caffey, 5-2
1st Place - Max Dean wbd Eric Schultz, 4-2
Points Earned: 19
285
Greg Kerkvliet wbf Zach Schrader
Greg Kerkvliet wbd Christian Lance, 7-1
Tony Cassioppi wbd Greg Kerkvliet, 6-4 SV
Greg Kerkvliet wbd Lucas Davison, 5-3
3rd Place -Greg Kerkvliet WBD Mason Parris, 5-3
Points Earned: 14.5
Iowa - 129.5
125
Drake Ayala dec Tristan Lujan, 4-0
Eric Barnett wbd Drake Ayala, 4-3
Drake Ayala wmd Jacob Moran, 12-3
Pat McKee wbd Drake Ayala, 5-2
Next Match: 7th Place Drake Ayala vs Dylan Shawver
Points earned: 5.5
133
Austin DeSanto wbd Chris Cannon, 6-3
Semis - Austin DeSanto wbd Lucas Byrd, 4-3
Roman Bravo-Young wbd Austin DeSanto, 3-1
Points Earned: 15
141
Jaydin Eierman wbd Dylan D'Emilio, 10-3
Semis - Jaydin Eierman MFF Sebastian Rivera
Next Match: 1st Place - Jaydin Eierman vs Nick Lee
Points Earned: 17
149
Max Murin wmd Peyton Omania, 12-0
Max Murin wbd Yahya Thomas, 6-5
Sammy Sasso wbd Max Murin, 3-1
Max Murin wbd Mike Van Brill, 6-1
3rd Place - Max Murin MFF Ridge Lovett
Points Earned: 15.5
157
Brady Berge wbd Kaleb Young, 5-3
Kaleb Young wbd Rob Kanniard, 10-5
Kaleb Young wbd Chase Saldate, 5-3
Kaleb Young wbd Peyton Robb, 8-1
3rd Place - Brady Berge wbd Kaleb Young, 3-1 SV
Points Earned:10.5
165
Alex Marinelli wbd Creighton Edsell, 8-2
Alex Marinelli wbd Dean Hamiti, 3-2
1st Place - Alex Marinelli wbd Cameron Amine, 2-1
Points Earned: 19
174
Michael Kemerer wbf Connor O'Neill Fall 2:31
Michael Kemerer wbd Ethan Smith, 5-4
Carter Starocci MFF Michael Kemerer
Points Earned: 10
184
Abe Assad wbd Zach Braunagel, 6-4
Taylor Venz wbd Abe Assad, 4-2
Abe Assad wmd Layne Malczewski, 9-0
Kyle Cochran wbd Abe Assad, 4-3
7th Place Abe Assad MFF Isaiah Salazar
Points Earned: 13.5
197
Jacob Warner wmd Nick Willham, 17-4
Pat Brucki wbd Jacob Warner, 3-1
Jacob Warner wmd Jaron Smith, 10-1
Jacob Warner wbd Gavin Hoffman, 4-2
Jacob Warner wbd Cam Caffey, 5-3
3rd Place - Pat Brucki wbd Jacob Warner, 3-2
Points Earned: 13.5
285
Tony Cassioppi wbd Trent Hilger, 9-3
Tony Cassioppi wbd Greg Kerkvliet, 6-4 SV1
1st Place: Gable Steveson MFF Tony Cassioppi
Points Earned: 15