2022 NCAA Watch Party: Conference Weekend
Top 30 NCAA Conference Dark Horses
Top 30 NCAA Conference Dark Horses
Who are the top dark horses poised to out wrestle their seed at conferences? CP makes his best guess.
Mar 5, 2022
by Christian Pyles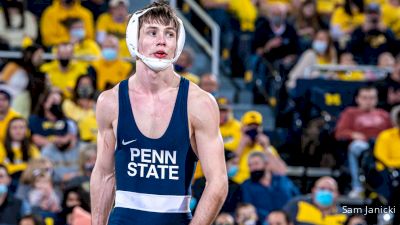 Unlock this article, live events, and more with a subscription!
Get Started
Already a subscriber? Log In
Every year on conference weekend we see standout performances from the talented but lower seeded wrestlers at their respective conference tournaments. I took a look at the seeds, the brackets, and the résumé's in many of the NCAA conferences and condensed a list of the top 30 dark horses for this weekend's conference tournaments.
Being able to quickly refer to brackets and their draws will be helpful for this article so check them out here: Big 10, Big 12, EIWA, ACC, and Pac 12.
125
Pat McKee, Minnesota (8th Seed) Big 10 125
Ok, this one isn't fair, but I'm starting with a gimme early. Pat got 3rd at NCAA's last year but has struggled to reach that level again. Pat has struggled but is still an impressive 3-0 against Iowa's Drake Ayala. It's not as though he hasn't had any success. He's likely to fall to Suriano early, but on the backside is right where McKee terrorized last year at NCAA's.
Kysen Terukina, Iowa State (6th seed) Big 12 125
Terukina has been a fun surprise this year for Iowa State. 17-3 with losses to Surtin (deceiving 7-1 loss, look into it), Teske, and Prata. He is cat-quick with really smooth leg attacks. If he were in the Big 12 finals, I wouldn't bat an eye.
Joey Prata, Oklahoma (7th seed) Big 12 125
As I mentioned, Prata knocked off Kysen earlier this year, but he's also won his last 6 headed into Big 12's avenging a loss to Trevor Mastrogiovanni along the way. Prata is tough to score on and a good leg rider.
Drake Ayala, Iowa (6th Seed) Big 10 125
I think Drake makes the finals. His low seed isn't much of a detriment given his path. It won't be easy, and a match against HIldebrandt will be a huge challenge, but he can go with just about anyone on their feet.
133
King Sandoval, Maryland (13th seed) Big 10 133
Ok yes, I know. He's just a bit above .500 with a 15-13 record. But did you know that 13 of his 15 wins were by pinfall? So quit your naysaying.
Chris Cannon, Northwestern (7th Seed) Big 10 133
Last year Cannon knocked off Michael McGee (via pinfall) and another All-American in Louie Hayes. While he'll hit DeSanto early, he should be set up for some revenge against Ragusin, Foley, and Byrd, all of who beat him this season.
Anthony Madrigal, Oklahoma (7th seed) Big 12 133
Madrigal started the season knocking off #5 Lucas Byrd, #7 Rayvon Foley, and #8 Dylan Ragusin. He's opposite Daton, so there's a navigable path to the finals for the Sooner.
141
Carter Young, Oklahoma State (5th seed) Big 12 141
Young's inclusion is all about pedigree. At this point, we know his Freestyle wins over NCAA Champs Nahshon Garrett and Seth Gross aren't fully folkstyle transferable. Regardless, he's a True Freshman with some fantastic skills. I am excited to see what he can do in Tulsa.
Joey Zargo, Wisconsin (8th seed) Big 10 141
Every year Freshmen with up and down seasons put it all together in March. Zargo is young, and in a brutal weight class that only has 7 auto-qualifiers, so he'll have to have his best weekend to qualify in all likelihood.
149
Cory Crooks, Oregon State (4th seed) Pac 12 149
Like the ACC, the Pac 12 has only 6 teams that wrestle. Crooks has knocked off some good wrestlers in his day: Jarrett Degen and Manzona Bryant (twice). Being on his former teammate Kyle Parco's side is no fun, but I could see him out-performing his seed one way or the other.
Josh Edmond, Missouri (4th seed) Big 12 149
Not sure how much of a sleeper Edmond is or isn't, but if he can put full matches together he is incredibly dangerous.
Jarod Verkleeren, UVA (5th seed) ACC 149
You have to remember, there are only 6 teams in the ACC, so the bar is different when considering who the dark horses are. Verkleeren is an NCAA qualifier whose defense keeps him in a lot of matches. He gave 2nd seed Bryce Andonian a real test in their dual last month.
157
Justin Thomas, Oklahoma (6th seed) Big 12 157
Just a year ago he knocked off All American's Jacori Teemer and Wyatt Sheets (twice). We all remember what OU did last year at Big 12's. Thomas will need to regain that form in order for OU to make a push.
Parker Kropman, Drexel (8th seed) EIWA 157
You never quite know when it'll happen, but Parker Kropman can pull some upsets. In his career, he has knocked off Matthew Kolodzik and Kendall Coleman. Don't look past him.
Brady Berge, Penn State (10th seed) Big 10 157
There's not a ton of track record of dark horse performances from wrestlers who started the season as D1 coaches, then joined their old team in the second semester. Truly uncharted waters for D1 wrestling. That said, Berge is down at his best weight at 157 and has had a little time to acclimate and get back to D1 wrestling shape. You're kidding yourself if you don't think he can make the finals. He has a win over the 2-seed Kaleb Young and the 3-seed Will Lewan. This is a layup. Of note, the Big 10 only gets 7 spots, so he'll have to have a good showing to ensure NCAA qualification. He is not going to be a strong wildcard candidate because of his lack of matches.
Connor Brady, Virginia Tech (6th seed) ACC 157
He is a deserving 6 seed, having lost every ACC match this year. Throw out his tech fall loss to NCAA Champ Austin O'Connor, he lost in SV to Cleary, 4-3 to Unger, 5-3 to Keating, and 4-3 to Scott. He had the first TD over Scott as well. He could be due to reverse some of these closer matches.
165
Tanner Cook, South Dakota State (6th seed) Big 12 165
You gotta watch this guy. He's crazy. While he doesn't have the huge wins of Dylan Ness, that's the best approximation of his style I can think of. He wants you on his leg, he needs you on his leg. From there, chaos ensues.
174
Lance Runyon, UNI (4th Seed) Big 12 174
He pinned the 1 seed this year (Dustin Plott). Runyon's wrestled a very limited schedule this year. His only loss is to Anthony Mantanona. He's a pretty scare draw for his seed.
184
Donnell Washington, Indiana (9th seed) Big 10 184
Washington is one of those wrestlers you watch and say "when he puts it all together, watch out." While his move up to 184 isn't what many expected, the Junior World Teamer can't be discounted.
Kyle Cochran, Maryland (8th seed) Big 10 184
Cochran actually will be Washington's first match in the tournament. He has been having the rare 5th year breakout season which was highlighted by a Southern Scuffle title.
John Poznanski, Rutgers (7th seed) Big 10 184
The Poz became a household name last year when he took 4th as a True Freshman in a loaded 184 bracket at NCAA's. He won his first 13 to start the year but has dropped 4 of his last 7. Despite falling off the path slightly, his wins over Dakota Geer, Louie DePrez, Nelson Brands, and Rocky Jordan are undeniable.
Chris Weiler, Wisconsin (11th seed) Big 10 184
Plenty of dark horses in this weight. Weilier has wins over Chip Ness, Greg Bulsak, Frank Mattiace, Jake Woodley, Louie Deprez and Taylor Venz in his career.
Jeremiah Kent, Missouri (6th seed) Big 12 184
His dangerous feet-to-back capability was on display when he put the 2 seed, Marcus Coleman, on his back in a huge win last month over the Cyclone stud. Kent will need to run through both Samuelson and Coleman (likely) again to make the finals, but it's navigable.
Max Lyon, Purdue (13th seed) Big 10 184
It's insane enough the Big 10 got 12 spots out of 14 wrestlers in the conference. But when a wrestler as tough as Lyon is seeded outside the top 12, it puts it in more perspective. Lyon has wins in his career over Taylor Venz, Rocky Jordan, Nelson Brands, and Cam Caffey in his career.
197
Gavin Hoffman, Ohio State (9th seed) Big 10 197
Anyone watching Hoffman this year knows he has taken a step forward. Close matches with #1 Max Dean and wins over Greg Bulsak and Tanner Sloan make a strong case he could out-wrestle his seed.
Rocky Elam, Missouri (5th seed) Big 12 197
Another Junior World Champ sleeper. Rocky has had some moments this year. While Bastida and Buchanan is no picnic, He can't be discounted as a potential Big 12 champ at 197. I almost feel like Rocky is a bit too established to be a dark horse here.
Owen Pentz, NDSU (6th seed) Big 12 197
How many guys do you know walkin' round these parts with a pinfall win over Eric Schultz AND Stephen Buchanan? Probably just Pentz.
Matt Wroblewski, Illinois (14th seed) Big 10 197
Ok, this is a deep sleeper, borderline comatose out of the last seed, but the case is simple: He beat Cam Caffey this year. Caffey is the third seed and the only person to beat #1 Max Dean this year. Caffey and Wroblewski will wrestle in round 1.
Braxton Amos, Wisconsin (8th seed) Big 10 197
The Junior World Champ hasn't had the season many (myself especially) predicted. Be it a combination of weight or typical Freshman learning curve, Braxton has not been the title contender out the gate I anticipated. He is extremely competitive in his matches where he lost falling just 3-1 to both Eric Schultz and Jacob Warner.
Michial Foy, Minnesota (12th seed) Big 10 197
He has a little momentum after his win against Gavin Hoffman to conclude his 2022 regular season. He also gave Jacob Warner a real challenge when he fell 6-4 and was on Warner's leg as time expired.