2022 NCAA Watch Party: Conference Weekend
Cowboys Searching For 'Crazy Effort' In Bigger, Better Big 12
Cowboys Searching For 'Crazy Effort' In Bigger, Better Big 12
Oklahoma State has often been a runaway winner during the past decade at the Big 12 Championships, but it's a multi-team race this year.
Mar 3, 2022
by Roger Moore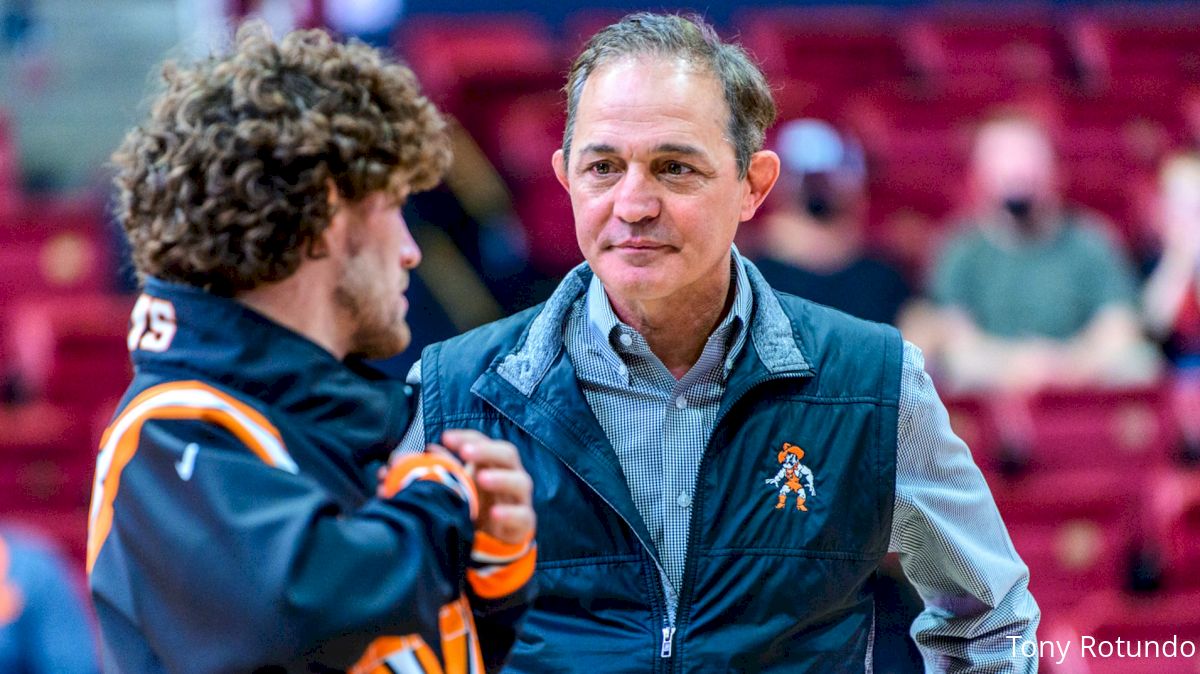 Unlock this article, live events, and more with a subscription!
Get Started
Already a subscriber? Log In
A decade ago, the Big 12 tournament consisted of four teams with one of them on its way to another conference.
In its home arena, Missouri edged Oklahoma State by four points in its final tournament before departing for the Mid-American Conference. Iowa State finished with a minuscule 24 points — 36.5 behind third-place Oklahoma.
West Virginia took Missouri's place and the Big 12 stuck with four wrestling programs for each of the next three seasons.
Bigger, but not necessarily better, the conference expanded to 10 teams in 2016. Oklahoma State outdistanced second-place Oklahoma by 61 points.
After moving to Tulsa in 2017, the Cowboys hoisted the team trophy by margins of 83, 40.5, 43.5, and 31; a year ago Oklahoma State and Bedlam rival Oklahoma tied for top honors. It adds up to nine straight conference championships for the Cowboys.
Oklahoma State coach John Smith always likes his team to be "above the parity," preferring to watch those hotly-contested team races for second and third. Entering this weekend's Big 12 Championships in Tulsa, Smith knows that his wounded squad is right in the middle of what is expected to be an every-point-counts type of weekend.
"It's going to take a real crazy effort," said Smith, whose squad finished the season with an uncharacteristic four dual losses and ranked outside the Top 10 in most polls. "Either you buy into that crazy effort or it isn't going to happen. We've had a really good two weeks of training. We didn't lay back and worry about injuries, didn't take it easy, we went at it pretty hard. You just keep going forward."
The injury bug has had an unwelcome influence since February. National champion A.J. Ferrari, undefeated at 197 pounds, was lost for the season after a car accident. All-American 165-pounder Travis Wittlake has not wrestled like his typical self most of the second semester and did not compete in Oklahoma State's 17-15 Bedlam thriller. Trevor Mastrogiovanni was cruising along at 125-pounds, but an injury kept him out of the loss at Missouri. All-American Wyatt Sheets also missed Bedlam.
Dustin Plott, the top seed at 174 pounds, knows all about late-season injuries.
This is part of the deal for college wrestlers in March. Plott wrestled through a shoulder injury last March and qualified for the NCAAs in his first try.
"Tweaks happen throughout the season and I think it's safe to say that everyone has had some sort of tweak, an injury of some kind," Plott said. "Wrestling my entire life, it's just something you deal with this time of year."
Getting a 10th straight conference title won't be easy for the Cowboys. Iowa State, Missouri, Northern Iowa, Wyoming, Oklahoma, North and South Dakota State each bring plenty of talent. But the Cyclones — looking for a first league crown since a 2009 tie with Nebraska that came down to the final bout of the tournament — provide the biggest challenge.
"(Iowa State) has a real leader on the team in (NCAA champion David) Carr; he seems to be a guy that has really taken that program under his wing with the success that he has had," Smith said of the Cyclone 157-pounder. "It's important for this conference for Iowa State to be competitive. Missouri coming back adds some depth to this league. It creates an environment, especially a competitive environment prior to the NCAA Championships.
"I'm not sure running away with some of those (Big 12) meets by 60 points really did anything for us, just maybe created a false sense of success. We are a long way from those first meets; the league is better and this weekend is going to be very competitive."
Ready To Rock Again
Senior Kaden Gfeller (14-2) has not gone into a Big 12 meet 100-percent healthy since 2019 when he beat ISU's Jarret Degen in the 149-pound title bout. The Oklahoma City product did not compete in 2020 and a year ago cut to 141 pounds after wrestling just five matches. Gfeller is taking good vibes into his final weekend.
"It's a great tournament, like a home tournament for us," said Gfeller, who, out of frustration, has had difficulty watching the Big 12s the last two years. "I haven't watched from the stands, couldn't. But I'm healthy this year and I am ready to rock.
"(The Big 12s) are going to be a scrap. With everything that has happened to us this year, to win it would be pretty special, to overcome everything that we have. Bonus points, it all comes into play and winning every match we can, going after bonus points will be important."
Gfeller edged Degen, this weekend's #3 seed, in February and earned a last-minute major decision of #2 seed Willie McDougald two weeks ago.
Noteworthy
● Daton Fix (17-0) is a two-time Big 12 champ (2019 and 2021) and is 64-3 for his career with two of the losses coming in the NCAA finals. Three of Fix's five regular decisions this season have come against Big 12 opponents – he has 12 bonus-point victories. Fix, like Gfeller and Plott, is a #1 seed.
● After winning a Big 12 title as a freshman, Wittlake (9-5) finished third last March and enters this weekend seeded fourth behind Missouri's Keegan O'Toole, West Virginia's Peyton Hall, and Northern Iowa's Austin Yant in a 165-pound bracket that also includes the dangerous Tanner Cook (South Dakota State) and Luke Weber (North Dakota State). The league received four allocations at 165 pounds, putting some pressure on Wittlake to finish inside the top four.
● Seven different squads have at least one # 1 seed with Oklahoma State (3) and Iowa State (2) leading the pack. Air Force, Wyoming, Northern Iowa, Missouri, and West Virginia each have one. "It's kind of cool, but you hear it all the time that seeds don't matter," Plott said. "I am going to go earn it this weekend. Going into the tournament I'm keeping the same mindset if I was #1 or #8 … I've still got to go beat everybody."
● Brian Smith's Missouri program won nine straight MAC titles after exiting the Big 12 in 2012. Since arriving prior to the 1997-98 season, Smith has turned the Tigers into a consistent member of the nation's top 15 programs. Seeds do not show the Tigers winning this weekend with only O'Toole as a #1 pick. "Brian Smith has done an outstanding job at Missouri," John Smith said. "He's built a solid program and I don't think we can underestimate what it means to have them back in the Big 12. Our guys know what it's going to take to win this weekend and Missouri is one of those teams, when you go head-to-head, you've got to beat them if you are going to win a conference championship."