The Full New Jersey State Tournament Bracket Breakdown
The Full New Jersey State Tournament Bracket Breakdown
After a one-year hiatus, the New Jersey state tournament returns to Atlantic City. Get ready for this weekend with a look through the brackets.
Mar 3, 2022
by Brendan Scannell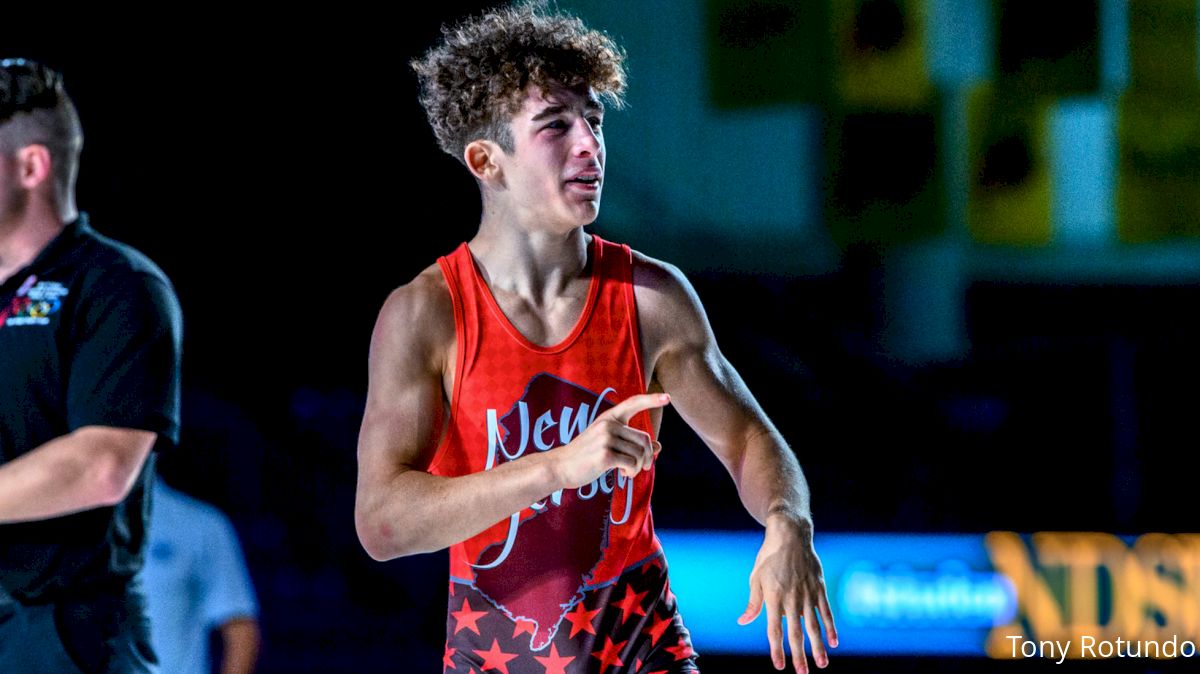 The New Jersey state championships return to Atlantic City after a one-year hiatus and wrestling fans across the state are glad to be back.
Let's not waste any time and get right into breaking down this year's New Jersey state tournament weight by weight.
106 pounds
What a fun weight class.
Super 32 placer Adrian DeJesus looked like the favorite all season long before returning state finalist Logan Wadle knocked him off, 7-6, in the Region 4 final. He still got the #1 seed, though, thanks to wins over Patrick O'Keefe, and a prior win over Wadle.
O'Keefe is solid on his feet and could give Wadle (who he already beat earlier this year) trouble on the bottom half where the pair is seeded third and second, respectively. Wadle suffered some losses early on up a weight but is now wrestling like a new man down at 106 pounds
Look out for Brian Melamud as a potential finalist on the top side. The sophomore from Bergen Catholic has been good all year aside from a loss to Paino which he avenged in dominant fashion in the Sectional final, scoring a lot of easy takedowns along the way. He could see him again second round.
Rossi of Hunterdon Central is also a finals contender, but he's got a tough draw before a likely quarter against O'Keefe, while returning placer Aidan Carmody is sitting pretty at the #4 seed. Be sure to keep an eye on the top three guys in region 7, too. Kurt Wehner, Luke Sherlock and Dom Digiacomo all have bracket-busting potential.
You'll want to see every round of this one.
First-round matchup we won't miss: Dom Digiacomo (Camden Catholic) vs. Jason Seda (Jackson Memorial)
113 pounds
Anthony Knox is the top dog, entering the tournament ranked #2 in the country. But the St. John Vianney freshman comes in as the 4 seed, due to no prior state criteria, so his toughest match could come on Friday night against returning state champ Daniel Jones who is, as Knox told FloWrestling back in September, is "a gamer." Everyone's looking forward to that one.
Returning placers Brunner and Jacome got the 2 and 3 seeds down low. There was a point earlier this season when Brunner, who was wrestling up in weight, nearly fell out of the rankings. Now, down at 113 pounds, he could make a run to the finals. But not if South Plainfield's Jeff Jacome has anything to say about it.
Malik Asfour was an exciting surprise at last weekend's Region 2 tournament, where he beat previously ranked Dylan Ross to take the title and MOW honors. He's been a point-scoring machine all season long and we'll see if the junior from Lodi keep this run going all the way to the state finals.
Carson Walsh, at the 15 seed, made some noise at Fargo this summer and eyes a much better draw than his seed may indicate.
First-round matchup we won't miss: Joe Aldrich (Somerville) vs. Malik Asfour (Lodi)
120 pounds
This is the bracket a lot of people in New Jersey are the most excited about. And there's no safe bet this weekend in Atlantic City.
Collins and Nini are the top two seeds, thanks to wins over the returning state champ Tallmadge. Collins nearly had Tallmadge pinned at the buzzer of last season's state final before time expired, but he won the rematch earlier this season. Nini's win over the returning champ came in the Region 6 final last weekend.
Nini has exploded onto the national scene in the past year with plenty of high-level wins and placements at Super 32 and Beast after an eighth-place finish as a freshman in 2021. If he gets past returning state placer Bastarikka in the quarters, he'll likely get Tallmadge again.
Seniors Luke Stanich and John Hildebrandt have been state tournament staples for the past two seasons and will head to Atlantic City planning to finish their careers on top.
There's a big crop of guys in this bracket who could reasonably make the podium here, so the fire matchups will begin on Thursday and no one will have an easy quarter Friday morning.
First-round matchup we won't miss: Taisei Kurachi (River Dell) vs. Jake Zaltsman (St John Vianney)
126 pounds
This weight is not unlike the last one in that, there are more than a few guys that could be standing atop the podium on Saturday night. The top six guys in the state here are all on a roll at the right time, each winning their own region titles to punch their tickets to Atlantic City.
2020 state champ and runner-up last year, Mougalian is the favorite and the #1 seed but there's no easy path at this one. Stout in a potential quarter is a tough matchup that will loom large. Only a freshman, Stout is really difficult to score on, but Mougalian has a way of working to his finishes. In a senior vs. freshman matchup, it's easy to pick the senior, but this one could get interesting.
Stout won't be the only freshman looking to make a splash at his first weekend in Atlantic City. Caedyn Ricciardi is ranked #18 in the country with titles at Sam Cali and Escape the Rock. Can he win a state title out of the gate? We'll find out this weekend.
But that's still not it at this weight. Kingsway sophomore Nate Taylor has proven he can beat anybody he steps on the line with. Meanwhile, Totten, Zaleski, Wallace and Manno have all placed in the state twice before.
So, take your pick.
First-round matchup we won't miss: Daniel Haws (Lenape Valley) vs. Nick Cottone (Shawnee)
132 pounds
A rematch between Anthony Santaniello vs. Tyler Vazquez will be one of the weekend's biggest showdowns.
Santaniello, a recent Oklahoma commit, is the returning state champ, while Vazquez, the only guy to beat Santaniello in the past two seasons, is still in search of his first state finals appearance.
Their match in the Beast of the East finals was one where Vazquez controlled the match on the feet, scoring two takedowns early and holding on for the win. Santaniello avenged a prior loss to Evan Mougalian to win the 2021 state title, so don't you shouldn't doubt his chances at getting revenge once again.
Not to be left out, Ryan Ford placed third last year as only a freshman. Be on the lookout for him and guys like Aaron Kurzer, Nico Diaz, and Delsea freshman Jamar Dixon who hope to play spoiler to a Santaniello vs. Vazquez final.
First-round matchup we won't miss: Hayden Hochstrasser (Southern) vs. Jamar Dixon (Delsea)
138 pounds
This is a really deep top five.
Delbarton freshman Alessio Perentin has been really good all year with a Region 3 title to go along with a fourth-place finish at Beast but comes in as the #7 seed and will have a potential rematch with Joe Cangro in the quarters. Cangro won the last one.
Julian George is #1 in the state 1 seed and looks to have a really good path to the finals, but Wisconsin recruit Felix Lettini could have something to say about that in the quarters.
Alex Almeyda, enters as the #3 seed on the back of three state podium finishes but has never been in the finals and it'll be tough sledding this time around, too. Henrich and Miranda are coming on strong late in the season but unfortunately both wound up in what is already a loaded bottom half.
You can expect some fireworks in this one.
First-round round matchup we won't miss: Gavin Haegle (Eastern) vs. Joey Miranda (Kingsway)
144 pounds
National #4 Ty Whalen is Princeton's top recruit in the class of 2022. Last year, he was the breakout star in Phillipsburg, when he won the state's deepest bracket. This year he hopes to claim state title number two under the bright lights of Boardwalk Hall where he placed for the first time back in 2020.
Delbarton's Cross Wasilewski looks to have a really nice path to make the finals opposite returning champ, Whalen. You can count on him to bring the pace and won't hold back on attacks in a potential final.
Speaking of pace, Drew Roskos was impressive all weekend long at Region 7, but he got a tough draw with a potential second-round matchup with Whalen.
Fongaro, Bacchioni and Sherman, among others could all wreak some havoc on Friday if they're at their best.
First-round round matchup we won't miss: Chase Casey (Camden Catholic) vs. David Hussey (Middletown South)
150 pounds
2021 state champ Andy Troczynski looks to be one of the weekend's biggest favorites to win his second title in a third finals appearance.
Who comes out on the other side is anyone's guess.
Frank DiBella made his debut in the rankings this week after a stellar regions performance. Don't be surprised if you see him wrestling in Friday night's semis.
Laith Hamdeh also snagged a really good draw thanks to a successful Region 2 tournament, winning the title over Dan Rella.
First-round round matchup we won't miss: Jason Smith (Boonton) vs. Jake Slotnick (St Augustine)
157 pounds
Simon Ruiz and Dakota Morris seem to be on a collision course for the finals here. Ruiz has finished third and second in the state in two high school seasons so all signs point to his next step being the top of the podium. But Morris is a dangerous wrestler as he's proven his whole career.
Jasiah Queen and Tanner Peake are worthy contenders, as well, and the pair traded wins at districts and regions. Queen will be tested early against Tyler Sagi in the second round Thursday.
Joe McCullough at the #11 seed is a dangerous matchup for anyone in this bracket. Look out for the Toms River East senior to be a potential quarterfinal spoiler. Freshman Rocco Dellagatta could be, too.
First-round round matchup we won't miss: Hunter Cleaver (Phillipsburg) vs. Jordan Chapman (Cranford)
165 pounds
The top two at this weight class have seemed to separate themselves for most of the season.
Mays is the defending state champ and Fea put on a show at Powerade back in December where he won the title and enters ranked #12 in the nation.
Fea took out the 3 seed Freeman, a third-place finisher in the state a year ago, in the Region 2 finals last weekend and should see him again in the semis.
Mays got a nice draw to a possible semifinal matchup against the winner of what will likely be Jurius Clark and Louie Cerchio.
Don't forget, Cerchio, who was pinned by Max Lee in last weekend's most shocking result is still a Fargo champ and will look to disrupt the plans for what some may expect to be a Mays vs. Fea final.
First-round round matchup we won't miss: Brandon Smith (Freehold Boro) vs. Max Lee (Livingston)
175 pounds
175 pounds has been a battle in the top five all season long.
Dellagatta has been #1 in the state all year and enters as the 3 seed in a deep bottom half that includes Sabino Portella, George Rhodes and Brick Memorial's Harvey Ludington who's proven in his freshman campaign that he can put some serious points on the board. Still, it feels like Dellagatta is going to win the scrambles and can find just enough to navigate a spot in the finals.
Addison, at the #1 seed, got the best draw in the bracket, but this weight isn't just five deep. It's crowded up in the top side, too.
Delbarton's Vincent Lee, at the #13 seed, was in the Beast finals, while fourth-seeded Onello is a returning state finalist. They could hit in the second round with the winner getting two-time placer Jared Schoppe.
175 pounds is another one that feels wide open for the taking.
First-round round matchup we won't miss: Jimmy Dolan (Pequannock) vs. Max Borton (Seneca)
190 pounds
High Point senior and Rutgers commit Brian Soldano is looking cap one of the most dominant three-year runs the state's seen since the days of Nick Suriano. He enters this year's tournament on a three season-long undefeated streak in-state and #3 ranking in America.
In this bracket, a "dream draw" is one where you wind up on the opposite side of Soldano.
Some picks to come out of the bottom half could be Hudson Skove, Remy Brancato, Alex Uryniak and Josh Palacio, to name a few.
First-round round matchup we won't miss: Brian Christie (St Josephs – Metuchen) vs. Mike Malucelli (Marlboro)
215 pounds
This weight class should feature the showcase match of the weekend.
The top two wrestlers in the state — P.J. Casale and Martin Cosgrove — both won state titles back in 2020. Last year, though, neither competed in states at Phillipsburg. Cosgrove was out with a hand injury while Casale was making the Cadet World team.
Cosgrove got the #1 seed, which means Casale could get the #3 guy in Fricchione, who he pinned in the Region 2 finals.
The rest of the top 10 and a few guys outside of it like David Pierson, Nick Burns, Jarrett Pantuso are all serious contenders for the podium.
First-round round matchup we won't miss: Riley Camoia (Mt Olive) vs. Scott Lynch (Audubon)
285 pounds
This weight is all about Jim Mullen.
Like P.J. Casale at 215 pounds, Mullen opted to forgo his shot at a second state title in 2021, instead making the Cadet World team, which he turned into a silver last summer at Cadet Worlds. The #2 heavyweight in the country, is clearly a "heavy" favorite to take home gold again this weekend.
Acciardi looks like the easy pick to meet Mullen in the finals. He's been dominant against the rest of his 285-pound competition with wins over ranked wrestlers Brogna and Akers. He and Mullen also met earlier this season where Mullen won 8-2.
Still, there's a bunch of different guys capable of snagging a spot on the podium.
The 4/5 quarter is loaded with talented heavyweights.
First-round round matchup we won't miss: Aidan Geisenheimer (Cherokee) vs. Kevin Shriner (Cranford)