2022 High School State Championship Hub
High School Insider: Nation's #1 Will Be Decided at National Preps
High School Insider: Nation's #1 Will Be Decided at National Preps
The nation's #1 spot is on the line at National Preps, while California and Oklahoma showcase some of the nation's top individual battles this weekend.
Feb 25, 2022
by Brendan Scannell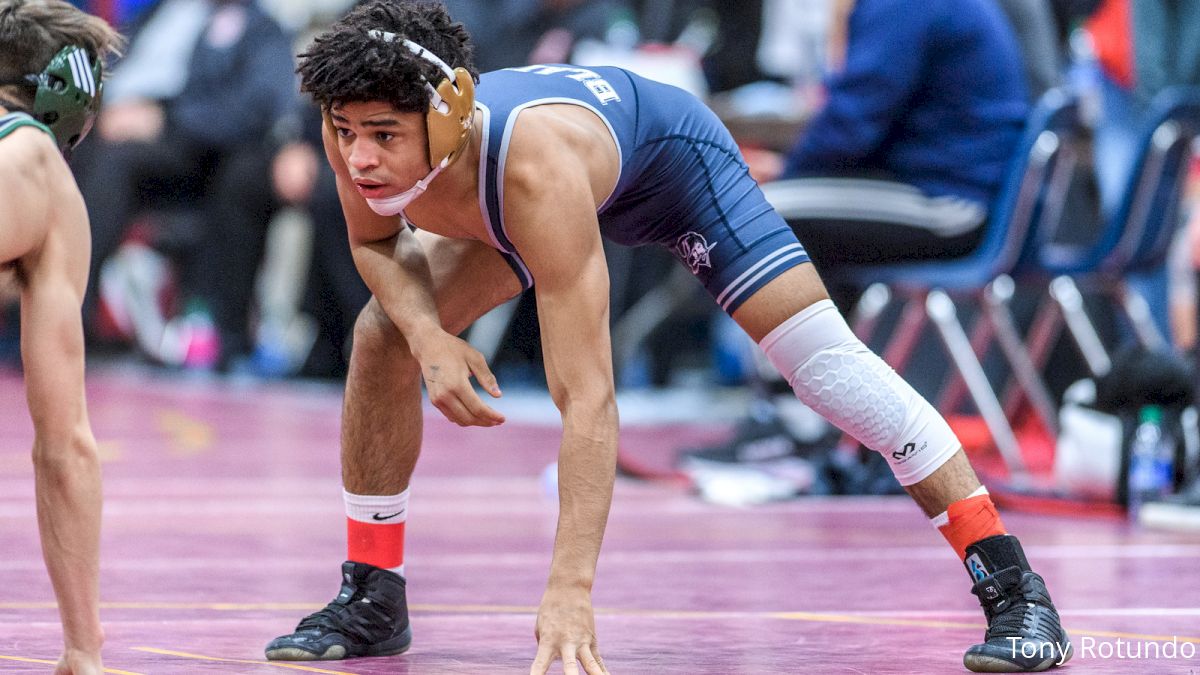 We opened the season discussing the three-horse race for the nation's top team between Wyoming Seminary, Blair and Malvern Prep. Each spent the season making their cases as to why they are the nation's #1 team, and this weekend is the last chance to prove it. There's a number of exciting head-to-head battles slated to go down and a title on the line.
Sem enters as #1 as a result of its dual meet win over Blair back in January, but the Knights will be without a couple of their horses this weekend. Most notably, #5 Gabe Arnold and #14 Vince Bouzakis, whose seasons were cut short due to injury.
To provide a further glimpse into just how evenly matched these teams look to be headed into this tournament, all three claimed major team titles this season and all three enter National Preps with four wrestlers holding the top seed in their respective brackets. Sem, Blair and Malvern each have a Flo pound-for-pounder of their own, Nic Bouzakis (132), TJ Stewart (220) and Nick Feldman (285) who come in as three of the weekend's biggest favorites and can be expected to put an exclamation point on what have been stellar prep careers.
#1 Marc-Anthony McGowan vs #4 Luke Lilledahl at 120 pounds is the matchup everyone should have circled. Both have made cadet world teams during their high school careers, with McGowan winning a World title in 2019 and Lilledahl finishing as runner-up just this past summer. Despite Lilledahl spending much of the season down at 113, don't expect size to be an issue in this one. McGowan will be looking for his usual quick attacks, but Lilledahl can really go on his feet, as well, so this one might be decided on the mat.
Despite the absence of Arnold, we could still get a fun matchup at 170 between Blair's Danny Wask and Lake Highland's Jonathan Ley if both can navigate their way to the finals. Wask and Ley both won titles at Beast of the East in the beginning of the season – Ley at 160 and Wask at 170. Though Wask was the National Prep champ at 106lbs as a freshman back in 2019, he finished fourth two years ago. He'll be hoping to reclaim that championship mojo and we'll see if Ley can weather the storm of leg attacks that are sure to come his way.
Check out our full National Preps preview HERE and be sure to tune in for the action all weekend long ONLY on FloWrestling!
California Here We Come
After a year hiatus as a result of pandemic-related cancellations, the California state championships return to Bakersfield where 14 worthy wrestlers will be crowned state champ in, where else, but the Golden State.
In 2020, Buchanan won its fifth straight team title and the Bears appear to be the favorites to make it six in a row this weekend with standouts like Ray Ray Harris, #7 Jack Gioffre, #9 Michael Gioffre and #8 Joseph Martin looking to propel them to victory.
But, of course, they'll really have to earn it here in single class California, where the brackets are littered with talented young wrestlers hungry for a chance to etch their own name into history. There isn't a single returning state champion from the 2020 championships, so everyone this weekend will be hoping to climb atop the podium in Bakersfield for the first time.
Palm Desert's Mantanona brothers, Beau and Brock, both occupy the #1 seeds in their respective brackets as each is eyeing his first state title to match older brothers Troy and Anthony who both won in 2017 and now compete collegiately for the Oklahoma Sooners.
Beau, still only a junior, strayed from the family tradition with his recent commitment to the University of Michigan and is part of star-studded 138-pound weight class that could come down to him and Buchanan's Michael Gioffre, who Mantanona edged in the Doc Buchanan finals after a wild flurry in sudden victory. First, though, Mantanona will have to get through #15 Kimo Leia, who won the California State Finals Invitational last year.
The younger Mantanona, Brock (126), is also part of a weight class that will feature multiple nationally-ranked wrestlers, as well. The trio of Manatanona, #4 (at 120) Aiden Valencia and #19 (at 120) Ethan Perryman should be one to keep an eye on all weekend long.
After all, in a state like California, you don't have to wait for the finals for a primetime showdown. The top half of the 132-pound bracket could see a nationally ranked matchup in the quarterfinals between #13 (at 126) Fernando Barretto and #11 Brock Bobzien. Similarly, 106 could feature a slugfest of a quarter between freshmen #14 Nikade Zinkin and #18 Ronnie Ramirez.
At 113, #1 Joey Cruz — the state's highest-ranked wrestler — returns in search of his first CIF state title after finishing as a runner-up at the weight class back in 2020.
Oklahoma's Best Set to Clash in 6A
6A is the division to watch in Oklahoma this weekend. It's a division that includes a few of the nation's best teams like Bixby, Broken Arrow, Mustang, and of course, Stillwater leading the charge.
Stillwater standouts include returning state champs Sam Smith, #7 Cael Hughes, JJ Rogers-McComas, #6 Angelo Ferrari, plus some breakout newcomers that include freshman Ironman champ #6 LaDarion Locket and #17 Kael Voinovich.
Nine of last year's champs came from either Stillwater or Bixby and don't expect this season to be all that different with nearly half of the nationally-ranked Oklahomans coming from one of these two schools.
At 160, look for #6 Angelo Ferrari and #7 John Wiley to clash in a huge semifinal that's likely to set up the weekend's biggest finals match with pound-for-pounder Jordan Williams awaiting the winner. This is Williams' first season in 6A after spending his previous three years competing for Collinsville in 5A, where he won three state titles. This weekend, he looks to join the distinguished list of the state's four-timers that includes greats like Kenny Monday and Daton Fix.
Other state tournaments in action this weekend include:
New York

Idaho

Wisconsin

Tennessee

Oregon

Kansas

Kentucky

Massachusetts

Wyoming
Be sure to keep an eye on FloWrestling's State Tournament HUB for all kinds of exciting action all weekend long!