American Rivers
Multi-Divisional Insider: Anti-Popcorn Stance Driving Briggs' Title Pursuit
Multi-Divisional Insider: Anti-Popcorn Stance Driving Briggs' Title Pursuit
Wartburg's top-ranked Kyle Briggs is winding down a dominant three-year stretch, but he has one box left to check off.
Feb 24, 2022
by James Nelson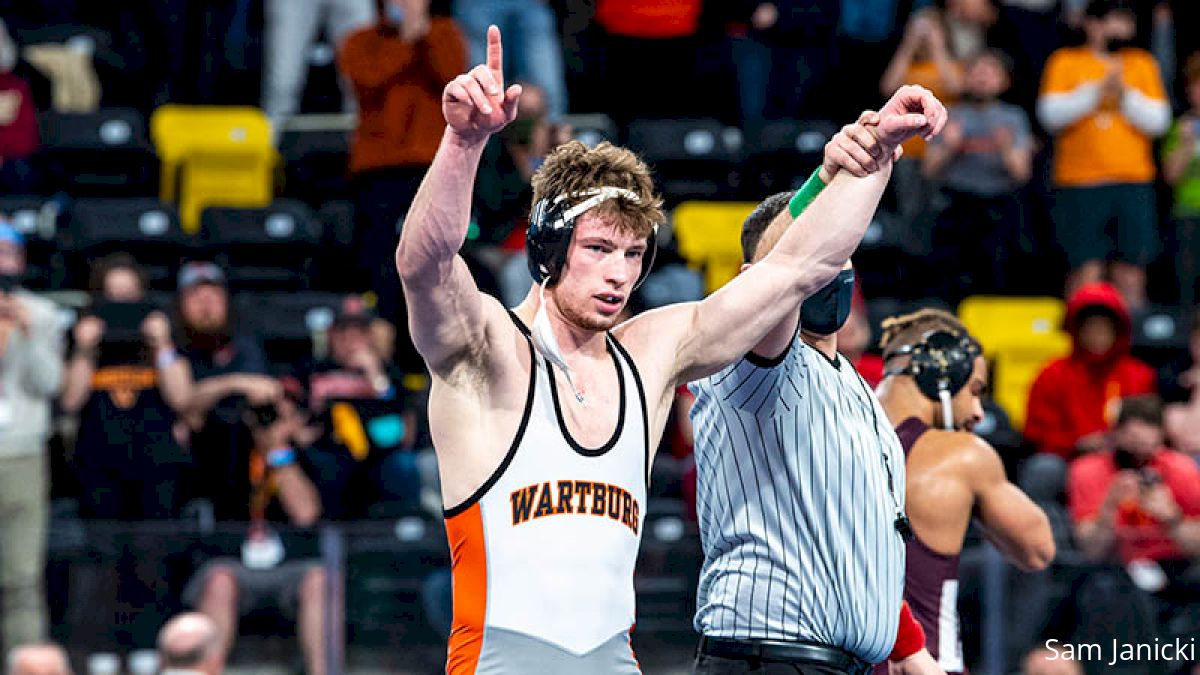 Unlock this article, live events, and more with a subscription!
Get Started
Already a subscriber? Log In
Wartburg College's Kyle Briggs, ranked No. 1 at 184 by Flowrestling, has been one of the most exciting Division III wrestlers in the country over the past three years.
A sixth-year senior, Briggs owns a 61-3 career mark with 44 of those wins coming by bonus.
If you talk to Briggs, with a wink in his eye, he will tell you all that success is because of popcorn.
"I kind of developed this thing in college, this mindset, that I don't ever want to be the 'Popcorn Match,'" Briggs said. "A college dual meet has 10 matches, and will last what an hour, 90 minutes? At some point in the dual, as a fan, you might need to get up to go to the bathroom or you might get hungry and want some popcorn. You going to look at the next match and say to yourself, 'Do I want to stay and watch this guy, or can I leave my seat and miss him?'
"I always want to be the match when people have to go to the bathroom or want to get up and get some popcorn they will wait. They will hold it.
"I came up with that a couple of years ago and talk to the guys about it all the time, don't be the 'Popcorn Match' guy."
This Friday and Saturday's Lower Midwest Division III NCAA regional in Dubuque, Iowa, is the beginning of the end of a long journey for Briggs who decided to take advantage of an extra COVID year of eligibility granted by the NCAA.
Like many Division III wrestlers across the country, Briggs has been devastated in each of the past two seasons when the NCAA has canceled the Division III championships.
At 9-0 with seven wins by bonus, Briggs is the odds-on favorite to be the top-seed at the Division III Championships, which will be held in his hometown of Cedar Rapids (Iowa) at the Alliant Energy PowerHouse March 11-12.
Briggs says he is on a mission to finish this long journey on his own terms, winning a national title and being dominant in doing so.
"It has been six years at Wartburg," Briggs said. "But it has been a lot more years leading up to that. And to be honest, the years leading up to that weren't the best. There was a lot of losing and a lot of learning that had to be done.
"In the time I've been here I have had a lot of success, but that was a product of 10-plus years of losing and learning. It sucked for a while. It will be nice to put a stamp on the end of it."
Briggs says his 'Popcorn match' philosophy developed over the years of losing and learning, amplifying during his true freshman season at Wartburg when he broke his ankle and was unable to compete. Despite what many would consider a solid prep career wrestling for his dad, Dick, at Cedar Rapids Jefferson, four state tournament appearances netted Briggs seventh-, eighth- and fifth-place medals.
"I loved it and I wouldn't take it back (his prep career), but I don't look back at my high school career as a success," Briggs said. "I look at it as a failure, honestly."
That was on his mind when competing was taken away from him in his initial season at Wartburg. That is when the already avid weightlifter began to dial it in on his lifestyle, nutrition, and his identity as a wrestler.
"I had to sit back and ask myself why I want to do this" Briggs said. "Is it because I love it? Is it because I'm out there for results, which is what I was for a long time? Or I'm I going to start training to become the type of athlete and wrestler I would want to watch?
"That is where I am at now and have been for several years. That is why now when I have people come up to me and say I love watching you wrestle I consider that he is the highest of praise."
Coming off the lost freshman season, Briggs new approach didn't immediately pay dividends for him. The weight training put on a lot of mass for a guy who had never had to cut weight in his career. Projected to wrestle 157 in college, because of his new strength and mass, Briggs could have filled any of three weight classes for the Knights in 2018 from 174 to 197. But in the good-problem-to-have category for Wartburg, that season saw Eric DeVos place third at 174, Tyler Lutes take second at 184 (where Briggs competed for most of the season) and Kyle Fank win a title at 197.
The following year, down at 174, Briggs broke through taking third in Roanoke, Virginia, where he was seconds away from reaching the national finals before then-defending national champion Jairod James of Mount Union scored with five ticks left to edge Briggs, 5-4, in the semifinals.
"Basically, that was the first year I ended something that actually felt like it was worth celebrating," Briggs said. "It was the first time I ended a season feeling pleased with my performance. That was a big turning point for me."
Briggs followed his breakout 2019 season, with a dominant 2020 year that saw him with a 27-2 record, 21 bonus wins, a #2 seed for the national championships, which also were set to be held in Cedar Rapids.
But less than 24 hours before the start of the tournament, the NCAA, with the COVID pandemic engulfing the country, canceled the championships.
"That was really hard," Briggs said. "Everything was happening fast. We heard a lot of stuff on social media and regular media, but we were so dialed in we weren't paying attention to outside things. When we heard the news, we had just gotten back to the hotel after working out at the arena. It was just terrible.
"Think about all those seniors … that was it. Career over. Two of them were my buddies – Martine Sandoval and Max Forsyth. That was Max's only year he got to wrestle varsity. He was poised to have a really good tournament. He was at the peak of his wrestling career and then he was done. That was a real emotional experience. Then we went right into shutdown which made it even harder. It sucked."
Briggs posted another outstanding season a year ago, only this time the NCAA didn't wait until March to cancel the championships reaching that decision two months earlier as the pandemic continued to surge.
The National Wrestling Coaches Association stepped forward with a replacement national tournament in Coralville, Iowa, and Briggs rolled to the title recording five pins and a major decision in the 174-pound final.
"That was alright," Briggs said. "It provided some closure. I probably saw as good of competition as I would've seen at the NCAA Championships, so for that reason I felt I was the national champion. I know that wasn't the case with some other weight classes, and it would've been nice to have had the Wisconsin schools, some of those East Coast schools."
Now, Briggs feels like the opportunity to showcase his abilities and go out on his terms is all in front of him starting with Friday's regional.
"I think it will feel good," Briggs said. "I'm less focused on winning, more focused on dominating. I want that closure that I really haven't had since 2019."
Wartburg coach Eric Keller said Briggs' body of work tells his story.
"He is one of, if not the best, pound-for-pound wrestlers in Division III," Keller said. "If you have watched his progress over the last six years, it has been steadying. Kyle has continued to evolve. He brings energy and enthusiasm to mat every single time he wrestles. His goal every time he goes out there is to let it fly. He wrestles at a pace, quite frankly, most wrestlers can't match."
NAIA Championships
National qualifiers for the NAIA National Championships scheduled for March 4-5 in Park City, Kansas at the Hartman Arena were released Tuesday.
Grand View (Iowa), Life (Georgia), and Reinhardt (Georgia) qualified 12 wrestlers each. Indiana Tech and Southeastern qualified 11 and Cumberlands (Kentucky) 10.
The Mid-South Conference led all conferences with 66. The Cascade College Conference garnered 43 and the Heart of America Athletic Conference received 38.
Go to www.naia.org/sports/mwrestling/2021-22/Files/weight.pdf for a complete list of qualifiers.
Regional Weekend
The hosts and sites for the six NCAA Division III regionals are:
Central – Adrian College, Merillat Sport Center, Adrian, Mi (Feb. 25-26).

Lower Midwest – Loras College, Five Flags Center, Dubuque, Ia (Feb. 25-26).

Mideast – Elizabethtown College, Bowers Center, Elizabethtown, Pa. (Feb. 26-27)

Northeast – Springfield College, Springfield, Ma (Feb. 26-27).

Southeast – Lycoming College, Keiper Recreation Center, Williamsport, Pa. (Feb. 25-26)

Upper Midwest – Wisconsin-Eau Claire, McPhee Physical Education Cener, Eau Claire, Wis. (Feb. 25-26).
The hosts and sites for the six NCAA Division II Super Regionals are (All Feb. 26):
Region 1 – Pittsburgh-Johnston, Sports Center

Region 2 – UNC-Pembroke, Lumbee Guaranty Bank Court

Region 3 – West Liberty, Academic Sports and Recreation Complex

Region 4 – Lindenwood, Hyland Arena

Region 5 – Minnesota-Moorhead, Alex Nemzek Hall

Region 6 – Colorado Mesa, Brownson Arena