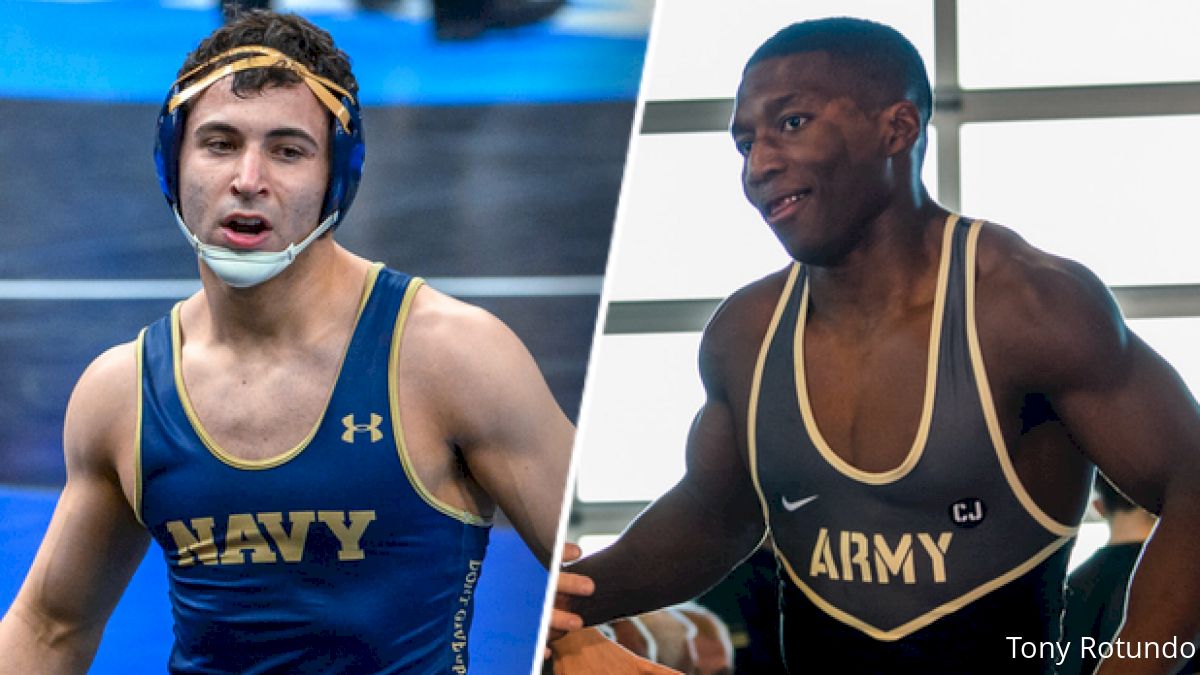 Dual meet season has flown by so make sure you take full advantage of the duals still scheduled before we hit March. The Superbowl is in the rearview so you've no excuse to not watch during the post-NFL season interum!
Below are all the EIWA duals happening in week 16 of the 2021-22 NCAA season, as well as some comments and matchups to watch for.
Thursday, February 17
Harvard at Brown, 7:00 PM
Watch on ESPN+ (link)
Two of the three D1 programs in New England (the third is EIWA member Sacred Heart) meet up in Providence, where some of the bad guys from the academy award-winning motion picture, The Departed, are from.
---
Friday, February 18
Rider at Drexel, 5:00 PM
Rider's a mere 45 minutes from Drexel's campus near West Philadephia where Will Smith was born and raised, and where most of his days were spent at the playground. Can you believe they are rebooting the Fresh Prince of Bel-Air? Supposedly it is my fault because it is nostalgia from my generation that is causing these programs to be created.
But I shan't be watching this new offering from Peakcock Streaming, so I shan't be taking responsibility for it's existence. Instead, I will be watching Rider Quinn Kinner at 141 pounds and Drexel's Mickey O'Mally at 174 pounds. To me, that is superior entertainment.
Columbia at Maryland, 7:00 PM
Watch on BTN+ (link)
There's a city in Maryland called Columbia, but that's just a coincidence, it has nothing to do with Columbia University. Columbia is just another name for America. Like Britannia for the UK. It was more popular in the seventeen and eighteen hundreds when everyone was obsessed with Latin and the female personification of stuff.
Also, my oldest brother was born in Columbia, Maryland. You would do well to make note of that as it will be on the quiz later!
Additionally, 184 could be an excellent bout as Maryland's #19 Kyle Cochran gets tested against Columbia's Brian Bonino.
Princeton at Rutgers, 7:00 PM
Watch on BTN+ (link)
Some facts about this very old rivalry from two of New Jersey's three D1 programs.
We'll wrestle for a trophy Friday night against Princeton, our longest-running series with 83 meetings dating back to 1931.

🎟️: https://t.co/MEzM5BJJCw#RelentlessPursuit | #GoRU pic.twitter.com/Lhi3DjYxqt

— Rutgers Wrestling (@RUWrestling) February 16, 2022
And a shot of the Tigers hoisting the trophy in 2020, the last time the two programs dualed.
B1G IVY Rivalry week! #UnfinishedBusiness pic.twitter.com/IknfWWstXs

— Princeton Wrestling (@tigerwrestling) February 14, 2022
Rutgers is the favorite but if the Tigers can limit the damage at 141 against Seabass and get bonus from Glory at 125, it may come down to 184 and 197, which should both be competitive bouts. At 184 it's #24 Stefanik for Princeton and #11 Poznanski for Rutgers. Poz has dropped four of his last five bouts and slid out of the top 10 for the first time since February of 2021.
197 could be #17 Stout for Princeton and #9 Bulsak for Rutgers. Bulsak's the favorite on paper but Stout has a win over Ohio State's Gavin Hoffman from CKLV, and Hoffman just beat Bulsak in a dual a couple of weeks ago, so this is no sure thing.
Plus 197 is all over the map this season, so go figure.
Watch Stout over Hoffman from the 2021 Cliff Keen Las Vegas Invitational: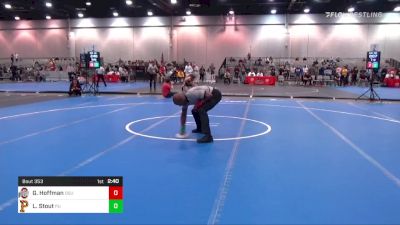 Unlock this video, live events, and more with a subscription!
Get Started
Already a subscriber? Log In
The EIWA Dual of the Week
Army West Point at Navy, 7:30 PM
Watch on ESPN+ (link)
You want tradition? How about this montage of severely old videos from our friends at the Naval Academy?
Continuing the tradition this Friday.

7:30pm. Alumni Hall. #GoNavy⚓️ #BeatArmy pic.twitter.com/z5kC1xFCKz

— Navy Wrestling (@NavyWrestling) February 16, 2022
Did you know? That although Navy started its wrestling program in 1909 and Army theirs in 1935, the first dual meet between these two service academies wasn't until 1957? That's very surprising to me!
Navy leads the all-time series by a commanding 50-10-5 margin. That lopsided tally included a stretch from 1966 to 1996 where Navy went undefeated. Fortunes improved for the West Pointers during the Kevin Ward era, as Army has won five of the last seven duals, which encompasses the entirety of Ward's reign as the head coach of the Black Knights.
The latest edition should be a barn burner between two evenly matched teams. 157 between Markus Hartman (Army) and Andrew Cerniglia (Navy) and 197 between JT Brown (Army) and Jacob Koser (Navy) are toss-ups that could swing the bout in either direction.
You'll have a hard time finding a dual meet that matches the energy of an Army/Navy competition. Tune in; I'd recommend it!
Here is an Army vs Navy matchup from the 2021 EIWA finals at 141-pounds to whet your appetite for Friday night's dual: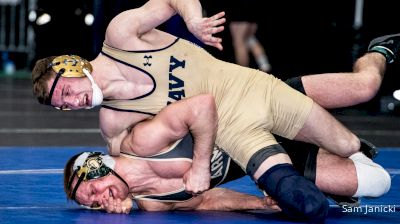 Unlock this video, live events, and more with a subscription!
Get Started
Already a subscriber? Log In
Bucknell at Oklahoma State, 8:00 PM
Watch on ESPN+ (link)
The Cowboys have rather shockingly lost four of their last five dual. They'll still be big favorites to rebound after getting stung by the Hawkeyes at Bout at the Ballpark. Later this weekend OSU hosts their in-state rivals at Bedlam II.
165 is the weight to watch as it could feature a pair of All-Americans in #7 Wittlake of OSU vs #15 Hartman of Bucknell.
And both teams will have a tough time beating Oklahoma State's entrance from Bout at the Ballpark in Texas last Saturday.
Good morning pic.twitter.com/6kVxM9yRq2

— Andrew Spey (@SpeyWrestle) February 14, 2022
---
Saturday, February 19
Binghamton at Harvard, 11:00 AM
Watch on ESPN+ (link)
Harvard can tout an encyclopedia of famous alumni but how many of them have been on the ESPN broadcast of the NCAA Championships? Probably none I'm assuming. But Binghamton boasts Billy Baldwin's bodacious broadcasting bona fides.
Keep an eye on 165 in this dual, as we may see Harvard's #12 Phil Conigliaro face Binghamton's Brevin Cassella.
Lehigh at Arizona State, 2:00 PM
Watch on the Pac-12 Network (link)
The Mountain Hawks head to Tempe a little banged up and less than full strength, while the Sun Devils appear to be revving up just in time for the postseason.
Josh Humphreys didn't wrestle in Lehigh's last three duals but if he's in the lineup, and if the Sun Devils wrestle Jacori Teemer, then we'll see one of the highlights of the weekend at 157-pounds.
Sacred Heart at Long Island, 4:00 PM
Watch on NEC Frontrow (link)
Columbia at Rutgers, 5:00 PM
Watch on BTN+ (link)
Tony Soprano's daughter Meadow attended Columbia, while Jackie Jr, Tony's best friend's son, attended Rutgers (spoiler alert: until he dropped out and was murdered). Additionally, Tony's son AJ attended several frat parties at Rutgers. For these reasons and many others, this rivalry should be called the Soprano's Cup.
I have never felt stronger about anything in my entire life.
The two best bouts of the 2022 edition of Soprano's Cup of Wrestling could be 125 and 133, where Joe Manchio and Angelo Rino take on Dylan Shawver and Joey Olivieri of Columbia and Rutgers, respectively.
Maryland at American, 7:30 PM
Watch on ESPN+ (link)
Both of these universities are located within the Washington Beltway, a hellish stretch of highway that rings the District of Columbia and viciously saps the regions' commuters of their vitality.
Oh, how I loathed the Beltway.
---
Sunday, February 20
Penn at American, 1:00 PM
Watch on ESPN+ (link)
The Eagles host the Quakers less than 24 hours after finishing their dual with the Terrapins.
Sacred Heart at Brown, 1:00 PM
Watch on ESPN+ (no link yet)
The aforementioned New England program that's not in the Ivy League takes on their neighbors in Rhode Island.
Cornell at Wisconsin, 1:00 PM
Watch on BTN+ (link)
This is one of the best duals we'll see all week. Let's go thru the entire expected matchups and appreciate this excellent competition between Big Ten and Ivy league opponents.
125: #3 Arujau (C) vs #5 Barnett (W), FIRE!
133: LaJoie (C) vs Burwick (W), both honorable mentions
141: Handlovic (C) vs #15 Zargo (W), Zargo currently on a heater
149: #1 Yianni (C) vs #4 Gomez (W), Yianni hasn't lost since 2017
157: Richard (C) vs #22 Model (W), toss-up
165: #9 Ramirez (C) vs #8 Hamiti (W), if Ramirez is healthy even more fire
174: #8 Foca (C) vs McNally (W), Foca has been vulnerable for a top 10 guy
184: #14 Loew (C) vs #22 Weiler (W), Weiler a wildcard
197: #19 Cardenas (C) vs #22 Amos (W), two insanely good young talents
285: #18 Fernandes (C) vs #11 Hillger (W,) beautiful motorcycle
That last link is to a video that has nothing to do with that matchup in particular except that I look at that dual the same way the main character of that sketch looks at beautiful motorcycles.
Hofstra at Franklin & Marshall, 2:00 PM
Watch on the Centennial Conference Digital Network (link)
Closeout your week of wrestling with the Pride of Hofstra traveling to Lancaster, PA to wrestle the only DIII school whose wrestling team was grandfathered into Division 1.