2022 Bout at the Ballpark Presented by Kubota
Bout At The Ballpark: Iowa vs OSU & USA vs the World Match Notes!
Bout At The Ballpark: Iowa vs OSU & USA vs the World Match Notes!
All the action from inside Globe Life Field for the biggest wrestling spectacular of the year!
Feb 12, 2022
by Andrew Spey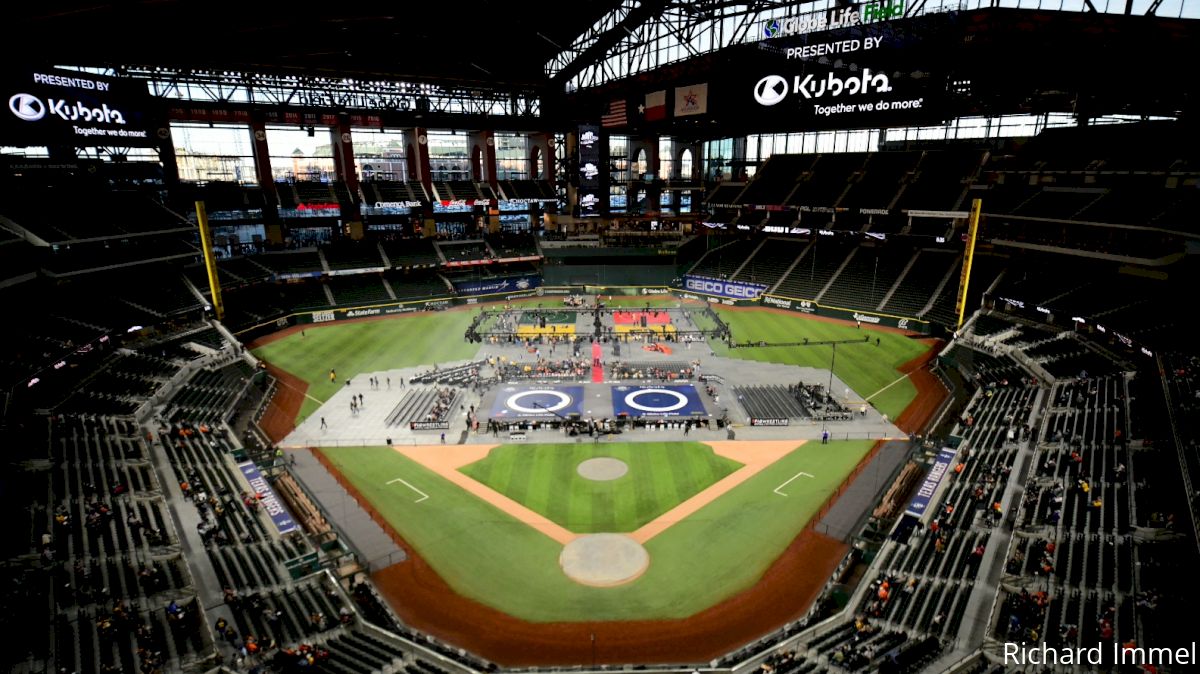 Unlock this article, live events, and more with a subscription!
Get Started
Already a subscriber? Log In
We are having a wrestling bonanza here in the heart of Texas. USA and international stars will compete in freestyle plus Iowa and Oklahoma Stat renew college's greatest rivalry all inside the gargantuan $1.2 billion dollar Globel Life Field.
Here is the order of events in eastern time.
6:40 - Blades sisters college announcement
6:50 - Iowa-OSU Pre Show
7:15 - Team USA vs All-Stars
9:00 - Oklahoma State vs Iowa
We'll do two mats simultaneously in the international styles, then focus on one single mat for the the Cowboys vs Hawkeyes.
Bout order for the international matches:
MAT A
1) MFS 61 kg – Daton Fix (USA) vs Giusseppe Rea (Ecuador)
2) MFS 74 kg – Jason Nolf (USA) vs Mitch Finesilver (Israel)
3) MFS 86 kg – Zahid Valencia (USA) vs Noel Torres (Mexico)
4) MFS 70 kg – James Green (USA) vs Dillon Williams (Canada)
5) MFS 65 kg – Joey McKenna (USA) vs Kamal Begakov (Tajikistan)
6) MFS 57 kg – Thomas Gilman (USA) vs Darian Cruz (Puerto Rico)
7) MFS 79 kg – Jordan Burroughs (USA) vs Nestor Taffur (Colombia)
8) MFS 97 kg – Kyle Snyder (USA) vs Zbigniew Baranowski (Poland)
MAT B
1) GR 97 kg – G'Angelo Hancock (USA) vs Ahmed Hassan (Egypt)
2) WFS 62 kg – Kayla Miracle (USA) vs Ana Godinez Gonzalez (Canada)
3) WFS 50 kg – Victoria Anthony (USA) vs Madison Parks (Canada)
4) WFS 53 kg – Jacarra Winchester (USA) vs Dom Parrish (USA)
5) WFS 76 kg – Victoria Francis (USA) vs Justina DiStasio (Canada)
6) WFS 57 kg – Helen Maroulis (USA) vs Karla Godinez Gonzalez (Canada)
7) MFS 125 kg – Nick Gwiazdowski (USA) vs Zach Merrill (Puerto Rico)
8) MFS 92 kg – Kollin Moore (USA) vs Evan Ramos (Puerto Rico)
I have assumed the position.
Bout at the Ballpark blogging perch secured. pic.twitter.com/oDSyNduXMO

— Andrew Spey (@SpeyWrestle) February 12, 2022
Not complaining but it's almost too close. Feel a little exposed. A blogger's natural habitat is their parents' basement, and matside in Globe Life Field is a decidedly different experience.
In other big news, the Blades sister, Kennedy and Korina, two of the top women's high school wrestlers in the nation, have made their college commitment! Read more about it here!
Gigi Bragg just crushed the national anthem. She's a high school wrestler from Minnesota and finished runner-up at the most recent Super 32. Here's her semifinal bout if you want to watch her wrestle!
Wrestler introductions taking place. Kyle Snyder is rocking a cowboy hat in case anyone was wondering.
The bone-rattling stadium speakers are blasting Volbeat to kick things off. Volbeat rules, by the way.
You can find the international bouts below the NCAA results. I'm bending the rules of time and space by putting the NCAA scores above the international scores even though the international bouts happened first.
Bout order for the NCAA matches:
125: #12 Trevor Mastrogiovanni (OK State) decision over Jesse Ybarra (Iowa), 6-5
1st period: Mastro missed his last match but is back on the mat now. No Ayala though it's Ybarra. Collar ties for the first minute. Slide by attempt by Ybarra but Mastro jumps out of danger. One minute to go. Cautious first period. And the period ends in collar ties, no scores.
2nd period: Still cautious, no scores after another minute. And there's a strike by Ybarra. He gets behind Mastrogiovanni and brings him down to the mat. 2-0. Mastro up to his feet on the restart, he's out quickly and it's 2-1. Period expires it's still 2-1.
3rd period: We're neutral once again so riding time stays at 21 seconds for Ybarra. Level change for Ybarra, he's got both feet, Mastrogiovanni on the edge, Ybarra drags his feet, and that's two more. Ybarra with a 4-1 lead. Mastro's out quickly. 4-2, riding time not a factor. One minute to wrestle. Clutch takedown by Mastro! It's 4-4. Mastro goes optional start. Ybarra leads 5-4, back to neutral, 30 seconds to go. Drama in the first match. Stalling call on Ybarra. 15 seconds to go. 10. 5. Mastro with the go behind. Does he have it in time? Yes! 6-5! Or does he? Official review, no challenge. Both coaching corners are animated now, as you'd expect. Long review. Two is confirmed!
Fun way to start the most heated rivalry in college wrestling.
Oklahoma State 3, Iowa 0
---
133: #2 Daton Fix (OK State) decision over #3 Austin DeSanto (Iowa), 5-3
1st period: Fix's second bout of the evening, he teched his international opponent about 90 minutes ago. Fix strikes first, low level shot. Chest wrap DeSanto. Fix keeps working and collects the two, but barely. DeSatno fighting while seated and it's stalemated. Restart and DeSanto is out quickly. Now DeSanto taking ground, Fix with his heels to the boundary. They circle to the center. Shots from DeSanto, Iowa fans want stalling. Short time. No more scores.
2nd period: Fix chooses down. DeSanto sinks in a boot. He's high. He's able to readjust but Fix has his hands on DeSanto's heels and is digging out the legs. Stalemate. Riding time 30 seconds in favor of DeSanto. 1:13 on the clock. Fix is out quickly on the restart, 3-1 the lead. Fix shoots, similar situation as the last takedown, but this time DeSanto fends him off. Short time in the second, still in neutral. Still 3-1 as the period ends.
3rd period: DeSanto's turn underneath. Fix goes to put in the boots but he's high and DeSanto scrambles out and escapes after just a few seconds. Fix leads 3-2, riding time not a factor. DeSanto taking ground but not shooting. Now there's a shot. Iowa fans want stalling. They've been wanting stalling to be honest. Another shot, Fix counters, go behind, just barely, at the edge. Fix is awarded the takedown for the 5-2 lead. Restart with 36 seconds on the clock, RT still not a factor. DeSanto escapes. 30 seconds to go. Fix backing up, hit for stalling but only 10 seconds to go. Fix keeps DeSanto at bay and holds on for the 5-3 win!
Oklahoma State 6, Iowa 0
---
141: #2 Jaydin Eierman (Iowa) decision over #17 Carter Young (OK State), 6-1
1st period: Eierman looks to get the Hawkeyes on the scoreboard. Some interesting ties from neutral. Two-on-one for Young. Eierman with a very unbalanced stance. Not that he's off balance, just that he leads one of his legs forward more than most. Eierman pressuring in, gets a slide by at the boundary and scores the first points. Out of bounds, clean restart, Eierman throws legs in and rides Young out for the rest of the period.
2nd period: Young chooses down, riding time ticks over 1 minute for Eierman after 5 seconds of wrestling. Eierman keeping Young, though he doesn't have him flat. Eierman not working a turn and Young stuck on all fours so we get a stalemate. Less than a minute to go in the period. Still 2-0 but Eierman racking up the riding time. Eierman gets the ride out.
3rd period: Eierman goes underneath. He;s out quickly to essentially lock up riding time. It's 3-0, 4-0 with the RT point. 90 seconds left in regulation. Young with his best attacks of the match but Eierman eludes him. Now Young gets a leg but Eierman counters and gets the go behind. 5-0, now 5-1 as Eierman cuts him and goes hunting for bonus. 30 seconds, 6-1 lead with RT. 10 seconds. Eierman jumps over the top of Young to the delight of the crowd but no points. Time expires and it's a 6-1 lead as the Hawkeyes get on the board.
Oklahoma State 6, Iowa 3
---
149: #10 Max Murin (Iowa) decision over #18 Kaden Gfeller (OK State), 5-2
1st period: This bout as slugfest written all over it. You can feel the pressure in the collar ties but no committed shots yet after a minute. Gfeller goes reaching for an underhook. Murin pummels out of it. Low level shot from Murin. Gfeller goes over the top. he grabs ankles and its stalemated. One minute left in the period. Single to a double. Gfeller makes him work for it but it's a clean finish on the second adjustment and the first point for Murin. On the edge Gfeller reverses and ties up the scores. Restart in short time, escape for Murin and he leads 3-2 as the period expires. Riding time at one second for Murin.
2nd period: Gfeller selected bottom. Murin riding tough. Follows a couple sits and rolls, then adds a couple mat returns and he's got 39 seconds of riding time as they go out of bounds. Riding time at 1:11 for Murin as he keeps Gfeller down before going out of bounds for a restart with under a minute left in the period. Gfeller keeps getting to his feet but Murin uses a variety of technique to bring him back down. 24 second to go in the period, Murin still riding. Gfeller working hard but Murin finds a way. He rides out the period, no stall calls.
3rd period: Murin chooses down and is out quickly. It's 4-2 and the RT is very likely. Gfeller shoots, Murin scrambles, a good amount of clock is killed. Blood time with just a minute to go, still neutral. Now riding time is locked, 4-2, but really 5-2. 30 seconds. Scramble, potentially dangerous, 23 seconds to go. Time runs out on Gfeller and Murin takes the second in a row for the Hawkeyes. It's all knotted up after four!
Oklahoma State 6, Iowa 6
---
157: #13 Kaleb Young (Iowa) decision over #14 Wyatt Sheets (OK State), 4-1
1st period: No scores after a taut minute of wrestling. Slide by attempt by Sheets but it doesn't land. Another scoreless minute of wrestling. Collar ties, hand fighting, the occasional arm drag. And it's a scoreless first three minutes.
2nd period: Young takes bottom. He sits off the whistle, they go to their feet, Sheets picks up a single and walks Young out of bounds. Same sequence happens again only this time Young kicks free as they get to the boundary. 1-0 Young leads after 33 seconds of riding by Sheets. Level change Young, he's in deep. Sheets fighting but Young brings him down to the mat for two points and a 3-0 lead. Young rides out the period after a flurry of rolls by Sheets.
3rd period: Sheets takes bottom to try and rip the bagel off the scoreboard. He's up, now back down. A mat return Shane Sparks would approve of. Sheets stands and is nearly out but Young switches to a two-on-one thru the crotch and brings sheets down again. One minute to go. Riding time now over a minute for Young. Finally Sheets escapes. 40 seconds to go, 1:11 of RT and a 3-1 lead for Young. Sheets mounts a furious comeback but all he gets out of it is a stall warning. Young will take it 4-1 and the Hawks take the lead.
Iowa 9, Oklahoma State 6
---
165: #5 Alex Marinelli (Iowa) decision over #7 Travis Wittlake (OK State), 3-2
1st: Another big top 10 matchup to get things going again after the break. We've also been informed that the concession stands will end alcohol sales after this bout, if that's of any concern. The match itself starts off with a bang, as Marinelli elbow posts through Wittlake's defenses and scores the first takedown. Wittlake escapes after 18 seconds. Good amount of battling in neutral but no more scores after the first period.
2nd period: Wittlake chooses down, and he's out quickly, tying things up. No scores as we round the minute mark. No more scores as we end a tactical 2nd period.
3rd period: Marinelli gets a turn underneath. He's out in a jiff. 3-2, riding time not a factor. Marinelli goes in for a single, there's a scramble. Exciting flurry but no scores. Final minute of regulation. Down to the final 30. Wittlake with a level change. Attack rate increases. Stall warning on Marinelli. 10 seconds. Time expires and Marinelli wins it 3-2. Tight bout but Iowa prevails agina and Oklahoma State is running out of paths to victory.
Iowa 12, Oklahoma State 6
---
174: #2 Michael Kemerer (Iowa) decision over #10 Dustin Plott (OK State), 6-1
1st period: Kemerer gets his hands on a leg and he's doesn't let go until he's secured the takedown. It's a 2-0 lead after a minute, Kemerer starts putting in his ride. Plott stuck on his belly, though Kemerer is staying mostly parallel. Now the stall warming comes for Plott. Those are always tough on the bottom guy. Plott's doing everything he can to get out, Kemerer is just really good! And Kemerer rides out the period.
2nd period: Plott chooses down, hoping his luck will change with a fresh start. And he's up and out so a restart is apparently what he needed. Score is 2-1 but RT is at 2:25 for Kemerer. And Kemerer catches Plott with a reshot and chases him down for two more. it's 4-1 and RT climbing back up again. RT officially locked up with 25 seconds to go in the period. 4-1 at the end of the period but that 5th point is secured.
3rd period: Kemerer takes bottom to give that position a try. He's out quickly to add another point and now a major is within reach. It's 5-1, 6-1 with RT. Plott's still wrestling tough though so that major is going to come easy. Kemerer in on another shot. He's locked around a leg, and Plott wrestles the position to a stalemate. 35 seconds to go. Plott shoots in a couple times but Kemerer defends and will go on to win 6-1. Hawkeyes add another decision to their tally.
Iowa 15, Oklahoma State 6
---
184: #9 Dakota Geer (OK State) decision over #16 Abe Assad (Iowa), 9-2
1st period: Geer has the All-American pedigree, the ranking and the length advantage to make him the favorite but Assad has all the momentum on his side as the Hawkeyes are rolling. They get into a wild scramble about halfway through the period. Geer sticks with it and earns the takedown. Then a mat return to keep the ride going. And Geer successfully rides out the period to keep it 2-0, RT at about a minute.
2nd period: Geer chooses down and is out quickly. RT at 45 seconds in his favor. Scores is 3-0 in his favor. Make that 5-0 as Geer goes on the attack and finishes cleanly, in contrast to the first period scramble. RT over a minute, clock under a minute. Assad hit with a stall warning. Same situation as with Plott. Geer making life miserable for Assad, who's doing everything he can to escape. Period ends with a 5-0 lead and RT all buck locked up.
3rd period: Assad chooses down hoping the third period will be different. It is not, and there's another stall call to hand Geer a 6-0 lead. Now the OSU corner wants Geer to cut him and look for bonus. Assad is out to make it 6-1. Assad shoots, Geer sprawls. A scramble, and Geer gets the go behind. 8-1, but 9-1 with the locked up RT point. Geer needs to rideout the next 20 to get the major. Assad escapes with 5 seconds to keep it to a decision. The Oklahoma State corner wanted that major though, so it doesn't feel quite like the dominant victory it was.
Iowa 15, Oklahoma State 9
---
197: #3 Jacob Warner (Iowa) major decision over Gavin Stika (OK State), 11-3
1st period: Defending national champ AJ Ferrari is still recovering, and as much as we'd like to see him here, we really want to see him in the postseason. Stika will admirably fill the void against multiple-time All-American Jacob Warner. Its a tense and active first 90 seconds but scoreless. Warner then fires off a shot that sends them both out of bounds. Stika gets his for stalling as it was Warner's offense that drove him out of bounds. Warner fires off another low single and converts for two. Warner rides out the period and it's still 2-0 with exactly 1:00 on the RT clock.
2nd period: Warner takes down, and is out in about 6 seconds. It's 3-0. Snap down go behind and it's 5-0. Iowa smells blood in the water as we likely go catch and release from here. 5-1, Warner looking for more. The next point will come via 2nd stall warning on Stika. 6-1 with 30 left in the period. Period ends the same score.
3rd period: Stika goes underneath. Riding time is already over a minute so Warner will try for backpoints. No turns and Stika is cut free after about 45 seconds. Warner takes a low shot and scores. Optional start and it's 8-3. Riding time now locked up, 50 seconds left in regulation. Warner working for the takedown on the boundary. He gets it with 7 seconds left in the period and the Hawkeyes win another key exchange. Warner holds on for the major!
Iowa 19, Oklahoma State 9
---
285: Luke Surber (OK State) vs #2 Tony Cassioppi (Iowa)
1st period: The heavies will close out a fantastic night of wrestling (reminder that the NCAA dual happened after the international bouts, even though you can find those international results below these results).
We've got a wild flurry at the near side of the mat that nearly saw Surber get the takedown. Coach Smith wants a challenge, saying it should have been a danger zone takedown. Challenge is denied, no danger takedown and no backpoints. And on the restart we get another big man scramble at the boundary. Again no scores. In the next exchange it's Cassioppi he finishes cleanly this time, taking the 2-0 lead. Cass rides out the peiord.
2nd period: Surber takes down. He can't escape before riding time ticks over a minute. Not much much going on for the next minute and the Hawkeye fans are asking for stalling. Surber is glued to the mat so I can see why. No stall warning but Cassioppi rides out the entire period to keep the 2-0 lead.
3rd period: Cassioppi takes down and is out in under 20 seconds to preserve riding time at 2:18. A couple of takedowns and a rideout later and Cassioppi sells the deal with a major decision. Impressive win for the Hawkeyes in this bitter rivalry.
Iowa 23, Oklahoma State 9
So that will do it from here in Globe Life Field. Many thanks to the many people that made this ridiculously fun event happen. Apologies for the typos and see you at the next one!
---
Reminder that these were the first bouts of the evening, I just cut and pasted them below the NCAA matches.
Bout 1 - Daton Fix (USA) techs Giusseppe Rea (Ecuador), 10-0 & G'Angelo Hancock (USA) techs Ahmed Hassan (Egypt), 13-3
Giusseppe Rea has Darian Cruz and Lehigh Valley Wrestling Club head coach Kerry McCoy in his corner. Fix has USA Wrestling men's freestyle head coach BIll Zadick in his corner. In a few hours Fix will be back on the mat and it's be John Smith in the corner.
Quick takedown for Daton and he goes right to work with a trap arm gut. Two turns make it 6 to 0. Another turn before we're brought up to neutral.
Over on the other mat its a body lock and a big back arch for G'Angelo and the ooh's rain down from the stands. Four pointer for Hancock.
Rea in on a shot. Fix peels hands, then forearm shivers Rea to the mat for a two point exposure and a 10-0 victory, much to the delight of the Cowboy fans here in attendance.
Hassan with a go behind that sends Hancock to the mat and he cuts the lead in half. G'Angelo leads 4-2 at the break. Second period under way. G'Anegelo loads up another body lock. Head over heels beautiful back arch. That's a five pointer! Hassan recovers for a reversal to make it 9-3, score in Hancock's favor. 90 seconds to go, and Hancock hits him again! That's four more and a tech fall for our 2021 world bronze medalist!
Bout 2 - Jason Nolf (USA) techs Mitch Finesilver (Israel), 11-0 & Kayla Miracle (USA) defeats Ana Godinez Gonzalez (Canada), 6-5
Miracle is a 2021 world silver medalist. She's got one of Canada's most promising young female wrestlers.
Mitch Finesilver is a former Duke Blue Devil by way of Colorado who trains at the NYC RTC and has Kendall Cross in his corner. Nolf has Jake Varner and Zadick in his corner. Single leg to a takedown and a gut wrench gives Nofl the 4-0 lead. Finesilver goes arm spin but Nolf counters for 2 and then another turn. There was a step out earlier, plus a final takedown and that'll do it, 11-0 final for Nolf.
It's been all Miracle as she scores the first six points. Godinez manages to slow things down in the second half of the first period. Miracle's handfighting keeps Godinez at bay. it stays 6-0 at the break. Back to wrestling, single leg for Godinez, chest wrap for Mriacle but Godinez cracks down on the leg and covers for two and breaks the goose egg off the scoreboard. Miracle still leads 6-2. Straight on double and Godinez drives Miracle to the mat. Kayla has a whizzer in though so no points. Wow she got tough with that one. They go out of bounds and it's Miracle who gets the step out as they came up to their feet at the end.
Godinez's corner wants to challenge that one. Godinez wins the challenge so the step out comes off the board and a takedown is awarded to blue. Miracle's lead is 6-4. Another shot from Godinez forces a step out and Miracle's lead is down to a point. Godinez stats on the attack but Miracle stuffs everything and shuts down the comeback attempt. Great fight from Godinez but Miracle prevailed.
Bout 3 - Zahid Valencia (USA) techs Noel Torres (Mexico), 10-0 & Victoria Anthony (USA) techs Madison Parks (Canada), 10-0
Zahid the shot machine reaching in, grabs a leg and gets the first takedown. Gut wrench one way, then the other and it's 6-0 early. Another takedown and a gut at the boundary and Valencia makes quick work of Torres. A blazing fast tech fall for the Arizona State Sun Devil.
Vicky Vortex in on a double and drives Parks to other mat. Grips tight on a gut wrench, pops her hips and makes it 4-0. Parks stays on her offense but the best she can do is an ankle and a stalemate. Anthony's defense is on point as she pulls the arms up on a solid double leg shot from Parks. Still 4-0. Headlock attempt from Parks Anthony could be in trouble. She fights out of danger and covers for what could be 2 but Parks gets a slip call. No points, back to their feet. End of the period.
Still 4-0 as we begin the second. Shot from Parks, overhook defense from Anthony and whizzer kick/uchi mata for Anthony and she gets four more. Parks shoots again but Anthony defends and collects the final two points of the bout. It's tech-fall for Anthony!
Bout 4 - James Green (USA) techs Dillon Williams (Canada), 10-0 & Jacarra Winchester (USA) defeats Dom Parrish (USA), 5-2
Winchester vs Parrish is the only USA vs USA matchup of the evening. Jacarra is sporting some stylist red hair. Or maybe purple. Magenta? Anyway, cool hair!
Snap down go behind for Green. Looks for a lace, then goes up for a gut. Green gets one turn, then they come back up. Another takedown for Green and now the laceman goes to work with an ankle lock and a turn. 8-0 Green leads with a minute to go in the first. One final flurry and Green wins with a 10-0 tech fall!
Level change from Winchester and she pops behind Parrish for the first takedown half way thru the first. Parrish returns the favor with a takedown of her own and she leads via criteria with 38 seconds left in the first. Parrish in on a low shot. Winchester counters with a crotch lock, plants a leg and levers Parrish over for a turn. They stay on the mat in a scramble as the period runs out. 4-2 Winchester.
Parrish stays aggressive but Winchester stops an attack. Pace slows a bit as we round the final 90 seconds of the bout. There's a great flurry around the one minute mark, both wrestlers battling for points. Parrish would hold criteria if she gets a takedown. Winchester starting to wear Parrish down, works Dom to the edge and gets a step out. Another shot from Parrish with 30 to go but Winchester is too strong. Jacarra fends off another flurry at the buzzer and it'll be a 5-2 victory for the world champ Winchester. Both women wanted that one, great bout.

Bout 5 - Joey McKenna (USA) techs Kamal Begakov (Tajikistan), 10-0 & Justina DiStasio (Canada) defeats Victoria Francis (USA), 7-1
McKenna goes big early but doesn't score. McKenna is just coming back from a trip to Siberia and the Yariguin tournament. McKenna grabs hold of an ankle, climbs up and finishes for two. Now McKenna picks up the pace, gets a feet to back, then a turn to make it 8-0. Another takedown and another tech fall for team USA!
DiStasio is one of the most decorated wrestlers on the international women's team, but Francis is a multiple-time world team member and has wrestled plenty of world champs before. No scores in the first 90 seconds and DiStasio goes on the clock. She concedes the activity point. We go to the break, Francis with the 1-0 lead.
No scores through 30 more seconds and so Francis gets a turn on the activity clock. It's tied up 1-1 with 90 seconds to go, DiStasio leads via criteria. Now DiStasio goes back on the clock. The point Francis conceded on the activity clock comes off, not entirely sure why, might not have started the clock at the right time. And there's a four pointer from DiStasio, and a turn, and now with the new rules the activity clock keeps going so it's now a 7-1 lead just like that. Francis battling back, has a front head lock. Looking for a turn but she slips off and time runs out. Canada picks up a victory for the international quad.
Bout 6 - Thomas Gilman (USA) techs Darian Cruz (Puerto Rico), 11-0 & Helen Maroulis (USA) defeats Karla Godinez Gonzalez (Canada), 8-0
Newly minted world championship Thomas Gilman taking on NCAA champ Darian Cruz. They've wrestled each other in freestyle before but this is still a rematch of the NCAA semifinal bout that Cruz won to deny Gilman a shot at an NCAA title his senior season.
The most decorated Olympian in US women's wrestling history takes the mat. Not a ton of action in the first and Godinez goes on the activity clock. Point for Maroulis. Snap down go behind in short time make its 3-0 Maroulis.
Second period underway and Maroulis is smothering Godinez. Two step outs and then a takedown makes it 7-0 with 98 seconds left in the match, at most. Helen is too strong and Godinez can't circle in time to avoid another step out. 8-0 with 45 seconds to go. Maroulis attacks, Godinez goes down to the mat. Helen drives her out of bounds, wants a fleeing but grounded action is called. Time runs out and its an 8-0 win for the champ!
Gilman starts things off with a step out. Then another. He's good with that underhook and leads 2-0. A go behind gets Cruz in a quad pod, Gilman breaks him down at the boundary for a 4-0 lead. One minute left in the first. Step out, then heavy hands allow Gilman to snap and go behind again for a 7-0 lead. We go to the break.
Shot off the whistle but Gilman counters and scores two. Tight gut wrench and Gilman muscles Cruz over for two more and a 11-0 tech fall.
Bout 7 - Jordan Burroughs (USA) techs Nestor Taffur (Colombia), 11-0 & Nick Gwiazdowski (USA) techs Zach Merrill (Puerto Rico), 10-0
Army spin for Merrill but no dice. Gwiz counters for two then goes right to a lace. 6-0 Gwiz leads early. It's all Gwiz as he gets another takedown and turn and a 10-0 clean sheet tech fall.
Six-time world and Olympic champ Jordan Burroughs sporting some new Liberty Green Rudis shows. He gobbles up Taffur's legs for a two. Burroughs on another shot and Taffur defends by grabbing his own singlet. That's illegal so he gives up a turn and a penalty point. They restart in par terre. Lace, up to a gut, and a turn makes it 7-0. Now two more. And a final one at the boundary and Jordan Burroughs scores a tech fall to thunderous applause.
Bout 8 - Kyle Snyder (USA) techs Zbigniew Baranowski (Poland), 12-0 & Kollin Moore (USA) techs Evan Ramos (Puerto Rico), 10-0
Moore a pair of slick takedowns and turns. And one more turn makes it a tech-fall. Barely had time to type out the matchup!
Our last pair of international bouts of the evening. Snyder comes out guns blazing and forces a step out and caution and one for a 2-0 lead after a low level shot right off the whistle. Baranowski warned for passivity and will go on the clock. Another low level Snyder shot and he's got a single leg. Good defense from Baranowski and we go back to neutral. Baranowski concedes the point and Snyder leads 3-0. Snyder pressures in, cuts off Baranowski's escape routes and gets another point via step out penalty. We go to the break, Snyder leading 5-0.
Snyder stays relentless in the second period, forcing another step out to run it up to a 6-0 lead. Snyder reaches in, single leg, switch to a double, methodical finish for two more and a 8-0 lead. Baranowski trying to get back into the match but Snyder times a perfect blast double and takes Baranowski to his back and the 12-0 tech fall!
That'll do it for the international styles. Team USA romped. Quite a display in one of the raddest environments I've ever seen host a wrestling match.