2022 Bout at the Ballpark Presented by Kubota
Bout At The Ballpark Women's Freestyle Preview
Bout At The Ballpark Women's Freestyle Preview
Four talented Candians, along with 2019 Final X participant Dom Parrish stepped in to take on an assortment of American stars for the Bout at the Ballpark.
Feb 11, 2022
by Olivia Lichti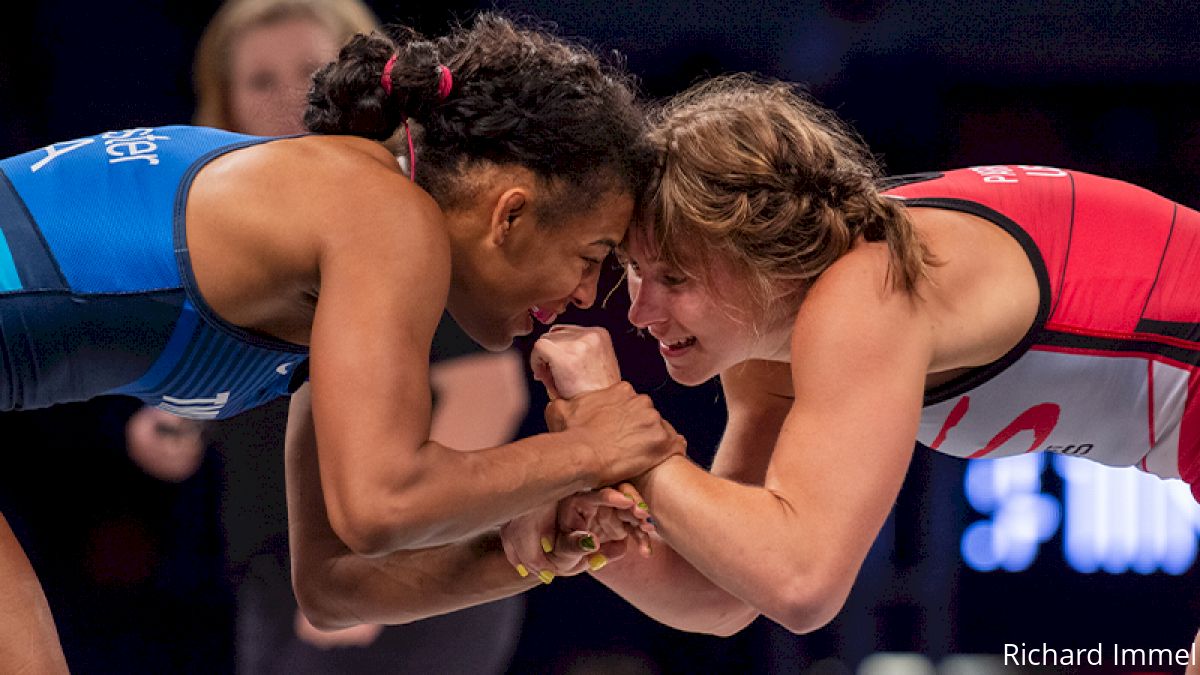 Upon learning the Mongolian women's freestyle delegation wouldn't make it to Texas in time for Saturday's Bout at the Ballpark, USA Wrestling pivoted and lined up four talented Canadians, along with 2019 Final X participant and three-time U23 World Team member Dominique Parrish to take on an assortment of American standouts.
Here's a look at the five women's freestyle matches on the card:
50 kilograms: Victoria Anthony vs Madison Parks (Canada)
A matchup between Olympic alternates. Parks recently won her first Canadian World Team Trials, booking her a trip to her first Senior World Championships. She placed seventh last fall at the World Championships in Oslo, notching a pin against European Champion Miglena Selishka before falling in the quarterfinals. Anthony's international success is much more extensive; she's won three Pan-Am titles and placed fifth at Worlds on two occasions.
53 kilograms: Jacarra Winchester vs Dominique Parrish (USA)
Olympian Jacarra Winchester will face Dominique Parrish, who finished third at the Olympic Trials. Winchester has consistently had the upper hand each time these two have met. The last time they faced each other was at Final X: Lincoln in 2019, where Winchester swept Parrish in two straight matches with scores of 10-0 and 8-3.
57 kilograms: Helen Maroulis vs Karla Godinez Gonzalez (Canada)
Four-time World and Olympic champion Helen Maroulis will be taking on Karla Godinez Gonzalez, who's ranked #1 in the NCAA at 123 pounds. Godinez wrestles for perennial college powerhouse Simon Fraser University and has looked great in all her outings this year, winning the Mike Clock Open and Menlo Open. She's also had a small taste of international success for Canada: she placed fifth at the 2019 U23 World Championships and took silver at last year's Yasar Dogu. Maroulis will be a huge favorite over Godinez, but the Canadian is one that all wrestling fans should watch on both the college and international scene in the coming years.
62 kilograms: Kayla Miracle vs Ana Godinez Gonzalez (Canada)
This could be the match of the dual. Kayla Miracle earned her first Senior-level World medal last year with a finals appearance in Oslo. She'll face one of Canada's brightest young stars, Ana Godinez, who had a banner year in 2021, becoming a U23 World Champion at 62 kilos and taking silver at the Poland Open Ranking Series event. The last time we saw these two wrestle each other was on the Jordan Burroughs vs Zahid Valencia card. Miracle came away with the 8-0 victory, but both ladies had their share of deep shots and displayed impressive defense. This will be a great showcase of the future of the 62-kilo weight class.
76 kilograms: Victoria Francis vs. Justina Di Stasio (Canada)
Olympic Alternate Justina Di Stasio will be the biggest Canadian favorite in this dual. Although Di Stasio did not get the opportunity to represent Canada at the Olympic Games, coming second at the Canadian Trials behind 2016 Olympic champion Erica Wiebe, she's still had plenty of international success. She owns a 2017 World Bronze medal at 76 kg and collected a World title the year after at 72 kg. This is her first international competition since winning the 2020 Pan-Am Championships. Francis has also had success at her preferred weight class of 72 kilos, placing fifth at the 2019 Worlds and owning a Pan-Am silver medal. Previous meetups between Francis and Di Stasio have been largely dominated by the Canadian, with 10-0 and 5-1 wins dating back to 2016 and 2017.