2022 Bout at the Ballpark Presented by Kubota
A Look Back At The Grapple On The Gridiron
A Look Back At The Grapple On The Gridiron
Iowa and Oklahoma State created a spectacle with the Grapple on the Gridiron. The two teams are trying to replicate it with the Bout at the Ballpark.
Feb 11, 2022
by Darren Miller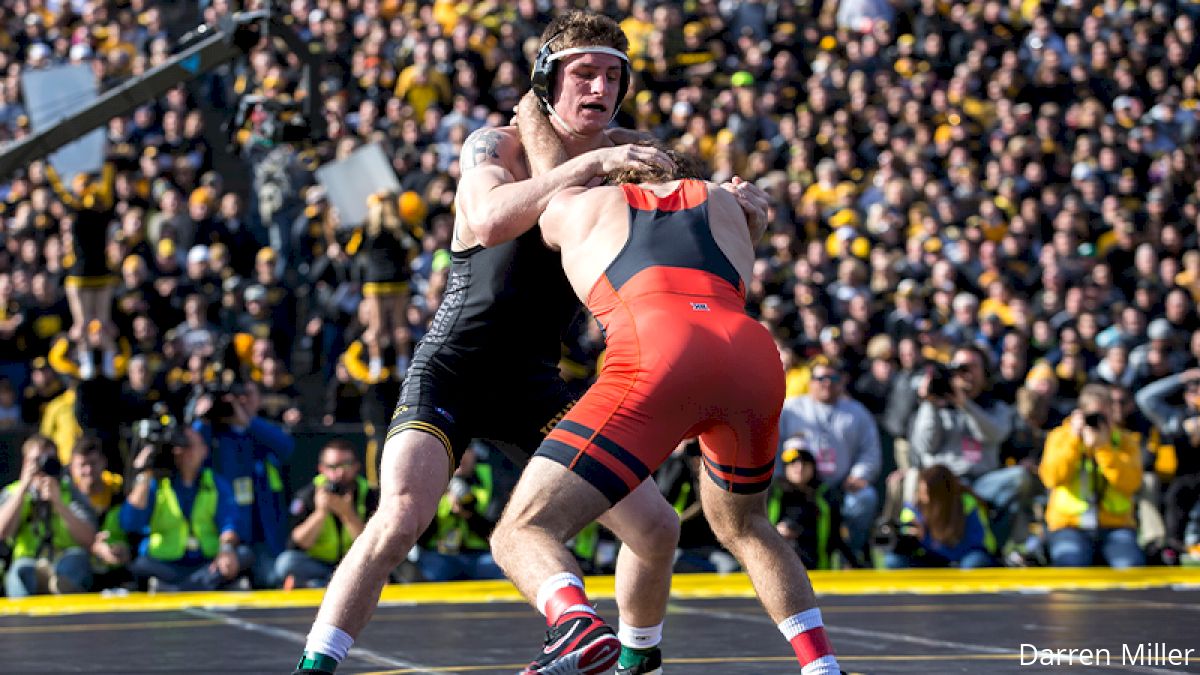 Wrestling in a world-class facility on a world-class stage. First, there was Grapple on the Gridiron, now there is Bout at the Ballpark.
Second-ranked Iowa and #9 Oklahoma State will compete Saturday evening in Arlington, Texas at Globe Life Field, home of Major League Baseball's Texas Rangers. It isn't the first time these two heavyweights have grabbed headlines because of their competition venue. It has been six seasons and more than 2,200 days since the Hawkeyes and Cowboys got together in front of a record crowd of 42,287 inside Kinnick Stadium (where Iowa plays its football games) in Iowa City, Iowa.
"Our guys are wired to wrestle in environments that favor a lot of people turning their heads and paying attention," Iowa head coach Tom Brands said.
They were wired that way Nov. 14, 2015, too, when outside temperatures in Iowa reached 53 degrees, allowing one of the most unique wrestling competitions to go off without a hitch.
"It was unbelievable how it all fell in place," said Hawkeye Brandon Sorensen, a 6-1 winner over Anthony Collica at 149 pounds. "The main thing is we had Oklahoma State coming and we were prepared for that and ready to put on a show whether that was in Kinnick or whether it had to be moved to Carver-Hawkeye Arena because of bad weather. That was my main focus. Everything worked out and it was a beautiful day."
Both teams won five matches that sunny day, but bonus-point wins for Iowa at 125 pounds (Thomas Gilman) and at 184 (Sammy Brooks) led to an 18-16 victory for the Hawkeyes.
"You put your singlet straps up, they point you in the direction of the wrestling mat, and you wrestle," Brooks said. "If it's in a garage somewhere, if it's in Kinnick, if it's in Carver, if it's in Madison Square Garden. Wherever they tell you to wrestle is where you wrestle. I wasn't worried about whether we would have to move and wrestle somewhere else. I was worried about the things I was in control of."
Brooks turned in the most electrifying performance at Grapple on the Gridiron, and his 17-2 technical fall over Jordan Rogers turned the dual in Iowa's favor for good. The Hawkeyes trailed 13-10 after losing consecutive bouts at 157, 165, and 174, but it took Brooks just 4 minutes, 9 seconds to down Rogers with four takedowns and eight near-fall points.
"Scoring bonus points for your team always feels good," Brooks said "Bonus points obviously help the team, and they get the fans into it and excited. Jordan Rodgers is a guy I wrestled a lot in high school and didn't always win against, so there was a lot I wanted to do in that match."
Sorensen says this weekend's bout reminds him of that unforgettable day in Kinnick.
"It is very similar," he said. "You have two great programs and it can't be Iowa against a lesser opponent or Oklahoma State against a lesser opponent. These are two big programs going at it and that helps set the stage."
With all the pomp and circumstance that surrounded Grapple on the Gridiron, one aspect that stuck out to both Sorensen and Brooks were the use of pyrotechnics for one of the first times in University of Iowa athletics history. It caught some of the Hawkeyes off guard.
"I remember Gilman about got caught on fire by those flame throwers," Sorensen said. "They were big and hot."
"I was walking out next to (174-pounder) Alex Meyer and I didn't realize how hot it was going to be, we were too close," Brooks said. "I thought I was going to lose my eyebrows walking onto the mat."
So here we are, six seasons later, and Iowa is going to Texas to wrestle Oklahoma State in another stadium, this one with the added security of a retractable roof. Once again, the Hawkeyes and Cowboys will be in a world-class facility on a world-class stage.
"We're fired up about it," Brands said.
#4 Iowa 18, #1 Oklahoma State 16 (Nov. 14, 2015)
125 — Thomas Gilman (Iowa) maj. Dec. Eddie Klimara, 9-1
133 — Cory Clark (Iowa) dec. Gary Wayne Harding, 8-2
141 — Dean Heil (OSU) dec. Logan Ryan, 7-1
149 — Brandon Sorensen (Iowa) dec. Anthony Collica, 6-1
157 — Chance Marsteller (OSU) dec. Edwin Cooper, Jr., 14-11
165 — Alex Dieringer (OSU) maj. dec. Patrick Rhoads, 17-5
174 — Kyle Crutchmer (OSU) dec. Alex Meyer, 11-10
184 — Sammy Brooks (Iowa) tech. fall Jordan Rogers, 17-2, 4:09
197 — Nathan Burak (Iowa) dec. Nolan Boyd, 5-3
285 — Austin Marsden (OSU) dec. Sam Stoll, 6-1