Big Ten
Nittany Notes: Penn State Aligning Postseason Pieces
Nittany Notes: Penn State Aligning Postseason Pieces
Without NCAA champ Carter Starocci, Max Dean and Brady Berge, Penn State rolled along last weekend to remain unbeaten.
Feb 11, 2022
by Travis Johnson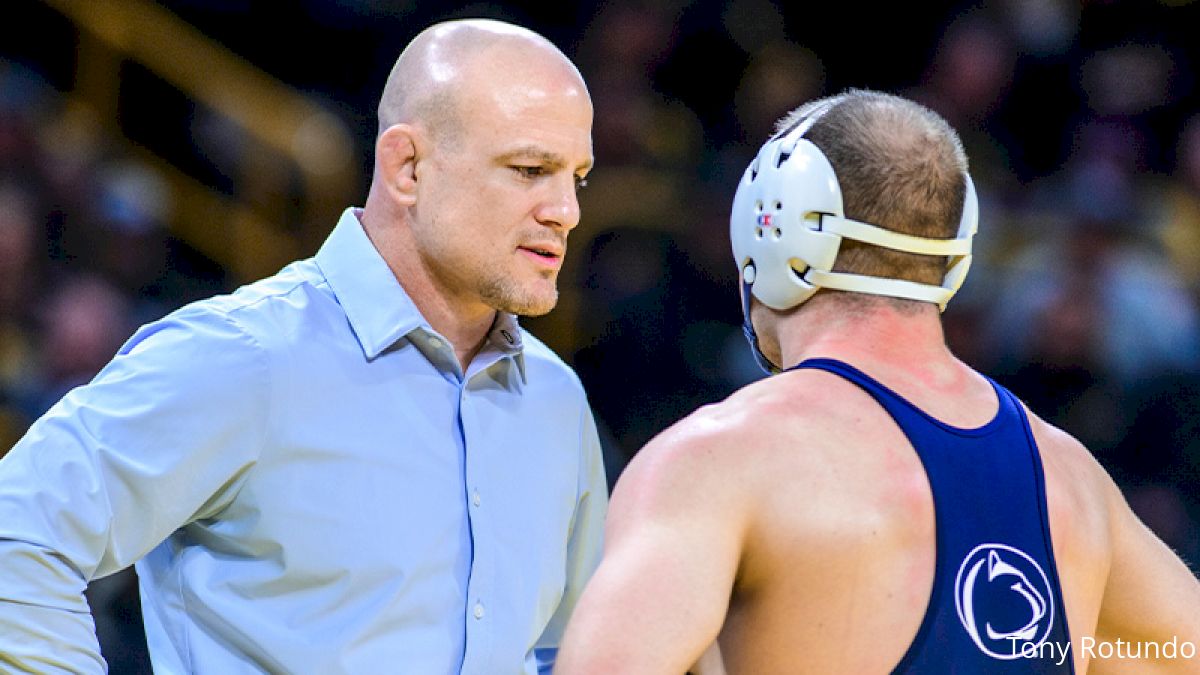 Unlock this article, live events, and more with a subscription!
Get Started
Already a subscriber? Log In
Penn State's lineup has weathered its fair share of bumps and bruises this season.
While the Nittany Lions have been able to avoid major injuries, lingering issues for a handful of starters have forced head coach Cael Sanderson to juggle his lineup nearly all season.
This past weekend brought more of the same. Penn State was without star Carter Starocci for both its weekend duals against Ohio State and Nebraska and didn't have the services of Max Dean on Sunday against the Cornhuskers.
Coupled with veteran Brady Berge sitting out to work "on his weight", the Nittany Lions were in familiar territory having already sent 11 different lineups to the mat this season for duals.
"This was one of those matches where on paper it was looking like it was going to be tight," Penn State coach Cael Sanderson said. "Not a lot of room for error. But yeah, I think the guys wrestled pretty well for the most part."
Penn State still hammered the Buckeyes 32-7 and beat Nebraska 21-13.
"I feel like our team gets more confident with each dual," 184-pounder Aaron Brooks said. "We find a way."
Sanderson expected Starocci to miss both matches in order to heal an unspecified ailment that's been nagging him. Dean, however, came up limping after a tussle with Ohio State's Gavin Hoffman where a clearly hobbled Dean gutted out a 5-3 win in sudden victory.
"He's just a tough kid. He's from a tough family," Sanderson said. "He was limping around there a little bit and he just kind of sucked it up and found a way to win the match."
Starocci yielded his spot at 174 to Mason Manville on Sunday. Manville was majored by Mikey Labriola.
Sanderson's greater concern is making the best use of the time the Nittany Lions have left. For guys like Starocci and Dean, it'll be spent healing.
The Nittany Lions won't wrestle again until they host Rider on Feb. 20. The Big Ten Tournament start on March 5.
"Now we have a couple of weeks," Sanderson said. "We can get some good training in and get into warp shape and let our guys heal up a little bit and be ready to roll."
Lee Speaks Truth
Nick Lee, who missed a few weeks in January with an illness, perhaps said it best after his two-win weekend.
The defending 141-pound NCAA champ majored Dylan D'Emilio 13-3 on Friday before putting on a control clinic against Chad Red in a 4-1 win on Sunday.
"You'll never be 100 percent, so you just gotta go when you can," Lee said.
Rounding Into Form
Sanderson is hoping Berge's decision to return to the team after walking away from the sport in the wake of injury issues will pay off.
Keeping the senior out of the lineup this past week was by design. After all, Berge came back for one reason — win an NCAA championship.
"You just got to go get what you want, I guess, whether you're ready or not," Sanderson said.
Berge was volunteering as an assistant coach with South Dakota State as recently as the fall. As a result, he's got a lot less time on the mat this season and hasn't had nearly as many weigh-ins as his teammates or prospective opponents.
For the past week, Berge's been solely focused on his weight and fine-tuning his conditioning.
"It's hard to do that if you're trying to get ready for a match at the same time, they kind of go against one another," Sanderson said. "I think he had a solid week."
While Sanderson said Berge was taking time to focus on his weight, he didn't explain whether that meant the senior was staying at 165 pounds or cutting back down to 157.
"Both, if that makes any sense," Sanderson said. "It doesn't, does it?"
Middleweight Option
No Berge? No problem. Enter Creighton Edsell.
The bearded junior got the nod at 165 against Ohio State's Kevon Freeman and then Nebraska's Tahjae Jenkins-Taylor.
While he was used sparingly last season, Edsell has found more of a role this year. He's also endeared himself to the coaching staff for being available — and prepared — when called on despite being one of the guys who's battled ailments behind the scenes.
Edsell is 9-3 so far with all three losses coming to wrestlers who were ranked in the Top 20 when the matches took place.
"He'd been off the mat for a while and wasn't really able to train for a while and just kind of came back this week and got thrown in there and got two quality wins," Sanderson said. "So he's good. He can wrestle. He's tough in all positions."
Widening The Gap
Aaron Brooks would have a perfect record as a Nittany Lion if it weren't for Nebraska's Taylor Venz.
The defending 184-pound national champion's lone loss in a Penn State singlet came at the hands of Venz back in 2020. Then, Venz rolled to a 9-5 win in Lincoln. Since then, Brooks has gotten even and then some.
In four matches since, Brooks is 4-0 head-up against the Nebraska wrestler. Brooks pinned him in four minutes in their second match and has outscored Venz 33-13 since.
"He's a worthy opponent," Brooks said. "I like Taylor a lot."