American Rivers
Multi-Divisional Insider: Loras Connects On 'Hail Mary' To Add Gremmel
Multi-Divisional Insider: Loras Connects On 'Hail Mary' To Add Gremmel
A season-ending injury left Loras with a hole to fill at heavyweight. The Duhawks found their guy in Iowa State grad transfer Gannon Gremmel.
Feb 10, 2022
by James Nelson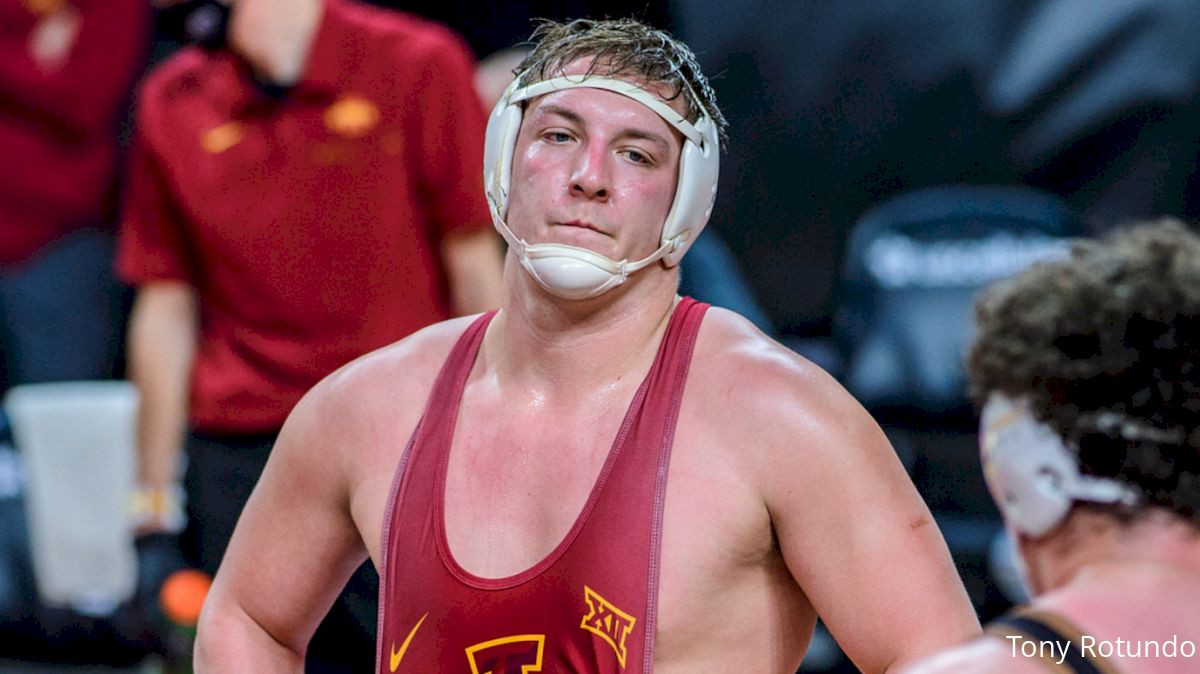 Unlock this article, live events, and more with a subscription!
Get Started
Already a subscriber? Log In
T.J. Miller called it a 'Hail Mary' reach.
Gannon Gremmel's initial reaction was an emphatic, no.
When Loras College heavyweight Wyatt Wriedt went down with a knee injury in December, Miller, the Duhawks' head coach was in a pinch for a team that hoped to chase a Division III National Championship in March.
But losing Wriedt was a blow. A big blow.
So, Miller took a chance.
In July, Gremmel, a native of Dubuque where Loras is located, and an all-American last March for Iowa State at heavyweight, announced he was going to forego an extra year of eligibility to wrestle and enter the workforce. For the past seven months, Gremmel has been traveling the United States as a Sales Development Manager for Olympus Corporation of Americas.
On occasion, Gremmel, the 2021 Big 12 champion and two-time All-American, popped into the Duhawk wrestling room to scrap.
"I did say no at first," Gremmel said. "Then I thought about it. I thought maybe it would be something fun to do and while doing it help Loras bring home a national championship."
Now, 10 months removed from being in the NCAA Division I semifinals in St. Louis, Gremmel could potentially make his debut in the purple and gold Friday when the top-ranked Duhawks (Flo Division III dual rankings) host third-ranked Wartburg College in a battle for the American Rivers Conference dual championship. Gremmel still needs eligibility clearance before he can compete with the Duhawks.
"I did throw a Hail Mary at him to see his interest, and lo and behold, he was semi-interested," Miller said.
There is history with Gremmel and Loras College. His mom, Desiree Orwig-Gremmel, was a long-time women's track and field coach for the Duhawks. Gremmel also participated with a wrestling club that worked out of the Duhawk wrestling room.
"I know that place like the back of my hand. I probably know that place better than all the faculty and students on that campus now. I know where the secret tunnels are, everything" Gremmel laughs.
It also helped that Loras just started its second semester, and the college's Coaching and Leadership Masters program was created for full-time workers, allowing them to work during the day and get their master's at night.
"Yeah, he had a lot of familiarity and love for the school already," Miller added. "We didn't have to sell him on the school. He already knew every corner of our campus. It was just more of a fluke, lucky deal based on his relationship with the school, and he was living in Dubuque."
Miller says there was no timeline for Gremmel to take the mat with the Duhawks, but with a firm target of Feb. 25-26 at Dubuque's Five Flags Center for the Division III Lower Midwest Regional tournament.
Gremmel, however, said he plans to be ready Friday, and he is not worried about shaking off rust or being in optimal shape.
"It's kind of like you're walking down a back alley and a bunch of guys step out of the dark and want to scrap," Gremmel said. "It doesn't matter if you haven't been in a fight in a long time, you remember how to fight. That is something you don't forget, and I like the fight part of it (wrestling)."
Hall of Famers
The National Wrestling Coaches Association announced its 10-member Jim Koch Division II Hall of Fame 2022 Inductees.
This year's honorees are John Azevedo from Cal State-Bakersfield, Randy Batten of Tennessee-Chattanooga, brothers Adam and Dan Cuestas from Cal State-Bakersfield, Mike Gallego from Fresno State, Cody Garcia of Nebraska-Omaha, Joe Gonzales of Cal State-Bakersfield, Todd Meneely of Nebraska-Omaha, Lazara Reinoso of Carson-Newman and Kamaru Usman of Nebraska-Kearney.
The inductees will be honored at the NWCA National Convention on July 30 at the Ponte Vedra Beach, Fla. Sawgrass Marriott Golf Resort & Spa. Tickets for the event can be purchased at http://www.nwcaconvention.com/shop/product/53552.
Mr. 300
In an 18-13 victory over the University of Dubuque on Jan. 28, Luther College head coach Dave Mitchell won his 300th career dual meet.
Mitchell, in his 26th season in Decorah, is the third American Rivers Conference (Iowa Conference) wrestling coach to reach the 300-milestone joining Al Baxter of Buena Vista University (376-119-5), and Jim Miller of Wartburg College (413-37-2).
In his career, Mitchell has coached 61 all-Americans, nine national champions, nine national runner-ups, 56 scholar All-Americans, three NCAA Postgraduate Scholars, Five CoSIDA Scholar All-Americans and two Iowa Conference Male Scholar Athletes of the Year.
In 2004, Mitchell was named NCAA Division III Coach of the Year.
The Norse have also recorded seven top-5 finishes at the NCAA Division III National Championships – third (2016, 2006, 2005, 2004), fifth (2003), and fourth (2001, 2007).
Division II NCAA Championship Tickets
All-session tickets for the 2022 NCAA DII Wrestling Championships held on March 11-12 at Chaifetz Arena in St. Louis, Missouri are now available for the public to purchase through Ticketmaster.com. Groups of 10 or more can receive a discount on all-session general admission tickets. For details or to place an order, please call 314-977-5011.
Of note, ticketholders will be required to provide proof of full COVID-19 vaccination or negative test result received within 72 hours of the Championships.
Division III NCAA Championship Tickets
All-session tickets for the 2022 NCAA Division III Wrestling Championships set for Alliant Energy Powerhouse in Cedar Rapids (Iowa) on March 11-12 are now on sale.
All-sessions tickets are $72 and can be purchased on the arena's ticket website -- https://www.creventslive.com/events/2022/ncaa-2022-division-iii-wrestling-championships