2022 Iowa State vs Northern Iowa
Iowa State vs Northern Iowa Is A Must-Watch Dual
Iowa State vs Northern Iowa Is A Must-Watch Dual
Pride is on the line when Iowa State takes on Northern Iowa in Cedar Falls on Friday, February 10.
Feb 10, 2022
by Kyle Klingman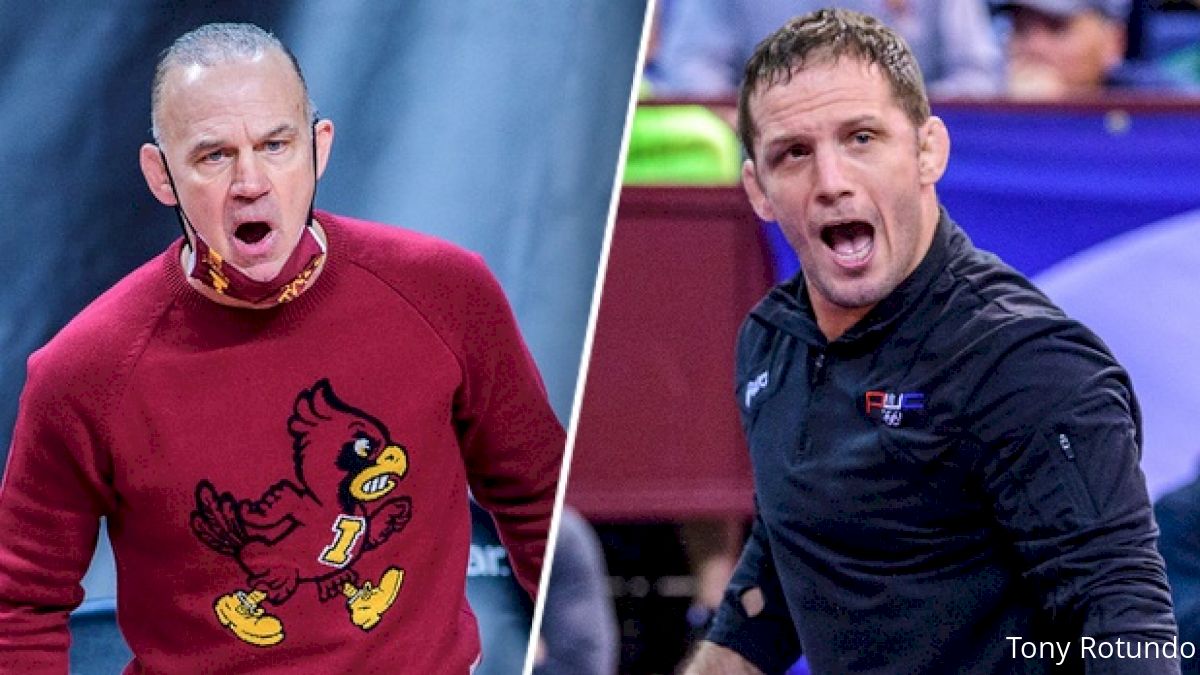 Iowa State coach Kevin Dresser says that Northern Iowa coach Doug Schwab will never defeat his team from this point going forward. That's a bold statement given the recent history between these in-state programs.
The Cyclones hold a commanding 59-20 historical advantage, but the Panthers have won four of the last seven meets despite dropping the last two. In a state that values wrestling as much as Iowa, this meet has become a focal point for fans beyond its borders.
"Schwab will never beat me again," Dresser said. "He will never, ever beat me again — and ever is a long time. He might beat me in a pull-up contest and a rope climbing contest, but that's it."
Dresser's comments are clearly tongue-in-cheek and meant to needle his Big 12 rival, but Schwab has every intention of taking it the wrong way — especially if it fuels his team to a win this Friday at 7 p.m. Central in the McLeod Center.
"He said something along those lines and we remember those things," Schwab said. "You're trying to build and trying to ramp it up and it's coaches talking a little bit — but he means it. And we take it that way, too. We've had good fun and we banter back and forth and it's a healthy respect for each other, but when we step on that line we're coming for blood. That's how it is."
An outsider might think that Iowa State has this meet in the bag. The Cyclones are 13-1 on the season with a 22-11 loss to Iowa on December 5.
Northern Iowa is 7-5 on the season but it has faced stiffer competition. The Panthers opened the season 0-4 with losses to Missouri, Virginia Tech, Cornell, and Penn State.
Dresser is only focused on what has happened recently. The two teams had identical opponents over a two-week stretch — only the dates were different. Both defeated Oklahoma State and Oklahoma on the road and both defeated Air Force and West Virginia at home.
"UNI is a completely different team than they were two months ago," Dresser said. "For all practical purposes, this could be a top 10 match real easy. It's great to have Iowa State and UNI competing against each other. It shows people that Iowa is a wrestling state. It's a good thing for wrestling."
Former Northern Iowa national finalist Jim Miller understands the importance of this meet as well as anyone. Although he is best known for leading Wartburg to 10 D3 NCAA titles, he remembers his days as a UNI assistant when his team was seen as little brother Iowa State.
Two meets, in particular, stand out to Miller — and both were wins over Iowa State in the UNI-Dome. The first was in 1984 when Miller devised a plan to move several wrestlers up in weight to bolster the line-up.
Northern Iowa coaches and athletes from that team claimed that Iowa State was laughing at them across the mat when they made the shifts. One former Cyclone wrestler says that's nonsense.
The second big UNI win came in 1988 — the year after Iowa State won the NCAA tournament with four individual national champions and five finalists.
"It was a statement meet — and if you won, it was a statement win," Miller said. "You always run into them in recruiting. You run into them on the road. You're always seeing how they're doing and they're doing the same. It's a big deal.
"Dresser and Schwab have a really good rivalry going. It's very healthy and respectful but they each want to beat each other really bad — and so do the fan bases. I think this is one of those meets where people across the country want to see it and want to know what happens. This is going to be a heck of a meet."
January 29: defeated Oklahoma State, 19-15, in Stillwater
January 30: defeated Oklahoma, 17-15, in Norman
February 4: defeated Air Force, 31-6, in Cedar Falls
February 5: defeated West Virginia, 31-10, in Cedar Falls
January 28: defeated Oklahoma, 22-9, in Norman
January 30: defeated Oklahoma State, 20-12, in Stillwater
February 4: defeated West Virginia, 31-9, in Ames
February 5: defeated Air Force, 27-12, in Ames


Probables
125: #15 Kysen Terukina (ISU) vs #19 Brody Teske or Kyle Gollhofer (UNI)
133: HM Ramazan Attasauov (ISU) vs #21 Kyle Biscoglia (UNI)
141: #16 Ian Parker (ISU) vs #23 Cael Happel (UNI)
149: HM Jarrett Degen (ISU) vs HM Colin Realbuto (UNI)
157: #1 David Carr (ISU) vs HM Derek Holschlag (UNI)
165: HM Isaac Judge or Austin Kraisser (ISU) vs #18 Austin Yant (UNI)
174: #18 Joel Devine or Julien Brodersen (ISU) vs #21 Lance Runyon or Pat Shoenfelder (UNI)
184: #6 Marcus Coleman (ISU) vs #4 Parker Keckeisen (UNI)
197: #13 Yonger Bastida (ISU) vs John Gunderson (UNI)
285: #20 Sam Schuyler (ISU) vs Carter Isley (UNI)