2022 Bout at the Ballpark Presented by Kubota
Cowboys Regrouping After Rough Stretch
Cowboys Regrouping After Rough Stretch
Oklahoma State was cruising until a two-week stretch of turbulence. Now the Cowboys are in regoup mode going into Saturday's clash with Iowa.
Feb 9, 2022
by Roger Moore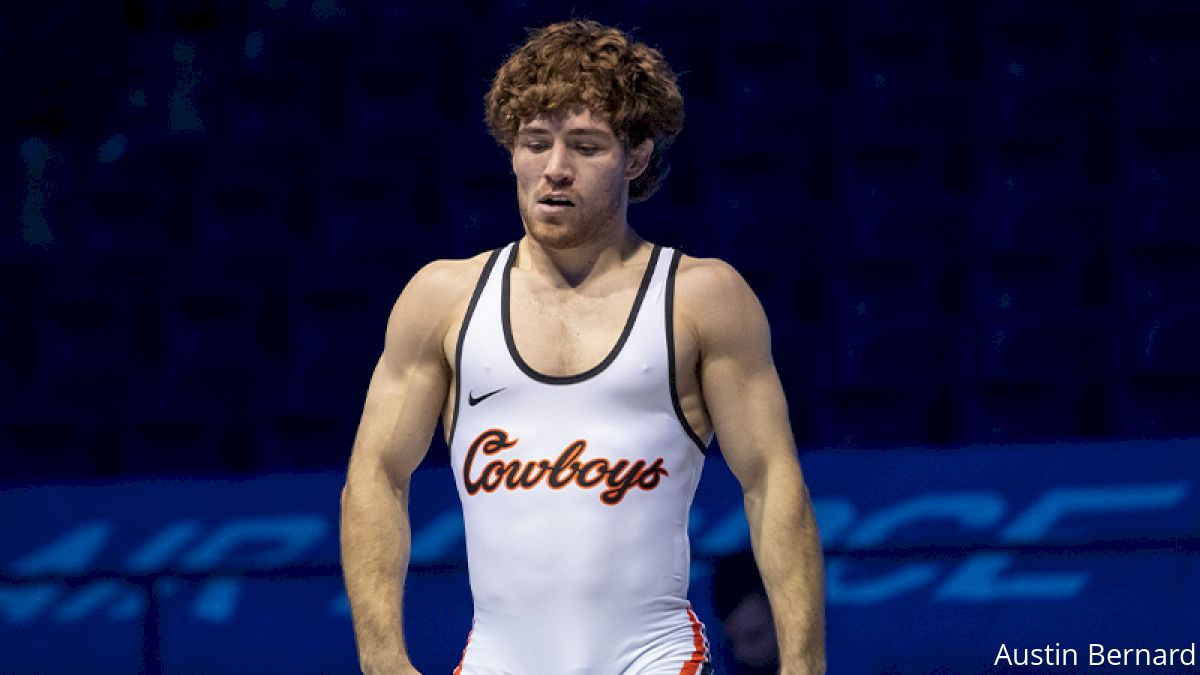 If John Smith had the ability to hit the delete button to erase the last two weeks he might just do so. After racing to a 10-0 start without much challenge, the Oklahoma State Cowboys hit late January feeling pretty good about themselves. But a Jan. 24 automobile accident involving 2021 NCAA champion A.J. Ferrari opened a week that never got on track; things got discombobulated and practices felt out-of-sync.
The week culminated in dual defeats against Northern Iowa and Iowa State.
In a 19-15 loss to the Panthers, Dustin Plott got pinned and All-American Travis Wittlake, back after a few weeks off the mat, suffer a rare defeat. In Ferrari's absence, backup 184-pounder Gavin Stika gave the hosts a chance, but UNI closed the deal. Less than 24 hours later, old rival Iowa State was better in all aspects, earning a 20-12 win.
Suddenly, things felt broken and in need of fixing. A few different routines, a singlet change, a more relaxed attitude was apparent against a good South Dakota State squad – a team with wins over UNI and Missouri. John Smith's troops appeared to be back on track after a convincing 26-9 win with a bus ride to Columbia on tap. However, that bus ride did not include 125-pounder Trevor Mastrogiovanni, who was injured in his 2-1 win over Tanner Jordan against South Dakota State – an injury that proved costly against the Tigers.
Three bouts into the Missouri dual, the Cowboys led 12-0. Oklahoma State held a 15-6 advantage after Dakota Geer's win at 184 pounds with All-American Daton Fix still to wrestle. But Zach Elam and Noah Surtin notched back-to-back falls. Surtin pinned a fourth-string replacement for Mastrogiovanni to give the Tigers a 21-15 margin.
Fix's technical fall fashioned the final score, but over the course of about 10 minutes, thoughts of the delete button, of when it rains it pours, of forgetting about a tough stretch filtered through the bus ride home.
"It was pretty quiet on the ride home," Fix said. "We're Oklahoma State, not used to losing three duals in a season, so losing three in two weeks is not normal. It gives us a lot to work on. You can look at it in two ways — be down on yourself or do what you need to do to get ready for the next match."
Very few are feeling sorry for the 34-time NCAA champions. Especially an Iowa Hawkeye squad that will be waiting Saturday in Arlington, Texas, for the mega-dual known as Bout at the Ballpark. It's a showcase, a spectacle, a dual hyped like the one at Kinnick Stadium in 2015 that drew over 42,000.
All involved in the Oklahoma State camp know a major test awaits. Most likely down two starters, the Cowboys, already underdogs before the loss of Ferrari and Mastrogiovanni, will require a massive effort.
"A lot of things you didn't plan on over the last few weeks," Smith said. "Car crashes, injuries, things that take you out of your normal routine that once you are out of can be difficult to get back quickly. We didn't wrestle poorly against Missouri, but injuries, not just the usual starters, but guys that would replace them are also injured, so it's a different look for your team. In the end, sending out someone not on scholarship against a team like Missouri is going to be tough.
"I hope we realize that there's an upside to this dual. We have several matches we can win; we're not going in thinking about the last few weeks, but about wrestling Iowa."
Added Fix: "It was not an easy week with the wreck, everything else that happened, and then to lose two duals. It was tough for a lot of people to stay focused on wrestling. What's important is that everyone is going to be OK and we still have our goals in front of us — to win at Big 12 title and to go compete for a national title. We haven't lost to Iowa … the match is still this Saturday and we are going down (to Texas) to do what we can to win that dual."
What about Ferrari and Mastro?
Friday night injuries do not necessarily provide much time to get a backup match-ready. Reece Witcraft went 18-10 as a 133-pound true freshman during the 2019-20 season, but is redshirting and injured on top of that. Freshman Cooper Birdwell, a four-time Montana state champion, and redshirt freshman Alexander Yokubaitis, a four-timer from Louisiana, made the trip to Columbia with Yokubaitis suiting up.
Against Iowa, without national champion Spencer Lee, Smith is hoping to possibly get back his regular starter, Mastrogiovanni (12-1) but Birdwell will be ready this Saturday.
"Mastrogiovanni is going to be OK, could maybe go (Saturday), but we really won't know until the end of the week," Smith said. "It's better to have a week versus having one day to get ready."
The biggest absence is Ferrari, a Texas product who is built for the spectacle of this Saturday.
"It really is day-by-day at this point," Smith said. "He thinks he's coming back, but we are seeing where it leads. We don't really know yet; there are a lot of factors involved and we are certainly taking it slow."
In Ferrari's absence, Smith has employed Stika, a 174-pounder by trade.
"Every moment I get to step on the mat for Oklahoma State is awesome," Stika said. "Win, lose, no matter what happens, I've been given an opportunity to wrestle and I've got a job to do. I've been fortunate to travel with the team the last few years and have always been ready to go if needed, so I'm looking at it as an opportunity to help the team."
Said Smith: "What a great kid, a great human being. He's played his role … 'Where do you need me?' without complaints and he's going to compete hard every time. He may get the opportunity to wrestle at the Big 12s with the opportunity to qualify for the NCAA Tournament."
Streaking
Since taking an ugly and less-than-inspiring loss to Jaden Abas of Stanford in the season-opener, 149-pounder Kaden Gfeller has won 12 straight matches, including a pin against Missouri's Josh Edmond that gave the Cowboys an early spark. It's no secret that Gfeller raced toward the top of the rankings as a rookie 141-pounder in 2018-19, going 28-6 after a quick exit at his first NCAA meet. Since, the Oklahoma City product has wrestled just 27 bouts; his 50-10 career mark speaks for itself. But wrestlers are judged by All-America medals in March.
"We knew it was possible," Smith said of his 149-pounder. "We told him either bring your game that we know you have or you may not be starting. He took that to heart. It wasn't a tough conversation. I think he knew it was time to get some maturity, to contribute to this team and take advantage of the ability that you have."
"I have to keep it rolling," Gfeller said. "I feel like I'm getting better each week and that is important this time of year. I really feel like I'm getting into the groove and I'm looking forward (to Iowa). If we've got guys out, I've got to step up."
Can the Cowboys pull off an upset?
The Cowboys own a 29-23-2 series advantage, but Iowa has won five of the last seven, including a 34-6 beatdown in Carver-Hawkeye Arena in February of 2020. The two programs have combined for 58 NCAA team titles, Iowa winning in 2021 and the Cowboys not since 2006. To say there is no love lost between the two rivals is a rather large understatement. Entering Saturday, the Hawkeyes, whose only dual loss this season is to Penn State, are favored – on paper at least – at 125, 141, 149, 157, 165, 174, 197, and 285.
Fix (14-0) squares off with third-ranked Austin DeSanto at 133, and Geer (11-3) most likely gets Abe Assad at 184 pounds. Hawkeye veterans Jaydin Eierman, Michael Kemerer, Jacob Warner, and Tony Cassioppi enter Saturday as rather large favorites.
"The pressure's off now, nobody expects anything from us now, so maybe they will take us for granted," said Fix, who still expects to also wrestle in a freestyle match despite Iran's withdrawal from the event.
Yes, it is Oklahoma State-Iowa. But the bigger picture includes a showcase for collegiate wrestling, an out-of-the-box event that draws eyes to the sport. Two stars – national champions Spencer Lee and Ferrari – will be absent, but the spectacle of the event far outweighs any individuals.
"It's great for the sport of wrestling; you don't see wrestling matches on a Major League field. To be a part of it is going to be something to remember," Fix said.
"Wrestling on the Texas' Rangers field is going to be insane," Gfeller said. "In front of that many people, a once-in-a-lifetime experience that you only dream about. Events like this don't happen very often, and Oklahoma State seems to be involved in a lot of them. Nobody cares about wins or losses before the dual, or what's happened to the two teams, it's a rivalry that everybody gets up for, gets excited about. You add a baseball field … it's going to be fun."