2022 Bout at the Ballpark Presented by Kubota
Iowa & Oklahoma State Release Probable Lineups For Of Bout At the Ballpark
Iowa & Oklahoma State Release Probable Lineups For Of Bout At the Ballpark
Check out the probable starting lineups for Iowa and Oklahoma State prior to their dual this Saturday night.
Feb 9, 2022
by JD Rader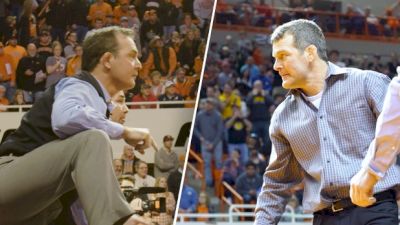 The #2 Iowa Hawkeyes and the #5 Oklahoma State Cowboys are all set for an amazing dual Saturday inside Globe Life Feild where the Texas Rangers play.
The defending national champion Hawkeyes will be the favorite to win, but a couple of swing matches are certain weights could make things very interesting.
Probable Lineups
125: #12 Trevor Mastrogiovanni (OK State) OR Cooper Birdwell (OK State) vs Jesse Ybarra (Iowa) OR Drake Ayala (Iowa)
133: #2 Daton Fix (OK State) vs #3 Austin DeSanto (Iowa) OR Cullan Schriever (Iowa)
141: #17 Carter Young (OK State) vs #2 Jaydin Eierman (Iowa)
149: #18 Kaden Gfeller (OK State) vs #10 Max Murin (Iowa)
157: #14 Wyatt Sheets (OK State) vs #13 Kaleb Young (Iowa)
165: #7 Travis Wittlake (OK State) vs #5 Alex Marinelli (Iowa)
174: #10 Dustin Plott (OK State) vs #2 Michael Kemerer (Iowa)
184: #9 Dakota Geer (OK State) vs #16 Abe Assad (Iowa)
197: Gavin Stika (OK State) vs #3 Jacob Warner (Iowa)
285: Luke Surber (OK State) OR Austin Harris (OK State) vs #2 Tony Cassioppi (Iowa)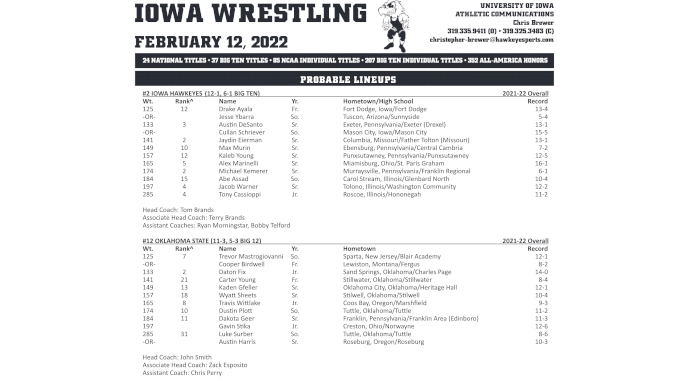 You can read Iowa's full match notes and press release HERE.
Heading south for college wrestling's biggest rivalry 🤠

🗓️ Saturday, Feb. 12
⏰ 6:30 p.m.
🏟️ @GlobeLifeField
💻 @FloWrestling
📻 Hot 93.7 KSPI-FM#DynastyDefined I #GoPokes pic.twitter.com/ul6Z4gm0Zi

— OSU Cowboy Wrestling (@CowboyWrestling) February 8, 2022