Women's Weekly
Women's Weekly: Iowa Off To A Fast Start
Women's Weekly: Iowa Off To A Fast Start
Iowa picked up its first three recruits while the top two teams in the country had a down-to-the-wire dual.
Feb 7, 2022
by Kyle Klingman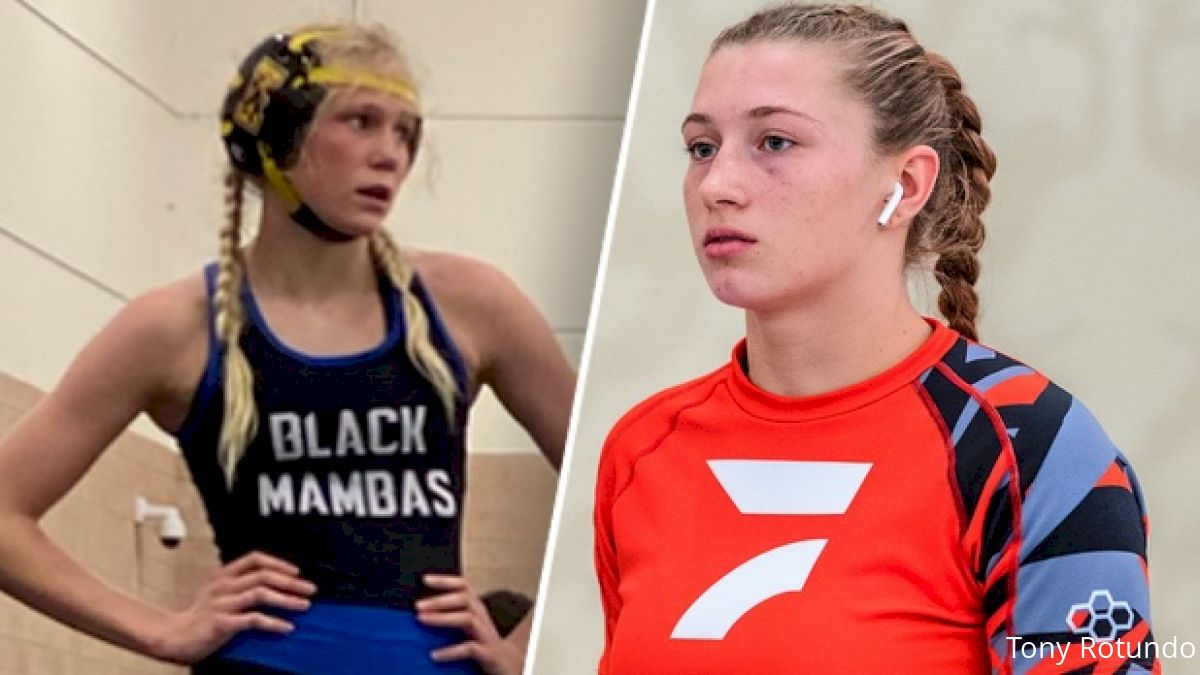 Iowa On The Move
New Iowa women's coach Clarissa Chun is on the recruiting trail and she landed three of the best wrestlers in the country. Kylie Welker — the #1 overall high school recruit — kicked things off by announcing her commitment to the Hawkeyes on February 3. A few days later, Bettendorf's Ella Schmit became the first in-state recruit for Iowa.
Welker reached the finals of the Olympic Trials last year where she fell to six-time World champion Adeline Gray in straight matches. She won a Junior World title, a U23 bronze, and made the Senior World team at 72 kilograms.
Schmit recently won her third IWCOA state title shortly after it was announced that Iowa was sanctioning girls' high school wrestling. Reese Larramendy — ranked #1 at 144 pounds — was the third wrestler to commit. Iowa will begin a full college competition schedule for the 2023-24 season.
Presbyterian And Sacred Heart Are D1, Too
Iowa isn't the only Division I program that offers women's wrestling. Presbyterian was the first D1 university to add the sport and Sacred Heart was the second.
The Pioneers, led by former Campbellsville assistant Paulina Biega, are 5-3 on the season after wins against Limestone and Bridge the Divide (a team of athletes from various schools throughout the country) during a D1 showcase on February 6.
"This weekend was much needed," Biega said. "It was a tough few days but we pulled through. We know what we need to fix and we are going back to the drawing board to rise again. Regionals are right around the corner.
"I'm also excited that the Bridge the Divide team was here. Emma Randall and Lori Ayres are doing a fabulous job with providing these girls opportunities."
Tornado Time
Top-ranked King University (NCAA) competed at the Limestone Open over the weekend and they blew through the competition. The Tornado crowned six champions and took the top three spots at 109 and 130 pounds.
#1 vs #2
#1 Life University faced #2 Campbellsville University in a rematch of the 2022 NAIA Women's National Duals final held on January 7 in Louisville where the Running Eagles won, 25-19. The win made Life coach Ashley Sword the first woman to coach a National Duals championship.
The two teams faced off again, this time during a triangular hosted by the University of the Cumberlands on February 3. The Running Eagles led 13-0 after three matches but the Tigers won five straight — including four falls — to take a 23-14 lead into the final two matches.
Life needed to win both matches by fall for the win. Jordan Nelson (170) and Gabrielle Hamilton (191) closed out the meet with pins for a thrilling 24-23 victory on the road.
Campbellsville and Life will meet at Mid-South Conference Championships on February 20 and at the NAIA National Women's Invitational on March 11-12 in Jamestown, North Dakota.
McKendree Is Back
Reigning two-time National Collegiate Women's champions (NCAA) McKendree has not competed since a 25-19 loss to King University in the National Duals final on January 7. The Bearcats host Lindenwood on February 11, the Bearcat Open on February 12, and regionals on February 20.
The NCWWC Championships are scheduled for March 4-5 in Adrian, Michigan.
"We are preparing," McKendree coach Sam Schmitz said. "We had a few hiccups and we are healing some nagging injuries right now. It was nice to regroup for a few weeks and get ourselves situated in the classroom to make one last push. Then it's on to the spring and trying to make more World teams."
Menlo Open
Simon Fraser University (NCAA) — located in Burnaby, British Columbia — has quietly gone about its business this season. The team missed the National Duals due to COVID restrictions but they have compiled a 3-0 dual record with a handful of tournaments. They had a successful outing at the Menlo Open on February 6, winning five of 10 weights with three runner-up finishes.
"We haven't competed as much as we'd like but it was nice to get two straight days of competition," SFU coach Justin Abdou said. "Our women wrestled well and it was probably the best line-up we've had so far this year.
"We are going to use the next couple of weeks to keep getting better as we approach regionals and nationals. Our girls are excited about having a post-season this year, as am I. Having Alex Hedrick back at regionals and nationals will also help our team. Lauren Mason in the line-up is also a nice boost. She's a great leader and a fierce competitor. The young girls are really feeding off of her energy."
Host Menlo (NAIA) missed the National Duals, too. The Oaks sent nine wrestlers to the finals and won five titles after completing the dual season 6-2.
"Our team is coming together," Menlo coach Joey Bareng said. "We won four out of nine matches wrestled against Simon Fraser, but won six of 11 if you add in the two exhibition matches at the end.
"We still have five weeks to get better and our team looks and feels energetic. It's exciting to finally feel like our old selves. In a lot of ways, this unit is even stronger than our past Menlo squads."
She Said It
"Wrestling has shown me what it is to be truly passionate about something. Wrestling has given me a chance to travel the world, get a college degree, meet some of my best friends, and find direction and purpose in my life." — Alli Ragan, two-time WCWA champion and two-time World silver medalist