Big Ten
Michigan notebook: So far, so good for Suriano
Michigan notebook: So far, so good for Suriano
Michigan is rebounding from the Penn State loss and Nick Suriano has quickly become the nation's No. 1 125-pounder
Jan 28, 2022
by Mark Spezia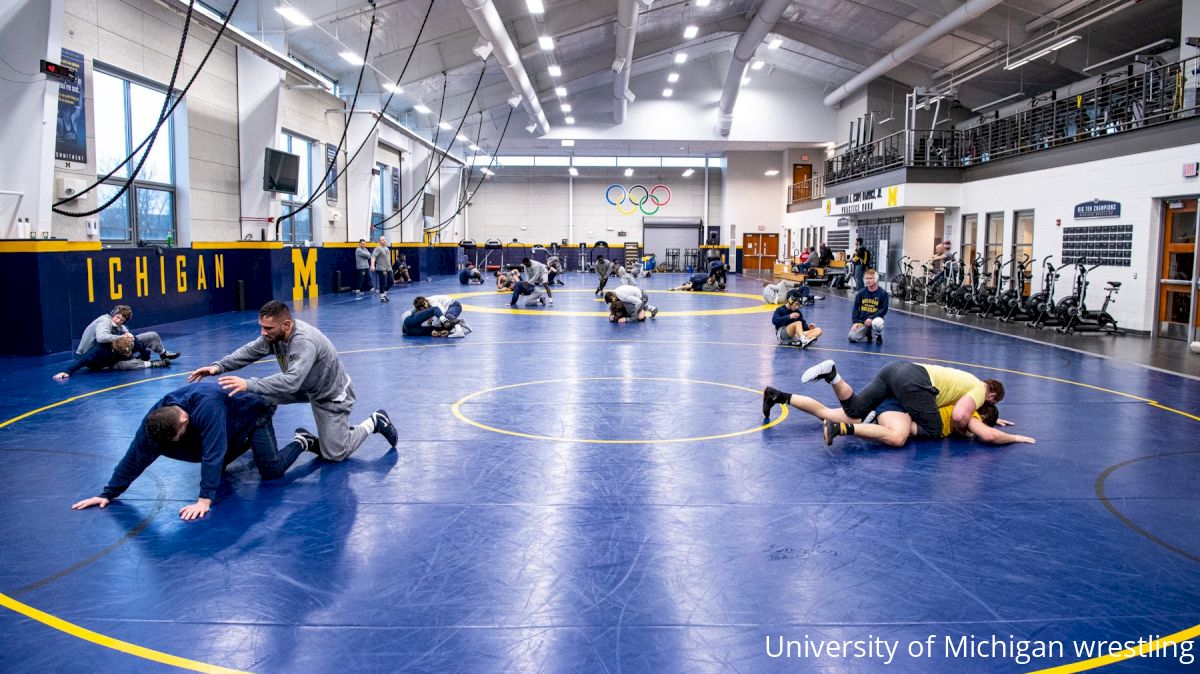 Unlock this article, live events, and more with a subscription!
Get Started
Already a subscriber? Log In
The picture said it all:
Michigan is busy bouncing back from last Friday's lopsided loss to top-ranked Penn State in a showdown of the nation's No. 1 and No. 3 teams.
The Wolverines squashed then-No. 14 Rutgers, 35-8, two days later and began preparing to host No. 16 Minnesota Friday.
On Wednesday, a photo of that preparation surfaced on the team's Twitter account with the caption "Full room, full heart."
The image showed the Wolverines paired off and perfecting moves on the massive blue mat trimmed in maize circles in the squad's practice room. The five interconnecting Olympic rings are seen painted on the back wall and Olympic bronze medalist Myles Amine is shown at the front of the mat honing an on-top move.
The next morning, the same photo was seen by many more eyes when it was posted to NCAA Wrestling's official Twitter account, this time with the caption "Rise and grind, wrestling fans!"
The fourth-ranked Wolverines will indeed continue grinding as they work on rising above the 29-6 setback suffered at the hands of the Nittany Lions.
While a perfect duals record for the first time since 1973-74 won't happen, there is, of course, plenty the Wolverines are determined to still accomplish this season.
At 6-1 overall, Michigan can finish with no more than a single dual loss in consecutive years since doing so in fourth straight seasons from 1962-63 through 1966-67. The Wolverines were 5-1 last season.
After Minnesota, Michigan faces Maryland, No. 9 Nebraska, Indiana, No. 18 Michigan State and No. 22 Central Michigan. The Wolverines can enter the Big Ten Championships tied for first place should they win out and Iowa knocks off Penn State Friday.
The most All-Americans Michigan has ever had at a single NCAA Championships is five. The chances of surpassing that total appear excellent with seven wrestlers on the roster who have been All-Americans at least once and Dylan Ragusin being ranked No. 8 at 133 pounds.
The Wolverines can also take some solace in the fact that while the final score against Penn State was not close, many individual matches were. In fact, they lost five matches by a combined 10 points and were leading after two periods in three of them.
Also, three-time All-American Stevan Micic was out of the lineup and the Wolverines suffered an injury default loss at 149.
SO FAR, SO GOOD FOR SURIANO
Michigan has not had an NCAA Champion since Kellen Russell in 2012, but senior Nick Suriano could very well change that. After all, he is already a national champion, standing atop the 133-pound podium at the 2019 NCAA Championships while wrestling for Rutgers.
While he remained active wrestling various international and national tournaments, Suriano had not wrestled collegiately since then. He finally returned to college competition on Jan. 9 after transferring to Michigan in late November and has not missed a beat, going 5-0 with two technical falls and two major decisions.
Going unbeaten thus far and a season-ending knee injury to three-time NCAA Champion Spencer Lee (Iowa) has put Suriano atop the 125-pound rankings.
Suriano passed his most difficult test thus far with a 2-1 nipping of All-American Drew Hildebrandt, ranked No. 8, to begin the Penn State match. He has also knocked off No. 12 Malik Heinselman (Ohio State), a three-time NCAA qualifier, and four-time NCAA qualifier Gage Curry (Pittsburgh).
Suriano improved to 5-0 with Sunday's technical fall win over Rutgers' Dylan Shawver.
"Nick wrestled a great leadoff match for us and I know he wanted come out with a ton of energy and scored a lot points," Wolverines coach Sean Bormet said in a video on the team's Twitter account. "He opened up with a dominant performance and that's what he did. Nick wrestled strong from all positions and kept a lot of pressure on his opponent. When he does that, Nick can pile on the points."
Suriano has another stiff test waiting for him Friday against No. 7 Patrick McKee, who was third at last year's NCAA Championships.
At the Big Ten championships, he could tangle with No. 6 Eric Barnett (Wisconsin), a 2021 All-American, No. 9 Drake Ayala (Iowa) and No. 10 Michael DeAugustino (Northwestern).
Suriano has not faced No. 2 Vito Arujau (Cornell), collegiately, but dropped a close decision to the 2019 All-American at the 2019 US Senior Nationals.
Among those Suriano has beaten the past two years are 2012 Olympian Ahmet Peker (Turkey) and past NCAA champions Darian Cruz and Nahshon Garrett.
MOVING ON UP
Senior Myles Amine is now five wins away from reaching the top 20 on Michigan's all-time career wins list. The nation's second-ranked 184-pounder boasts a 112-22 record with the Wolverines.
There is a three-way tie for 19th place with 117 career wins and Amine has a realistic chance of catching three-time All-American Tyrel Todd (121 wins), who is 16th.
Amine, ranked second, dropped a 3-1 decision to No. 1 Aaron Brooks in the Penn State match. Brooks is seeking a second straight NCAA title this season.
Amine, who is also ranked No. 10 pound-for-pound, is 7-1 this season, including wins over No. 5 Kaleb Romero (Ohio State) and No. 11 Brit Wilson (Northern Illinois), a 2021 All-American.
He also decisioned NCAA Champion and three-time All-American Mark Hall at the Matman Open.
Amine could tangle with two other ranked wrestlers this weekend in Minnesota's Isaiah Salazar (No. 22) and Maryland's Kyle Cochran (No. 13) on Sunday. He could also face No. 18 Donnell Washington (Indiana) and No. 19 Layne Malczewski (Michigan State) before the Big Ten Championships and another crack at Brooks.
Meanwhile, heavyweight Mason Parris is currently 10th on the program's all-time career winning percentage list at .861 on the strength of an 81-13 record prior to Friday's likely meeting with top-ranked defending NCAA Champion and Olympic gold medalist Gable Steveson.
Parris, who fell to Steveson in last year's NCAA title match, is 8-1 this season and ranked third.