2022 Penn State vs Iowa (Audio Only)
Hildebrandt Hoping To Pick Up Slack For Penn State At 125 vs. Iowa
Hildebrandt Hoping To Pick Up Slack For Penn State At 125 vs. Iowa
Two-time All-American Drew Hildebrandt has given Penn State a boost at 125 pounds.
Jan 27, 2022
by Travis Johnson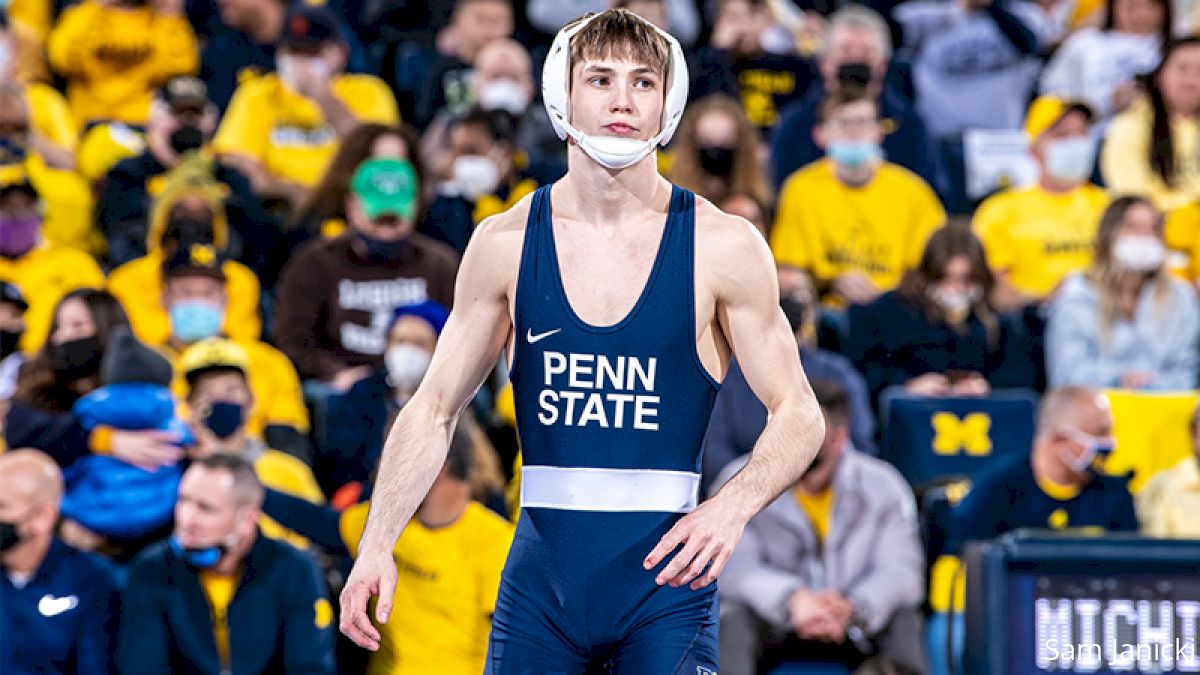 Unlock this article, live events, and more with a subscription!
Get Started
Already a subscriber? Log In
Drew Hildebrandt spent the majority of his collegiate wrestling career in a Central Michigan singlet. He's hoping his most notable achievements will come later this year as a Nittany Lion.
The newest Nittany Lion has a chance to do something no Penn State wrestler has done for nearly 10 years – win a dual-meet bout against Iowa at 125.
Penn State is 0-for-4 in dual-opening matches against the Hawkeyes since 2013. The Nittany Lions' last winner to start a dual against Iowa? Nico Megaludis, who edged Thomas Gilman 4-1 all the way back on Dec. 21, 2013.
Since then, Gilman and Spencer Lee reigned supreme at college wrestling's lightest weight and the two programs have split four duals 2-2. In that span, Penn State has struggled to find a 125-pounder as vaunted as Megaludis.
"Unfortunately, the last few years, we've gotten used to being down points right out of the gate," Penn State coach Cael Sanderson said. "Our guys have responded well. Having a title contender in there like Drew is exciting."
Hildebrandt is hoping to live up to that. He'll likely face ninth-ranked freshman Drake Ayala in what is expected again to be the dual's first bout.
Since Megaludis graduated, the Nittany Lions have tried a handful of 125-pounders with lackluster results. No Penn State 125-pounder has earned All-America honors since Megaludis in 2016 and the Nittany Lions have been outscored badly in dual meets at the weight ever since.
Hildebrandt has begun to shift that trend. Since he pinned Maryland's Zach Spence in his Penn State debut on Jan. 7, Hildebrandt is 4-1 and 1-1 vs. ranked opponents.
"I think he's been, not just a boost obviously for our team this year, but just a great training partner, a great role model in the way that he prepares and the consistency he brings," Sanderson said.
His lone loss came via a 2-1 decision against Michigan's Nick Suriano last weekend, a match that Hildebrandt said he learned from.
"I just think my mindset approaching matches," Hildebrandt said. "I've got to start to get my offense going more and compete and want to score more points, knowing I'm that guy, I can win the national title."
He's been close before.
At Central Michigan, Hildebrandt went 45-5, won two MAC titles and earned All-America honors twice. He admitted earlier this week that he was "burnt out" on the sport and thought he was "done" after a fourth-place finish at last season's NCAA tournament.
"I decided to be done," Hildebrandt said. "And then I started missing it a bit."
Although he's a relatively new face in Penn State's program, Hildebrandt sees himself as a key piece in the Nittany Lions' push to re-establish themselves as NCAA champs. He looks at the bonus-point abilities of the team's stars – Aaron Brooks, Roman Bravo-Young, Nick Lee, Carter Starocci and Greg Kerkvliet – and believes he can contribute in similar ways.
"I came back to win a national title and to help this team," Hildebrandt said. "I just view every win I get, every bonus point I get as a benefit to this team and I'm just trying to help them and learn some things along the way."
Sanderson is hoping to learn more about his lineup, as he said he usually does when it battles Iowa.
The Hawkeyes will likely send 10 ranked wrestlers onto the mat at Carver-Hawkeye Arena. Seven of them are ranked in the Top 10 at their respective weights.
"You always want to win," Sanderson said. "You always want to wrestle great, but it's more important to just kind of see where you're at and see where you can improve. We know Iowa's really good at showing you what you need to do better and improve on and so that will be the game plan this year too."