2022 Penn State vs Iowa (Audio Only)
4 Takeaways From Sanderson's Pre-Iowa Dual Press Conference
4 Takeaways From Sanderson's Pre-Iowa Dual Press Conference
Coach Cael Sanderson and Drew Hildebrandt open up about their upcoming dual with the Iowa Hawkeyes.
Jan 27, 2022
by Jon Kozak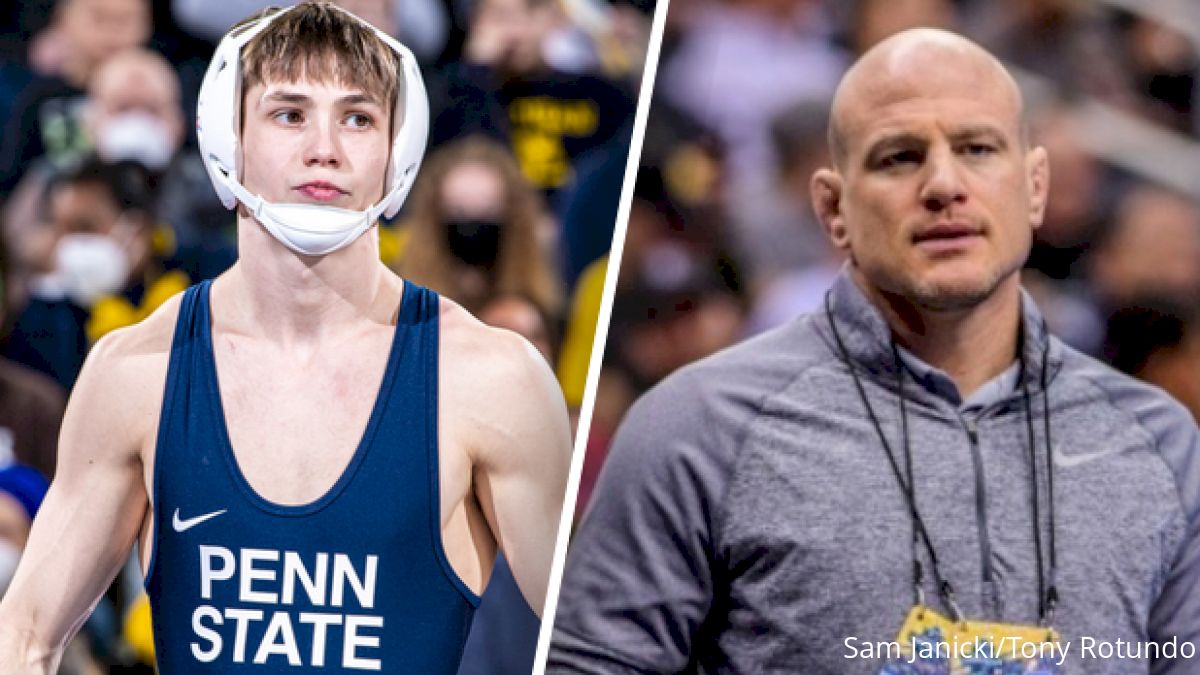 On Tuesday afternoon, Coach Cael Sanderson and Drew Hildebrandt took questions on Penn State's weekly media zoom call. During the call, Coach Sanderson and Hildebrandt answered questions on their dual last weekend against Michigan and the team's highly anticipated showdown with Iowa this Friday night. Check out a summary of the press conference below along with a link to the full video.
Scary News For Heavyweights - Kerkvliet's Improving
When asked about Penn State's win over #3 Michigan, Coach Sanderson highlighted the importance of wrestling the best teams in the country and how that prepares his team for the NCAA Tournament in March. He also spoke specifically about the efforts of Drew Hildebrandt setting the tone for the dual and the progress Greg Kerkvliet has made since last season. Referencing Kerkvliet, Sanderson said, "Last season he (Kerkvliet) didn't have time to get into shape and he still was an All-American. He's more confident this year and is getting better every match." Kerkvliet will once again be crucial to Iowa's success on Friday night and will have the opportunity to get revenge on Tony Cassioppi after losing to him last year, 9-0.
Hildebrandt Believes He Can Win A Title
Hildebrandt was also asked about the dual at Michigan and the experience wrestling Nick Suriano. On the experience wrestling Suriano, Hildebrandt said, "I learned a lot about my mindset in approaching matches. I've got to get my offense going to score more. Also, I know I'm right there to win a national title." Though Hildebrandt lost to Suriano, he was able to keep the match within striking distance and prove he's capable of competing with the best 125-pound wrestlers in the country.
The Nittany Lions Are Not Afraid Of Carver-Hawkeye Arena
This will be Drew Hildebrandt's first time wrestling at Carver-Hawkeye arena, and when asked about his expectations for Friday night, Hildebrandt said, "The Big Ten experience has been amazing…I'm sure we'll feed off each other (on Friday) and compete as hard as we can." A win for Hildebrandt against #9 Ayala would be huge in Penn State's efforts to beat the Hawkeyes.
Sanderson also was asked about wrestling in a hostile environment but didn't seem too concerned about his team being overwhelmed. He referenced how Penn State has competed in many hostile situations before, including Carver-Hawkeye, and how they have learned to block out distractions.
Sanderson Likes Wrestling The Hawkeyes
When asked about the upcoming dual against Iowa, Coach Sanderson referenced how they enjoy wrestling the best teams in the country and that it's important for their preparation for the national tournament. Specifically, Sanderson said, "Iowa's good at showing you what you need to do better and improve on."
Finally, when asked about the hype around Penn State's dual against Iowa and winning a national title this year, Cael responded, "Kids want to win naturally when they're 2-years old, so it's not something we need to motivate them to do or fire them up. It's more about making sure they're prepared and letting them go do their thing."
While the above was a quick summary of the press conference, you can watch the full video here.