2022 Penn State vs Iowa (Audio Only)
Kemerer Prepped To Rekindle 'Awesome Rivalry'
Kemerer Prepped To Rekindle 'Awesome Rivalry'
Pennsylvania native Michael Kemerer has experienced incredible highs and crushing defeats during the past seven years of the Iowa-Penn State rivalry.
Jan 27, 2022
by Darren Miller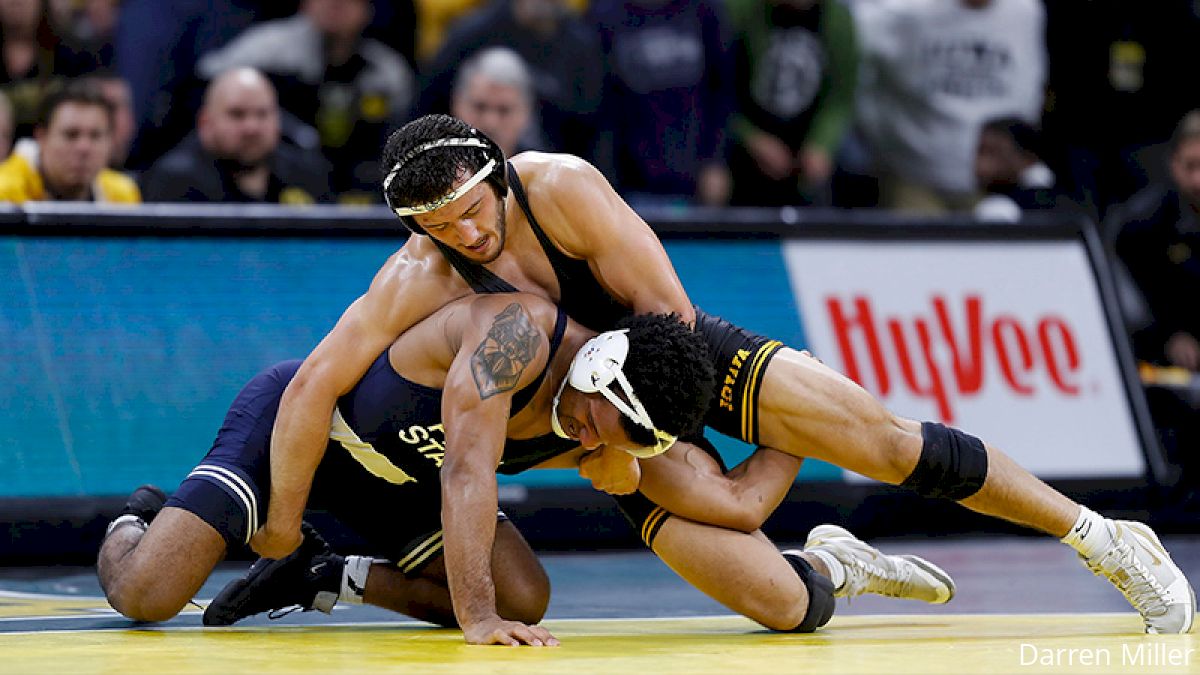 Unlock this article, live events, and more with a subscription!
Get Started
Already a subscriber? Log In
Describing Michael Kemerer's involvement in the Penn State-Iowa wrestling series as a best-of-times/worst-of-times scenario might be leaning toward the dramatic. But there is no denying that his most memorable collegiate victory — and his most crushing defeats — have occurred against the Nittany Lions.
Kemerer, a University of Iowa seventh-year senior and Pennsylvania native, has competed eight times against Penn State opponents and owns a 3-5 record in those matches. His most monumental triumph was knocking off top-ranked Mark Hall, 11-6, in the 2020 dual in Carver-Hawkeye Arena; but the final match of his 2021 season was a 3-1 loss in sudden victory in the 174-pound NCAA final against Penn State's Carter Starocci. It was Kemerer's only loss of the season and it came less than two weeks after he handled Starocci, 7-2, in the finals of the Big Ten Championships.
"Two teams that pride themselves on chasing that national title every single year," Kemerer said. "If you look at the past 15 years, it has pretty much been Penn State and Iowa. There have been other teams in there for sure…but (Penn State-Iowa is a) strong rivalry.
"I have the privilege of being from Pennsylvania and then being out at Iowa now for seven years. These are two extreme hotbeds of the sport — areas where they love wrestling and are super-knowledgeable about the sport. You combine that with the success of the programs and the coaching staffs and it makes an awesome rivalry."
Top-ranked Penn State (13-0) and #2 Iowa (11-0) compete Friday in Carver-Hawkeye Arena beginning at 8:15 p.m. (CST). The Kemerer (ranked #2) and Starocci (ranked #1) bout will be one of two featuring the top two wrestlers at their weight class. Both lineups include a combined 13 competitors ranked in the top eight of their respective weight classes.
"It doesn't take a lot to figure out why college wrestling is the best wrestling show on earth," Iowa coach Tom Brands said. "This is college athletics at the highest level."
Since 2008, Penn State has won eight NCAA team championships and Iowa has won four, including last season in St. Louis by 15.5 points over the Nittany Lions. The Hawkeyes have won 24 NCAA titles and Penn State has won nine.
The path to the 2022 NCAA Championships runs through Iowa City on Friday and the happenings in the Kemerer-Starocci match will be dissected closely everywhere from State College to Iowa City and beyond. Not unlike the Kemerer-Hall battle in 2020 when Kemerer's victory lifted the Hawkeyes to a 19-17 dual victory.
"It was an awesome win," Kemerer said. "Even coming to Carver-Hawkeye when I was younger and watching Iowa and Penn State matches a long time ago when (133-pounder Tony) Ramos got a pin (over Jordan Conaway in 2013), and all those crazy moments."
Kemerer is courteous, so he will answer questions about his biggest individual win over Hall. Then he will quickly remind you that 2020 is not 2022 and Starocci is not Hall.
"It's cool to experience that and be a part of one of those moments and as awesome as it is, I can't bring that moment with me Friday," Kemerer said. "That is in the past now, so for me, this is a new match and I have to go out and earn every point just like every other time out."
Points were very hard to get against Starocci in the NCAA final. In fact, it is the only time in Kemerer's 99-match career that he scored just one point. The performance came 13 days after he put up seven against Starocci. In his preceding four matches at the 2021 NCAA Championships, Kemerer outscored opponents 60-13.
Coming oh so close to winning an individual national championship is one reason Kemerer returned to the mat to give it the old college try.
"Falling short of the goal of being a national champion, I didn't achieve that," he said. "That plays a part in wanting to come back and wanting to finish on top. To keep it even simpler than that, getting better every day."
It's that simple mindset that has helped Kemerer to a 5-0 start this season with two falls and a technical fall. He has a team-high 25 career wins in Carver-Hawkeye Arena, with his only setback snapping a 19-match winning streak as a redshirt freshman in 2017.
Coincidentally, the opponent was Jason Nolf…of Penn State.