2022 Battle of the Burgs | Wartburg vs Augsburg
Multi-Divisional Insider: Battle Of The Burgs Is Back
Multi-Divisional Insider: Battle Of The Burgs Is Back
One of the fiercest rivalries in college wrestling resumes Thursday after a one-year absence with Wartburg traveling to Augsburg.
Jan 27, 2022
by James Nelson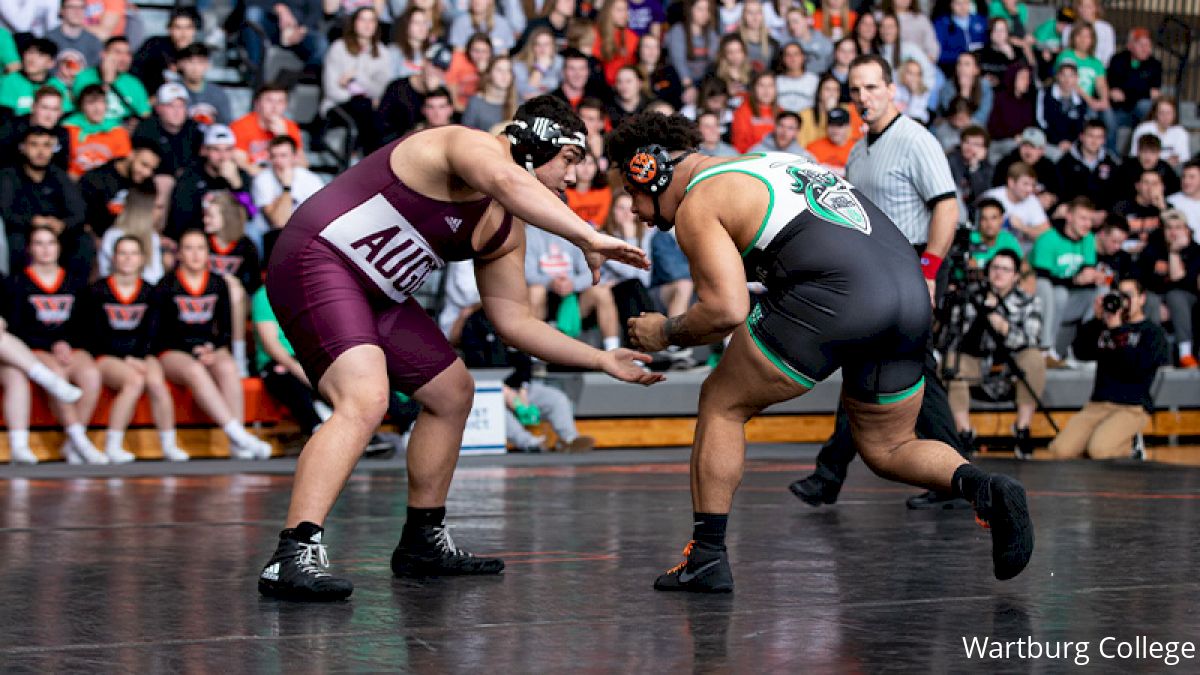 One of the fiercest rivalries in college wrestling resumes Thursday after a one-year absence.
Wartburg College will travel to Augsburg University's Si Melby Hall for the Battle of the Burgs, spotlighting one of the premier college wrestling rivalries.
The dual will be streamed live on Flowrestling beginning at 8:30 p.m ET.
"It's great for Division III. It's great for wrestling in general," Wartburg head coach Eric Keller said. "It's always a great event. There is always a lot of excitement. It is a battle between two storied programs, two places where wrestling is valued. We absolutely look forward to it every year."
"We always look forward to the Battle of the Burgs," Augsburg co-head coach Tony Valek said. "It's either up there or is the best rivalry in college wrestling."
The Knights and Auggies did not face each other last year because of the COVID-19 pandemic. The last time they met was in 2020, when Wartburg rallied from a 14-3 deficit, winning the final five matches in a 19-14 win in Waverly.
Five of the 10 matches were decided by two or fewer points. There were two #1 vs. #2 battles, #1 Tanner Vassar won 3-1 over Kyle Briggs at 184, and #1 Kris Rumph beat Victor Gilva, 8-6, at 133. The Knights sealed the win with a victory from Brady Fritz over defending national champion David Flynn at 141.
In the last meeting inside Si Melby, in front of more than 1,000 fans, Wartburg won 16-15 on the third tiebreaker, total match points scored (47-43). Each team won five matches in the dual, all by decision.
"That is a great coaching, teaching moment to our wrestlers that every point counts," Valek said. "Even if it is just a decision, every point matters. That last time down there we win four out of five but didn't find a way to win another one in those last five."
The Knights lead the all-time series, 21-16, with Augsburg's last win coming in the NWCA National Dual finals in 2018.
"It is a little strange that we haven't seen them, yet," Keller said. "Usually, we see them at the NWCA National Duals as kind of a warm-up to round two."
Both teams are rounding into shape as the regular season hits the homestretch.
Wartburg saw the return of Brady Kyner, Zane Mulder, Kyle Briggs, and Jordon Brandon to its lineup last week at the American Rivers Conference duals in Dubuque.
Augsburg will debut junior Sam Stuhl, a North Dakota State transfer, and brother of current Auggie, Charlie Stuhl, at 141. Stuhl joined the team for the second semester and won the Citrus Open, vaulting him to #2 in the most current Flo Division III individual rankings.
"We think we are a much-improved team, a battle-tested team, Valek said. "We just haven't had the opportunity to showcase it recently. We faced Loras College in early December, and basically saw St. Cloud State's entire lineup last week at the North Country Open. We're excited to show how much we've improved."
Some potential matches to watch will come at 285 between #6 Tyler Kim and #9 Brandon and ranked-foes David Hollingsworth and Tyler Shilson at 157.
Kim beat Brandon in last year's NWCA National semifinals, while Hollingsworth won an NWCA semifinal over Shilson. Mulder, #2, will face #4 Soloman Nielsen at 174.
"They are always good and we're expecting them to be good Thursday," Keller said.
The dual is the first of three straight expected barnburners for Wartburg. The Knights follow up the Battle of Burgs with duals against #1 Loras and #2 Coe in back-to-back weeks to wrap up the 2021-22 dual season.
"It's a big three weeks for us," Keller added.
The Auggies will be honoring five of its greatest teams prior to the match.
Augsburg's 1997 national championship squad will celebrate the 25th anniversary of its title, while 1982, 1992, 2002, and 2012 squads will celebrate conference titles.
"We have 20 of the 25 guys on the '97 team that are going to be back so that is great," Valek said. "We also calling this our reunion of 2's with the 82, 92, 02, and 12 teams."
There will also be another Iowa-Minnesota border battle just up the road from Minneapolis Thursday as top-ranked St. Cloud State will host #13 Upper Iowa in a Northern Sun Conference dual
Retiring
After 14 seasons, Waynesburg College head coach Ron Headlee has announced his retirement. Headlee has won more than 130 dual meets as the Jackets' coach and earned Presidents Athletic Conference Coach of the Year honors seven times.
In his tenure, Waynesburg has had 46 individual PAC champions, 10 regional champions, 24 national qualifiers, 10 all-Americans, two national finalists, including 2018 heavyweight national champion Jake Evans.
A Good Read
A new book authored by award-winning writer Craig Sesker details the legacy of St. Cloud State's wrestling program.
The book, Destined for Glory, chronicles the success of long-time head coach Steve Costanzo and the Huskies' program. In 15 seasons as head coach Steve Costanzo has a 224-28 dual meet mark and has won five Division II crowns – 2015, 2016, 2018, 2019 and 2021.
Huskie fans interested in the book can purchase one at this St. Cloud State link, https://scsutickets.com/Online/default.asp?doWork::WScontent::loadArticle=Load&BOparam::WScontent::loadArticle::article_id=C76C5328-3B55-4087-BC58-85A14963691F&menu_id=16DCFDB4-EDC9-40BC-8DF4-72510CB9A1FF
Six In Seven Years
Baldwin Wallace University claimed at least a share of its sixth Ohio Athletic Conference dual championship in seven years with a perfect 3-0 weekend in the OAC duals at Muskingum Saturday.
The fifth-ranked Yellow Jackets downed #12 John Carroll (25-17), Muskingum (53-0), and Ohio Northern (22-9).
OAC wrestler of the week, Jacob Decatur, Flo's second-ranked 125-pound wrestler won a pair of matches by technical fall to pace BWU. Returning All-American Stanley Bleich (157) went 3-0.
More Titles
North Central College won its fifth straight College Conference of Illinois and Wisconsin dual meet championship by completing a perfect 8-0 run through the league with wins over Concordia (Wis) and Lakeland University).
The Cardinals have now won 34 consecutive CCIW duals.
NCC outscored conference foes, 353-30 this winter.
Johnson & Wales captured its fifth consecutive New England Wrestling Association title with a 19-17 win over Coast Guard at the NEWA Headlock Hunger Duals, avenging an earlier loss to the Bears.