2022 Penn State vs Iowa (Audio Only)
8 Epic Matches From The Penn St. vs Iowa Rivalry
8 Epic Matches From The Penn St. vs Iowa Rivalry
Penn State faces Iowa at Carver Hawkeye-Arena on Friday, January 28. Here are eight epic matches from the series you should know about.
Jan 26, 2022
by Kyle Klingman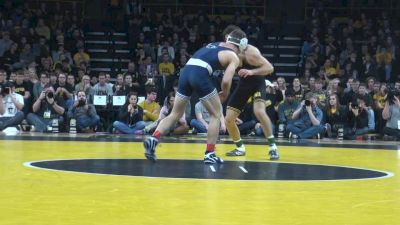 Penn State vs Iowa is an event that transcends the dual meet itself. The annual meeting between the Nittany Lions and the Hawkeyes has become a must-watch experience.
Carver-Hawkeye Arena is where the stars align on Friday, January 28. Dan Gable will inevitably be seated front and center, but you never know who will join him. A-list celebrities Ashton Kutcher and Mila Kunis were there for the dual on December 21, 2013, and MMA legend Randy Couture has been spotted roaming the concourse during the meet.
Good luck getting a ticket. You'll likely pay over $120 apiece if you're late to the party. Iowa season tickets were sold out days before the first dual.

Not to worry. FloWrestling has you covered with a live radio broadcast featuring Christian Pyles and 2008 Olympian Ben Askren (born in Cedar Rapids, Iowa) on the call. Or, you can watch the meet live on the Big Ten Network.
Get warmed up with these eight iconic Penn State-Iowa matches that took place in Carver-Hawkeye Arena during the Sanderson-Brands era (2009-present).
149 pounds: Brent Metcalf pinned Frank Molinaro, 3:56, on January 29, 2010
Talk about epic. Senior Brent Metcalf faced sophomore Frank Molinaro during Sanderson's first season at Penn State. Metcalf led 12-4 before taking Molinaro to his back for the fall in the second period.
Metcalf won his second NCAA title a few weeks later while Molinaro placed fifth. The former Nittany Lion star placed second at the national tournament as a junior in 2011 and won the title in 2012.
As fate would have it, Metcalf and Molinaro faced each other at the 2016 Olympic Trials in Carver-Hawkeye Arena. Molinaro won 3-3 during the quarterfinals of the challenge tournament before making the 65-kg Olympic team where he placed fifth.
125 pounds: Nico Megaludis dec. Thomas Gilman, 4-1, on December 21, 2013
This match is memorable because Gilman wasn't even the starter yet. He was filling in for Cory Clark who went on to place fifth at nationals while Megaludis placed third. The two met in the consolation semifinals with the former Penn State star coming out on top, 5-2.
Megaludis defeated Gilman, 6-3, during the finals 2016 NCAA Championships.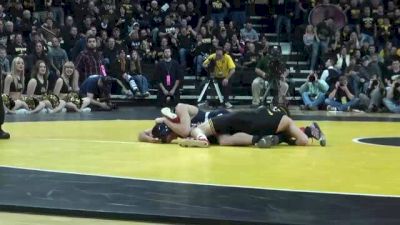 125 pounds: Thomas Gilman (Iowa) dec. Nick Suriano (Penn State), 3-2, on January 20, 2017
Once again, this match is memorable for the names involved.
Gilman won a World silver medal in 2017 before earning a bronze at the 2020ne Olympics and gold at the 2021 World Championships. Suriano is currently in his super senior season at Michigan.
This particular match saw Gilman, a senior, score the lone takedown against the freshman star from Penn State. This was the only blemish on Suriano's record during the regular season before suffering a season-ending injury on February 19 against Oklahoma State's Nick Piccininni.
Suriano did not wrestle at the B1G Championships but received an at-large bid to the NCAA tournament where he medically forfeited both bouts. He transferred to Rutgers for his sophomore year and reached the 125-pound finals at the 2018 NCAA Championships where he fell to Iowa's Spencer Lee, 5-1.
As a junior, Suriano bumped up to the loaded 133-pound weight class and won the 2019 NCAA title with a 4-2 SV2 win over Oklahoma State's Daton Fix in the finals, becoming the first NCAA wrestling champion in program history.
Gilman placed third at the 2017 NCAA Championships after finishes of second and fourth the previous two seasons.
149 pounds: Zain Retherford (Penn State) dec. Brandon Sorensen (Iowa), 9-8 TB2, on January 20, 2017
Retherford and Sorensen faced each other six times during college but this match was the most memorable — and it was the closest Sorensen came winning.
The previous meeting was at the 2016 NCAA tournament finals where Retherford won, 10-1. Expectations were high that the Penn State star would dominate again — but Sorensen had other plans.
Sorensen led 6-5 late in the match but Retherford scored with 28 seconds remaining to pull ahead, 7-6, but an escape with eight seconds left tied the score at 7-7. Neither scored in sudden victory and both escaped in the first set of tiebreakers to make the score 8-8.
Retherford scored the deciding point during the second tiebreaker when he rode Sorensen during the first 30-second period and was given an escape in the second.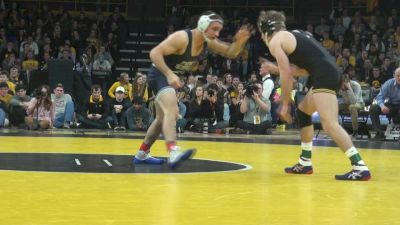 174 pounds: Alex Meyer (Iowa) dec. Mark Hall (Penn State), 7-5, on January 20, 2017
There was talk that true freshman Mark Hall might come out of redshirt for the Iowa dual. To the surprise of some, Hall wrestled his first match as a Nittany Lion in front of a packed Carver-Hawkeye Arena. Meyer scored a takedown to break a 5-5 tie with 15 seconds remaining to send the partisan crowd into a frenzy.
Hall eventually won the NCAA Championships while Meyer reached the Round of 12.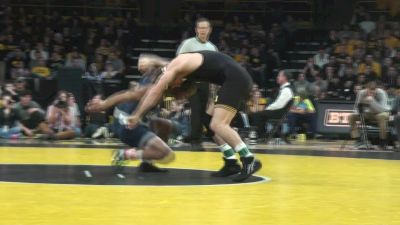 184 pounds: Bo Nickal (Penn State) pinned Sammy Brooks (Iowa), :38, on January 20, 2017
Bo Nickal did what Bo Nickal does best. Brooks was in on a head to the inside shot to the left side before Nickal secured a spladle for the fall. The Penn State sophomore won his first NCAA title in March while Brooks placed fourth after losing to Nickal in the semifinals by fall in 1:02.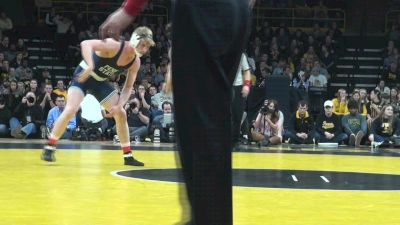 165 pounds: Vincenzo Joseph (Penn State) dec. Alex Marinelli (Iowa), 7-5, on January 31, 2020
This was the third of four college meetings between the two and the lone win for Joseph. They were in a chest-to-chest body lock midway through the second period when Joseph gained the upper hand and threw Marinelli for six points to take a 6-1 lead. A late takedown by Marinelli made the final score, 7-5.
Marinelli won 3-2 at the B1G Championships but a fifth and final meeting at the NCAA Championships never materialized due to the cancellation of the tournament (COVID-19). Joseph is currently an assistant at Stanford after winning two NCAA titles and reaching the finals three times. Marinelli, a three-time All-American, is still competing and is expected to wrestle on Friday.
174 pounds: Michael Kemerer (Iowa) dec. Mark Hall (Penn State), 11-6, on January 31, 2020
What's the loudest moment in Carver-Hawkeye Arena? Michael Kemerer's 11-6 win over Hall is likely on the shortlist. Hall attempted a headlock out of the gate but Kemerer came out the back door to score a takedown. The Nittany Lion star scored a takedown several seconds later but Kemerer reversed the position to take a 5-4 lead after one period.
Kemerer put the match away with 40 seconds left to take an 11-6 win with a riding time point. Hall won a rematch, 8-5, at the B1G Championships but we never got to see a rubber match at the NCAA tournament due to its cancellation.
Hall finished his career as an NCAA champion and three-time finalist while the Hawkeye star will compete on Friday following NCAA tournament finishes of third, fourth, and second.
Penn State vs. Iowa dual scores during the Sanderson-Brands era
January 29, 2010: Iowa 29, Penn State 6
January 30, 2011: Iowa 22, Penn State 13
January 22, 2012: Penn State 22, Iowa 12
February 1, 2013: Iowa 22, Penn State 16
December 21, 2013: Penn State 24, Iowa 12
February 8, 2015: Iowa 18, Penn State 12
January 20, 2017: Penn State 26, Iowa 11
February 10, 2018: Penn State 28, Iowa 13
January 31, 2020: Iowa 19, Penn State 17
Probable Starting Lineups
125: #9 Drake Ayala OR Jesse Ybarra (Iowa) vs #8 Drew Hildebrandt (PSU)
133: #3 Austin DeSanto/Cullan Schriever (Iowa) vs #1 Roman Bravo-Young (PSU)
141: #2 Jaydin Eierman (Iowa) vs #1 Nick Lee (PSU)
149: #10 Max Murin (Iowa) vs #15 Beau Bartlett (PSU)
157: #12 Kaleb Young (Iowa) vs Terrell Barraclough OR Tony Negron (PSU)
165: #5 Alex Marinelli (Iowa) vs #10 Brady Berge OR Creighton Edsell (PSU)
174: #2 Michael Kemerer (Iowa) vs #1 Carter Starocci (PSU)
184: #17 Abe Assad (Iowa) vs #1 Aaron Brooks (PSU)
197: #3 Jacob Warner (Iowa) vs #2 Max Dean (PSU)
285: #5 Tony Cassioppi (Iowa) vs #2 Greg Kerkvliet (PSU)