UWW
International Women's Freestyle Rising Stars To Watch In 2022
International Women's Freestyle Rising Stars To Watch In 2022
The UWW women's freestyle season kicks off this week with the Yariguin Grand Prix in Russia. Here's a look at eight rising stars to watch in 2022.
Jan 26, 2022
by Olivia Lichti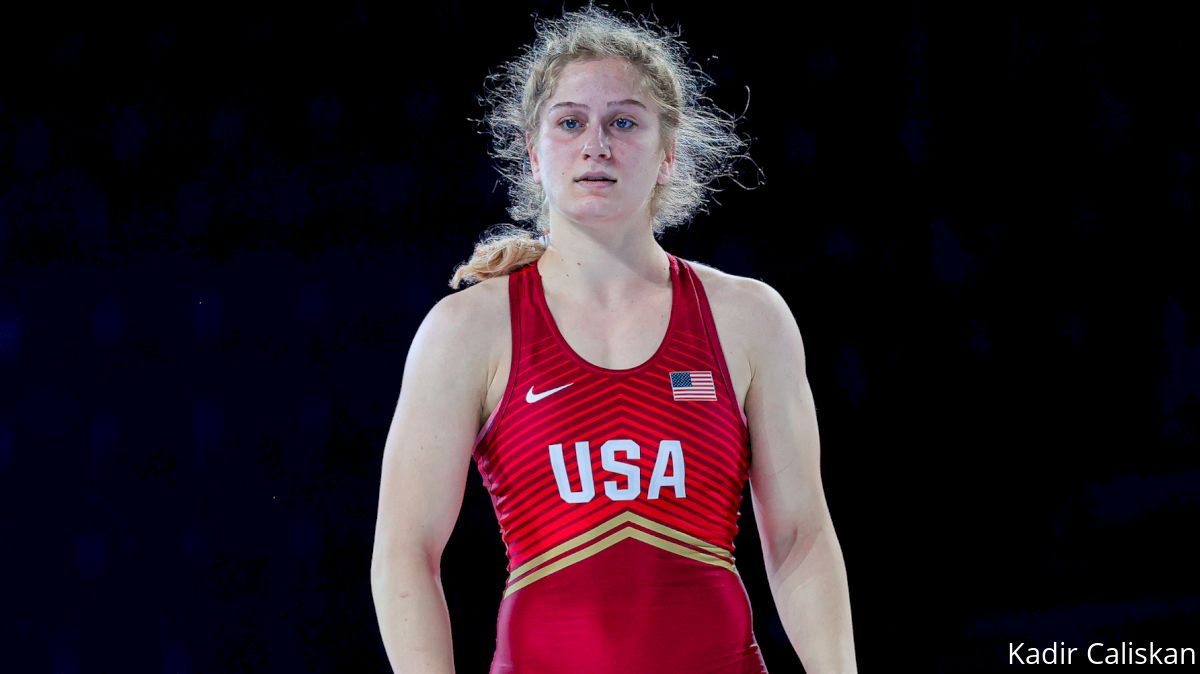 Unlock this article, live events, and more with a subscription!
Get Started
Already a subscriber? Log In
Otgonjargal Dolgorjav (Mongolia, 50 kg)
Otgonjargal Dolgorjav was a last-minute addition to the Senior Worlds roster by Mongolia and she did not disappoint. The 21-year old picked up a bronze medal, notching two enormous wins along the way — a dominant 11-2 victory over Olympian and World bronze medalist Evin Demirhan of Turkey and a technical superiority win over two-time World finalist Emilia Vuc of Romania. These stunning, dominant victories were far from expected from the Mongolian backup.
Dolgorjav is a heavy hand fighter and one of the shortest women down at 50 kilos, making her a challenging matchup for some of the lankier women at the weight. While Dolgorjav does own a Cadet World silver medal, she is still quite new to the Senior level; it will be interesting to see if she can maintain the quality of her performance from Oslo in competition this year.
Amit Elor, USA (68 kg)
After watching Amit Elor obliterate any and every competitor she's faced over the past few years on the Cadet and Junior scene, it's safe to say that wrestling fans should be extremely excited to watch her make her Senior-level debut this year. Under the tutelage of renowned coach Valentin Kalika, Elor won two World titles last summer, ending each of her matches early and not giving up a single point.
Despite her dominating performance, Amit recently opened up about how far she was from her best. She competed with a herniated disc in her back, causing her extreme pain while she wrestled and forcing her to dramatically adjust her style. Thankfully, she's had surgery to amend it and is en route back to competitive form. A healthy Elor is certainly a force to be reckoned with; her physical strength, upper-body expertise and fantastic par terre game will make her an immediate challenger for senior World Team spots, not to mention an inevitable continued reign of dominance internationally at the age-level. It'll be interesting to see how she slots in at 68 kilos domestically amongst the likes of Tamyra Mensah-Stock and Kennedy Blades.
Tiare Ikei (USA, 53 kg)
Unfortunately, due to some recurring concussion issues, the world was denied last year of the opportunity to see just how good Tiare Ikei is. The Hawaiian ran through the Junior World Team Trials despite minimal preparation, but ultimately decided she wasn't healthy enough to compete in Ufa. Although we didn't get to see her internationally in 2021, Tiare has proven just how good she is on a couple of different occasions.
The 2018 Cadet World bronze medalist won the U.S. Open at the age of 18, defeating veteran Katherine Shai in the finals, and also notched a fall against 2021 Senior World Team member Amy Fearnside with a beautiful throw at the Flo 150lbs 8-Man Challenge Event. Ikei should be fully expected to do some damage internationally on the age level and challenge to make the Senior team at 53 kilos this year.
Alina Kasabieva (Russia, 62 kg)
Alina Kasabieva hails from the traditional wrestling hotbed of Ossetia, an area which has heralded many legendary men's wrestlers but has yet to have the same output on the women's side. The 2019 Cadet World bronze medalist leveled up her international performances in 2021, teching and pinning her way to Junior European and World titles.
Kasabieva has also been dominant on the Russian domestic scene over the past year and should be expected to be a big part of the country's future at 62 kilos. She even represented Russia at Senior Worlds, falling only to world medalists Kayla Miracle and Gantuya Enkhbat (with whom she had an incredible 12-8 match).
Kasabieva is the total package, with a diverse range of attacks and all the skills necessary to be successful on the Senior level. Expect her to rack up some solid international age-level results this year, and pay attention to how she does should she get to compete in any Senior-level tournaments. And take note of the fact that Ossetia is beginning to buy into women's wrestling. If the Russian women's program can approach anywhere near the level of the men's, the international team race will become very interesting.
Milaimys de la Caridad Marin Potrille (Cuba, 76 kg)
Cuba's Milaimys Marin Potrille had a heck of a year in 2019, winning both the Junior and U23 Worlds at the age of 18. Since then, however, wrestling fans haven't had much opportunity to watch her compete. Cuba didn't send athletes to the age-level Worlds last year and Marin just missed qualifying for the Olympics, placing third in ridiculously deep brackets at both the Pan-Am and Last Chance Olympic Qualifiers.
In December, however, she notched a significant victory when she faced American prodigy Kylie Welker in the semifinals of the Junior Pan-Am Games, winning 4-2. Marin also owns wins over World bronze medalists Xiaoqian Wang of China and Martina Kuenz of Austria. She's quite athletic, especially for the weight class, and she certainly has the potential to notch some big results in 2022.
Oleksandra Khomenets (Ukraine, 55 kg)
Oleksandra Khomenets has been a big part of the insurgence of young Ukrainian women dominating the age-level scene in 2021. She dominantly secured a Junior Euro title at 55kg, teching or pinning each of her opponents, but was denied the opportunity to compete for a Junior World title when the Ukrainian women experienced visa issues. She regained the opportunity to prove herself on the world stage when she represented her nation in Oslo, Norway at the 2021 Senior Worlds.
In the first round, she lost to eventual champ Tsugumi Sakurai of Japan, but went on to beat Tokyo Olympians and World medalists Roksana Zasina of Poland and Olga Khoroshavtseva of Russia in the repechage bracket, winning herself a World bronze at the age of 18. Khomenets has lots of tools and a very exciting style; she takes lots of shots but is also more than capable of wrestling upper body. Though she shows her youth in some of her matches, Khomenets certainly has a high ceiling and will be fascinating to see tested against more top-level opponents this year.
Anhelina Lysak (Poland, 57-59 kg)
If nothing else, Anhelina Lysak is very entertaining to watch. Since the beginning of her age-level career for Ukraine, Lysak has provided wrestling fans with top-quality entertainment, hitting enormous throws en route to winning three continental and two World medals. She also had some solid Senior-level results, including a Euro bronze medal and a pin over Alli Ragan at the 2019 Worlds.
However, with such a volatile style comes some inevitable inconsistencies (she's been known to lock up double-overs and inexplicably throw herself to her back). At the beginning of 2021, Lysak made a big change: she married Polish wrestler Roman Pacurkowski and began competing for his birth nation. Since transitioning her citizenship, Lysak has clearly leveled up. Her consistency has improved, her gas tank issues have become nearly unnoticeable and her overall risk-taking has become a little more measured. And the results have come. Lysak finished second at Senior Euros this year and won a U23 World title for Poland at 59 kilos. With such an impressive, dynamic style, she's definitely a woman to follow as she continues to develop into a solid Senior-level contender.
Nonoka Ozaki (Japan, 62 kg)
Nonoka Ozaki obliterated every single wrestler she faced on the Cadet level in 2018 and 2019, winning her two world titles with just over five minutes total spent on the mat. With such a clear superiority over the other wrestlers her age, her Senior-level debut was highly anticipated. And she didn't disappoint.
Ozaki won Japanese nationals twice at the age of 18, earning her the right to represent her nation at the 2021 Senior Worlds. There, her performance was equally impressive- she ran out to an early 4-0 lead against Olympic silver medalist Aisuluu Tynybekova, though she ultimately lost 6-4 due to a couple minor mistakes. Regardless, Ozaki demonstrated just how high her potential is by pushing one of the most talented women in the world and battling back to win a World bronze medal at 18 years old. Now, Ozaki awaits a match against her countryman and defending Olympic champion, Yukako Kawai, in order to make the 2022 Japanese World Team. Even if she doesn't make the Japanese Senior team this year, expect her to give Kawai a solid match and to make some big noise on the age-level scene.
Lucia Yepez Guzman (Ecuador, 50 kg)
Lucia Yepez Guzman has been a consistent face on the age-level scene since 2017, but she found a new level in 2021. The 20-year old qualified for the Olympics via the Last Chance Qualifier and entered the Games as a serious underdog. There, she impressed by winning an exciting bout against experienced veteran and 2019 World bronze medalist Valentina Islamova Brik of Kazakhstan, though she was unfortunately injured in her next match and did not get to wrestle for a medal.
At her next competition — U23 Worlds in Serbia — she returned with a vengeance. Yepez became the first woman from Ecuador to win a World title when she bumped up a weight class to 53 kilos and dominated her competition en route to gold, pinning Ekaterina Verbina of Russia in the finals in just over a minute. Yepez's dominance on the age level and proven ability to compete with the top tier of Senior-level women will make her one to watch, along with the fact that she's super offensive, not afraid to hit big throws and always seems to find herself in entertaining matches.