NCAA Watch Party: Penn State/Mich & Iowa/tOSU
Murin Riding Wave Of Momentum Into Sasso Showdown
Murin Riding Wave Of Momentum Into Sasso Showdown
Coming off a win over All-American Yahya Thomas last weekend, Max Murin gets a shot at NCAA finalist Sammy Sasso on Friday.
Jan 21, 2022
by Darren Miller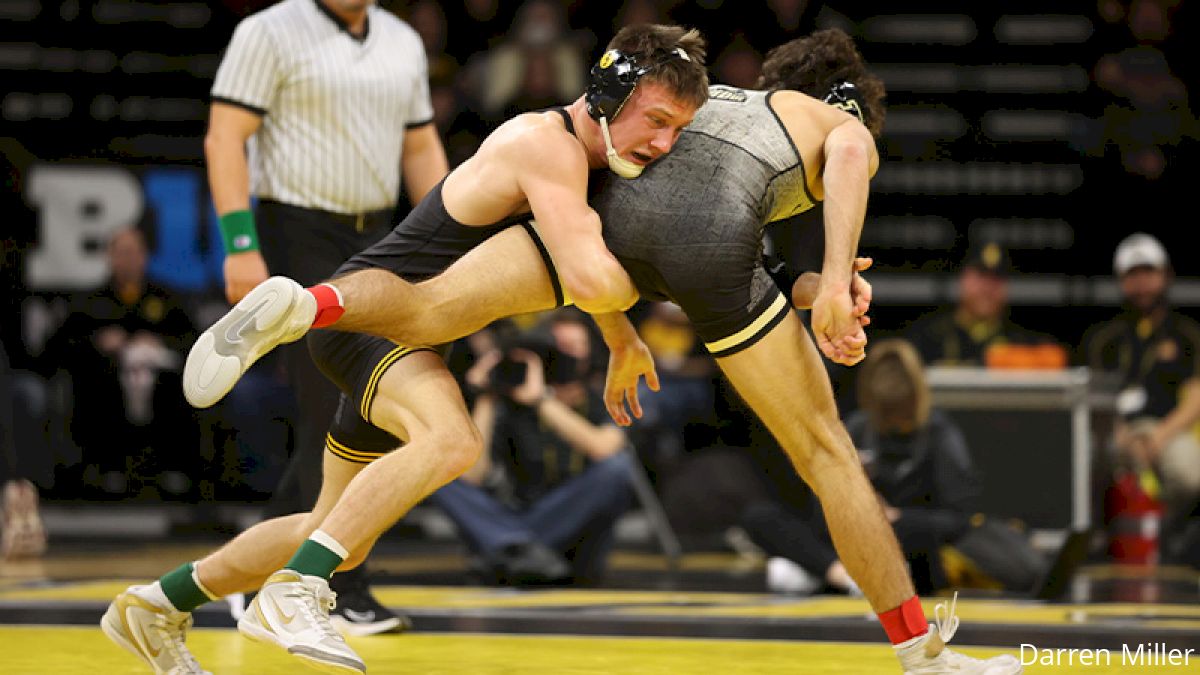 Unlock this article, live events, and more with a subscription!
Get Started
Already a subscriber? Log In
Max Murin's most recent weekend of wrestling consisted of a one-point win with late drama and a dominant six-point victory.
Iowa's senior 149-pounder isn't ready to make a prediction about the outcome of his anticipated rematch Friday against Ohio State's Sammy Sasso other than to say this: "I'm going to compete to the best of my ability and have fun, score points. I'm confident I'm going to come out with the win."
Winning has been the norm this season for Murin, who is 6-1 with four consecutive victories. He has two wins by one point and one by two. The nail-biting narrowness of his matches became apparent during a 4-3 decision over Northwestern All-American Yahya Thomas on Jan. 14. Murin trailed 3-1 heading into the third period but used an escape, a takedown with 19 seconds remaining, and a ride out to get the win.
"I definitely need to put myself in more scoring opportunities," Murin said. "I only got that one takedown at the end of the match, so I need to keep improving. (Thomas) is a good competitor, so I obviously gained confidence from that."
The last time Murin rattled off four consecutive victories was at the beginning of the 2021 season, his first at 149 pounds after two seasons at 141. He took a 4-0 record into the dual against Sasso, where he lost by fall in 6 minutes, 53 seconds.
"I'm excited to wrestle (Sasso) again," Murin said. "I have been waiting for this match for a while. I think I have made a lot of adjustments, especially from that match. I'm ready to go out Friday night, compete, and have fun. I'm excited to score points and go out there and wrestle."
The effects of the loss to Sasso lingered into the 2021 Big Ten Championships, where Murin went 0-2 with back-to-back five-point setbacks to Nebraska's Ridge Lovett and Mike Van Brill of Rutgers. In his previous two Big Ten Championships, Murin racked up seven victories.
After Big Tens, Murin returned to Iowa City, made adjustments, and worked with the Hawkeye staff to ready himself for the NCAA Championships in 11 days. Murin opened with a win over Graham Rooks of Indiana and avenged the loss to Lovett. But overtime losses to Boo Lewallen of Oklahoma State and Jaden Abas of Stanford kept him from the awards podium.
"I still didn't achieve what I wanted at nationals, but I am learning and improving every day," Murin said. "I have the mentality of being grateful and thankful for any opportunity I get to compete."
Of Murin's 45 career victories, 12 have come by two points or less. But his trademark is more than having a knack for emerging with his hand raised after close calls. During a bout against Christian Kanzler of Illinois on Jan. 16 (a 9-3 win by Murin), the Hawkeye sported a black left eye, a horizontal cut midway on his forehead, and a compression sleeve that covered his left arm from below the elbow to past the bicep.
As Iowa head coach Tom Brands said, and BTN analyst Shane Sparks paraphrased during the telecast, "Max Murin is a warrior. He comes to compete, brawl, fight. If you're going into a back alley, you want this guy. He puts his head right in there. It's always blood, stitches, black eyes, he likes to mix it up."
It's nothing more than a result of focusing on wrestling, Murin said. Cuts on the face and discoloration around the eyes has followed him since he started in the sport back in Ebensburg, Pennsylvania.
"I do what it takes to score points and win," Murin said. "If that means a couple black eyes and cuts on my face, I'm OK with that."
Top-ranked Iowa (10-0) travels to No. 6 Ohio State (5-1) on Friday with a 7 p.m. (CST) start from the Covelli Center in Columbus, Ohio. Murin is ranked 10th at 149 pounds, Sasso is second.