Multi-Divisional Insider: Winn Steps Up With Heartwarming Response
Multi-Divisional Insider: Winn Steps Up With Heartwarming Response
Two-time junior college national champ Deron Winn's generous response to a wrestling dad in Iowa warmed the hearts of wrestling fans across the country.
Jan 21, 2022
by James Nelson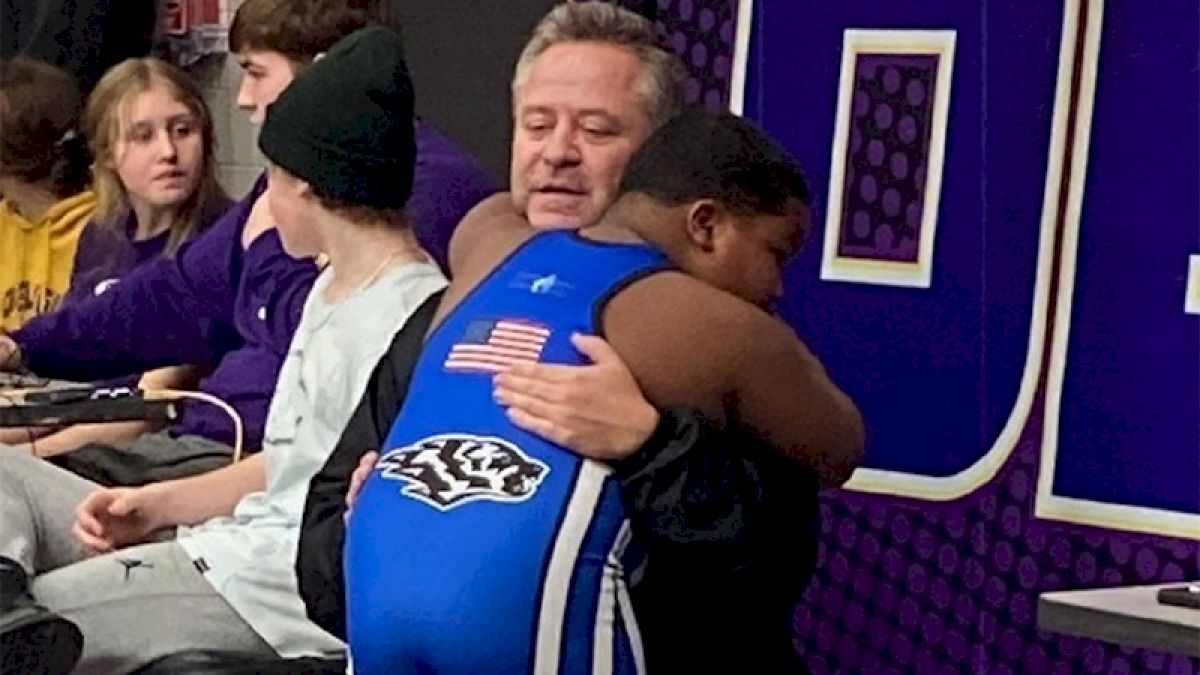 Unlock this article, live events, and more with a subscription!
Get Started
Already a subscriber? Log In
Deron Winn knows what wrestling has done to help him in his life.
Now a coach at DC Wrestling Academy in Gilroy, California, the former two-time NJCAA national champion at St. Louis-Meramec, and an NAIA All-American at Lindenwood University, Winn is always looking for ways to give back using the sport he loves.
An opportunity to do so presented itself this week when Winn read a Tweet by Bruce Dall, a man he didn't know seven days ago.
For more than 21 years of marriage, Dall and his wife, Billie, wanted nothing more than to be parents. But four miscarriages and a failed adoption later, the Dall's didn't think it was meant to be.
Five and a half years ago, and with the Dall's agreement with an adoption service ending, they got a call. They had been chosen and in three weeks they'd be parents. Three days later, much sooner than expected, Kinnick came into their lives.
If you follow Dall, a Hall of Fame girls' basketball coach for Dike-New Hartford (Iowa) High School, on social media, his feeds have been filled with pictures of Kinnick since that day.
Last Friday, during a snow day off, Dall was scrolling through the pictures on his phone and thinking about Kinnick and a moment of being helpless.
Kinnick is now five years old. Dall said he is full of personality and like many young kids in Iowa, he loves to wrestle. He's also bigger than the average kindergartner, in the 99th percentile, according to Dall.
Kinnick's interest in wrestling saw Dall begin to enter Kinnick into youth clubs and tournaments. Tournament organizers, because of Kinnick's size, would bracket him against kids his size, but also who were two and three years older and with much more wrestling experience. In one of his last tournaments, that was the case.
Kinnick, new to the sport and with not enough tools in his arsenal, was beaten handily, and Bruce, in his corner, could see he was upset.
That is what Dall was thinking on Jan. 14 when he tweeted a picture of that day.
Tagged to a picture of Dall hugging Kinnick, Dall wrote: "He couldn't have a worse wrestling coach then myself but I will always be there for him in his corner."
"I just remember how helpless I felt trying to help him and the only thing I could do is give him a hug and say I love you," Dall said.
A day later, Winn, who has had a ton of success at the U.S. Senior level as well as a UFC MMA fighter, saw the tweet and responded: "Bruce, I don't know you but sometimes a picture can say a thousand words. Please bring your boy out to Cali this summer to one of our camps. I'd love to help you grow to understand the sport better and help Kinnick improve his skills. I'll cover the camp fees! Let's get in touch!"
Another day passed, and some communication through Twitter with Dall, Winn went into action starting a GoFundMe page for the Dall's and attaching it to a tweet: "Hey guys, I'm raising money for Help to bring Kinnick & Bruce to our wrestling academy. This story has got so much traction and I'm so inspired to help. Thanks for all the love. This summer will be epic!"
The GoFundMe page explains Winn's inspiration and calls for the wrestling community to rally to help. In three days, Winn has raised $7,366 through 179 different donations. The Dalls are going to California.
The response has overwhelmed Dall.
"I know and understand how passionate the wrestling community is, know that because of where we live," said Dall. "But this has been crazy and emotional. It wasn't the intent of the tweet … but to have the whole wrestling community rally behind Kinnick … incredible. For Deron who didn't know me, to do something like this … incredible"
Dall, who has won 478 basketball games and two state titles in 27 years as a girls' basketball coach, does feel a little chagrined about the tweet.
"If I knew beforehand how many people were going to see it, I would've proofread it better (as of Thursday more than 20,000 people had liked the tweet)," said Dall, whose current Dike-New Hartford team is the reigning Class 2A state champions (Iowa has five classes of girls' basketball) and currently is ranked No. 1 in the state. "I know the difference between than and then."
Dall said Kinnick knows that a lot of people are talking about him and has asked when they were going to go to California.
"He's excited. But when he asks when we are going to Cali, he's doesn't know it is more than 20 minutes away," laughs Dall.
Dall said he is not sure when he and Kinnick will go out to the wrestling academy. Part of that he says is because he doesn't know when the academy's camps will be held, and the other is he is in the grind of his current basketball season, and he had a game with the #2 team in the state Tuesday."
There is one other embarrassing fact to the whole story, too, "I've never flown, never been on an airplane," quipped Dall. "Now, I got to decide whether we will drive or fly."
Brotherly Love
Last Saturday two of the finest Multi-Division 125-pound wrestlers in the nation squared off … they just happened to be twin brothers.
In Kearney, Neb., Justin Portillo's NAIA Grand View University squad won its 112th consecutive dual with a victory over Division II Nebraska-Kearney, 19-18, in a non-stop thriller at the UNK Health and Sports Center.
But it was Josh Portillo who stands tall as the Alpha dog in the Portillo family.
In a back-and-forth match, Josh rallied from a 5-4 first period deficit and a 7-6 second period deficit to force sudden victory where he won with a takedown, 12-10.
The two former Iowa high state champions from Clarion-Goldfield-Dows, Josh, a two-time Division II All-American, and 2019 national finalist, and Justin, a four-time NAIA all-American and 2020 national finalist, had not wrestled each other in a live match since middle school.
"We've just been focused nonstop trying to help each other win national titles, so it was just so weird," Josh told the Kearney Hub. "I was really excited for that match. Me and him both have some really dynamic styles, so we knew it would be an entertaining one, and sure enough, it was pretty fun. There's a lot of good scrambles there. I don't know what happened in that (overtime) takedown still, but I just know it felt really nice."