NCAA Watch Party: Penn State/Mich & Iowa/tOSU
The Six Can't Miss Matches Happening Friday Night
The Six Can't Miss Matches Happening Friday Night
A preview of the six matches happening Friday night that seem too good to be true.
Jan 20, 2022
by JD Rader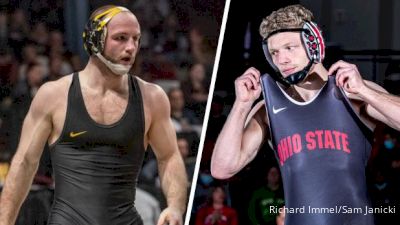 Friday night has the potential to be one of the best nights of Div I wrestling this regular season. With 17 duals scheduled, including multiple between top 10 teams, there will be no shortage of great wrestling. You can follow along with all of the action Friday night as me and Mike Mal will be watch partying it up along with some special guests!
While there are more than 10 potential matches between top-10 ranked opponents, these are the six I wanted to focus in on.
#6) #3 Tariq Wilson vs #5 Bryce Andonian
A great match in a great dual. With Penn State - Michigan also taking place Friday, the Virginia Tech - NC State dual is flying a bit under the radar, but don't sleep on this dual. This ACC battle is starting to turn into one of the most fun rivalries in D1 wrestling. And in what is expected to be a crazy dual, this has the potential to be the craziest match of all. If you say you know for sure what's going to happen in this one, you're lying. When Tariq Wilson is on, he can compete with anyone in the country, and Bryce Andonian is a wild man who will try anything.
#5) #4 Ridge Lovett vs #9 Austin Gomez
Similar to the match above, Ridge Lovett vs Austin Gomez has fireworks written all over it. Lovett has better this season than he ever. The Husker even took Yianni to the brink at CKLV before losing a heartbreakin in OT. And it's great to see Austin Gomez looking like peak Austin Gomez once again. After tripping up against Josh Heil at the Matmen Open, he really opened up and picked up three good wins over Yahya Thomas, Mike Van Brill, and Michael Blockhus.
#4) #4 Alex Marinelli vs #5 Carson Kharchla
The old bull vs the young buck. We know what we've got with Alex Marinelli. He's been a staple of consistency during the regular season for the past four years, only losing one time. We think we know what we have with Carson Kharchla, but he's going to have to go prove it in the Covelli Center Friday night.
Kharchla was able to take out 2022 NCAA Finalist Jake Wentzel at home back in December but fell to NCAA champion Shane Griffith 5-4 at CKLV. No shame in that as he also beat Marinelli at NCAAs last year. Can Kharchla defend Marinelli's high c? Can Kharchla find a way to takedown Marinelli? Can Kharchla withstand the hand fight/pace of Marinelli? B1G questions that we'll find the answers to Friday night.
Listen to Carson Kharchla discuss his season so far below.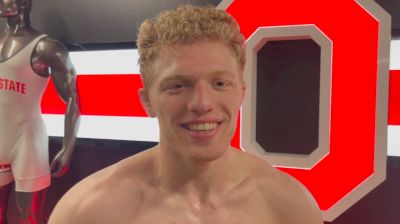 Unlock this video, live events, and more with a subscription!
Get Started
Already a subscriber? Log In
#3) #3 Mekhi Lewis vs #4 Hayden Hidlay
A new weight class for both wrestlers: Mekhi Lewis up from 165 and Hayden Hidlay up from 157. Both of these wrestlers have already had historic careers for their institutions. In 2019 Lewis won the first individual title in Virginia Tech history. That credential is basically the one thing that has illuded Hidlay so far in his career. A 4X ACC champion, 3X All-American, national finalist, Hidlay is a Wolfpack legend. He's going to need to pull some tricks out of his hat to defeat Lewis and his wizard-like defense. He's done it once before, though.
Watch Hayden Hidlay and Mekhi Lewis' 2015 high school match below.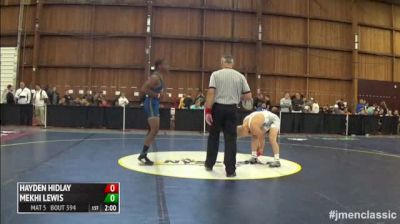 #2) #2 Mason Parris vs #4 Greg Kerkvliet
Friday night is when we get to find out just how much Greg Kerkvliet has improved. It's public knowledge that Kerkvliet was injured last year and very limited in his training leading up to Big Tens and NCAAs. The limitations showed when he got majored by Mason Parris at the conference tournament.
Kerkvliet improved enough in just 1 month to beat Parris 4-4 at Olympic Trials, however. The big difference between folkstyle and freestyle: top and bottom. Parris was able to ammas 3:44 of riding time the first time they met. Has Kerkvliet improved enough to get out from bottom and slow Parris' attack down?
#1) #1 Aaron Brooks vs #2 Myles Amine
Doesn't get much better than #1 vs #2. Aaron Brooks has the folkstyle credentials with the NCAA title, [p:Myles Amine has the freestyle credentials with the Olympic bronze medal. I'll let technique expert Mike Mal break this one down.
Hear what position Mike Mal thinks Brooks - Amine is going to come down to below.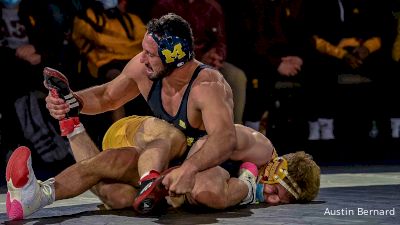 Unlock this video, live events, and more with a subscription!
Get Started
Already a subscriber? Log In