EIWA Dual Of The Week 2021-22
Bucknell vs Drexel: EIWA Dual Of The Week
Bucknell vs Drexel: EIWA Dual Of The Week
All the EIWA wrestling action coming your way in week 12.
Jan 19, 2022
by Andrew Spey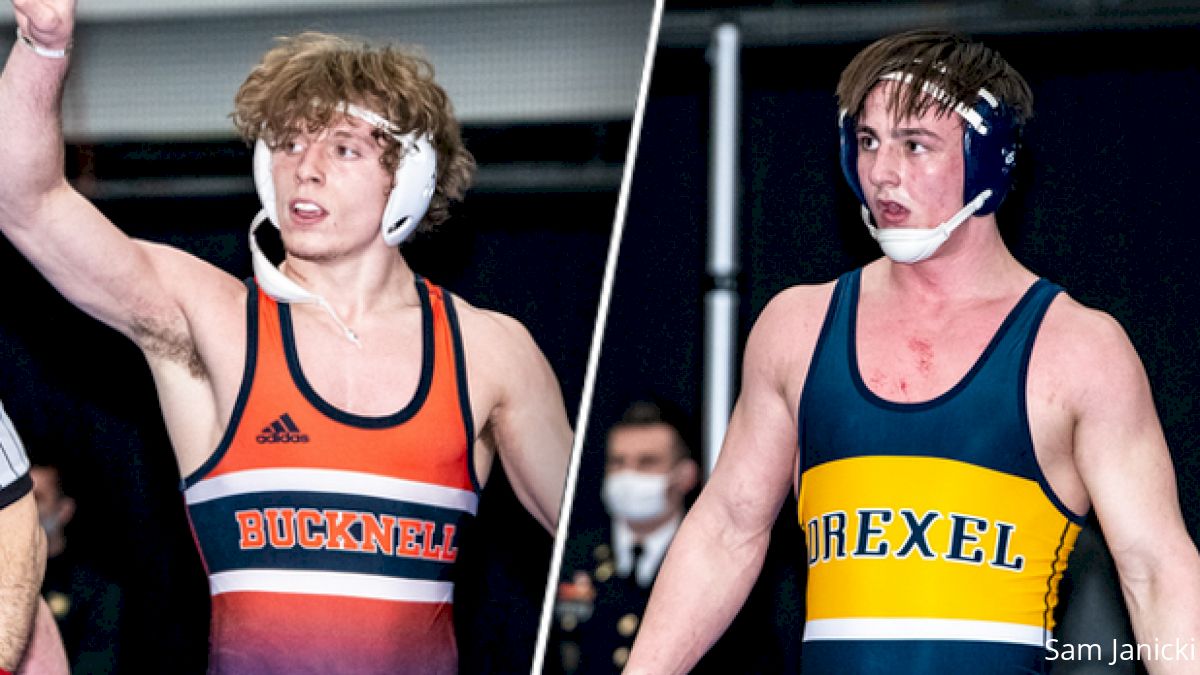 The dual meet season is heating up all around the country, and the EIWA Conference is no exception.
Intra-Ivy duals are on the menu, as is a trip to Stillwater by Lehigh as the Mountain Hawks take on the bluest of college wrestling's bluebloods, Oklahoma State.
Finally, capping off the week is our EIWA Dual of the Week between Bucknell and Drexel on Sunday night.
Below is a schedule of all the EIWA action coming your way along with notes and ranked matchups. Schedule courtesy of Wrestling By Pirate.
Saturday, January 22
Navy at Ohio, 11:00 AM ESPN+
The Midshipmen take on their first of two programs from the state of Ohio. Keys to victory will be the Hagan brothers at 141 and 149 for the Bobcats and for Jacob Allen and Josh Koderhandt at 125 and 133 for Navy.
Allen just missed knocking off #19 Jaret Lane in Navy's dual against Lehigh from last week: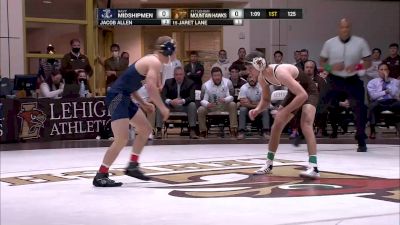 Unlock this video, live events, and more with a subscription!
Get Started
Already a subscriber? Log In
Binghamton at Long Island, 12:00 PM NEC Front Row
Bearcats head southeast from the Southern Tier of New York to Long Island to take on the Sharks of LIU. Couldn't tell at first if the stream has a paywall or not but you can try your luck using this link.
Harvard at Cornell, 1:00 PM ESPN+
165 #15 Conigliaro HARV vs #8 Ramirez CORN
174 Kim HARV vs Foca CORN
The last time Cornell faced a fellow Ivy League opponent in a dual meet was February 9, 2020, when the Big Red lost to Princeton 19-13. That was the first defeat at the hands of an Ivy League program for Cornell since the 2001-02 season.
Cornell will be favored to start a new streak, the last one ending after 92 Ivy League wins in a row.
Columbia at Princeton, 1:00 PM ESPN+
125 Manchio COL vs Glory PRIN
157 Mosher COL vs Monday PRIN
Princeton has been grabbing a bigger share of the headlines over the last several years I've they've worked themselves into the national conversation with three NCAA All-Americans in 2019 and four NWCA All-Americans in 2020. But Columbia is on the rise and wants to be the next Ivy League team to place multiple wrestlers on the podium in March.
The Tigers have the highest-ranked wrestlers with #3 Glory and #6 Monday, but the Lions will counter with solid competitors at every weight class. This one could go either way.
Watch Manchio get a tech-fall in the early rounds of the Cliff Keen Las Vegas Invitational:
Unlock this video, live events, and more with a subscription!
Get Started
Already a subscriber? Log In
Binghamton at Hofstra, 3:30 PM
197 DePrez BING vs Rogers HOF
285 Doyle BING vs Knighton-Ward HOF
The Bearcats take on their second team of the day from Strong Island, traveling down the road from LIU to Hofstra. Looks like you can watch this competition on YouTube with this link.
Sacred Heart at Bucknell, 5:00 PM
The Bison of Bucknell get warmed up for the EIWA Dual of the Week on Sunday by hosting the Pioneers of Sacred Heart on Saturday.
---
Sunday, January 23
Columbia at Penn, 1:00 PM ESPN+
141 Kazimir COL vs Composto PENN
157 Mosher COL vs Zapf PENN
165 Ogunsanya COL vs Revano PENN
174 Fine COL vs Incontrera PENN
Penn, like their opponents, are also looking to reinsert themselves into the national conversation. The Quakers' last All-American was Cadey Kent, who placed fourth at 174-pounds in 2016. Columbia's last trip to the podium was taken by Steve Santos, who took third at 149-pounds in 2013.
Watch Columbia's Josh Ogunsanya defeat fellow ranked 165-pounder Brian Meyer of Lehigh: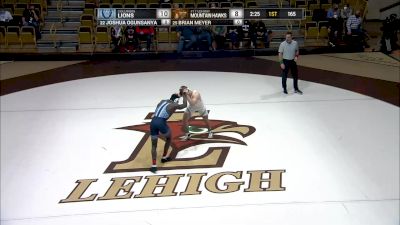 Unlock this video, live events, and more with a subscription!
Get Started
Already a subscriber? Log In
Navy at Cleveland State, 2:00 PM
184 Key NAVY vs Nassar CSU
The second dual of the weekend for Navy. Perhaps there is no more suitable an opponent for the Naval Academy than that of a Viking from Cleveland State. Okay, maybe a Pirate would be more appropriate, but there are no D1 programs with Pirates as their mascot. The last school to go by that moniker that did have a team that we know of was Seton Hall University. Maybe East Carolina had a team once, we're not sure.
Anyway, we're also not sure where to watch this dual but if you find a link, feel free to share!
Lehigh at Oklahoma State, 3:00 PM ESPN+
25 Lane LEH vs Mastrogiovanni OSU
133 Hines LEH vs Fix OSU
141 McGonagle LEH vs Young OSU
149 Bryant LEH vs Gfeller OSU
157 Humphreys LEH vs Sheets OSU
165 Meyer LEH vs Wittlake OSU
174 Logan LEH vs Plott OSU
184 Burkhart LEH vs Geer OSU
Scads of ranked matchups, which is what you'd expect when two of the oldest, most successful programs in wrestling history get together.
We highly recommend tuning into this dual, which should finish just in time for you to enjoy our EIWA Dual of the Week.
Speaking of...
The EIWA Dual Of The Week
Bucknell at Drexel
First whistle is scheduled for 6:00 PM eastern time, the last D1 dual of the entire week. Below are the expected lineups.
125 Seidman B vs Mininno D
133 Phipps B vs Pleasant D
141 Miller B v Donahue D
149 DePron B vs Williams D
157 Delp B vs Kropman D
165 Hartman B vs Barczak D
174 Fisher B vs O'Malley D
184 Deacetis B vs McLaughlin D
197 McCready B vs Morina D
285 Niemeyer B vs Anthony D
The headlining weight classes will be 165 and 174, as Bucknell's #14 Zach Hartman takes on honorable mention Evan Barczak of Drexel at 165, and the Dragon's #15 Mickey O'Malley is slated to wrestle the Bison's Jaden Fisher and his 10-2 record at 174-pounds.
Last year, Hartman was the first All-American for Bucknell since Kevin Lavalley took seventh at 149-pounds in 2011. Drexel's last AA came back in 2007 when Ryan Hluschak placed eighth at 157.
Bucknell will be favored in the lightweights, but momentum could shift in Drexel's favor after 165. Things could come down to heavyweight, at which point it's anybody's dual!
Watch Hartman and Barczak wrestle in the semifinals of the 2021 EIWAs: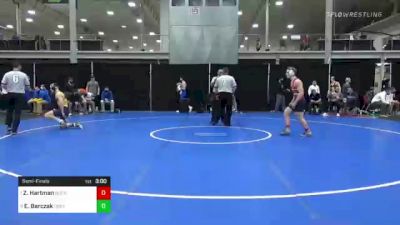 Unlock this video, live events, and more with a subscription!
Get Started
Already a subscriber? Log In
Tune in and enjoy on FloWrestling and we'll see you then!