2022 NWCA Multi-Divisional National Championship
Women's Weekly: Ashley Flavin Makes History For Life
Women's Weekly: Ashley Flavin Makes History For Life
Ashley Flavin of Life has already made wrestling history this year — twice.
Jan 14, 2022
by Kyle Klingman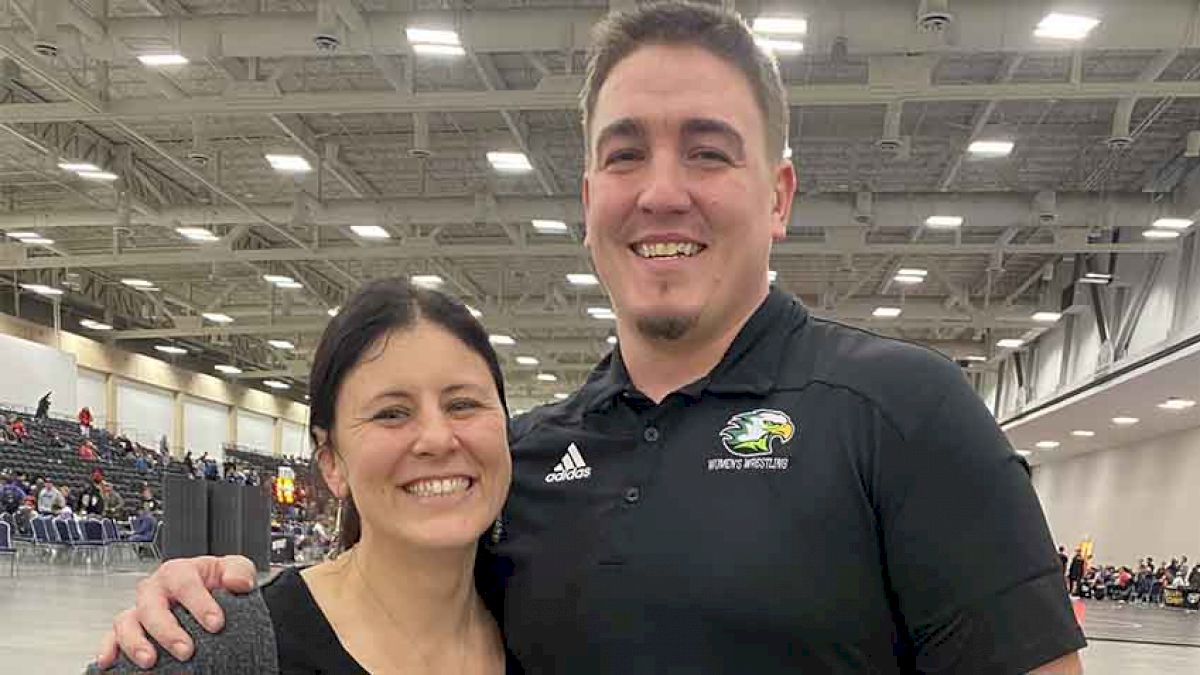 Ashley Flavin of Life University made history twice at the NWCA Multidivisional National Duals in Louisville, Kentucky, on January 8.
During the morning session, Sword became the first woman to lead a team to the finals of the National Duals with a 28-15 semifinal win over Southern Oregon.
During the afternoon session, Sword became the first woman to lead a team to a championship at the National Duals with a 25-19 win over Campbellsville.
"It feels good," Flavin said. "Christian's been talking about it since the tournament started and we thought I could be the first. We did it. We did it with a forfeit. We did it after COVID. And we did it because they work harder than anyone in the country."
Christian, for those who don't know, is Ashley's husband. He is the assistant coach for the women's team while Ashley leads the program. Life University, for those who don't know, is a private NAIA college in Marietta, Georgia, with an undergraduate enrollment of around 750.
Members of the men's and women's teams proudly wear shirts that say "Wrestling Is Life."
The Life vs. Campbellsville match, in particular, should go down as an all-time classic. The 116-pound match featured two returning national collegiate champions — and that should go down as an all-time classic, too.
Life's Peyton Prussin outlasted McKayla Campbell, 19-14, during a wild 22-minute marathon match that included multiple challenges, injury timeouts, and technical difficulties with the clock.
The dual came down to 191 pounds (the heaviest women's weight class) where Life's Gabby Hamilton was almost knocked out of the tournament — literally. Hamilton fell behind 6-4 in the first period when she attempted a headlock and hit her head on the mat during the exchange.
Life's chances to win a National Duals title turned into the life of another human being as Hamilton laid lifeless on the mat. There was a sense of relief when Hamilton rose to her feet after several minutes.
The result of the dual seemed secondary at that point.
Hamilton continued and secured a dramatic fall in the second period that sent teammates and fans into a frenzy. The entire team gathered around the Flavins as Christian stood behind his wife.
"I just want to introduce the first female national championship wrestling coach ever," yelled Christian.
Chants of "Ashley, Ashley, Ashley" filled the convention center.
This was a big moment for Life, but it was an even bigger moment for wrestling. Yes, Flavin made history — but she opened the door for what's to come.
A friend with no particular interest in wrestling saw a video of the victory celebration on social media and reached out a few hours after the tournament. His words are a reflection of the moment.
"There's something amazing about women's wrestling," he said. "I don't know why I think it's so cool but I am 100 percent loving that it's becoming a viable sport. I love everything about it. It elevates men's wrestling. It's a win-win for everyone in the sport."

Reminder: this is someone who doesn't follow wrestling — at all.
A criticism of wrestling is that we aren't as welcoming and open as we could be. We are good at celebrating the beauty of the sport amongst ourselves but we lack a connection with those who don't understand the nuances.
You don't need to know what a gut wrench is to experience the unbridled enthusiasm of a team that just made history. And women have been making lots of wrestling history lately.
Life's win at the National Duals seems like just the beginning. More women will take over wrestling programs and make history of their own.
For now, it's important to reflect on the gravity of the moment and celebrate Ashley Flavin's pioneering work as a female wrestling coach. We are witnessing all that wrestling can be — and women are leading the way.