NCAA Watch Party: tOSU/Michigan & Minnesota/Nebraska
Cowboys Gearing Up For Stretch Run
Cowboys Gearing Up For Stretch Run
Oklahoma State has been dominant during the season's first two months, but the biggest tests are still to come for the Cowboys.
Jan 13, 2022
by Roger Moore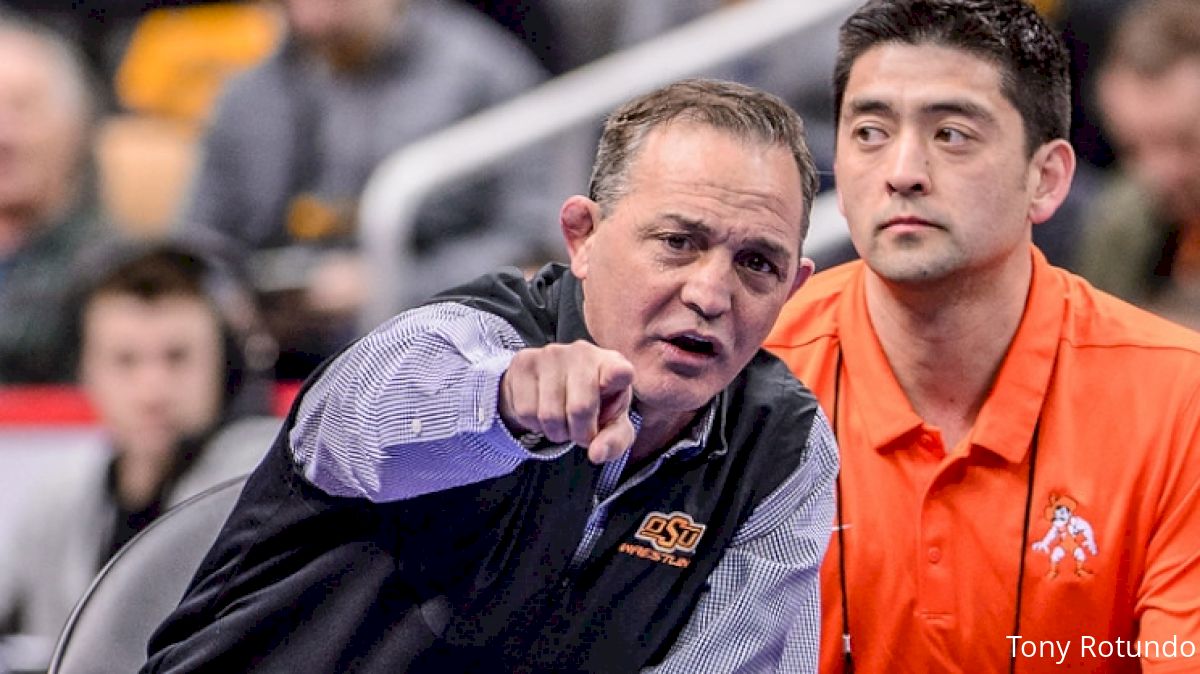 Unlock this article, live events, and more with a subscription!
Get Started
Already a subscriber? Log In
Most wrestling aficionados know January marks the "real" beginning of the wrestling season. Sure, a handful of quality duals and tournaments litter the November and December schedule — see the Cliff Keen/Las Vegas Invitational or the traditional-rich Midlands, the Cy-Hawk and Bedlam rivalries of old — but most coaches and athletes will remind you that the run toward March gets going once the second semester begins.
It also marks the debut of many who have been floating in the transfer portal — see Nick Suriano and Michigan or any number of new faces in new places.
For fourth-ranked Oklahoma State, the first-semester schedule included eight dual victories by an overall score of 275-29. Only Minnesota reached double figures in a 23-10 Cowboy win in Minneapolis. Coach John Smith's squad won 56 of 60 individual bouts over its last six duals, with two of the losses by non-starters against Little Rock (Jan. 8).
Oklahoma State is scheduled to face West Virginia and Columbia this Sunday in Morgantown and returns home for the first time since November when it hosts Lehigh (Jan. 23), Iowa State (Jan. 29), and Northern Iowa (Jan. 30). The Cowboys have looked seven-minute strong this season, but Smith, like his team, is ready to be tested.
"It's going to get a lot more competitive for us and that is what we are looking forward to," Smith said. "We did wrestle well the first semester, won a lot of close matches individually, something that helps once you get into January, February, March."
The next two months also have another opponent — COVID-19 and its continuing influence on college athletics.
"(COVID) is something we have to deal with the rest of the season; just have to do what you can and go with what you've got," Smith said. "We have to make sure we do everything we can to keep our kids healthy and safe. They are back in school, so there is not a lot you can do to avoid contact with other students
"We plan on having our full lineup, but it's Wednesday and we have to make it to Sunday. You have to have guys prepared to make weight because things can change quickly. Our last match we had to bump up (157-pounder Jalin Harper) to 174 because we didn't want to pull a redshirt for what we expect to be one match. The current circumstances require responsibility with our weight, not just from the starters, because it can happen the day before a match."
Who Would The Greatest Vote For?
Flowrestling recently named John Smith its top pick in its countdown of the 100 greatest American wrestlers of all time. Smith won Olympic gold in freestyle in 1988 and 1992 and claimed World titles in 1987, 1989, 1990, and 1991. The Del City, Oklahoma, native earned NCAA titles in 1987 and '88 and was a runner-up as a sophomore in 1985. Following his gold medal in Barcelona in '92, he retired from competition — before his 27th birthday — to take over as the head coach at his alma mater, Oklahoma State, where he has been the coach ever since. So, who would Mr. Smith pick if he took his name out of the ring?
Jordan Burroughs. Bruce Baumgartner. Tom Brands.
"It's flattering, nice to be recognized for something you did 30 years ago," Smith said. "I was done, had completed my journey. In '92, I had to decide if I wanted to go another four years to compete in 1996. The scenario at Oklahoma State helped with the decision, but I really was done. I was fortunate to walk away having accomplished everything I wanted; I was complete at 26 after wrestling for 22 years. At that time, I had done something that nobody had done in our sport, so I was, again, fortunate to be able to walk away when I did."
Smith points out Baumgartner's long tenure as the United States' best heavyweight.
"What Bruce did, to be among the best in the world at that weight, is hard to match and (Tom Brands), not the amount of wins but how he went about doing it," Smith said of his contemporaries. "Jordan Burroughs … his success speaks for itself."
Ten of the Flo 100 suited up for Oklahoma State with curious minds wondering about the absence of three-time NCAA champ Dr. Stanley Henson, perhaps Edward Gallagher's greatest student-athlete during the 1930s. Henson, many wrestling historians argue, would have been a four-timer given the opportunity. That being said, most "all-time" lists come with plenty of debate.
Oklahoma State 133-pounder Daton Fix, a freestyle World silver medalist and two-time NCAA runner-up, defers to his coach.
"The thing about the coaching staff (at Oklahoma State) is that you have the greatest American wrestler ever (John Smith), national champions like Chris Perry and Zack Esposito, guys that know how to prepare you for March, for winning championships," said Fix after the Western swing in December. "To be able to watch and learn, get coaching, to have Coach Smith in your corner gives you an advantage."
The Future
Rookie Victor Voinovich led a small contingent of Cowboys at the Southern Scuffle, finishing third at 149 pounds with his only loss coming to eventual champion Josh Finesilver of Duke in the semifinals. The two-time Ohio state champion represented Serbia at the 2021 Junior European Championships and also at the Junior World Championships before his first matches at Oklahoma State in the fall. With starter Kaden Gfeller out against Little Rock last weekend, Indiana transfer Joey Sanchez got the call. Gfeller (6-1), along with 174-pounder Dustin Plott, is expected back for this Sunday's duals.
"We thought about Victor at the beginning of the season, but (Kaden Gfeller) has had a good start to the season, so we weren't going to burn that redshirt (for Little Rock)," Smith said. "He had a good tournament (at the Scuffle), but overall we didn't perform to the expectations we have for some guys we expect to be starters for us down the road. Right now we've got our lineup pretty much set, but, as we know, that could change over the next two months."