2022 NWCA Multi-Divisional National Championship
Multi-Divisional Insider: Broken Down Bus Can't Spoil D3 Title for LaCrosse
Multi-Divisional Insider: Broken Down Bus Can't Spoil D3 Title for LaCrosse
A couple of heartbreaking conclusions to the past two seasons made Dave Malecek and his team appreciate this year's National Duals title even more.
Jan 12, 2022
by James Nelson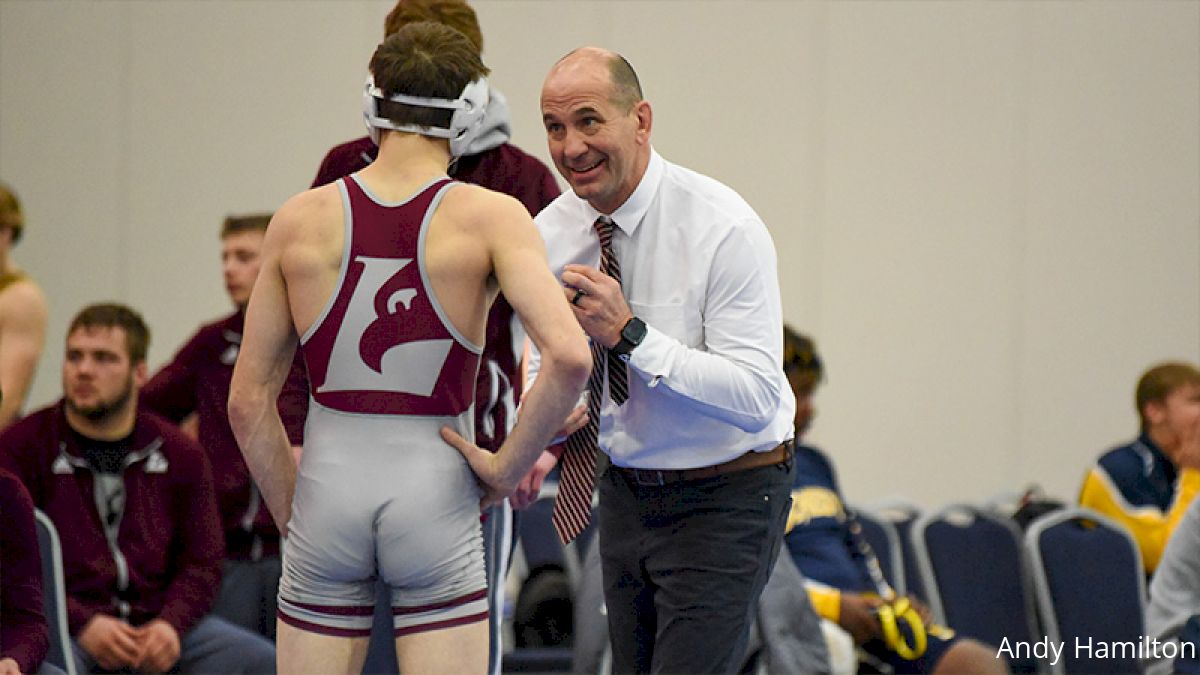 Unlock this article, live events, and more with a subscription!
Get Started
Already a subscriber? Log In
Somewhere south of Chicago at a truck stop Saturday, Wisconsin-La Crosse head coach Dave Malecek was cradling a trophy.
Hours after capturing the program's first national title at the NWCA Multi-Division National Duals in Louisville, Malecek and his Eagles' program were stranded. The team bus had broken down on the return trip.
Malecek was still smiling, however.
"We sat on a side of the interstate for an hour, and three hours at the truck stop waiting for a replacement bus," Malecek laughed. "I called my wife and said, 'This is not fun.' She answered, 'You've got the first-place trophy still with you, don't you?' I said, 'Good point.'"
It has been a long, two-year mental grind for Malecek, now in his 16th season at Wisconsin-La Crosse.
The grind started in 2020 and the tough knocks came one after another for the Eagles.
On the eve of UW-La Crosse's departure for the 2020 Division III National Championships in Cedar Rapids, Iowa, Malecek was told by school administrators the team was not going to be allowed to travel to Cedar Rapids because of COVID-19 concerns. After rallying the troops and meeting upon meeting with UWL administration, Malecek and the team were given the consent to travel.
The Eagles arrived late on Wednesday in Cedar Rapids prior to Friday's championships and practiced. When Malecek woke up the next morning, the NCAA had canceled the championships for the same COVID-19 concerns.
Fast forward to 2021, and there was hope and excitement again with the program. The La Crosse Convention Center had undergone $40 million in renovations, and UWL was set to host the Division III Championships. As late as the last week of January, Malecek and UWL officials expressed excitement that the tournament would go on as planned, despite the fact the NWCA had canceled the Multi-Division Duals weeks before and there were rumblings about another cancelation.
On Feb. 4, the NCAA, citing COVID concerns and a lack of potential participating teams, canceled the Division III Championships. Heartbreak again not only for Malecek and UWL but for all Division III programs in the nation.
Then hope emerged and heartbreak followed again for the Eagles. The NWCA announced it would hold a championship event at Xtreme Arena in Coralville, Iowa for Division III programs. Before travel plans could be arranged, the Wisconsin Intercollegiate Athletic Association elected to not allow its member teams to compete.
Malecek showed up at the event on his own and when tracked down for an interview he said he felt like he was at a funeral because of all the condolences he was receiving from colleagues and fans. But then he finished the interview with words that turned out to be prophetic.
"I'm only going to be able to watch through the semifinals," Malecek told the Waterloo-Cedar Falls (Iowa) Courier. "I've seen what has gone on here. I got to go get my guys ready for our time. We could've competed well here."
Ten months after mouthing those words, the Eagles' opportunity and the time came.
La Crosse topped powerhouse North Central College in the semifinals (21-6) in Louisville, beating the Cardinals for the second time this season, and then manhandled Wabash College in the championship match, 31-9.
"I think what the last two years have taught me more than anything is never take anything for granted," Malecek said. "It's taught me to sit back and enjoy each moment, and I'm enjoying the heck out of this championship. I was enjoying the heck out of it even at that truck stop. Today, it is still crazy to me we won the national title."
Even the chatter behind the scenes isn't going to steal the thunder for Malecek and UWL.
The critics say Augsburg University and Wartburg College, the two teams that had combined to win every NWCA National Duals title since the multi-Division event began in 2002, did not participate because of COVID protocols. Additionally, top-seeded Coe College's squad was depleted because of COVID.
"I get it. But North Central has a heck of a squad. RIT was good. Johnson and Wales, Wabash College have strong teams," Malecek said. "It was not like it was a pushover tournament. We had an opportunity to win something big and we took full advantage of it. Every one of our guys had to step up and get after it. I'm just so proud of how hard they fought for each other.
"And you know what is cool … the first two guys to reach out and congratulate me afterward were (Wartburg coach) Eric Keller and (Augsburg head coach) Jim Moulsoff. They were the very first two. I thought that was pretty cool."
Division II
History was made twice during the Division II tournament.
Four-time defending NWCA National Duals champion St. Cloud State won its 77th consecutive dual with a 19-14 victory over Nebraska-Kearney in the semifinals. That victory set a new NCAA mark for consecutive wins.
Oklahoma State won 76 in a row from 1937-51.
But in the finals, St. Cloud State saw its streak come to an end as Central Oklahoma captured its second NWCA title with a 19-14 win.
The Bronchos, down three starters who fell ill, got three big wins from 149 through 157, to seize control of the match and then held on for the victory.
Brik Filippo won 3-1 in sudden victory over Jake Barzowski at 149, Ty Lucas used an escape with 29 seconds left to beat Anthony Herrera, 9-8, at 157, and unranked Hunter Jump beat Devin Donovan, 3-1, in sudden victory to cap off a 4-0 weekend for the former four-time Oklahoma state finalist who was making his season debut for the Bronchos.
UCO also won in 2002.
"We pulled out some really hard wins and that's what you have to do in duals like this," UCO head coach Todd Steidley said in a UCO release.
NAIA
Grand View University steam-rolled to its 10th consecutive title, outscoring its four opponents over the two days, 142-31. The top-ranked Vikings took down #2 Life University, 21-10, in the final after crushing its first three opponents.
It was a performance worthy of another Grand View squad that will be receiving a huge honor later this year.
The Viking 2017 National Championship squad will be inducted into the National Wrestling Hall of Fame Dan Gable Museum's Glen Brand Wrestling Hall of Fame of Iowa as part of the 2022 class in June.
The team will be celebrated at the museum's ceremonial event on June 24 at the Prairie Links Golf and Event Center in Waverly, Iowa.
In 2016-17, Grand View went 13-0 outscoring its opponents 536-44 while winning its sixth consecutive NWCA National Dual title.
The Vikings did not lose a single match at the Heart of America championships until the finals and went on to win its sixth-straight NAIA title crowning five individual champions and 12 all-Americans.
The team score of 234.5 broke the single tournament record it held and GVU finished 160 points ahead of national runner-up Lindsey Wilson.
Jacob Colon, Josh Wenger, Grant Henderson, Lawton Benna, and Evan Hansen were national champions.