2022 Virginia Duals
What 2 Watch 4 At The Virginia Duals
What 2 Watch 4 At The Virginia Duals
What to expect in Hampton Roads this weekend at the prestigious Virginia Duals.
Jan 13, 2022
by Andrew Spey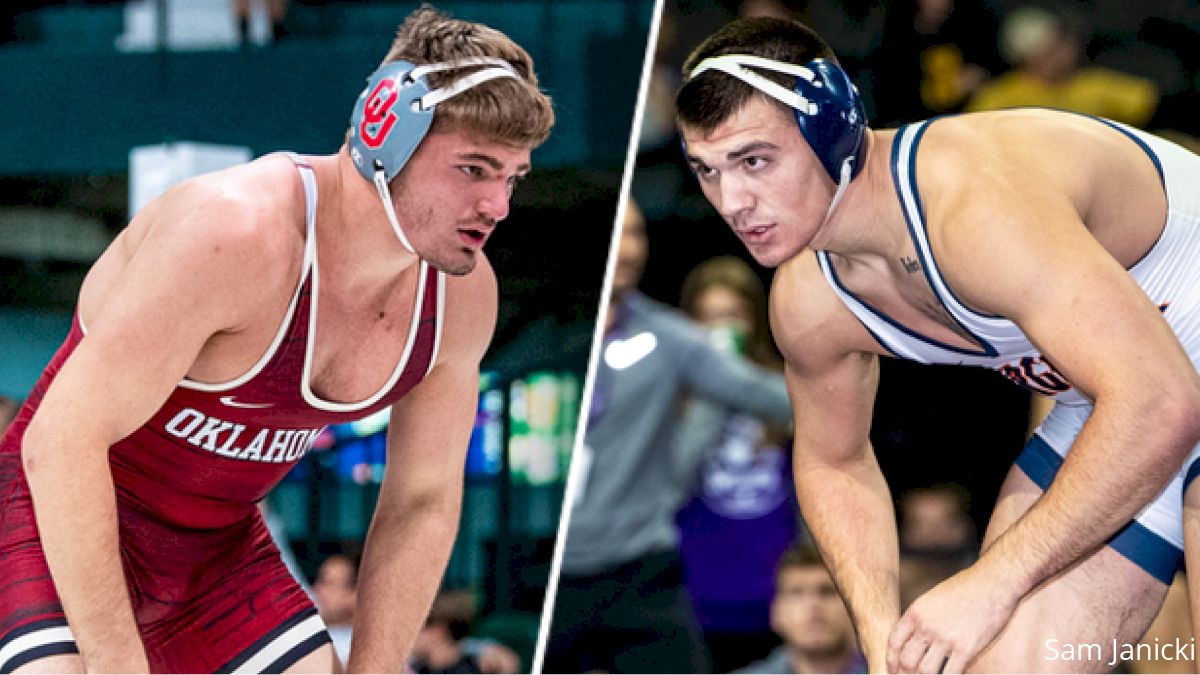 They say that Virginia is for lovers, and that the Virginia Duals is for lovers of wrestling. That's great news for us, because we love wrestling, and the Virginia Duals start this weekend!
Held in the historical Hampton Coliseum, this annual classic brings together the best in college and high school wrestling from within the Commonwealth and beyond.
This year's D1 programs are as follows.
Participating teams:
Chattanooga Mocs
Kent State Golden Flashes
Lock Haven Bald Eagles
Maryland Terrapins
Oklahoma Sooners
Virginia Cavaliers
The D1 portion of the event will be held as a round-robin. Those duals can be found in the schedule below, along with the most anticipated matchups from each competition.
Also shouts to Lock Haven for stepping up and filling in for Penn, who had to lamentably withdraw from the event due to covid.
Friday
1:00 PM ET
Mat 1: Kent State vs Maryland
184: Colin McCracken, KSU vs #13 Kyle Cochran, UMD
Mat 2: Chattanooga vs Virginia
133: #23 Brayden Palmer, UTC vs Briant Courtney, UVA
Mat 7: Oklahoma vs Lock Haven
125: #22 Joey Prata, OU vs Anthony Noto, LHU
Notes: Session one starts early on Friday, which is great because who wants to do work on a Friday afternoon? Have the wrestling playing on your computer and get a spreadsheet or something ready to pull up on your screen if your boss walks by.
Or maybe you work from home now and that's not a problem. Even better!
Mat 1 and 2 should feature competitive bouts while Oklahoma is probably too much for Lock Haven, especially if the Sooners have a full, healthy lineup.
3:00 PM ET
Mat 2: Lock Haven vs Virginia
133: Gable Strickland, LHU vs Brian Courtney, UVA
285: Isaac Reid, LHU vs Quinn Miller, UVA
Mat 3: Chattanooga vs Maryland
165: Drew Nicholson, UTC vs John Martin Best, UMD
184: Matthew Waddell, UTC vs #13 Kyle Cochran, UMD
Mat 8: Oklahoma vs Kent State
125: #22 Joey Prata, OU vs Jake Ferri, KSU
Notes: The Friday afternoon fun keeps rolling as the next round starts soon after the first.
Maryland and Chattanooga were neck-and-neck at the Southern Scuffle, with the Mocs edging out the Terps by 2.5 points on the team leaderboard, implying a fiercely contested dual.
Virginia will be favored over Lock Haven, and Oklahoma will be even bigger favorites over Kent State, but both underdogs know how to compete and shouldn't be overlooked.
---
Saturday
2:00 PM ET
Mat 7: Kent State vs Virginia
125: Jake Ferri, KSU vs Pat McCormick, UVA
4:00 PM ET
Mat 3: Oklahoma vs Virginia
133: #10 Anthony Madrigal, OU vs Brian Courtney, UVA
157: #18 Justin Thomas, OU vs Jake Keating, UVa
197: #7 Jake Woodley, OU vs #15 Jay Aiello, UVA
6:00 PM ET
Mat 2: Oklahoma vs Maryland
184: #22 Darrien Roberts, OU vs #13 Kyle Cochran, UMD
UPDATE! Add South Dakota State to the party!
🚨 SCHEDULE UPDATE 🚨
Rather than heading west this weekend, the Jackrabbit wrestling team has been added to the field of the Virginia Duals in Hampton, Virginia on Saturday
2 p.m. Eastern (1 p.m. Central) - vs. Chattanooga
4 p.m. ET (3 p.m. CT) - vs. Maryland#GetJacked

— Jackrabbit Wrestling (@GoJacksWrestle) January 14, 2022
Notes: Day 2 doles out our duals one at a time, allowing us to focus our attention properly on each one.
The Cavs should be able to get by the Golden Flashes at 2PM but will run into trouble with the Sooners at four. That second dual could feature the marquee match-up of the tournament with Woodley vs Aiello at 197-pounds.
Regardless of what happens in the penultimate bout, the Sooner should once again be favored against Maryland, picking up what could be their fourth win of the weekend.
There will also be extra countable matches happening simultaneously during all sessions. Matchups are TBD but a schedule of which mats will be hosting the extra matches can be found here.
But Wait, There's More!
There's also a tournament featuring non-D1 programs, including the Star City's own Roanoke College.
Additionally, there are three high school tournaments that will be taking place concurrently with the collegiate duals.
The most prominent prep programs will be featured in the National bracket, which you can see by clicking here.
That premier bracket is set up to feature Nazareth, from Pennsylvania's Lehigh Valley, and Lake Highland Prep, from Central Florida, in a titanic clash in the finals. That dual might also feature a top 10 matchup at 133-pounds between #7 Tahir Parkins of Nazareth vs #8 Ethan Rivera of Lake Highland.
What a great weekend for lovers of wrestling in Virginia!