2022 NWCA Multi-Divisional National Championship
Life Prevails, King Reigns at NWCA National Duals
Life Prevails, King Reigns at NWCA National Duals
Life won the NAIA women's title in dramatic fashion, while King captured the NCAA crown by dethroning McKendree at the NWCA National Duals.
Jan 11, 2022
by Derek Levendusky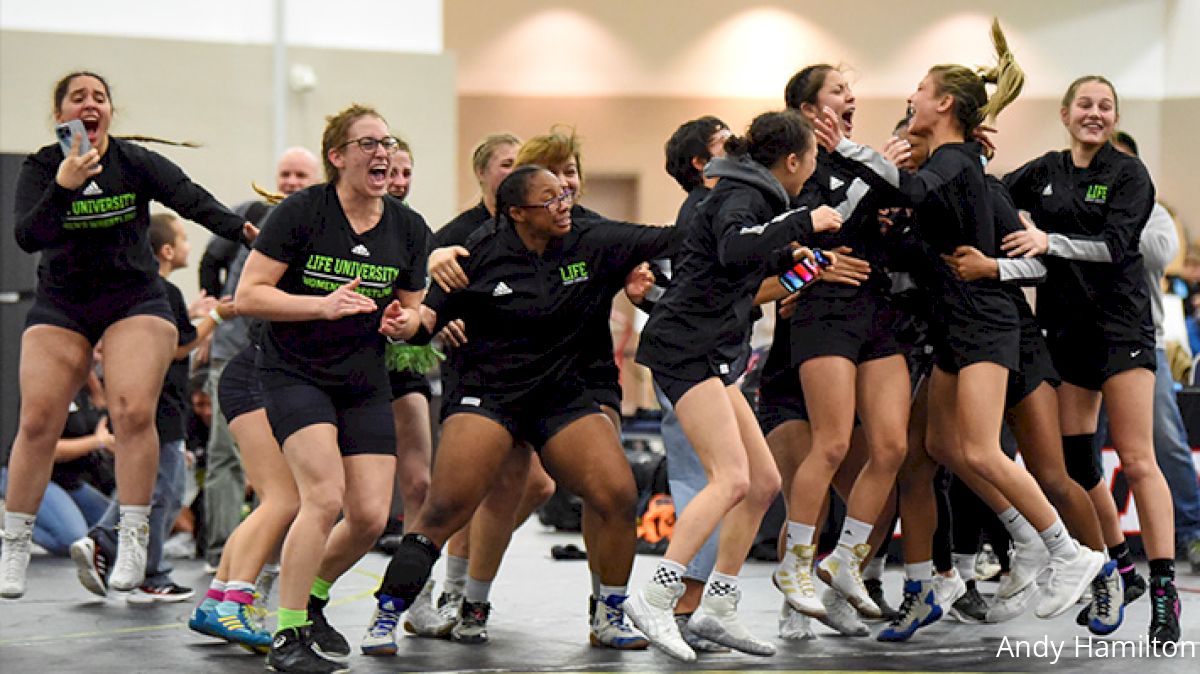 Unlock this article, live events, and more with a subscription!
Get Started
Already a subscriber? Log In
It was a weekend full of what wrestling fans wanted—upsets, excitement, and high drama with national team titles on the line inside the Kentucky International Convention Center in Louisville. In the end, it was Life University winning the NAIA with a dual that came down to the final match, a match we'll be talking about for years. And it was King winning the NCAA, taking down a McKendree program that had been on top for the last three years.

Here's a look at what transpired Thursday and Friday in both divisions:
NAIA
After returning national champ Jordan Nelson handled her business at 170 with a win over Campbellsville Leilani Martinez 9-0, Life University took the lead 20-19 going into the final match. It would be up to the 191-pounders to decide the national title.
That was when the magic happened.
Life's Gabby Hamilton was down 6-4 against Campbellsville's Liliana Vergara — a heroine the previous round for the Tigers when she secured a fall to win the dual against Grand View — when Hamilton attempted a headlock and slipped. But she fell straight to her face and lay limp for a moment on the mat. It took almost 15 minutes for trainers and medical personnel to evaluate her. Meanwhile, both corners were tense. The dual could be over, and Campbellsville would be the national champions.
But it wasn't.
Hamilton passed concussion protocols and walked back to the center of the mat. A new energy filled the room as teammates and fans cheered their corners, knowing what was on the line.
Then it happened.
Hamilton stepped in with a body lock and tossed Vergara to her back for the quick fall, securing the national title for her team. The Life corner went wild, leaping in the air and screaming for joy. Assistant coach Christian Flavin ran to his wife, head coach Ashley (Sword) Flavin, who had her hands over her mouth in shock, and he embraced her as tears flowed.
The win gave Life University its first national title and made Ashley Flavin the first woman to lead a college program to an NWCA national title.
Life star junior Peyton Prussin, who won arguably the match of the tournament at 116 against McKayla Campbell, 19-14, in a battle of NAIA champions, had her own tears of joy.
"This is our goal since the beginning of the season," she said moments after the conclusion of the dual. "We went through a lot of adversity coming to this tournament. A lot of our starters aren't here. We started off every dual giving away [a forfeit and] 5 points at 101. This was our dream…I'm glad we came together as a family and a team to achieve it."
Prussin said of her teammate: "Gabby's always working hard and she's coming back from an injury last year. One thing about her is that she always does it for her team and she does it for her family. I expected her to win [the final match]. She definitely sealed the deal for us."
Southern Oregon took third, Grand View took fourth (in the first NWCA appearance for their women's program), and Texas Wesleyan took fifth after falling in the semis to Grand View in a close match 26-19.
NCAA
Powerhouse program King University took down mighty McKendree, a program that came in boasting back-to-back NWCA titles, in a highly anticipated dual, and the Tornado leaned heavily on their dominant freshman recruiting class to get them over the top. No win was bigger for King than when freshman 130-pounder Montana Delawder handed returning national champion Cam Guerin her first college loss with a 9-6 victory that caused the King corner to erupt with exuberant cheers. Two other freshmen came up big as Texas star recruit Samara Chavez earned a fall over 2020 national champ Pauline Granados at 109, and three-time California state champ Cheyenne Bowman battled her way to a 5-2 win over 2021 NCAA national runner-up Joye Levendusky at 170.
In the end, it was King 25-19 over the Bearcats.
The Tornado dominated their way to the finals with eye-popping scores, winning 43-1 over Limestone, 44-1 over Tiffin, 43-1 over Wisconsin-Stevens Point, and scoring a 31-12 win over Augsburg. McKendree was also dominant, with a 43-4 win over Adrian, a 43-4 drumming of Presbyterian, a 40-6 victory over Lindenwood, and a 40-4 win over Tiffin in the semis. North Central gave the Bearcats a scrap in pool B, keeping it closer with McKendree winning it 29-14.
There was much uncertainty and tension heading into the finals, as perhaps as many as eight matches could be defined as swing matches. King prevailed in many of those matches, as Jaclyn McNichols got a razor-thin 3-3 criteria win over Lizette Rodriguez at 101, Ana Luciano defeated talented freshman Skye Realin 7-4 at 136, Ashlynn Ortega controlled Kayla Marano 5-1 at 155, and of course, the Chavez, Delawder and Bowman wins at 109, 130, an 170, respectively. At 123, returning national champion Cheyenne Sisenstein scored bonus points with a fall over McKendree sophomore Caitlyn Thorne.
"This means a ton," King coach Jason Moorman told Wreaper Wrestling after the match. "We've got a special group, so this means so much. I'm super proud of them; they work so hard. The whole thing we talked about coming into this was that if you want this, you've got to earn it. You've got to go get it, so it's a pretty great feeling."
For McKendree, returning national champion Felicity Taylor handled freshman star Sage Mortimer with a 10-0 tech fall at 116; Alara Boyd did Boyd things at 143 with a fall over freshman London Houston; and two-time national champion Sydnee Kimber earned a fall in 27 seconds over three-time All-American Nia Crosdale at 191.
Rising program North Central took third in the NCAA division, Tiffin took fourth, and Augsburg took fifth. Notably absent from the event due to Covid-related events were NCAA #4 Simon Fraser and #5 Colorado Mesa.
In the NAIA, returning champ Menlo, currently ranked #9, was a scratch in the NAIA division.
King and Life are scheduled to face each other next weekend in a dual on Saturday, January 15th.
Notable: Four top-ranked individuals went down at the event, as King's Montana Delawder beat McKendree #1 Cam Guerin 9-6 in the NCAA team finals at 130; Augsburg freshman Nina Makem took down King #1 Ana Luciano 6-0 at 136; King freshman Cheyenne Bowman took out #1 Yelena Makoyed 9-6 at 170; and King's Ashlynn Ortega reclaimed the #1 spot with a 4-2 win over Katie Lange.