NCAA Watch Party: tOSU/Michigan & Minnesota/Nebraska
No Brakes For Drake: Ayala Taking Torch At 125 For Hawkeyes
No Brakes For Drake: Ayala Taking Torch At 125 For Hawkeyes
Drake Ayala was recruited to carry on Iowa's rich tradition at 125 pounds. The true freshman is getting tested earlier than anticipated.
Jan 11, 2022
by Darren Miller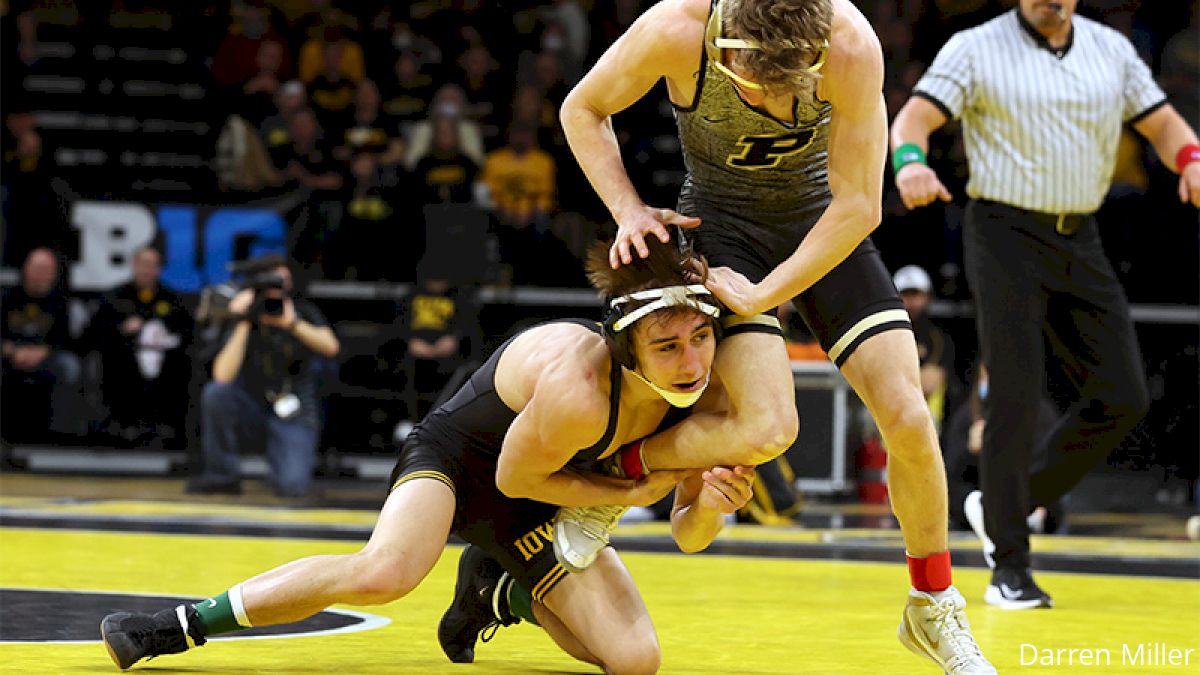 Unlock this article, live events, and more with a subscription!
Get Started
Already a subscriber? Log In
From Charlie Falck to Matt McDonough, Thomas Gilman to Spencer Lee, the University of Iowa wrestling program under head coach Tom Brands has been known for winning and for winning with exceptional competitors weighing 125 pounds.
Last week during a news conference, Brands spoke highly of one of his 125-pounders.
"All year he has been consistent," Brands said. "He is hungry, he knows that this sport takes commitment. He comes from a great place that emphasized that his entire life – his family, the people that trained him, his own mindset, how it developed. We absolutely love his leadership."
Brands wasn't referring to Lee, a two-time Hodge Trophy winner and three-time NCAA champion, although he certainly could have been. Instead, he was talking about true freshman Drake Ayala, a three-time high school state champion from Fort Dodge, Iowa.
"Soft-spoken, but demands that you pay attention to him, no drama," continued Brands. "He's a leader."
When Lee underwent reconstructive ACL surgery on both knees last week, it was expected that Ayala would pull his redshirt, which he did last Friday night at home against Minnesota. Ayala secured a quick takedown and took a 2-1 lead with 36 seconds of riding time into the second period against Golden Gopher All-American Patrick McKee. A five-point second period by McKee was too much for Ayala to overcome, despite rallying for four points in the third of an 8-6 loss. It was Ayala's third setback of the season to McKee, the first two coming while competing unattached.
Ayala took a 10-3 record into his second varsity dual Sunday, and as expected in the Big Ten Conference, the opposition didn't get any easier. In front of a sold-out Carver-Hawkeye Arena, Ayala wrestled Purdue's fifth-ranked Devon Schroder, a two-time Big Ten finalist.
"It's surreal, that's for sure," Ayala said of competing in Carver-Hawkeye Arena. "Especially for an Iowa boy."
After a scoreless first period against Schroder, Ayala dominated, beginning with a takedown 38 seconds into the second period. He went to work on top and rode Schroder for the final 1:22. Ayala added a second takedown 16 seconds into the third period, earned a point for stalling with 18 seconds remaining, and tacked on a riding time point (3:11) for a 6-1 decision.
"I thought I wrestled a little tentative. There is always room for improvement, but it was fun," Ayala said. "I'm learning a lot every day. I'm pretty young, so being in here is a learning experience for sure."
Thanks to an early spark by Ayala, top-ranked Iowa (8-0, 2-0) won its 26th consecutive dual, 36-4, over #15 Purdue. In the 16 years with Brands at the helm, only three true freshmen have competed for the Hawkeyes right out of high school – Spencer Lee (2018), Abe Assad (2020), and now Ayala.
Against Schroder, Brands thought Ayala exhibited more of his trademark physicality that helped him to a 171-3 high school record.
"Those types of things are hard on an opponent," Brands said. "(Ayala) is a very astute competitor. It doesn't take a lot to get him where he is processing things the right way to make adjustments in a very short amount of time. That's a good quality to have."
The Hawkeyes hit the road this weekend at #23 Northwestern on Friday and #24 Illinois on Sunday. Michael DeAugustino, the 125-pounder for Northwestern, is coming off wins over two top-10 opponents, including an 8-7 win over McKee on Sunday.
Ayala's game plan is simple: stay on a winning roll while improving every day.
"Those things are contagious," Brands said.