J'den Cox To Train At Cliff Keen Wrestling Club
J'den Cox To Train At Cliff Keen Wrestling Club
Two-time world champion J'den Cox will move to Michigan and train full-time at the Cliff Keen Wrestling Club.
Jan 10, 2022
by Jon Kozak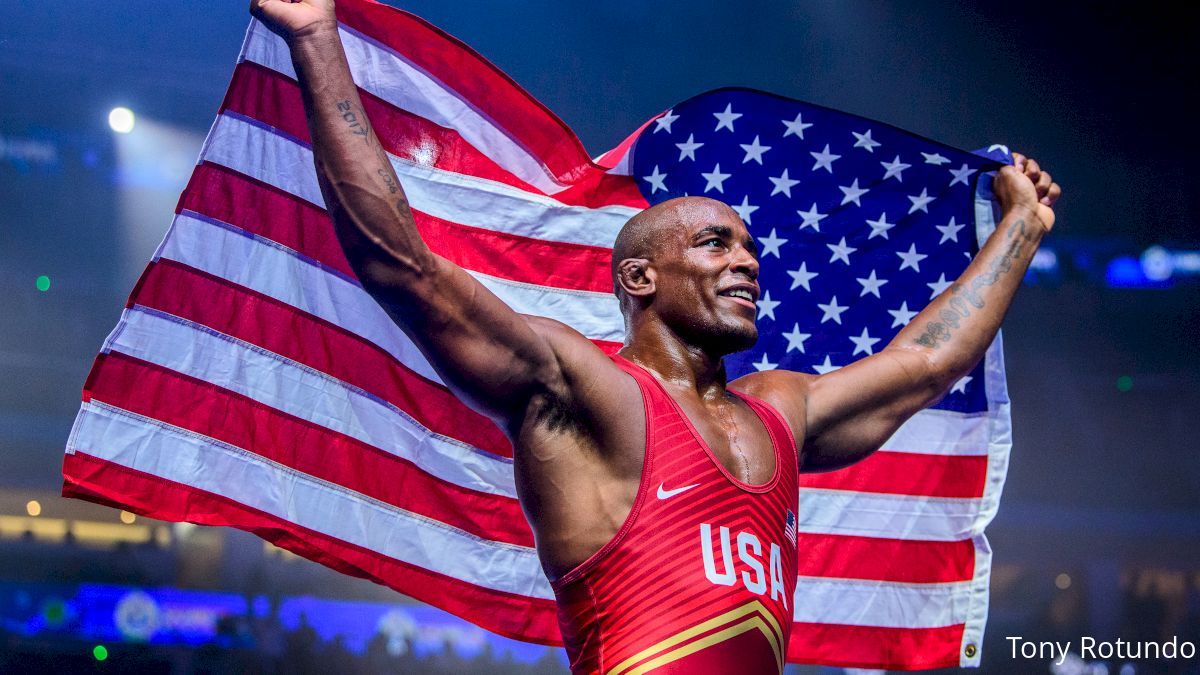 The Cliff Keen Wrestling Club released news that J'den Cox plans to move to Ann Arbor, Michigan to train full time at their Regional Training Center. Cox, a two-time world champion and Olympic and world bronze medalist, was previously training full-time at the Olympic Training Center in Colorado Springs, Colorado. However, Cox's personal coach, Kevin Jackson, was recently added to the University of Michigan staff - playing a major factor in Cox's decision to move.
On top of the relationship with Coach Jackson, Cox's potential training partners likely played a part in his decision. Myles Amine, Alex Dieringer, Patrick Brucki, Mason Parris, and Derek White are all currently training full-time in Ann Arbor and will be valuable partners for Cox.
Read the full press release from the Cliff Keen Wrestling Club below:
ANN ARBOR, Mich. — The Cliff Keen Wrestling Club has added two-time world champion J'Den Cox to its senior-level freestyle roster, the club announced on Monday (Jan. 10). Cox has claimed five total Olympic and world medals since 2016.
"Everyone looks forward to J'Den's full-time arrival to Ann Arbor," said Michigan head coach Sean Bormet. "His work ethic and achievements speak for themselves, and he is hungry to be the best in the world again this cycle. In addition to all his international accolades, J'Den is also a three-time NCAA champion and will be able to relate exceptionally well to his collegiate training partners. This is the overall RTC balance that continues to elevate wrestling in the United States and at Michigan.
"Thanks to all of our supporters, we are building one of the best wrestling environments on the planet here at Michigan. J'Den already has a long-standing, close relationship with Coach [Kevin] Jackson, and the rest of our coaching staff is excited to begin working with him."
Cox won back-to-back world titles at 92kg in 2018 and 2019. He defeated Belarus' Ivan Yankouski, 4-1, in his 2018 gold-medal match and then in 2019, he did not sacrifice a point through four matches at the world championships, ultimately beating Iran's Alireza Karimi, 4-0, for gold. He was named the 2019 John Smith Award winner as USA Wrestling's Freestyle Wrestler of the Year.
Cox claimed 86kg Olympic bronze in 2016 while still in college and followed with world bronze at the same weight in 2017 before transitioning up to 92kg. Most recently, Cox earned 92kg bronze at the 2021 world championships last October.
Cox captured three NCAA titles during his career at Missouri (2014-17), winning at 197 pounds as a freshman, junior and senior. He was a four-time NCAA All-American, taking fifth place at 197 pounds as a sophomore (2015). He finished second in Hodge Trophy voting after his senior season.
He compiled a 136-5 record in college, including a near-perfect 61-1 mark over his last two seasons, and earned bonus points in nearly 60 percent of his wins. He was a four-time MAC champion and three-time MAC Wrestler of the Year. He was named Mizzou's Male Athlete of the Year in 2016 and 2017 and, in 2020, the Tigers named Cox their Male Athlete of the Decade.
Originally from Columbia, Missouri, Cox will relocate to Ann Arbor this month.