2022 Cornell vs Lehigh
Five Reasons To Watch Cornell vs Lehigh
Five Reasons To Watch Cornell vs Lehigh
Just how tremendous will the classic EIWA rivalry dual be? We will tell you!
Jan 7, 2022
by Andrew Spey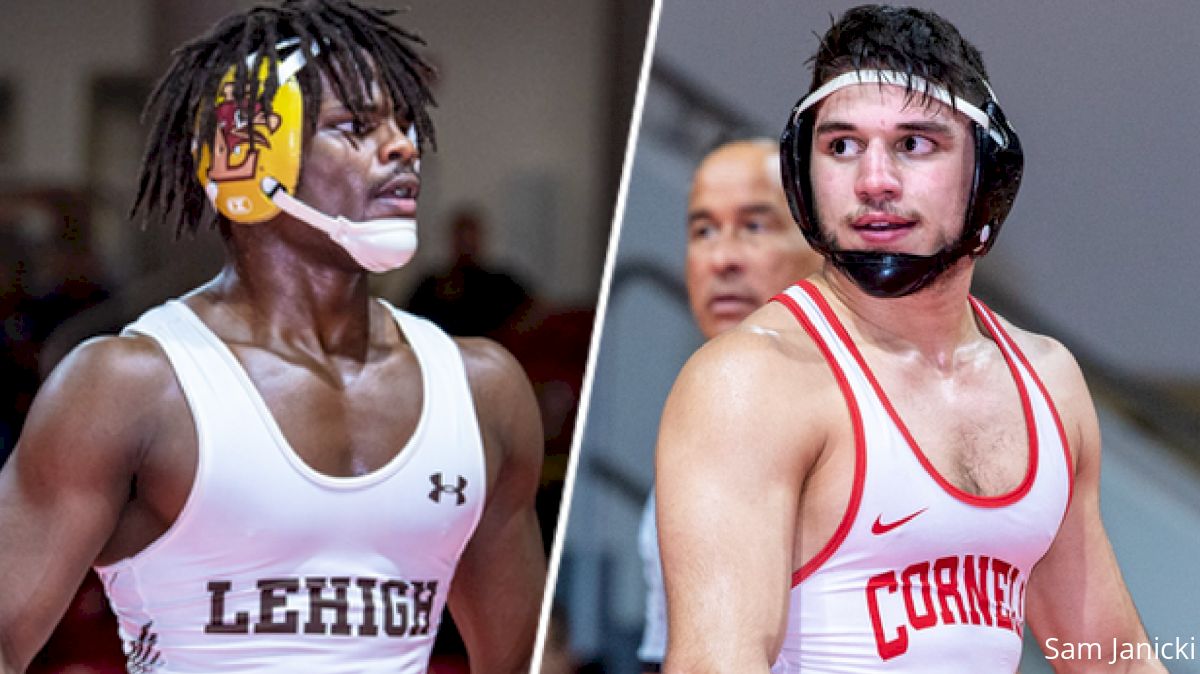 Two of the EIWA's elite battle in Bethlehem as the Mountain Hawks host Cornell. Here are five reasons why you need to tune in to watch live.
It's THE Classic 'Easterns' Rivalry
The EIWAs, or Eastern Intercollegiate Wrestling Association, or Easterns, is one of the oldest institutions in college sports. It predates the Ivy League and the NCAA itself. Its first tournament was held in 1905.
Incidentally, the oldest man alive right now was born in 1909, so you do the math.
Lehigh and Cornell are the two winningest programs in EIWA history, with a combined 62 championships between them including the last 20 in a row.
Lehigh won five straight starting in 2002. Cornell then peeled off 11 in a row, followed by a four-peat by Lehigh included last season's team title in Spooky Nook, PA to keep the streak alive.
They also have the most EIWA individual champions of all-time. Lehigh has 224 with Cornell in second place with 163.
Now THAT'S what I call a classic EIWA Rivalry.
---
Vito & Yianni Back On The Mat
We hope anyway!
Neither Yianni nor Vito wrestled a collegiate match during the 2020 and 2021 seasons. They both took Olympic redshirt years in 2020 and then were not allowed to wrestle in 2021 due to the Ivy League's policies in response to the covid-19 epidemic.
Both have since taken the mat in this season, thankfully. Yianni is 9-0 and Vito is 4-0. Unlike Yianni, Vito did not compete in the 2021 Cliff Keen Las Vegas Invitational in December.
Yianni won NCAA titles in 2018 and 2019 while Vito took fourth in 2019, his only varsity season. Diakomihalis is currently ranked #1 at 149-pound in the national rankings while Vito is #2 behind Nick Suriano at 125-pounds.
Yianni is the only probable starter listed in Cornell's match notes, whereas Cornell has both Vito and Greg Diakomihalis (Yianni's brother) listed at 125-pounds.
Fingers crossed we see the two of them toe the line against Manzona Bryant or Jimmy Hoffman at 149 and either Jaret Lane or Sheldon Seymour at 125, those last four names being listed as probable starters in Lehigh's match notes.
Watch Yianni win a 2021 CKLV title, the second Vegas title of his career: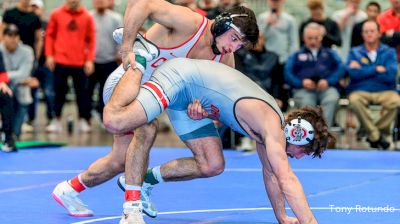 Unlock this video, live events, and more with a subscription!
Get Started
Already a subscriber? Log In
---
A Clash Of Heavies
Both Lehigh and Cornell have some pretty decent heavyweights on their roster.
Jordan Wood is is an All-American and a four-time national qualifier on his way to a fifth trip to the Big Dance in his sixth season in Bethlehem.
Lewis Fernandes is three years out of college but only in his first year wrestling varsity matches for the Big Red. He's had a very solid start to the season, and other than an injury default in the first minute of a match against Stanford, has only dropped three matches to wrestlers all in the top 15 in the nation.
Wood will be another good test for the young Cornellian, though it should also be noted that Cornell lists Brendan Furman, a 2020 national qualifier, as another potential starter in their match notes.
It would appear, however, that the future in Ithaca belongs to Fernandes as he continues his quest to be Cornell's first ever heavyweight All-American.
Watch Fernades defeat Iowa's Aaron Costello in the semifinals of the 2022 Southern Scuffle: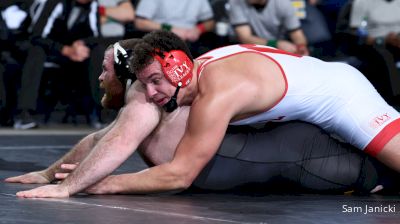 Unlock this video, live events, and more with a subscription!
Get Started
Already a subscriber? Log In
By the way, not only has Cornell never had a heavyweight All-American, but we are unaware of a Big Red heavy that won more than one match at the NCAA Championships. It could have happened, but our detailed records only go back to 1999.
Anyway, not to pile it on, just find that fascinating considering Cornell's long history and all of the amazing wrestlers that have come through that program, especially in the last 25 years.
---
Who Does Cornell Send Out Against Humphreys?
West Virginia native Josh Humprehys has been on the cusp of greatness since his true freshman year when he reached the bloodround of the NCAA tournament. The year after he was the seventh seed in the canceled 2020 season.
Injuries kept Humphreys on the shelf for the entire 2021 season. Now healthy and back on the mat, Josh is 8-1, including three dominant wins over very tough opponents at the Journeymen Collegiate duals: 10-1 over #20 Johnny Lovett of Central Michigan; a pinfall over #17 Jarrett Jacques of Missouri, and an 11-2 victory over Iowa's two-time All-American #10 Kaleb Young.
Cornell has a couple of good options at 157, assuming both are healthy. Colton Yapoiujian is an honorable mention in the national rankings, and Hunter Richard, a former national qualifier who recently made the move up from 149-pounds. Richard also ecently placed fourth at the 2020 Southern Scuffle.
Whoever gets the nod for Cornell will have a tall order on the mat, but should make for an entertaining bout for us fans.
---
It's The EIWA Dual of the Week
I mean duh, it's probably the EIWA Dual of the Year, if we had such a thing.
Let's take a look at the projected lineups and make some very broad predictions.
125: #2 Vito, CU vs #15 Lane, LU - Lane is tough but this matchup strongly favors Cornell. Vito will want to set the tone with bonus points.
133: HM LaJoie, CU vs #17 Hines, LU - Hines has homerun potential, but conservatively this is a decision for Lehigh.
141: Handlovic, CU vs #14 McGonagle, LU - New Hampshirite McGonagle just beat Dresden Simon to get that ranking. Lehigh isn favored again here.
149: #1 Yianni, CU vs #22 Bryant, LU - We fully expect Yianni to win but Manzona is no gimmie. Still could be bonus for Cornell, though.
157: #14 Humphreys, LU vs HM Yapoujian, CU - Humphreys has shown he can bonus elite talent but an upset is also not out of the question. Strong lean for Lehigh in any event.
165: #8 Ramirez, CU vs #21 Meyer, LU - Meyer beat NCAA finalist Wentzel this year but Ramirez is really coming into his own this season. Cornell strong favorites again.
174: #10 Foca, CU vs Logan, LU - Foca is could see a point feast here. Potential bonus for Big Red.
184: #14 Loew, CU vs Burkhart, LU - Another weight where Lehigh will just want to minimize damage. More bonus potential for Cornell as they could begin to pull away.
197: #21 Cardenas, CU vs Davis, LU - Davis' mission will likely be to staunch the bleeding against another tough Cornellian.
285: #18 Fernandes vs #7 Wood, LU - Wood is the favorite but Fernandes will likely keep it to a decision when the Mountain Hawks will likely need bonus points.
With Lehigh only a favorite in four matchups and Cornell with bonus potential in several weights we think this could be over by 184. However, it's not out of the questions for Lehigh to steal a match or two and flip the script. We wouldn't bet the farm on a flipped script, but it's not out of the question!
Maybe a small tract of land could be wagered. The farm is too much but a garden perhaps? Sure, why not?
Enjoy the dual, it's a great time to be an EIWA wrestling fan!