2022 NWCA Multi-Divisional National Championship
Multi-Divisional Insider: National Duals Are Teed Up With Evolving Field
Multi-Divisional Insider: National Duals Are Teed Up With Evolving Field
Making it to the National Duals starting gate has been a challenge for college wrestling teams, but there's still plenty of firepower in Louisville.
Jan 5, 2022
by James Nelson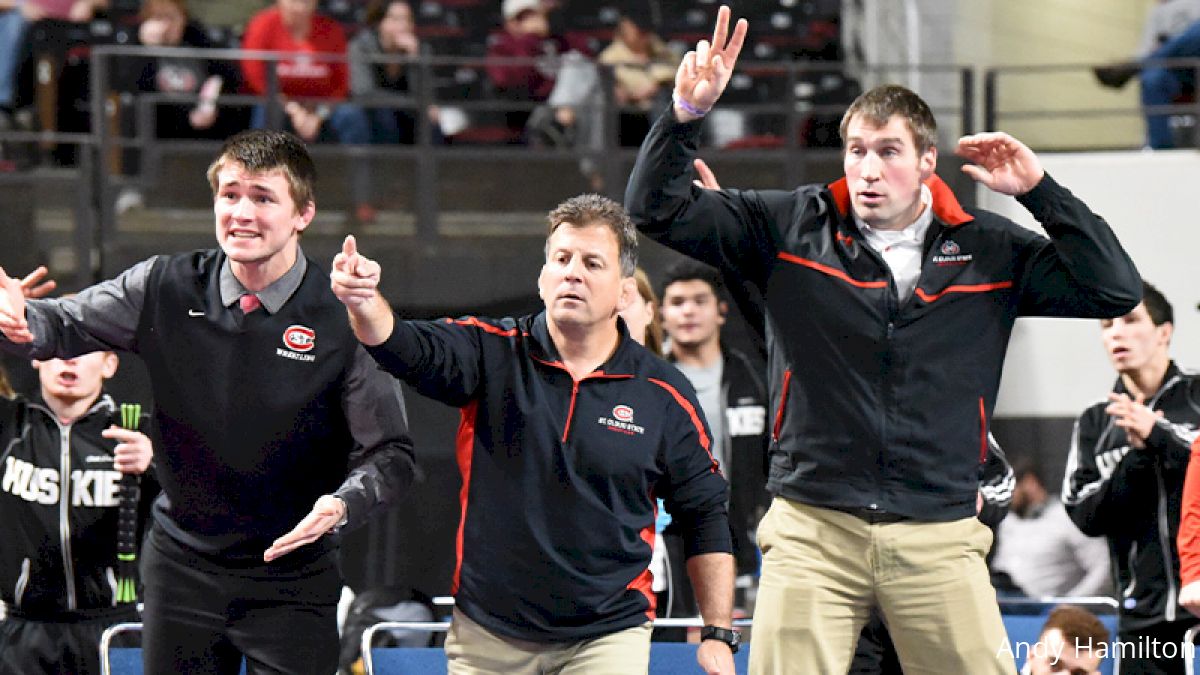 Steve Costanzo and Dave Malecek could not have been happier to be lounging in what sometimes can be uncomfortable luxury bus seats Wednesday.
Costanzo's St. Cloud State squad will begin its quest for a fifth-straight Division II NWCA Multi-Division National Dual crown Thursday morning when it opens with King University.
The Huskies, however, are in an unfamiliar position as the #2 seed.
Central Oklahoma nabbed the top-seed as the Bronchos will be one of 15 opponents looking to snap St. Cloud's 74-match win streak that dates to 2017.
But if there is a more prevailing story it is that Costanzo and the Huskies, as well as Malecek's Wisconsin-La Crosse teams, are making the trek to the Kentucky International Convention Center in Louisville, Kentucky.
COVID-19 protocols knocked out nine teams from both the Division II and Division III fields, making them 15-team brackets instead of 24. All 16 NAIA teams will make it to Louisville.
"Seems like everything changes day-to-day," Costanzo said. "The goal is to get through today and get to tomorrow and wrestle. I know it has been quite a challenge to a lot of other teams and after this weekend it will continue to be challenging.
"Just want to make the best of a great opportunity and have a great experience for our guys. That is all we can do."
In Malecek's Division III field there will be two notable absences. Wartburg College and Augsburg University both announced this week that neither will be able to attend because of COVID protocols.
"We just want to get to Kentucky," Malecek said. "Obviously, we'd like to have had everybody make it, and obviously that is not going to be the case. Very challenging times for everybody right now."
Since the National Duals went to a multi-division format in 2002 no team other than the Knights or Auggies have won the team title. Wartburg leads all programs in event history with 12 NWCA dual titles.
"It is crazy that it will be the first time without Augsburg or Wartburg," Malecek said. "There have been a lot of teams trying to catch those two programs and beat them. There will be some great teams that are still making it, and you know anything can happen at the national duals."
Coe College (4-0) nabbed the top seed, with UW-La Crosse the second seed. North Central, Baldwin Wallace, and Wabash round out the top five.
Coe already has signature wins over both UW-La Crosse (30-13) and North Central (27-19) on Dec. 4 in a triangular in La Crosse. UW-La Crosse beat North Central 22-15 to round out that meet, while North Central followed that loss with an impressive win over Wartburg at the Desert Duals two weeks later.
Baldwin Wallace threw its name into the mix after winning the 15-team North Central College Invitational on Dec. 11, topping Augsburg, North Central, UW-Whitewater, UW-La Crosse, and Wabash.
"A lot has changed since we wrestled those teams," Malecek said. "(North Central) has some new guys in their lineup. We are healthier. Baldwin Wallace has a really solid team up and down its lineup. Coe really put it on us, and the Kohawks are well-coached, and John (Oostendorp) will have them ready.
"It is going to be a couple of great days of wrestling."
In the Division II field, both St. Cloud State and Central Oklahoma were tested in the first half of the season.
The Huskies own wins over Top-20 opponents West Liberty, Lake Erie, UNC-Pembroke and UW-Parkside.
Without national champion Heath Gray in its lineup, the Bronchos won the prestigious Midwest Classic.
"A lot of teams have backed out, but it's still going to be a super-tough event with most of the top teams," UCO head coach Todd Steidley said in a release. "It's going to be a great challenge for our guys and we're looking forward to it."
Gray is listed with junior Alex Kauffman (19-3) at 184 in the Bronchos probable lineup.
"Central Oklahoma is having a great year. They are loaded from top to bottom and have great depth and coaching. I'm sure they are excited and hungry," Costanzo said. "Nebraska-Kearney has the majority of their guys back from last season and had a good performance at Augustana before the break.
"There are some really good teams in the field and as you know the national duals is all about the matchups. Sometimes the better team doesn't always win. Sometimes momentum is a factor. We just need to get started off on the right note and continue down that path. It is going to be real competitive."
Nine-time defending champion Grand View earned the top seed in the NAIA field. The Vikings tested themselves just prior to the break at the Reno Tournament of Champions.
Grand View has won all three of its duals to date by a combined score of 144-9.
Life University, Doane University, Reinhardt University, and Indiana Tech round out the top five seeds.
Life comes in at 9-2 with a loss to North Carolina, and a 23-12 defeat to Reinhardt just before the holiday break. As part of that event, the Running Eagles beat No. 7 University of Cumberlands, 33-9.
Afterward in a release, Life head coach Omi Acosta said the loss was a wake-up call.
"Tonight, was a very humbling experience, but we definitely needed it," Acosta said.
All the action can be seen on FloWrestling. The broadcast will begin at 9 a.m. ET Thursday. The event can be streamed or cased from your desktop, mobile or television. The FloSports AP can be found on Roku, First TV, Chromecast, and Apple TV.