2022 NWCA Multi-Divisional National Duals
Stars Abound In NWCA National Duals Women's Field
Stars Abound In NWCA National Duals Women's Field
A collection of nationally ranked hammers will be on display this week in Louisville as teams vie for NWCA National Duals titles.
Jan 5, 2022
by Derek Levendusky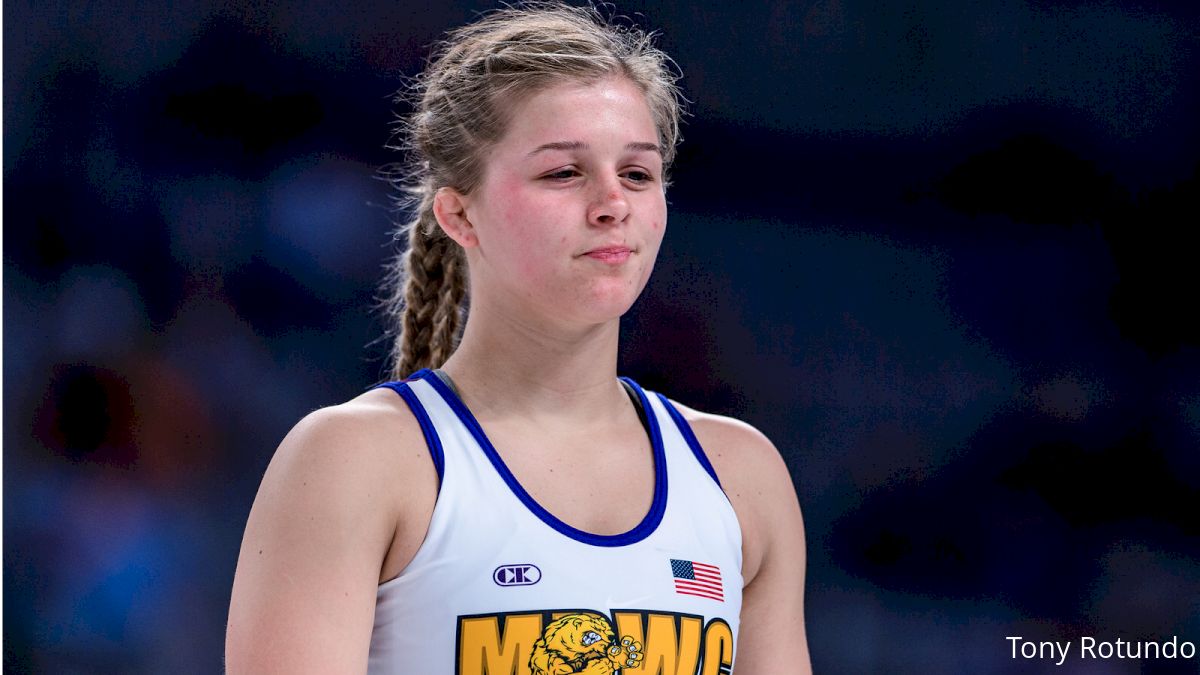 Note: Simon Fraser and Colorado Mesa withdrew from the tournament after this story was originally published
It's an event that many college programs circle on their calendars — the NWCA National Duals. With divisions for both NCAA and NAIA women's teams, it's going down Thursday and Friday in Louisville at the Kentucky International Convention Center.
With the event canceled last year due to the COVID-19 pandemic, there's more anticipation than ever as the best in women's college wrestling will square off for national team titles.
Here's a quick look at each division.
NCAA
Though the McKendree Bearcats are the returning back-to-back national champs, it's King that recently took over the #1 spot in college rankings. The recent NWCA Coaches Poll has King at #1, McKendree at #2, Simon Fraser at #3, North Central at #4, and the scrappy Colorado Mesa women at #5.
McKendree had six national champs last year at the National Collegiate Women's Wrestling Championships, though not all are returning, and some might be redshirting. Meanwhile, King has added one of the best recruiting classes ever, and it's showing it on the mat, with Sage Mortimer already being ranked #2 and Samara Chavez #5 at 116, Montana Delawder is #3 at 130, London Houston #5 at 143, Tiffani Baublitz #5 at 155, and Cheyenne Bowman #3 at 170. These freshmen are all capable of winning big matches. Add to them the already established lineup fixtures like #2 Jaclyn McNichols at 101, #2 Cheyenne Sisenstein and #4 Vayle Baker at 123, #4 Phoenix Dubose at 130, #1 Ana Luciano at 136, and #2 Ashlynn Ortega at 143, #6 Viktorya Torres at 155, #5 Nia Crosdale at 191, and you have a formidable lineup.
McKendree has #2 Pauline Granados and #5 Natalie Reyna both at 109, #6 Aliyah Rollins at 116, #1 Cameron Guerin at 130, #3 Skye Realin (a freshman) and #6 Emmily Patneaud at 136, #1 Alara Boyd and #2 Kayla Marano at 155, #4 Joye Levendusky at 170, and #1 Sydnee Kimber and #3 Jaycee Foeller both at 191. It remains to be seen if coach Sam Schmitz will pull any redshirts from the likes of national champion Felicity Taylor at 116 or two-time All-American Payton Stroud at 123 for this event. Either way, the Bearcats will be tough like usual.
Meanwhile, Simon Fraser comes in playing the dark horse role. It has some names we know, like #1 Karla Godinez-Gonzalez at 116, #3 Alyvia Fiske at 155, and #2 Emily Cue at 191, but who are some of these other young women and can they stay with top wrestlers in King's or McKendree's lineup?
At the same time, don't count out North Central. Last year, national champion Yelena Makoyed said one of her college goals is for her Cardinals team to beat McKendree. Do they have the lineup yet to do it? They've added #4 Sydney Petzinger at 109 and #4 Kendra Ryan at 116. They also have All-American Asia Nguyen-Smith at 123, currently ranked #3, and freshman Amani Jones ranked #5 at the same weight. Add in stellar freshmen #4 Sara Sulejmani at 136 and #4 Traeh Haynes at 191 and they'll certainly be a tough out.
If this goes chalk, look for fireworks in the semifinals as #1 King would face #4 North Central and #2 McKendree would face #3 Simon Fraser. The bottom side will be the one to watch. McKendree feels young again, and therefore vulnerable, and Simon Fraser matches up well with McKendree's strength at the heavyweights. Don't change that channel! There's going to be some great matches.
NAIA
The most recent NAIA poll in mid-December had Grand View at #1, but barely, sneaking by Life University with only three rankings points. Southern Oregon University is #3, while 2018 champ Campbellsville hits #4, and the rising program Texas Wesleyan comes in at #5.
It was Menlo who last won the NAIA division in 2019-2020, with perhaps one of the best women's college teams ever, though they never got to show it later that season at the NAIA National Invite as it was canceled that year due to Covid. This could be the dark horse as Menlo is currently ranked #9, though you can be sure it will bring a competitive roster.
Over the past few years, #1 Grand View has put together a tough lineup. At 101, the Vikings have #5 ranked Emma Cochran, #6 Adrienna Turner at 116, #10 Isabella Gonzalez at 130, #7 Andrea Schlabach at 136, #3 Alexis Gomez at 143, #8 Alexis Lopez at 155, #2 Hunter Robinson and #3 Abby McIntyre both at 170, and #2 Olivia Brown at 191.
Meanwhile, Life is loaded. At 101 they'll send out #6 Katalina Bartelt, then #1 Peyton Prussin at 109, #1 Salyna Shotwell at 116, #3 Julia Vidallon at 130, #8 Alma Mendoza at 143, #2 Destinee Rivera at 155, returning national champion Jordan Nelson at 170, and #7 Gabby Hamilton and #8 Catherine Palmieri at 191. Looks like a winning lineup, doesn't it? I would be surprised to see them win it all.
Southern Oregon University is bringing its always-tough squad which includes returning national champ Sienna Ramirez at 155 and #3 ranked Emily Se at 130 and #4 ranked Tara Othman at 116.
#4 Campbellsville is no joke either as the Lady Tigers bring some serious firepower in #1 ranked Katlyn Pizzo at 123, #2 Angela Vitiritti at 130 along with #5 Leila Castro at the same weight. All-American Randi Robison is their 136; #5 Emma Walker is at 143 and #5 Kendra Thompson at 155; Liliana Vergara is #6 at 191.
Pay attention to #5 Texas Wesleyan. The Lady Rams have some big match power, as they'll bring #2 Camille Fournier at 116, #3 Devin Patton at 123, #1 Mea Mohler at 130, and #1 Brittyn Corbishley at 170. Yikes. They could also play Cinderella at this tourney. Depends on how competitive the rest of their lineup is.
One of the duals you won't want to miss is the potential semi of #1 Grand View vs. #4 Campbellsville. The underdog Lady Tigers could pull the upset there. They have the experience and talent to do it. And coach Lee Miracle will certainly have them ready to do it. This is must-see TV when it comes to women's college wrestling.
Again, lots of great matches, lots of great duals coming up in the NAIA division. Keep your eye on Louisville this weekend for some fantastic women's college wrestling.