2022 Arizona State vs Michigan
Sun Devils Seeking Consistent Fight Against Michigan
Sun Devils Seeking Consistent Fight Against Michigan
Arizona State has its top stars back from an NCAA trophy-winning team, but coach Zeke Jones is looking for the consistency required to take the next step.
Jan 1, 2022
by Nick Zeller-Singh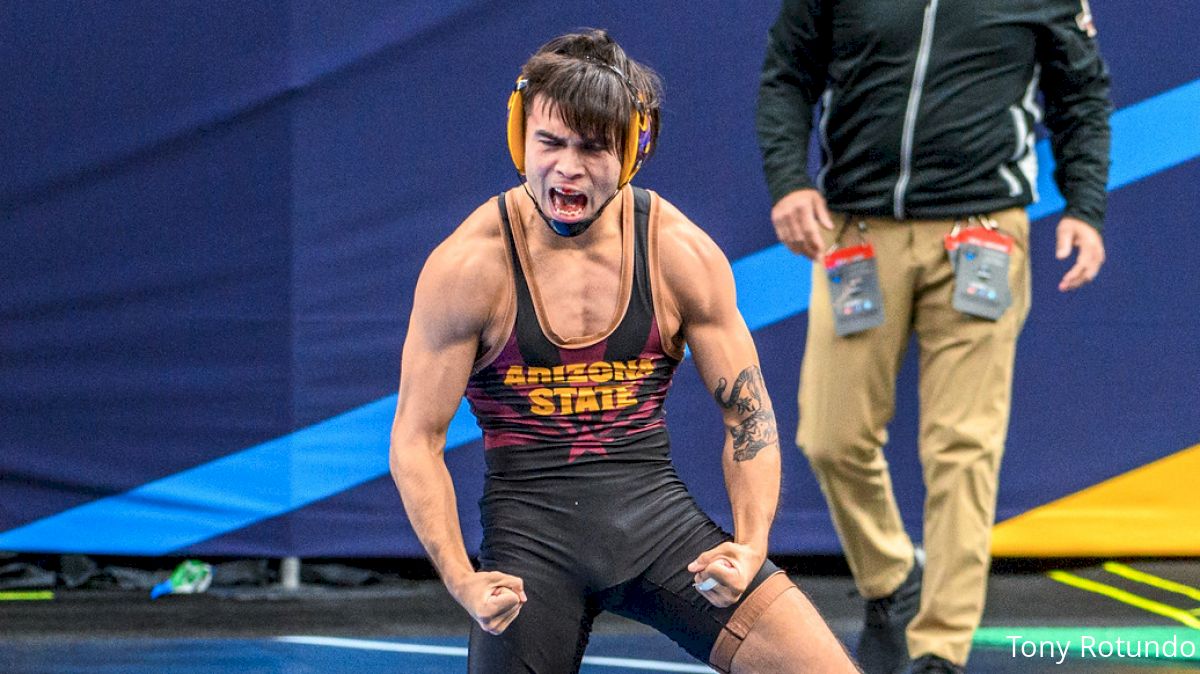 Zeke Jones has an NCAA trophy-winning core intact and he has two months of seeing that group perform alongside reinforcements Kyle Parco and Jesse Vasquez.
But the Arizona State coach has no idea which version of the Sun Devils he'll get next week when they take the mat in Texas against Michigan.
Will he get the Sun Devils who handled Oklahoma and Virginia Tech and won a combined 13 individual titles at the Appalachian State Open and Cowboy Open? Or will he see the Arizona State bunch that lost seven matches in a 29-10 dual defeat against Penn State?
Consistency is a must-have ingredient for teams with championship aspirations, and the Sun Devils are still seeking it.
"Which Arizona State team is going to show up?" Jones said. "The one that really wrestles tough or the one when it gets tough, are we willing to step up and fight for scores? We learned the best teams are going to fight you back and you have to be ready to embrace that fight."
Make no mistake, the Sun Devils are getting another shot at one of college wrestling's best teams when they tangle Monday night with the Wolverines. There are tests up and down the lineup for Arizona State against a Michigan lineup that could possibly feature NCAA champ Nick Suriano, Olympic bronze medalist Myles Amine and NCAA finalist Mason Parris.
"Everyone sees this as a chance to bounce back and beat a top team to get us back on track for what we want to do in March," said Arizona State heavyweight Cohlton Schultz, who is slated to battle Parris in one of the dual's marquee matches.
Parris and Schultz placed second and fourth, respectively, last year at the NCAA Championships but did not run into each other in the bracket. They're both highly accomplished on the international stage. Parris is a freestyle Junior World champion. Schultz won a Cadet World title in Greco-Roman.
"Coming into this dual, I have nothing but excitement," Schultz said. "I'm looking forward to taking down a dude with this much skill. I respect Mason a whole lot for his accomplishments, but I know if I wrestle my best, I can beat him."
On the other end of the card is a possible showdown between NCAA finalist Brandon Courtney and NCAA champ Nick Suriano, who transferred to Michigan after a training stint last year in Tempe.
"They wrestled each other for months and both like to wrestle hard and compete," Jones said. "For Courtney, it's been interesting. For the last year or two, everybody picks Courtney to lose. People are always betting against him and he keeps winning. Everyone sees Nick as the heavy favorite, but Brandon is excited to compete."
Jones sees similarities between the battle at 125 and the dual as a whole.
"I believe Michigan is the favorite if you look at it on paper," Jones said. "That is what we relish — being the underdog and being the team that can knock off a team ahead of us. All the rankings are just numbers. On paper, we are the underdog but our guys believe they can win."
In order to do so, the Sun Devils will need to shore up some of the issues that have plagued them early in the season. Arizona State is 1-7 in dual matches this season at 174 and 184 pounds and the Sun Devils have given up bonus points in each of those seven losses. ASU gave up bonus points in five of their seven individual match defeats against Penn State.
"We are excited to wrestle," Jones said. "Anytime you are doing it with a team like Michigan, it's a chance to test yourself and find out where you're at."