Top 100 American Wrestlers Of All-Time
The Top 100 Countdown: 30-21
The Top 100 Countdown: 30-21
FloWrestling's countdown of the Top 100 American wrestlers of all time continues with 30-21.
Dec 24, 2021
by Kyle Klingman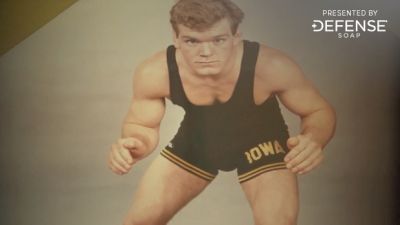 Unlock this video, live events, and more with a subscription!
Get Started
Already a subscriber? Log In
The countdown continues as FloWrestling releases its top 100 greatest American wrestlers of all time. The inaugural episode was released on November 4 and will end with the announcement of the greatest wrestler of all time on January 10, 2022.
Below are biographies of the next 10 wrestlers in the countdown with information about their careers and why they made the list.
100-91
90-81
80-71
70-61
60-51
50-41
40-31
Kevin Jackson calls Douglas the toughest wrestler he's ever faced. That's high praise from a three-time World and Olympic champion. Douglas made Olympic teams in 1996 and 2000 along with six additional World teams. He won bronze medals in 1994 and 1995, silver in 1989, and gold in 1993. That's on top of being part of World championship teams in 1993 and 1995 — the first two in U.S. men's freestyle history.
The Topeka, Kansas, native attended the University of Oklahoma where he was an NCAA champion at 177 pounds in 1985 and 1986.
Henson has every color of medal at the highest levels of the sport: 1998 World gold, 2000 Olympic silver, and 2006 World bronze. His gold medal run was particularly memorable since he was behind in every match and because the national anthem was played in Iran for the first time in years. His bronze in 2006 came at the age of 2006 — a testament to Henson's resiliency.
The St. Charles, Missouri, native began his collegiate career at Missouri where he finished fifth at the 1991 NCAA Championships. He transferred to Clemson and won 118-pound titles in 1993 and 1994.
28. Bill Scherr
Scherr was just the third individual NCAA champion in program history immediately after his brother, Jim, became the second at the 1984 NCAA tournament. He placed fourth in 1982 and third in 1983, making him a three-time All-American.
International success would come in bundles for Scherr after college. The Mobridge, South Dakota, native was a five-time World and Olympic medalist: gold in 1985, silvers in 1986 and 1989, and bronzes in 1987 and 1988 (Olympics).
27. Chris Campbell
Campbell's career defies logic. How else can you explain winning an Olympic bronze medal in 1992 at the age of 37? That was the culmination of a brilliant career highlighted by winning the 1981 World championships before making a comeback in 1989 at the age of 34. He won a silver medal at the 1990 Worlds and placed fifth in 1991 before ending his career at the Barcelona Olympics.
The Westfield, New Jersey, native made the 1980 Moscow Olympics but was denied his chance at a gold medal when the United States boycotted the Games. Campbell competed for the University of Iowa, placing second at the NCAA tournament in 1975 before winning titles in 1976 and 1977.
Perfection. That's the only word that accurately describes Hodge's college career at Oklahoma. The Perry native went 46-0 over three seasons with the Sooners and won 36 by fall. Hodge won NCAA titles in 1955, 1956, and 1957 with a fall in the finals of all three — and he pinned all four of his opponents in 1956.
Hodge made his first Olympic team in 1952 at the age of 19 and his second four years later where he won a silver medal in Melbourne. He remains the only wrestler to be featured on the cover of Sports Illustrated for his on-the-mat accomplishments.
Think about all the great wrestlers that came through the Iowa wrestling program. Now, think about the wrestlers to win multiple World titles. You won't have to think for long since there's only one: Terry Brands. The Sheldon, Iowa, product won titles in 1993 and 1995 and was part of U.S. team titles both years, as well. Brands placed second at the 1996 Olympic Trials but came back in 2000 and won a bronze medal.
His tenure at Iowa was highlighted by 126-pound NCAA championships in 1990 and 1992 and a runner-up finish in 1991.
Peterson's long and distinguished career includes making three Olympic teams. He won gold in 1972 and silver in 1976 before being denied his third chance at a medal due to the 1980 boycott. Peterson was also on three World teams, winning a bronze medal in 1973.
The Comstock, Wisconsin, product attended Iowa State where he was a three-time All-American (1970-72) and two-time NCAA champion (1971-72).
Who knew that defeating eventual World champion Zeke Jones in a youth tournament would turn into one of the most successful wrestling careers in U.S. history? In 1992, Saunders became the first American woman to win a World title. Then she won a second (1996)...then a third (1998)...then a fourth (1999). In all, Saunders was a seven-time World teamer, a five-time medalist, and a four-time World champion.
Saunders competed before women's wrestling was part of the Olympics, but she achieved a historic first by becoming the first woman to be inducted into the National Wrestling Hall of Fame as a Distinguished Member.
22. Kurt Angle
Angle might be the biggest worldwide superstar on this list — and he has the credentials to back it up. The Pittsburgh native attended Clarion and was a three-time NCAA tournament finalist (1990-92) and a two-time champion (1990, '92). Angle went on to win a World title in 1995 and an Olympic gold medal in 1996 — both in Atlanta.
You may have seen Angle on television or on the big screen. He won every major title as a professional wrestler and he made appearances in movies such as "Warrior" and "Pain and Gain."
21. Rick Sanders
Innovative and funky. Those two words are a good start when describing the incomparable Rick Sanders. Sanders was a four-time NCAA champion for Portland State between Division I and Division II. He won D2 titles in 1967 and 1968 and D1 titles in 1966 and 1967.
The Lakeview, Oregon, native has a massive international medal haul, including silvers at the 1968 and 1972 Olympics, gold at the 1969 Worlds, silver in 1967, and bronze in 1966. Sanders made history in 1969 by becoming the first American to win a World title. He died in a car wreck shortly after the 1972 Munich Olympics.