National & State High School Rankings
25 New Jersey High School Names You Need To Know
25 New Jersey High School Names You Need To Know
New Jersey high school wrestling is loaded once again with top talent. Here's a look at 25 of the state's biggest stars.
Dec 23, 2021
by Brendan Scannell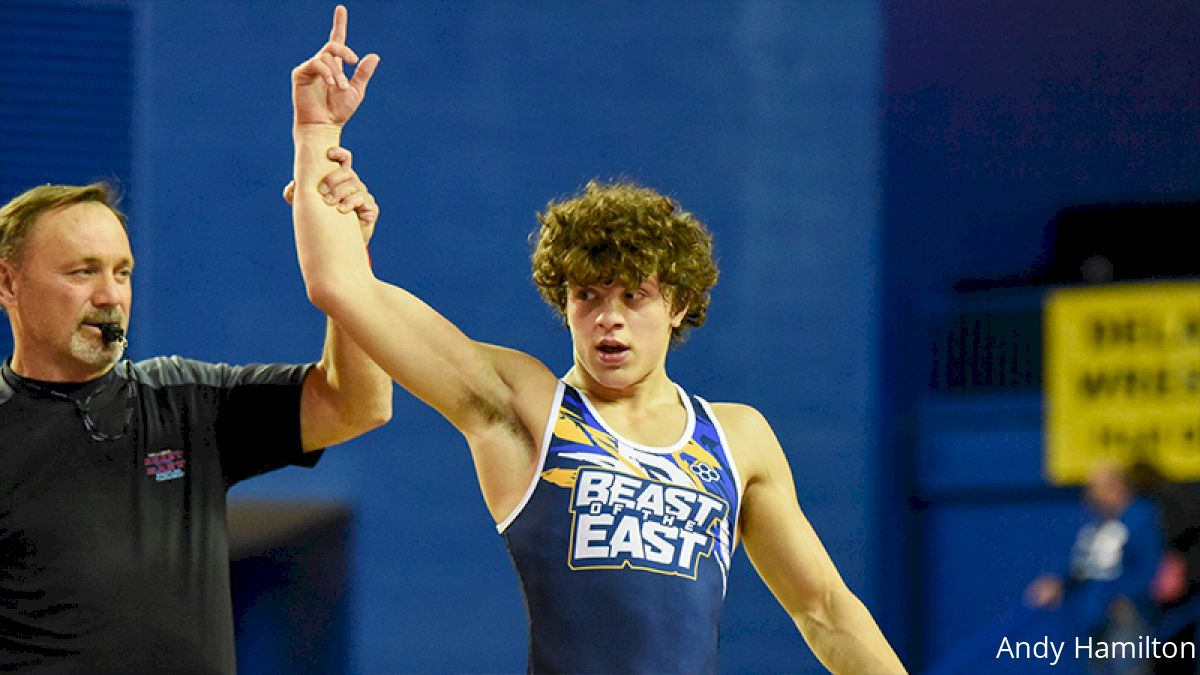 Unlock this article, live events, and more with a subscription!
Get Started
Already a subscriber? Log In
New Jersey high school wrestling is loaded once again with top talent. The list of stars includes Cadet World silver medalist Jim Mullen, fellow Cadet World teamer P.J. Casale, Super 32 champ Anthony Knox and numerous other Division I-bound stars.
Here's a look at 25 New Jersey names you need to know this high school season:
Alex Almeyda (St Joseph's Montvale) — senior, 138 pounds
When you see Almeyda wrestle it's immediately apparent there's undeniable talent. We've consistently seen him wrestle at some of the state's best weight classes, even beating some of the best guys.
At Beast a few years ago, Almeyda beat Cooper Flynn to make the semis, where he had Dean Peterson all but beat before losing in tiebreakers. Despite a resume full of wins and three state podium finishes, he has yet to make an appearance in the state finals. This could be the year we see him finish the job.
Joe Cangro (Bergen Catholic) — senior, 132 pounds
Cangro earned his spot on this list as one of only four 3-time state placers in the class of 2022. In three trips to the state tournament, the Bergen Catholic senior has never placed lower than third. Bergen Catholic will be counting on him to hold down the middleweights in his final season as it tries to dethrone Delbarton and return atop the New Jersey pecking order.
P.J. Casale (Passaic Valley) — senior, 215 pounds
Casale enters this season looking to climb atop the state podium just as he did back in 2020. Last year, when he joined Jim Mullen on the Cadet World team anchoring Team USA's upperweights with Garden State talent, he also passed on his opportunity to repeat as the state champ. Casale has been a major part of the Delbarton contingent that's had a stranglehold on the rest of the state by providing the Green Wave with necessary upperweight power. After an original commitment to Lehigh, Casale recently decided he'd be staying home to compete at Rutgers, a choice that satisfied fans across the state.
Louie Cerchio (Delbarton) — sophomore, 165 pounds
Cerchio was one of the bright spots of last year's COVID-shortened season. After a sixth-place finish in the state as a freshman at 160, Cerchio won a 16U title at Fargo this summer. This season should give us a good idea of where he stands against some of the best upperclassmen in his weight class. He's off to a strong start with a third-place finish at the Beast of the East.
Conor Collins (Southern) — junior, 132 pounds
After one heck of a state finals run for his first trip to the podium, the two-time region champ Collins made his move into the national rankings this summer. Southern wrestlers always seem to bring it in March and you can bet Collins will be returning to Atlantic City this season with some unfinished business.
Martin Cosgrove (Camden Catholic) — senior, 190 pounds
After a third-place finish as a freshman, Cosgrove, a Penn recruit, followed it up by winning the 2020 state championship in a wild one over David Szuba, who's now starting at Rider. A hand injury cut Cosgrove's season short last spring. Now, the champ returns and depending on what weight we see him go, he'll look to play spoiler to one of the other past state champs in Soldano or Casale. A second state title would put Cosgrove in exclusive group of all-time Irish greats that includes NCAA finalist Taylor Walsh and Penn's Lucas Revano.
Joe Davi (Delbarton) — junior, 126 pounds
Davi spent the first two seasons of his high school career wrestling at a weight class heavier than you might have expected. It's a tough reality of being a part of the state's best team. Where some may have faltered, Davi was unfazed and embraced the opportunity he got.
The highlight of Davi's young career was a mammoth win in the Bergen Catholic dual his freshman year when he beat senior and three-time state placer Nick Kayal to catapult his team atop the state's rankings where it still remains.
Last year, while wrestling at what was likely up a weight once again, he placed fourth in the state at 138.
Adrian DeJesus (St. Peter's Prep) — freshman, 106 pounds
Anthony Knox and Bo Bassett might've stolen the show at 106 pounds at Super 32, but all the while, Adrian DeJesus was on quite the run of his own, resulting in an incredible third-place finish to emerge onto the national scene.
He'll certainly have his work cut out for him in-state at a 106-pound weight class that's packed with freshmen talent.
DeJesus and his St Peter's Prep should be a lot of fun to watch this year.
Ryan Ford (Bergen Catholic) — sophomore, 126 pounds
Bergen Catholic is in the midst of quite a reload that features a number of super talented young wrestlers and Ford might be the best of them all.
Of course, nothing beats going into the state tournament as a freshman and winning the whole thing, but sometimes a third-place finish feels just as impressive. That was Ford's freshman year where he took third at a weight that included three other wrestlers currently in the national rankings. Keep an eye on this kid.
John Hildebrandt (Williamstown) — senior, 126 pounds
Two years ago after a bloodround finish at Beast of the East, Hildebrandt was described "as someone who wrestles fast, has a ton of stuff, and is not afraid to hit it." Then at states a few months later, he knocked off Delbarton's Tyler Vazquez on the back of two nifty first-period takedowns.
Two years later, the story remains the same. Last year might've been Hildebrandt's first time on the state podium and despite entering the season ranked #7 at a loaded 126-pound class, you can bet he's got what it takes to make the finals.
Next year, Hildebrandt will be wrestling close to home, just on the other side of the Delaware River, at Drexel.
Danny Jones (Delbarton) — sophomore, 113 pounds
Delbarton just loves rolling out good lightweights and Jones is another one of them. Last season, he won a tough 106-pound bracket for a state title right out of the gate. This year, he looks to repeat but he'll have to take out the nation's #1 to do it. The good news if you're a Delbarton fan? Jones is the kind of wrestler that wrestles best when the lights are the brightest.
Anthony Knox (St. John Vianney) — freshman, 113 pounds
Here's a name you've been hearing a lot lately. Anthony Knox had a busy offseason winning Fargo, Super 32 and Who's #1 titles to enter high school ranked #1 in the country – the first New Jersey wrestler to do so since Nick Suriano back in 2012. To be honest, they might be the only two ever. Let us know if you can think of anyone else! Knox leads a mean St John Vianney freshmen class and a team looking to win the Shore Conference and a Group title.
Hunter Mays (Howell) — senior, 165 pounds
Ever since Hunter Mays transferred from Conwell-Egan in Pennsylvania to Shore conference powerhouse Howell, he's been on a roll. Mays look dominant on his way to a New Jersey state title last year in his first year in the Garden State and followed it up with a fourth-place finish at Super 32 this fall.
He's the champion on a Howell team that has to feel as confident in its chances at a Group V title.
Dakota Morris (Kingsway) — senior, 165 pounds
Returning state finalist Morris is the highest-ranked wrestler on a Kingsway team that remains loaded with talent and hopes to repeat as South Jersey's top squad. With a tendency to hit a big move when he needs to, Morris makes for a difficult matchup for anyone he wrestles.
When it comes to big-time wins, Morris has those, too. Last year, he caught the attention of fans nationwide when he pinned Oklahoma State recruit Anthony Ferrari.
Evan Mougalian (Kinnelon) — senior, 126 pounds
Back in 2020 Mougalian capped an undefeated season with a 106-pound state title in dominating fashion to become Kinnelon's first-ever champ. Last season, he looked fully ready to repeat before falling to Anthony Santaniello in a rematch of the previous year's state final.
He's off to Penn next year, but before then Mougalian is hungry to get back to the state final and get back on top.
Jim Mullen (St Joseph's Montvale) — junior, 285 pounds
Big Jim Mullen is on his way to becoming the most accomplished heavyweight in the history of the state. Sure, he may have forgone his shot at four state titles when he opted to wrestle last spring at the Cadet World Team Trials instead — he doubled up in freestyle (winning a silver medal) and Greco at Cadet Worlds this summer — a move endeared him to wrestling fans across the country. He'll likely spend the next two years as the nation's most coveted big man and fans everywhere keep their fingers crossed that Big Jim Mullen sticks with wrestling over football.
Simon Ruiz (Delbarton) — junior, 157 pounds
This is one of the best guys on this list to not win a state title — at least, not yet. Ruiz's third-place finish as a freshman at 132 pounds back in 2020 was a glaring sign of good things to come. He was the state runner-up to Anthony White last season only a week after beating him in the region final. As mentioned in the newest set of state rankings, this is the year you can expect Ruiz to take that final step atop the podium.
Currently ranked ninth in the country, Ruiz is one of four Delbarton juniors from the Class of 2023 you'll see on this list whose names you'd better get used to. It's a class we'll likely be talking about for years.
Anthony Santaniello (Brick Memorial) — junior, 132 pounds
If you were making a New Jersey pound-for-pound list, it's hard to warrant not putting Anthony Santaniello near the top. He's been one of the most dominant wrestlers in the state the last two years. He's one of those wrestlers that's solid everywhere and just has a tendency to come out on top of nearly every situation. Santaniello enters his junior year with the only blemish on his record coming to Evan Mougalian in the state final as a freshman. It's a loss he avenged a year later to win his first title in what was one of the most exciting finishes of the 2021 state finals. As for college wrestling, he remains undecided.
Brian Soldano (High Point) — senior, 190 pounds
Soldano isn't just one of the state's best wrestlers, but he's also one of the most exciting. He's continued High Point's rich wrestling tradition, with two state titles and an in-state undefeated streak that stretches back to 2019. In the past two seasons alone he's compiled 37 pins. This year, in the hunt for a third title, he could face his toughest test yet in a potential state final with Martin Cosgrove. Will the state's pound-for-pound #1 stay at 190 pounds or drop down to 175? Time will tell. Next year, he's headed to Rutgers as the Scarlet Knights' biggest in-state recruit since Anthony Ashnault.
Evan Tallmadge (Brick Memorial) — senior, 120 pounds
Tallmadge transferred to Brick Memorial at the start of last season and won his first state title alongside his longtime best friends, the Santaniello brothers. Tallmadge was part of the Brick Memorial core that went 4-for-4 in last season's state finals. Half of that group is gone, but Tallmadge has another title in his sights.
The champ and two-time state placer also has a Fargo 16U championship to his name. Next year, he's headed to Navy, where he'll join his friend Vincent Santaniello once again.
Andrew Troczynski (Delbarton) — senior, 150 pounds
Troczynski won his first state last season at 152 pounds. The two-time state finalist is coming off a runner-up finish at the Beast of the East in a bracket that also included Ty Whalen, who placed third. They didn't meet at the Beast, but it's a potential matchup to keep an eye on this season. Troczynski will do his college wrestling at Penn. He's one of many New Jersey studs the Quakers have targeted over the past few years. It's guys like Troczynski that make the future in Philly look bright.
Tyler Vazquez (Delbarton) — junior, 132 pounds
Vazquez has been on the radar of wrestling fans and analysts across the country since he entered high school and he's lived up to the billing with back to back third-place finishes in the state. As a freshman, he knocked off Cadet World champion Marc Anthony McGowan at Beast of the East and this past weekend he climbed to the top of the Beast podium.
Cross Wasilewski (Delbarton) — junior, 144 pounds
Another one of Delbarton's terrific juniors, Cross Wasilewski is a returning North 2 Region champ, state placewinner and Fargo 16U All-American. This year, don't be surprised if you see Wasilewski in the state finals.
He brings physicality and a really good pace to every match. You don't see a lot of emotion from him, he stays cool under pressure and is looking to score once the whistle blows. College coaches will be fighting over this kid soon if they haven't started already.
Ty Whalen (Clearview) — senior, 150 pounds
Whalen is someone who's completely jumped levels — maybe more than anyone in the country — in just a few high school seasons. Two years ago, he was in the conversation as one of the best guys in the state. Suddenly, it's the country. The future Princeton Tiger is a Fargo All-American, two-time Super 32 placewinner, two-time state placewinner and 2021 New Jersey state champion. Last year, he won arguably the toughest bracket in the state knocking off the likes of Nico Nardone and Kelly Dunnigan along the way and his work still isn't done. Princeton got a good one.
Jack Zaleski (Middletown South) — junior, 126 pounds
Zaleski's placed twice in the state tournament at two super deep weights and once again finds him among the mix of title contenders. A super-talented mat wrestler, if you get caught underneath him, you could be in for a long day. As a member of the state's deepest weight class, Zaleski owns wins over two other members of this list.