Big Ten
Early Upsets Prove How Tough College Wrestling Is
Early Upsets Prove How Tough College Wrestling Is
The folkstyle vs freestyle debate will rage on, but college wrestling continues to prove that it's the tougher of the two styles.
Dec 22, 2021
by Kyle Klingman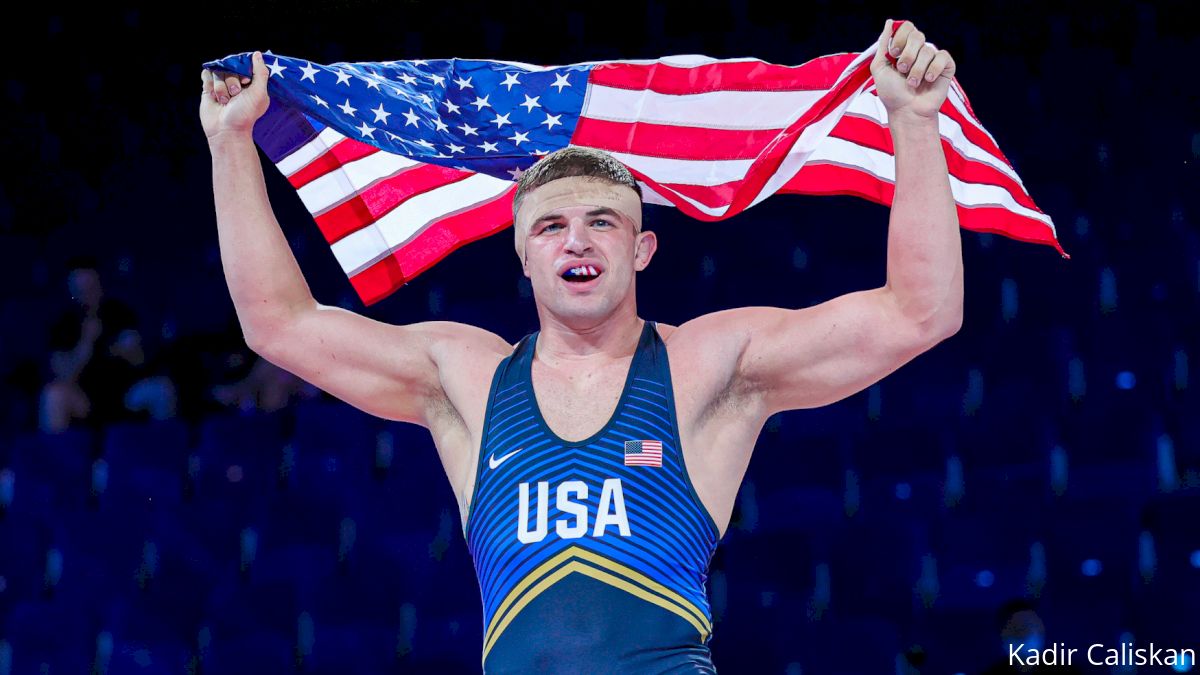 Braxton Amos had quite a year in 2021. The Wisconsin freshman put his name in the hat for the most successful age-level international wrestling season by an American — ever.
Amos qualified for the Olympic Trials in both freestyle and Greco and reached the finals of the latter. He qualified for both Junior World teams, too. The Mineral Wells, West Virginia, native won gold in freestyle and bronze in Greco — achieving a rare double medal performance.
Based on international credentials alone, Amos should be a favorite to win the 197-pound title this season during his first year in a Badger singlet. The hype for a match between Amos and 2021 NCAA champion AJ Ferrari of Oklahoma State has been building for years.
So how do you explain Amos's 6-4 sudden victory loss to Hofstra's Trey Rogers on November 27? Rogers isn't even an All-American yet. He went 1-2 at the 2021 NCAA tournament.
World champions don't lose to a one-time state champion who has never reached the podium at the nationals, right? Aren't they supposed to crush the field?
How about Iowa's Tony Cassioppi? He won the U23 World championships a few months ago — and looked good doing it. The returning All-American was pinned by Princeton's Jack Del Garbino during his first match in a Hawkeye singlet this year.
Del Garbino lost to Aaron Costello — Iowa's heavyweight back-up — by technical fall at the 2019 Midlands.
A U23 World champion is not supposed to get pinned like that, right?

How about Oklahoma State's Carter Young? He placed third at this year's Senior World Team Trials at 61 kilograms. The freshman phenom knocked off two past NCAA champions and a former World Team member on his way to a third-place finish in the bracket.
How do you explain Young's 6-4 loss to Minnesota's Jake Bergland during a dual meet on November 20? Bergland has never qualified for nationals and he's never been the regular starter.
Young is not supposed to get beat like that, right?
The list could go on, but the above three examples from this season prove a point: international wrestling is not college wrestling. In fact, they should be considered different sports completely.
The natural rebuttal is to say that wrestling is wrestling. This means that a takedown is a takedown no matter what style of wrestling you choose.
That's nice in theory, but when it comes to execution there are holes in this logic. It's the same reason you don't see immediate crossover success between Greco and freestyle. It's the same reason there's a learning curve across all grappling arts.
Granted, freestyle and college wrestling — affectionately known as folkstyle by Americans — have similarities. A single leg can work in both styles, but there are nuances.
Basically, freestyle is about execution, and folkstyle is about control.
This isn't a commentary about which style is better or which sport is more entertaining. This is about the distinct variations between the two.
The biggest difference is this: folkstyle is flat-out tougher than its freestyle counterpart.
There are no handouts in college wrestling. Everything has to be earned — and you have to prove yourself to get points.
At some point, a referee will bail you out during a freestyle match — if you make it that far. Matches often end as quickly as they begin. A takedown followed by four turns is commonplace.
In freestyle, a referee will place you back on your feet after several seconds if a turn is not imminent.
In folkstyle, a referee is there to scold you and give your opponent points if you aren't working to get out from underneath. An escape or a reversal must be justified unless your opponent offers to freely let you go.
The folkstyle vs. freestyle debate will surely rage on. Today's generation consistently advocates for the international form due to its perceived entertainment value.
Until that happens, college wrestlers will still have to figure out a way to get out from underneath. They'll also continue to realize that international credentials don't win college matches — and they never will.