2021 Beast of the East
11 Must-Watch Beast of the East Quarterfinals
11 Must-Watch Beast of the East Quarterfinals
The Beast of the East team race is up for grabs heading into Sunday. Here are 11 must-watch quarterfinals.
Dec 18, 2021
by Brendan Scannell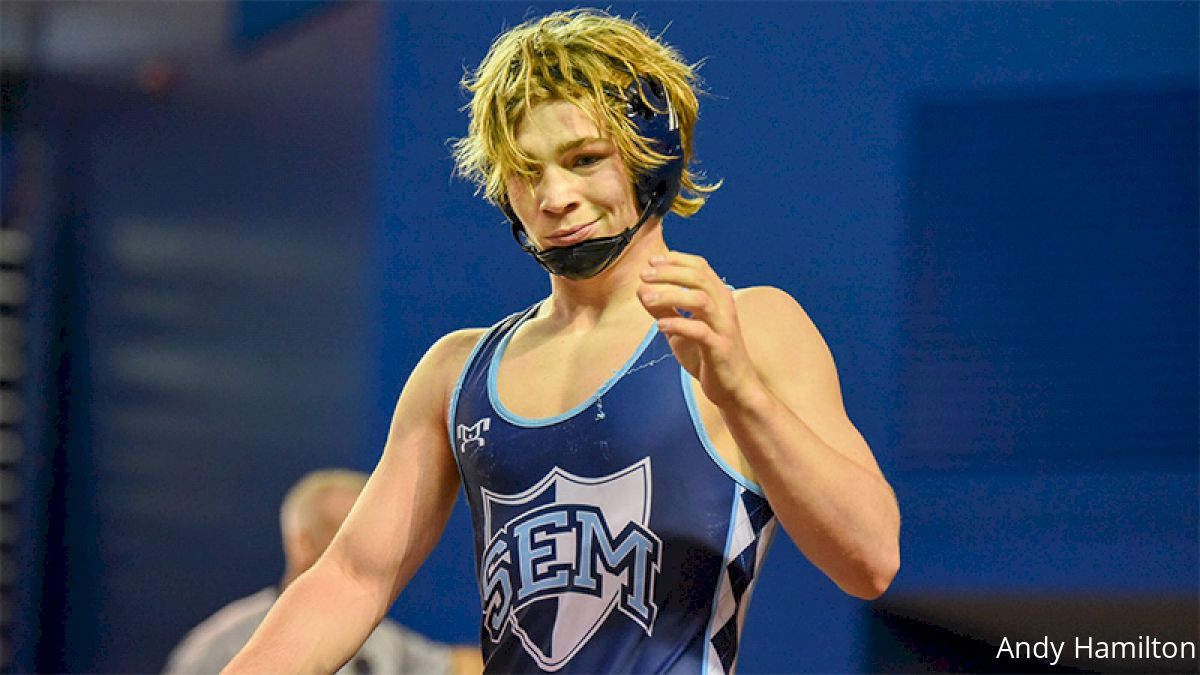 Sunday is set up for a busy day at the Beast of the East with the quarters, semis and finals. Blair Academy holds a 109-108.5 lead over second-place Malvern Prep heading into the tournament's second day with Delbarton in third with 99.5 points.
The quarterfinals begin Sunday morning at 8:30 ET. You can catch all the action live on Flowrestling. Here are 11 must-watch quarterfinals:
106 pounds: #16 Patrick O'Keefe (St. John Vianney) vs. #5 Anthony Mutarelli (Malvern Prep)
In the absence of his teammate #1 in the nation, Anthony Knox, St. John Vianney freshman Patrick O'Keefe is making some noise of his own. O'Keefe may be a freshman, but he sure doesn't wrestle like one. He's stingy and confident on his feet. He'll hope to bring that same confidence in the first ranked matchup of the quarterfinals against Malvern's Mutarelli. If O'Keefe can prevail, he could be one of the weekend's fastest climbers in the rankings.
113 pounds: Tahir Parkins (Nazareth) vs. Dan Jones (Delbarton)
It was quite the Day 1 for Nazareth freshman Tahir Parkins. After a dominant 10-3 victory over seventh-seeded Chase Van Hoven to begin the day, he followed it up with a quick pin and tech fall to punch his ticket to Sunday morning's quarters alongside five of his Nazareth teammates. In this one, though, he'll need to be at his best if he wants to stay on a roll against returning New Jersey state champ Danny Jones.
126 pounds: #11 Nick O'Neill (Malvern Prep) vs. Caedyn Ricciardi (St. Peter's Prep)
#11 ONeill is coming off a big weekend where he placed fourth at one of the toughest weights at Ironman. In this quarterfinal, he'll have Caedyn Ricciardi, one of a few New Jersey freshman that's demanded the attention of fans inside the Carpenter Center this weekend. Ricciardi may have opened the season outside of the state's top 10 at a loaded 126 pounds, but if he can find a way to win this one, it certainly won't stay that way for long.
132 pounds: Brandan Chletsos (Notre Dame) vs. Jacob Wright (Mount St Joseph's)
Chletsos, Pennsylvania's top-ranked wrestler at 132, left a trail of destruction in his path on Day 1 with a 23-second fall and a total of 26 points scored in his other two matches. We'll see if he can keep it rolling against Jacob Wright, who at the 59-seed, is one of the lowest seeds to find himself in the Beast quarters. Chletsos is for sure a heavy favorite, but that won't matter to Wright.
138 pounds: Alessio Perentin (Delbarton) vs. Felix Lettini (St. Peter's Prep)
It's a battle of the Jersey boys. Perentin opened the season outside of the state rankings for no reason besides Delbarton has a loaded lineup and there didn't seem to be room to squeeze him in. But if there's one thing we learned from Day 1, it's that Delbarton will find a way to get this kid in the lineup after knocking off national #9 Paul Ognissanti from Blair. Lettini, meanwhile, continues to keep getting better. The Super 32 All-American cruised on Day 1 of Beast. After this weekend, these could be two of the fastest rankings climbers. Not just in the state, but nationally, as well.
138 pounds: #5 Tyler Kasak (Bethlehem Catholic) vs. Max Stein (Faith Christian Academy)
Tyler Kasak's been on quite the tear in the past two weeks. He followed up his Ironman title by disposing of his first three Beast of the East opponents in less than a minute each. Stein, the 57-seed and another bracket buster, took out the #8 seed (Judah Aybar) and #9 seed (Jewell Williams) on his way to the quarters. Can Kasak keep it rolling or is it Stein's time to shine?
152 pounds: #6 Joe Sealey (Wyoming Seminary) vs. Ben Rogers (Wantagh)
Sealy is another guy who was completely dominant in Day 1, winning each of his first three matches by fall. Expect a tight one in this quarterfinal, though with New York state placewinner Ben Rogers. The 152-pound bracket is not lacking for exciting quarterfinal matches. It's one of the tournament's toughest weights with four ranked wrestlers and three ranked inside the top 10.
160 pounds: #17 Dakota Morris (Kingsway) vs. #11 Jonathan Ley (Lake Highland Prep)
This will be a fun one. Morris has the goods to go with anyone and here he'll get a chance to prove it. The Lake Highland Prep senior, Ley, is eyeing a Beast title after a slightly disappointing Ironman. This showdown of two of the nation's top guys is the second head-to-head battle of ranked opponents on this list and might just be the biggest toss-up, as well.
160 pounds: Alex Poore (Caravel Academy) vs. #6 Simon Ruiz (Delbarton)
Ruiz at the #6 seed was a pre-tournament sleeper to win this weight class. The Delbarton junior won a tight one in the round of 16 and now will get the #3 seed, Poore, whose 13-second pin in the first round set the tone for a dominant first day.
160 pounds: Stephen Mainz (Brooke Point) vs. #20 Holden Garcia (Notre Dame)
As you can tell, 160 is an exciting weight to watch and Brooke Point's Stephen Mainz proved he's one of the most exciting wrestlers when crunched up Blair's Lorenzo Norman for the first-period fall and the tournament's biggest upset so far. Garcia, meanwhile, is wrestling like a guy hoping to find his way onto the podium after coming up just short at Ironman last week.
285 pounds: #1 Nick Feldman (Malvern Prep) vs. Josh Mancia (Woodbridge)
At this point, the nation's pound-for-pound #1, Nick Feldman is must-watch wrestling every time he takes the mat. He's been scoring at a rate that seems impossible for someone his size and he's also the only returning Beast of the East champion at this year's tournament. He'll get Virginia's Josh Mancia in the quarterfinals. Can Mancia go six minutes with the nation's best wrestler?