Top 100 American Wrestlers Of All-Time
The Top 100 Countdown: 40-31
The Top 100 Countdown: 40-31
FloWrestling's countdown of the Top 100 American wrestlers of all time continues with 40-31.
Dec 17, 2021
by Kyle Klingman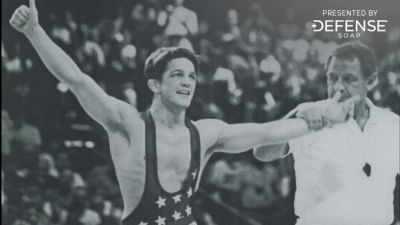 Unlock this video, live events, and more with a subscription!
Get Started
Already a subscriber? Log In
The countdown continues as FloWrestling releases its top 100 greatest American wrestlers of all time. The inaugural episode was released on November 4 and will end with the announcement of the greatest wrestler of all time on January 10, 2022.
Below are biographies of the next 10 wrestlers in the countdown with information about their careers and why they made the list.
Making the 1996 Olympic team wasn't going to be easy for Gutches. He just won his second 177-pound NCAA title for Oregon State in March and was on a quest to compete at the Atlanta Olympics in freestyle wrestling.
Standing in his way was Kevin Jackson — a three-time World and Olympic champion who won the 82-kg title the year before. Gutches was at the top of his game during the U.S. Open and the Trials. He defeated Jackson three times on his way to making the team. Gutches owned the Olympic quad from that point going forward. He placed seventh at the Olympics, won a World title in 1997 and a bronze medal in 1999.
39. Lincoln McIlravy
McIlravy took the college wrestling world by storm when he landed at the University of Iowa during the 1992-93 season. The Philip, South Dakota, native won five state championships and had high expectations when he donned the Hawkeye singlet for the first time. He lost his first match but rebounded to win the 1993 NCAA tournament as a true freshman with a thrilling 16-15 win in the finals.
From there, McIlravy won NCAA titles in 1994 and 1997 with a runner-up finish in 1995. His international career included four appearances at the World Championships and Olympic Games (1997-2000) — earning bronze in 1998, silver in 1999, and capping his international run with a bronze medal at the 2000 Olympics.
Kolat won a silver medal at the 1997 Worlds and a bronze in 1998, which is an impressive achievement on its own. A deeper look shows that Kolat was the victim of international wrestling politics that likely stripped him from winning multiple gold medals on the World stage. Backroom politics define Kolat's story more than his actual accomplishments.
Still, Kolat made three World teams and qualified for the 2000 Olympic Games. He was an NCAA champion for Lock Haven in 1996 and 1997 after placing second for Penn State in 1993 and third in 1994. Kolat completed his prep career for Jefferson-Morgan (Pennsylvania) undefeated and twice placed third at the prestigious Midlands tournament while he was in high school.
As long as there is a second on the board, Steveson can win a match. He proved that at the 202One Olympics where he took down reigning three-time World champion Geno Petriashvili of Georgia with .4 seconds left in the gold medal finals for a dramatic 10-8 win. Prior to that, Steveson crushed the field, including an 8-0 win over reigning Olympic champion Taha Akgul of Turkey in the quarterfinals. And he did it all at the age of 21.
The former Apple Valley High School star won a B10 title and an NCAA championship prior to his gold medal in Tokyo — and he's not finished, either. He is in the midst of his final year at the University of Minnesota where he is favored to win his second NCAA title after finishing third in 2019.
Cross made Olympic teams in 1992 and 1996. Making both was no small feat. He had to defeat returning World silver medalist Brad Penrith to make the 1992 team and he had to upend two-time World champion Terry Brands to make the 1996 team. He accomplished both.
The Mustang, Oklahoma, product placed sixth during his first crack at the Olympics but ran the gauntlet in 1996 to win a gold medal. Prior to that, Cross was a three-time All-American for Oklahoma State and an NCAA champion in 1989.
Varner arrived at Iowa State from California with a long list of credentials. He is a two-time state champion is the only wrestler to pin all six opponents during a single tournament. High school successes turned into a golden career with the Cyclones. Varner made four appearances in the NCAA tournament finals (2007-10) and won titles in 2009 and 2010.
Next up for Varner was freestyle wrestling where he earned a bronze medal at the 2011 World Championships and a gold medal at the 2012 Olympics. The Bakersfield native added his name to the impressive list of Iowa State wrestlers to win the Olympic Games.
Jones owned the 52-kilogram weight class for nearly a decade — and he took out some of the best wrestlers in the world while he was doing it. He made eight World and Olympic teams and won every color or medal in the process.
The highlight came at the 1991 World Championships where he took out eight-time World and Olympic champion Valentin Jordanov of Bulgaria in Bulgaria. He followed that up with a silver medal at the 1992 Olympics and a bronze medal at the 1995 World Championships. Jones was a three-time All-American for Arizona State where he reached the 118-pound finals of the NCAA tournament in 1990.
Hall might be the greatest Greco-Roman wrestler the United States has produced — and he has the credentials to back it up. He is the only American to win three consecutive medals in World competition, which included bronze in 1994, gold in 1995, and a silver medal at the 1996 Olympics.
In all, Hall made six World teams and three Olympic teams (1992, 1996, and 2004) and was just the second American to win a World title in the Greco-Roman discipline. His three-match shootout against Brandon Paulson at the 2004 Olympic Trials is still considered one of the greatest series in wrestling history.
Davis had a long and distinguished career that included nine medals at the World Championships: silver in 1996, silver in 1997, silver in 1998, silver in 1999, gold in 2000, bronze in 2002, gold in 2003, and bronze in 2006. She wrestled for Oklahoma City University during her early 30s and picked up WCWA titles in 2011 and 2012.
Peterson's improbable rise to wrestling greatness defies logic. He placed fifth at the 1971 NAIA Championships then made a World team later that year. In 1972, Peterson won a silver medal at the Munich Olympics and four years later he blasted his way through the 82-kg field at the 1976 Olympics to win a gold medal.
The Comstock, Wisconsin, native was a six-time World/Olympic team member who also snagged a bronze medal at the 1978 Worlds and a silver in 1979.