Big 12
Bedlam Roots Run Deep For Cowboys
Bedlam Roots Run Deep For Cowboys
Oklahoma State's built a sturdy in-state recruiting foundation almost 100 years ago and it's still a key part of the Bedlam series.
Dec 8, 2021
by Roger Moore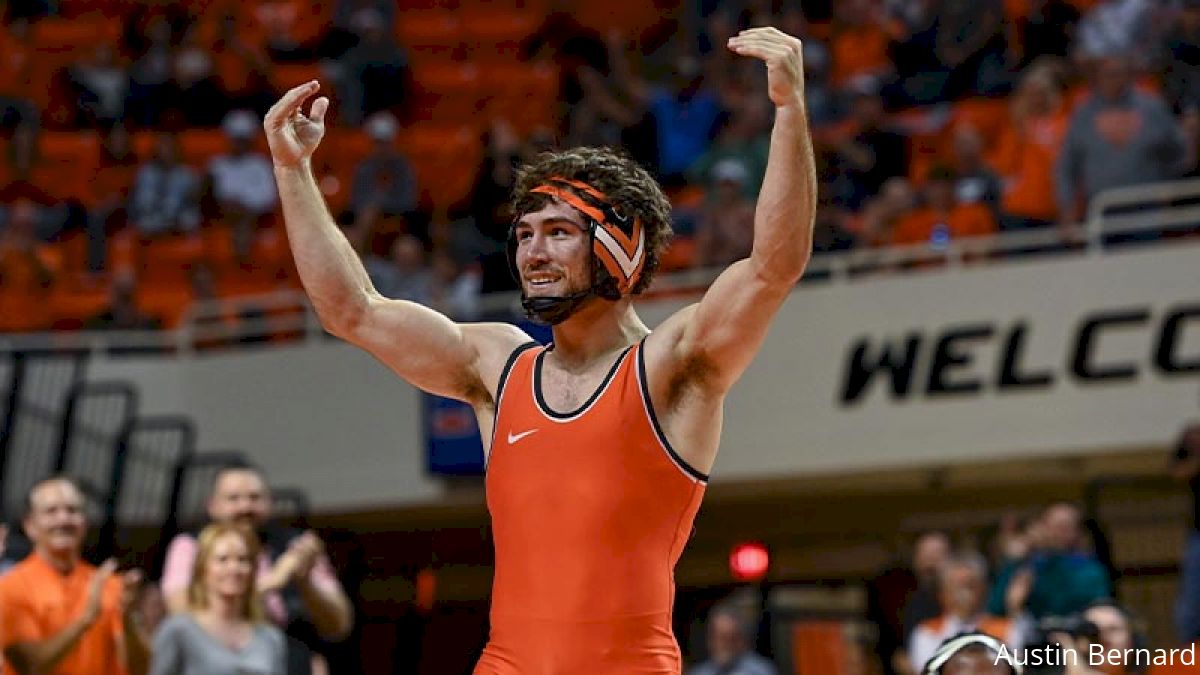 Unlock this article, live events, and more with a subscription!
Get Started
Already a subscriber? Log In
In 1922, Edward Clark Gallagher organized and hosted the first high school state wrestling championship in Oklahoma. So it's no coincidence that for the next century much of Oklahoma's top wrestling talent found its way to Stillwater to wrestle for Oklahoma State.
Barely two hours to the south, the University of Oklahoma got a first-hand look at the monster Gallagher was building in the 1920s. From 1922 to the last dual of the 1932 season, the Cowboys — then known as Oklahoma Agricultural and Mechanical College — won 69-straight dual meets.
It was Paul Keen, a Gallagher student-athlete at OAMC, who coached Oklahoma to a 13.5 to 12.5 victory to end the decades-long streak and helped lay the foundation for OU's first national title in any sport in 1936 – the Sooners' first championship in football did not come until 14 years later.
With a combined 45 NCAA wrestling championship trophies between the two Bedlam rivals, it's easy to see why impressionable young men from all regions of Oklahoma rarely leave the state to wrestle collegiately. Oklahoma State will likely suit up six native Oklahomans for Sunday's Bedlam dual in Norman. OU is likely to have just one.
"They grow up around it, they watch Oklahoma State and Oklahoma and UCO (Central Oklahoma is currently ranked #1 in Division II)," said Oklahoma State coach John Smith, a native of Del City who followed his older brother Lee Roy's path to Stillwater. "It's no different than me being 12 years old and watching some of those great wrestlers and Bedlam matches. You want to be out on that mat. And to make that a reality, it's not something that is easy to do. So it's a special match for them."
They've come from Ponca City, Perry, and Cushing. From Tulsa, Midwest City, and Stillwater. In 1985 when Smith was an All-American for head coach Tommy Chesbro, Tuttle High School was just getting started – literally. After moving from Oklahoma City to Tuttle, Mike London pushed administrators to start a wrestling program in the early 1980s. In 1985, those efforts were rewarded and few knew what was to come.
Following the 2020 season, Matt Surber moved into the Tuttle High principal's office. His Tigers, who wear red and sit much closer to Norman than Stillwater, won 12 straight state championships, crowing nine individual champions last February. Among Sunday's starters will be Surber's son, Luke, a 220-pound heavyweight, and 174-pounder Dustin Plott, who moved to Tuttle with his family in the eighth grade.
"What I think makes (Tuttle) successful is that (the coaches) treat each wrestler differently — there is no real 'Tuttle style' or a particular system," said Plott, a two-time state champion. "They recognize that what works for one wrestler might not work for someone else.
"But even with being from a program like Tuttle where there is so much commitment, the adjustment has been hard. The wrestling … every day is a battle … and school; it's an adjustment that takes a real commitment."
For Plott, it was Tyler Caldwell, Chris Perry, Jordan Oliver and Kendric Maple. Every available weekend when Tuttle wasn't wrestling it was either a trip to Norman or Stillwater, usually Norman since it was closer to home.
"When you get to watch Oklahoma State and OU every weekend growing up, you want to be a part of it," Plott said. "I look at it as paying back everyone who has helped me get here. Not everybody gets to do this, so I owe it to them to go out and wrestle as hard as I can."
Plott got a taste of Bedlam as a rookie last season. This Sunday will be Luke Surber's first.
"There's some anxiety because it's my first Bedlam and there will be a lot of people there I know, but you have to treat it like any other match, go through the same routines you do for all matches," said Luke Surber, who won three state titles while wrestling for his dad. "I pretty much knew I was going to Oklahoma State my whole life. When I was 7 or 8 years old, we started going to all the big matches — Bedlam, a lot of them. It is going to be surreal to be out there. Pretty crazy to think I'll be out there wrestling instead of watching."
Other native Oklahomans for the Cowboys this Sunday will be 133-pounder Daton Fix (Sand Springs), 149-pounder Kaden Gfellar (Oklahoma City), 157-pounder Wyatt Sheets (Stilwell), and Carter Young, a 141-pound freshman from Stillwater via Sand Springs.
"The Oklahoma kids know about the (Bedlam) dual more than my out-of-state kids," Smith said. "They've watched the rivalry in all the sports and know that it brings out a little bit more on both sides. It isn't just another dual. Anybody from Oklahoma knows that."
Remember Kaid?
Another Stillwater High product, Kaid Brock, made a spectacular 2015 Bedlam debut in Norman. Brock pinned defending NCAA champion Cody Brewer in the 133-pound bout in a 37-3 Cowboy rout. Young, 1-1 to start his career, is hoping to match up with All-American Dom Demas, but the talented Sooner has yet to compete this season. Originally from Sand Springs, Young can't recall how many Bedlams he's watched.
"Too many to count. Since I was 8, every year," Young said. "It's going to be really cool to be a part of it. I've been in some big matches, state tournaments and the (World Team) Trials, but duals are different. It's you out there with one mat and not four or eight.
"Getting that first match in Gallagher was so cool and wrestling Bedlam in Gallagher is going to be … it's hard to explain. Wrestling in Bedlam in Norman (Sunday) is going to be exciting too."
Young joined the shortlist of top Oklahoma recruits to leave the state. But after a very short stay at Northwestern, Young returned to Stillwater to wrestle.
"There are coaches who recruit pretty big in Oklahoma and a lot of them just assume everyone is going to Oklahoma State — great coaches, a great program, a place where wrestling is important," Young said.
Not 100 Percent
Although the majority of Oklahomans stay home, some do suit up elsewhere. Wyoming's Mark Branch got a good one in Montorie Bridges, while perhaps the biggest one that got away was Stillwater's Mark Perry, a two-time national champion at Iowa. Nebraska's Mark Manning, who coached Choctaw's Jason Powell to an NCAA title in 2004, was able to grab Tuttle High's Harley Andrews in this recruiting cycle.
"Your bloodlines are your state's kids," Smith said. "You want to be able to fill out the rosters (at Oklahoma State), OU, and UCO with Oklahoma kids and there are going to be the ones who do leave for other programs. It doesn't happen too much. We want those other coaches to recruit these kids — recruit, not sign."
Some numbers
● Perry High, competing in Oklahoma's smallest classification, has won 43 state team titles. Tuttle (18), Midwest City (16), Tulsa Central (14), and Broken Arrow (11) and El Reno (11) round out the top six. Tulsa Central has not won a championship since 1949 and was originally coached by Art Griffith, Gallagher's successor at Oklahoma State in 1940.
● With last February's 24-16 win in Stillwater, Oklahoma State increased its Bedlam Series lead to 145-27-10 in a series that dates to 1920. It pushed Oklahoma State's streak against the Sooners to 13 and since November of 1999, the Cowboys are 40-4-1 against OU.
● OU's last victory in the series (2013) saw Andrew Howe, Danny Chaid, Travis Rutt, and Ross Larson combine to win the final four bouts for a 16-15 outcome in Norman. Oklahoma State's lineup that day included Alex Dieringer, Tyler Caldwell, Chris Perry, and Kyle Crutchmer.
● Oklahoma State moved to 3-0 with a 45-0 whitewash of Drexel on Nov. 28. Smith's squad does not wrestle on home mats again until Jan. 23 when Lehigh visits Stillwater.