Women's Rankings
25 Must Know Names In Girls HS Wrestling
25 Must Know Names In Girls HS Wrestling
The USA women's freestyle program experienced unprecedented success in 2021, thanks in part to a burgeoning pool of high school talent.
Dec 6, 2021
by Derek Levendusky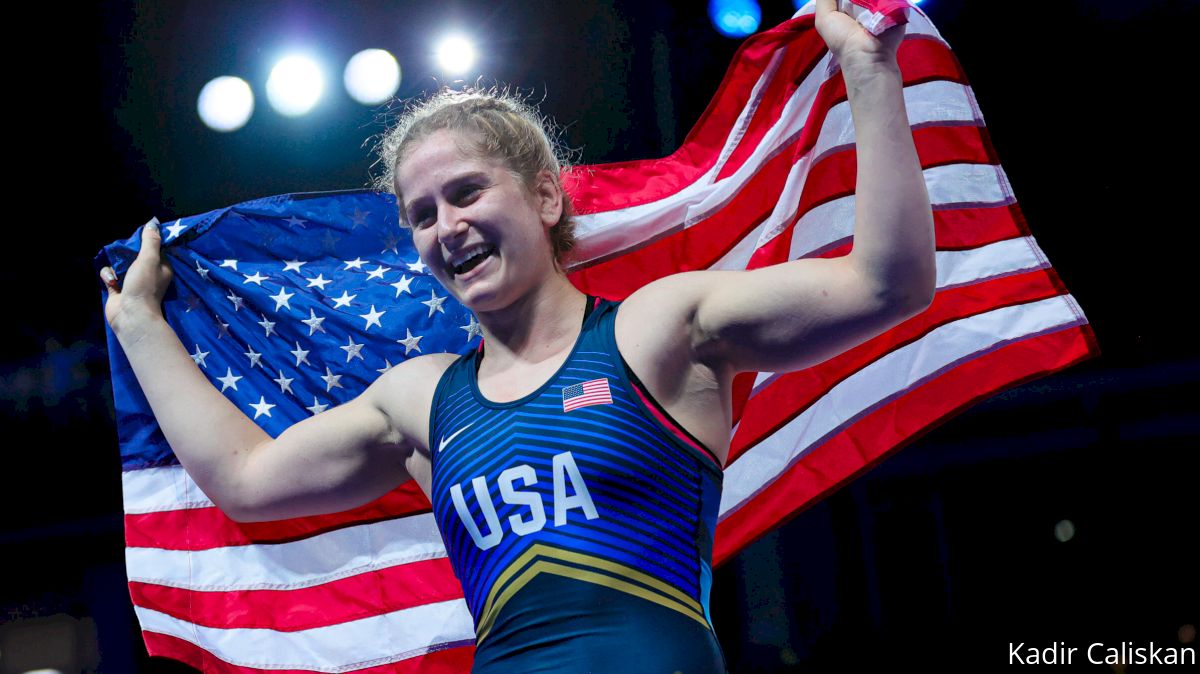 Unlock this article, live events, and more with a subscription!
Get Started
Already a subscriber? Log In
This has been a banner year for USA Wrestling's women's freestyle program with unprecedented feats throughout the system, including World team championships at the Cadet and Junior levels. The Americans came away this summer with a huge medal haul, created largely by the burgeoning collection of high school talent across the United States.
Here's a look at 25 of the names you need to know heading into the girls high school season:
Kennedy Blades (Wyoming Seminary/Broadview, Ill.) — senior, 164 pounds
Blades has perhaps been the biggest name in high school wrestling for a long time. So big, in fact, that Rudis just signed her and her sister, Korina. Kennedy not only won her first World medal this year, but didn't even seem challenged on her way to the 72-kilogram Junior World title in Ufa, Russia, last August. Blades also turned heads at Olympic Team Trials when she took town eventual Olympic gold medalist Tamyra Mensah-Stock several times in the finals. What will she do at the next level? Stay tuned.
Korina Blades (Wyoming Seminar/Broadview, Ill.) — senior, 138 pounds
She's not just Kennedy Blades' sister, she's KORINA Blades. Remember the name. A U15 World champion and 2021 Junior World bronze medalist, she's on a trajectory that promises a bright future at the highest levels of women's wrestling.
Eliana Bommarito (Hartland High School/Brighton, Mich.) — senior, 225 pounds
No one touched Bommarito at Fargo, and she looked the part, with towering athleticism in a weight class not always marked by power and speed like Bommarito has. It almost wasn't fair. She's pound-for-pound one of the top high school wrestlers in the country, and single-handedly makes the case for why there ought to be heavier UWW and college weight classes. As it is right now, this hammer won't be able to wrestle in college, but for now, enjoy the show.
Savannah Cosme (Pomona High School/Denver, Colo.) — senior, 127 pounds
After representing Team USA at Cadet Worlds last July, Cosme faced a red-hot Alexis Janiak from Illinois at Who's #1, just coming off her first Fargo title. Cosme showed her level when she handled the Fargo champ 8-3. Since then she defended her Super 32 title, going back-to-back at the event. She's got next-level talent.
Jaclyn Dehney (Central Catholic High School/Pelham, N.H.) — junior, 117 pounds
Winning Super 32 in October made her a back-to-back champion. The pitch of her trajectory is steep as her high school career progresses and she'll be a top recruit over the next year. Her phone is going be buzzing a lot.
Cadence Diduch (Dakota Wrestling Club/Freeport, Ill.) — freshman, 117 pounds
When then-unranked eighth-grader Diduch beat #1 Mia Palumbo at the Team Illinois vs. Team California event earlier this year, she got everyone's attention. Since then, she's established herself as one of the top upcoming talents in the country, winning a Fargo title and beating Zao Estrada by fall at Who's #1.


Amit Elor (College Park High School/Concord, Calif.) — senior, 152 pounds
You don't see her often at national events (never been to Fargo), but when she does, she reminds us that she's one of the best we've got in the United States. This California state champ won a Cadet World bronze in 2019 and dominated her way to a 68-kilogram gold medal at Junior Worlds last summer in Ufa, Russia. She'll be in the mix as an Olympic hopeful in 2024.
Lillian Freitas (Wyoming Seminary/Modesto, Calif.) — senior, 164 pounds
Because of her weight class, sometimes Freitas has been in the shadows of Welker, Blades, and Elor. But you better pay attention. This two-time California state champ is world-class, winning a Cadet World bronze last July.
Katie Gomez (Birmingham High School/Van Nuys, Calif.) — senior, 122 pounds
Gomez won a Cadet World gold medal this year, scoring a 10-0 tech fall in the finals in Budapest. That tells you everything you need to know about this California star. She's a prolific leg attacker that you'll be hearing about for a long time.
Brianna Gonzalez (Arroyo High School/Baldwin Park, Calif.) — senior, 100 pounds
Currently ranked #1 in the country, Gonzalez was a Fargo co-champ last summer with her twin sister Emilie. The twins also both won gold at the 2021 Cadet Pan Am Championships. She followed that up with an encore performance at Who's #1, where she defeated then #1 Ava Ward 6-3 who had just won bronze at Cadet Worlds. She's yet to announce where she'll compete at the next level, but expect her to make an immediate contribution. Also noteworthy for the Gonzalez twins is the fact that they got their start in the sport with Beat the Streets LA.
Skylar Hattendorf (Bow High School/Hookset, N.H.) — senior, 138 pounds
An injury sustained in October of 2020 derailed the 2019 Cadet World silver medalist for almost a year, but she returned to the mats in October 2021 and won a Super 32 title. The senior from New Hampshire seems poised to have a stellar final year of high school in prep for the next chapter of her career.


Alexis Janiak (Plainfield South High School/Plainfield, Ill.) — senior, 122 pounds
Janiak broke through and won her first Fargo title last July in the Junior division and showed she's arrived. She fell to World teamer Savannah Cosme 8-3 at Who's #1 but has established herself as a top talent coming out of high school.


Audrey Jimenez (Sunnyside High School/Tucson, Ariz.) — sophomore, 106 pounds
Jimenez was relatively unknown until, as a high school freshman, she gave Fargo star Sage Mortimer a heck of a match on the Burroughs-Taylor card last January, falling 8-5. Since then, she's shown the wrestling world that she's for real, winning a bronze medal at Cadet Worlds in Budapest last July. She followed up with a fall against two-time Fargo champ Paige Morales at Who's #1.


Reese Larramendy (Wyoming Seminary/Reno, Nev.) — senior, 144 pounds
A two-time Super 32 champ and All-American everything, the well-trained Wyoming Sem senior has been a force in high school and will be at the next level too.


Sofia Macaluso (Minisink Valley High School/Minisink, N.Y.) — senior, 127 pounds
Oft overlooked due to injuries and the limited opportunities for New York wrestlers during the Covid pause, Macaluso should not be ignored. The senior owns a multiple USAW folkstyle and freestyle national titles, and made the Fargo finals in July. Her sister Mia wrestles for East Stroudsburg University and she'll be a huge addition somewhere next year as well.


Shelby Moore (White River High School/Buckley, Wash.) — junior, 122 pounds
If you didn't know who Shelby Moore was before Fargo last July, you do now. She won both the 16U and Junior titles. She followed that up with a close match with Cadet World champ Katie Gomez at Who's #1, only falling 11-10. Moore to come. Stay tuned!


Paige Morales (Central High School/Clovis, Calif.) — junior, 106 pounds
Doubled up at Fargo. Another California hammer with a bright future in the sport.


Jasmine Robinson (Allen High School/Allen, Texas) — sophomore, 152 pounds
"Did you see that?" That's what a lot of us said last summer when the young Texas star doubled up at Fargo with high-flying supes and throws. One of the most exciting young wrestlers in the country is just getting started. And she's also a natural in front of the camera, with winsome interviews that make you root for her. She's only a sophomore so lookout.
Destiny Rodriguez (West Linn High School/West Linn, Ore.) — junior, 144 pounds
After winning her second Fargo title in July, Rodriguez bumped up to face another 2x Fargo champ, Jasmine Robinson, at Who's #1. Except for getting tossed once, Rodriguez controlled the match and soundly defeated an opponent that had previously looked unbeatable 11-4. That tells you a lot about her—technically sound, mentally tough, knows how to win. She'll be a star on the college scene.
Jennifer Soto (Orland High School/Red Bluff, Calif.) — senior, 122 pounds
A two-time California state champ, 2019 Cadet Fargo Champ and Fargo finalist in July. She's been in the top tier for a while, winning a U15 silver medal in 2018 at the Pan Am Championships. Now a senior, she'll give some lucky team a national title contender in college.


Grace Stem (Bald Eagle Area High School/Snow Shoe, Pa.) — senior, 138 pounds
More evidence of the success Pennsylvania is having developing their wrestlers. Stem, a Pennsylvania state champ who trains at David Taylor's M2 club, made the Cadet World team this year and has been tearing it up on the national scene. She took second to Skylar Hattendorf at Super 32, a forgivable loss against an elite opponent. Expect her to contend right away for the podium in college, should she go that route.
Nyla Valencia (Ann Sobrato High School/Morgan Hill, Calif.) — senior, 112 pounds
A 2020 California state champ and two-time Super 32 champ. Wherever she ends up, you'll want to keep an eye on her.


Ava Ward (Centerline High School/Centralia, Mo.) — freshman, 100 pounds
Just a freshman, how high is Ward's ceiling? She won a bronze at Cadet Worlds this year and is just getting started.

Kylie Welker (Waterford Union High School/Waterford, Wis.) — senior, 164 pounds
Already well-known on the high school scene, during 2021 she became a household name among women's wrestling fans as she placed second at Olympic Trials to Adeline Gray, won Fargo, won a Junior World title, a U23 World bronze, and represented the United States at the UWW Senior World Championships — and she's still in high school.


Cecilia Williams (Holt Lutheran School/Lansing, Mich.) — freshman, 112 pounds
Just a freshman, but already showing she's a national contender. After winning a Fargo 16U title in July, she defeated Jenavi Alejandro 6-3 at Who's #1. She's taken a few losses, but in case you missed it the first time she's still just a freshman. Expect her to be in the conversation for the rest of her high school career.

Here are a few more names to keep on your radar: 100 - Alex Szkotnicki (Maryland); 106 - Faith Cole (Missouri), 106 - Karlee Brooks (Arizona), Sterling Dias (California); 112 - Zao Estrada (South Carolina), Anaya Falcon (California); 132 - Janida Garcia (California), Hanna Errthum (Wisconsin), Esther Han (Utah); 138 - Savannah Gomez (Michigan); 164 - Ella Pagel (Minnesota), Rose Cassioppi (Illinois); 180 - Alivia White (Washington); 200 - Sam Calkins (California), Riley Dempewolf (Indiana).