2021 Cliff Keen Las Vegas Invitational
Most Anticipated CKLV Quarterfinal Bouts
Most Anticipated CKLV Quarterfinal Bouts
Quarterfinals at the Cliff Keen Las Vegas Invitational are happening soon. Don't miss these fire matchups!
Dec 3, 2021
by Andrew Spey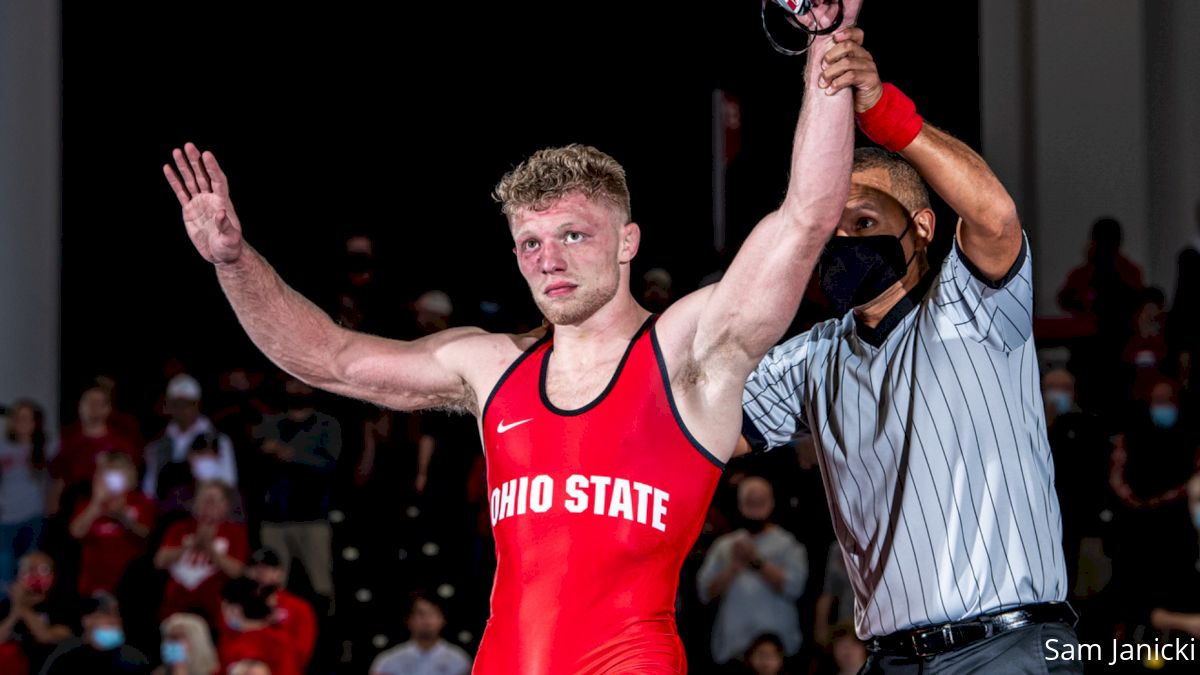 We had all 10 mats cooking here in Vegas and have now whipped through the prelims and are ready for some scintillating quarterfinal action.
Full brackets, scores and more can be found inside FloArena.
Below are some our most anticipated matchups coming up in the next session that you won't want to miss. Scheduled start time for the quarts is
125: #3 Pat Glory, Princeton vs HM Jace Koelzer, Northern Colorado
Glory is back in action after a long hiatus and it's, dare we say, glorious?
133: #19 Dylan Ragusin, Michigan vs Josh Koderhandt, Navy
Koderhandt isn't ranked... yet, but had some solid performances and showing tremendous upside potential. #2 seed Chance has medically forfeited the next round so winner here will get Haiden Drury of Utah Valley in the semifinals.
141: #8 Chad Red, Nebraska vs HM Dylan D'Emilio, Ohio State
Big Ten rivals who won't see each other in a dual meet, so perhaps a preview of a Big Ten Championship match.
141: #11 Grant Willits, Oregon State vs #15 Parker Filius, Purdue
The first of many ranked matchups we'll see in the quarters.
149: #1 Yianni Diakomihalis, Cornell vs #21 Michael Blockhus, Minnesota
Yianni is back in a Cornell singlet for the second event of his first season since 2019.
149: #2 Sammy Sasso, Ohio State vs #16 Mitch Moore, Oklahoma
Yianni and Sasso will both two ranked matches before they'll have a chance to wrestle each other in the finals.
149: #4 Yahya Thomas, Northwestern vs #15 Legend Lamer, Cal Poly
Lamer brings his long limbs and a tough stylistic matchup to Yahya in his first big collegiate test since finishing third at the 2021 NCAAs.
149: #6 Jaden Abas, Stanford vs #11 Ridge Lovett, Nebraska
The most evenly matched of four absolutely insane 149-pound quarterfinal bouts. This will likely be the toughest bracket at any weight or event outside the NCAA Championship.
157: #2 Ryan Deakin, Northwestern vs #14 Hunter Willits, Oregon State
The first match of Ryan Deakin's sixth year on the Northwestern roster.
157: #6 Quincy Monday, Princeton vs #9 Will Lewan, Michigan
Monday looked outstanding in his win over Iowa's Kaleb Young. This will be Lewan's toughest scrap since NCAAs.
157: #12 Kendall Coleman, Purdue vs #16 Jacob Wright, Wyoming
Couldn't leave this ranked matchup off the list!
165: #13 Carson Kharchla, Ohio State vs #15 Julian Ramirez, Cornell
Two young talents in their first year of varsity action, though they've both been in college wrestling rooms since the 2020 season.
165: #14 Cam Amine, Michigan vs #17 Phil Conigliaro
Like every other Ivy Leaguer, Conigliaro had to sit out last season. He'll have his hands full with All-American Cam Amine.
174: #6 Ethan Smith, Ohio State vs #15 Gerrit Nijenhuis, Purdue
Another Big Ten battle where neither wrestler is scheduled to see each other until Big Tens.
174: #5 Mikey Labriola, Nebraska vs #17 Aaron Olmos, Oregon State
174 isn't getting as much attention as some other weights but it is stacked with ranked wrestlers.
174: #11 Hayden Hastings, Wyoming vs #19 Cade DeVos
More evidence of how deep 174 is here in Vegas.
184: Kaleb Romero, Ohio State vs #18 Darrien Roberts, Oklahoma
Romero gets the nod over teammate #14 Rocky Jordan. Might this tournament help him secure the gig long-term?
184: #11 Taylor Venz, Nebraska vs #23 Travis Stefanik, Princeton
All-American Taylor Venz is looking to make the most of his sixth year on the Husker roster. Stefanik has to shake off a year of collegiate mat rust but is already a two-time NQ at Princeton.
197: #6 Jake Woodley, Oklahoma vs #21 Jacob Cardenas, Cornell
In just his first year on the varsity squad, Cardenas will have the difficult task of slowing down a red-hot Jake Woodley.
197: #10 Eric Schultz, Nebraska vs #11 Lou DePrez, Binghamton
Schultz is a perennial top 10 wrestler who has yet to make the podium. He'll make for an excellent litmus test for All-American Lou DePrez who moved up from 184 in the off-season.
285: #14 Yaraslau Slavikouski, Harvard vs #15 Lucas Davison, Northwestern
A tremendous bout to help wrap up the evening session. Slavikouski is coming back from representing Belarus at the U23 World Championships in November and Davison is bulkin gup from 197 where he was a two-time NCAA qualifier.