The Pulse With Andy Hamilton
The Pulse: Peyton Robb Joins Title Talk At 157
The Pulse: Peyton Robb Joins Title Talk At 157
The Pulse looks at Peyton Robb's ascent into the title contender category at 157 pounds and Nebraska coach Mark Manning's relationship with his new boss.
Nov 24, 2021
by Andy Hamilton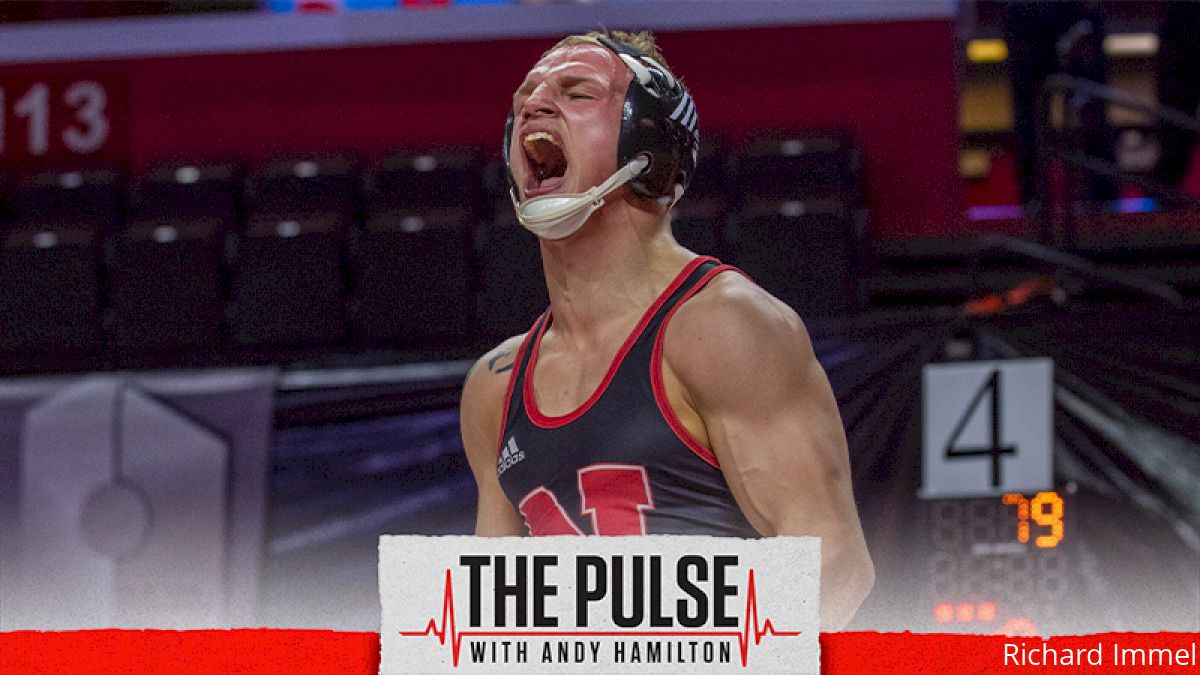 Unlock this article, live events, and more with a subscription!
Get Started
Already a subscriber? Log In
The Pulse with Andy Hamilton is a look at the hot topics and interesting angles in wrestling. This week's edition looks at Peyton Robb's ascent into the title contender category at 157 pounds and Nebraska coach Mark Manning's relationship with his new boss.
Peyton Robb stood three seconds Sunday from knocking off returning national champ David Carr and perhaps taking over as the top-ranked wrestler in the country at 157 pounds.
Minutes later, the Nebraska sophomore stood alongside the father of the guy who rallied back to beat him, pushing aside the overtime-loss frustration long enough to reminisce about his formative years in the sport.
"When I was younger, I went to a lot of Ken Chertow camps and he always had Nate Carr come in and talk and he would tell a story and, basically, the moral of the story is to wrestle the wrestler, not the name," Robb said Monday evening. "I just shared with (Nate) that I still remember all the talks he used to give at Ken Chertow camps. He appreciated that and said he hopes (David and I are) able to meet again late this year."
The operative word there is late — as in the final Saturday night of the college wrestling season. David Carr is supposed to be there again in March. He's a Junior World champ who went 30-1 during his two seasons as a starter at Iowa State. He's the reigning king at 157 pounds.
Robb, on the other hand, is trying to ascend to the throne and make the massive leap from off the podium to the top step. It's a big jump, no doubt, but it's one that seems much more possible for Robb than it did, say, two weeks ago.
Prior to last week, it had been eight years since a returning Division I NCAA champ dropped a match in November. Robb nearly beat two in a span of four days.
He took David Carr to the wire on Sunday before the Iowa State junior forced overtime with a takedown in the closing seconds of the third period and another one in overtime to pull out a 7-5 win.
That match came on the heels of Robb's 5-2 victory against North Carolina's Austin O'Connor — the first defeat for the Tar Heel in nearly 23 months.
"Nothing against Austin O'Connor," Nebraska coach Mark Manning said. "He's a stud, he's an animal, but I would've been surprised if Peyton Robb would've lost, I would've been shocked."
Manning's confidence stemmed from what he'd seen from Robb inside the Nebraska room against the likes of Jordan Burroughs, James Green and Tyler Berger and the upside Robb had displayed as a freshman at 157.
"He's been around great guys," Manning said. "He's (trained with) the best. He's elevated himself off all those experiences as much as anything. He was good coming out of high school and he's not a finished product. He's got more in him to give.
"He's just a fraction of what he could be on his feet. He's got good offense and people know he's got good ties. He's evolving as a wrestler right now and he's got aspirations of making World and Olympic teams. He's on pace to start hitting some of those markers."
Robb compiled a 20-6 record as a freshman. His six losses came by a combined eight points. The Huskers moved him up to 165 last year because they thought it would make their team better. Robb went 11-7 and placed fourth at the Big Ten Championships.
"I think because he doesn't wear a black and gold singlet, he doesn't wear a blue and white singlet and he doesn't wear a scarlet and whatever their color is at Ohio State and he doesn't wear an orange singlet ... no one thinks he's any good," Manning said. "But in (2020) the guy took third in the Big Ten Conference. But no one thinks the kid is any good."
That might be a stretch, but Robb probably wasn't on the shortlist of 157-pound title contenders for many — until last week.
And after taking Carr to the wire before surrendering a match-tying takedown with three seconds left and another one to lose 7-5 in overtime, Robb put himself in the title talk.
"Sometimes you just need a big win to really believe in yourself," Robb said. "I know that I'm right there now. Every college wrestler's goal, I think, is to be a national champion, but I think it really makes it seem like it's more reachable when you have wins like that and actually prove yourself like that."
Manning's New Boss
Manning's phone lit up in June after Nebraska athletic director Bill Moos announced his retirement and Trev Alberts' name surfaced as a possible replacement.
"I got 20 texts when his name was brought up for the AD job," Manning said, "and probably twice that many when he did get the job."
Wrestling fans haven't forgotten what went down 10 years ago at Nebraska-Omaha, which is why there was immediate concern about Manning and the long-term health of the Husker wrestling program after Nebraska named Alberts its athletic director.
It was 10 years ago this past March when Manning's alma mater — Nebraska-Omaha — dropped its wrestling program. Alberts was the UNO athletic director at the time and he delivered the news to coach Mike Denney hours after the Mavericks won their sixth Division II national title in eight years.
The decision to drop the UNO wrestling program — coupled with the timing and messaging — rankled wrestling fans, many of whom have held a decade-long grudge against Alberts.
Manning said Alberts "was just the AD who had to deliver the message" at UNO and "he really wasn't the decision-maker."
The longtime Husker coach said his new boss has "been nothing but great" to Nebraska wrestling during his first four months on the job.
"One hundred percent awesome," Manning said. "I usually get a text or a call every week from him. He's on board, 100 percent behind our program."