Big 12
Gfeller Hoping Off-Mat Changes Lead To On-Mat Results As Senior
Gfeller Hoping Off-Mat Changes Lead To On-Mat Results As Senior
Senior Kaden Gfeller had great success early in his career at Oklahoma State. He's hoping for more before his time with the Cowboys runs out.
Nov 24, 2021
by Roger Moore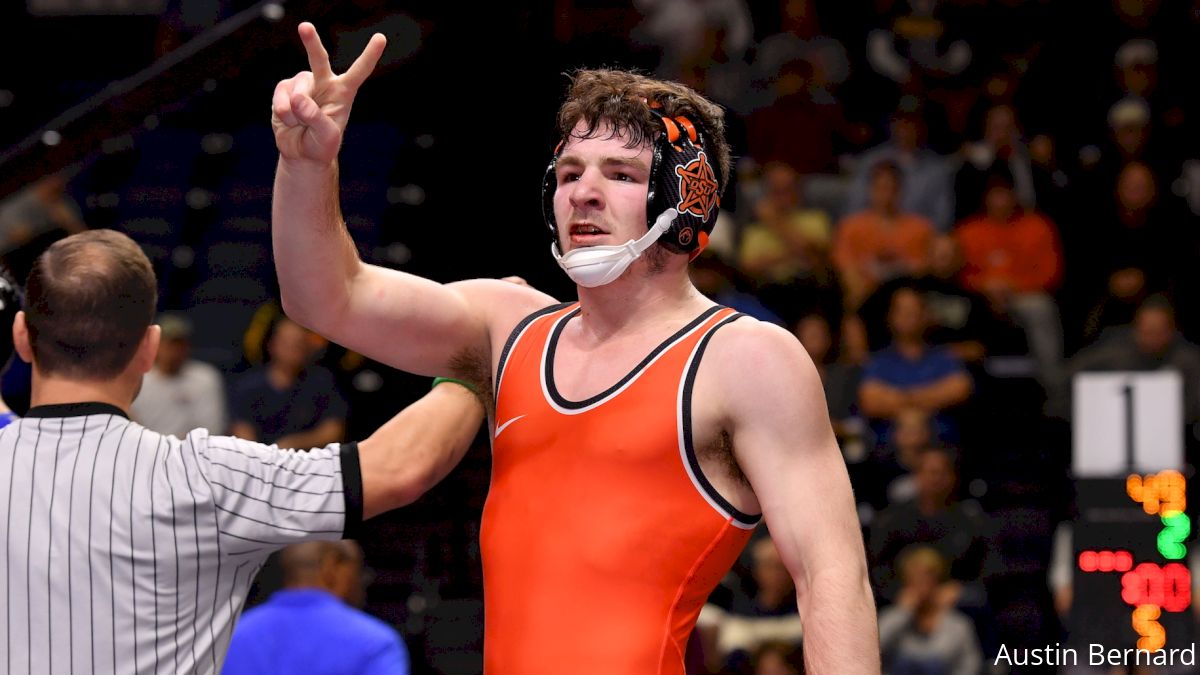 Unlock this article, live events, and more with a subscription!
Get Started
Already a subscriber? Log In
For the better part of the last century, expectations have been part of life for those donning an Oklahoma State wrestling singlet.
A few bad performances and coaches start checking the roster for replacements. At the other end of the spectrum, All-Americans and World-level freestylers, once they have proven themselves, are expected to score technical falls and pins.
Those competing for Iowa, Penn State, OSU, and a handful of other programs, know the drill.
"You can make it what it is, but that is what comes with wrestling at the Penn States, Iowas, and Oklahoma States," said Oklahoma State associate head coach Chris Perry, a two-time national champion. "Without that pressure we are nothing. Top programs are deeper, have some choices if you don't perform."
Rarely are top programs' lineups set in stone before Thanksgiving. Top recruits show up ready to challenge upperclassmen. Throw in an injury or two and coaches often have to shuffle things around and figure out the best 10 to win duals and who might score the most points at the NCAAs down the road.
Kaden Gfeller knows all too well how quickly things can change. His career has been defined by "that time he pinned Penn State's Nick Lee in the Southern Scuffle final as a true freshman." A season later, thanks to an injury to Boo Lewallen, Gfeller entered the OSU lineup and won a Big 12 title.
The Oklahoma native entered the NCAA Championships with a 30-5 standard. But it was two-and-toast.
In the following two seasons, Gfeller hit the mat just 11 times in competition.
"That first year was great, but I wasn't living my life right," said Gfeller, who opened this season with a 15-6 loss to Stanford's Jaden Abas before bouncing back with a win at Minnesota. "Not doing things right came back to haunt me at the NCAAs. To be the #6 seed and go 0-2 was not good. But these last two years I've changed things. It hasn't shown up on the mat just yet, but I'm going to keep working to make sure it does.
"149 should not be an issue for me. I showed up at Stanford heavy and it showed. Kind of a wake-up call for me to really get beat like that. I think I have a lot more to give and I'm excited about this year."
Said Perry: "Gfeller hasn't been in the lineup for like two years, so he hasn't felt that weight cut and competing every weekend; you don't just jump back into it. We are about six deep at 149 with talent, so there is some pressure to perform outside the room. He's put himself in a situation where he has to be better, has to find that consistency required at this level."
The Freestyle to Folkstyle Transition
Knowing the drill also means patience in November, especially for those in the realm of Daton Fix, who won a silver medal at the World Championships.
Fix, a two-time NCAA finalist, grinded through a 7-3 decision against Stanford's Jackson DiSario that saw the Cardinal 133-pounder ride-out the third period. Fix stormed back a week later with an 18-7 major decision of Minnesota's Jake Gliva.
"People forget how hard folkstyle is, especially when you've been training freestyle all summer, winning silver medals at the World Championships," Perry said. "It is a different sport than freestyle, no matter what anybody says. But that's partly what Novembers are for — to work that stuff out of your system."
Fix is now 49-3 during his career with the Cowboys.
"Folkstyle is hard, it's a grind and I forgot how hard that one-hour weigh-in is," Fix said. "I recognized pretty quick that I needed to get my weight under control and that is what I focused on (after the Stanford match).
"In the past two years I've had only like 15 folkstyle matches, so I'm getting back into what needs to be done, working on getting away which I've not had a problem with except against a couple of guys."
Much has been made of Fix's extra running upon the team's return from Stanford, but that is pretty much the normal routine.
"I've always enjoyed running; it's how I keep my weight under control," Fix said. "It's something I actually enjoy."
Short Drive
Freshman Carter Young wrestled at Charles Page High in Sand Springs – the same high school as Fix – before spending his senior year at Stillwater High under former Cowboy Ethan Kyle. A number of Stillwater products have suited up for Oklahoma State, including Perry, Kaid Brock, Joe Smith, and Todd Chesbro to name a few.
Young is in an early-season battle with graduate student Dusty Hone for the starting spot at 141 pounds. Hone earned a major decision at Stanford, but Young won a wrestle-off and suited up in Minneapolis, where he dropped a 6-4 decision to senior Jake Bergeland.
"It wasn't what we were hoping, but it's a start," said OSU boss John Smith. "He's got to continue to get better as we move forward."
"(Carter) doesn't get down on himself," Fix said. "It's a wake-up call, shows how hard college wrestling is. He'll be fine, just has to keep working."
One of Perry's first collegiate matches included a similar performance in Minneapolis.
"It reminded me of myself," Perry said. "I got smashed by another freshman, Kevin Steinhaus. I kind of saw it in Carter's match. He gave up that first takedown and the crowd roared. All of a sudden he's got to come back in a tough environment against a fifth-year senior. All you can do is get back on the horse, continue to get better, and work through some of those situations."
Noteworthy
— Hone did not make the trip to Minneapolis. Instead, he went to the Lindenwood Open in Missouri, where he outscored four opponents by a combined 54-1 count on his way to the title at 141.
— Second-year starter Trevor Mastrogiovanni took out Minnesota's Patrick McKee, 10-6, in Oklahoma State's 23-10 win over the Gophers. McKee finished third at the 2021 NCAAs. Said John Smith: "A lot of confidence in that performance. He finished his takedowns and wrestled a tough match."
— Mastrogiovanni's back-up, former 133-pound starter Reece Witcraft, won the Lindenwood title at 125 pounds.
— Oklahoma State has just one home dual prior to Jan. 23 — a meeting Sunday with Drexel. Among the road trips are a visit to Air Force (Dec. 17) for an afternoon dual, then a drive north to Laramie to face Wyoming that evening. The following Monday, the Cowboys dual Utah Valley in Orem. Oklahoma State travels to Norman Dec. 12 to face the Sooners. The Cowboys are 40-4-1 over the last 45 meetings against their Bedlam rivals.
— NCAA champion AJ Ferrari opened his 2021-22 campaign with a pair of major decisions and has won 118 of his last 120 folkstyle matches, including college and high school.