Emilio Ysaguirre Has Made His College Decision
Emilio Ysaguirre Has Made His College Decision
Emilio Ysaguirre, the top remaining recruit in the class of 2022, has decided where he'll take the next step in his wrestling career.
Nov 22, 2021
by David Bray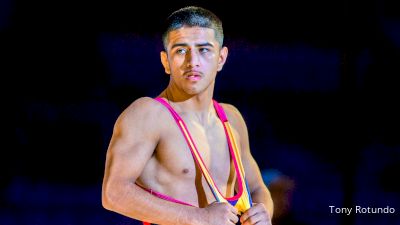 Uncommitted recruits from the class of 2022 have been hard to come by since signing day, but #28 Emilio Ysaguirre took his time. The Valiant Prep senior wanted to make sure he got this important decision right, and now he's ready to announce his move.
Ysaguirre, the Eloy, AZ product, will be staying close to home to attend Arizona State University. He joins a recruiting class that already includes Valiant Prep teammate #58 Kaleb Larkin and Georgia's Michael Kilic, both 149 or 157-pounders. Ysaguirre projects as a 133 or 141-pounder at the next level. The current starters at those weights are redshirt junior All-American Michael McGee at 133 lbs and freshman Jesse Vasquez at 141 lbs.
Emilio Ysaguirre jumped on many wrestling fans' radars at Super 32 in 2020 when he upset Jordan Titus just weeks after Titus' appearance at Who's Number One.
Ysaguirre's upset over Jordan Titus at Super 32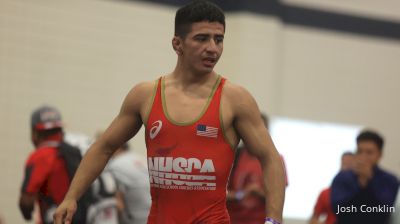 Unlock this video, live events, and more with a subscription!
Get Started
Already a subscriber? Log In
He topped that upset this summer in Fargo by beating Nic Bouzakis, one of the biggest favorites of the tournament, in the quarterfinals en route to a runner-up performance.
Fargo quarterfinal between Ysaguirre & Bouzakis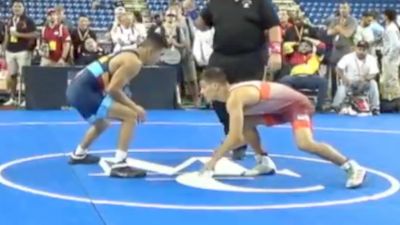 Unlock this video, live events, and more with a subscription!
Get Started
Already a subscriber? Log In
Ysaguirre's decision to commit to ASU means he'll compete and train just a little over an hour away from Eloy where he grew up, but staying close to home was not a foregone conclusion.
The other schools in his final five were Cornell, Iowa State, Lehigh, and Standford, and he considered each seriously, even visiting Stanford after he initially told Coach Koll he'd made his final decision over a week ago.
After telling Coach Koll that Stanford was out, Ysaguirre says Koll showed up at his house and asked him to take two or three extra days before making his final decision. Ysaguirre agreed, and in those few days, he found out that he'd been accepted to Stanford, a school with a 4% acceptance rate, and took a campus visit. Despite that whirlwind experience with Stanford and positive interactions with coaches from all five programs, ASU was the right fit for 6th ranked 132-pounder in the country.
While a lot of people from Ysaguirre's area choose to attend ASU, he knows he has a unique opportunity to use his athletic and academic scholarships to do something special with his life and for his community.