NCAA
Multi-Divisional Insider: There's A Buzz After Battle of the Bluffs
Multi-Divisional Insider: There's A Buzz After Battle of the Bluffs
The idea that UW-La Crosse coach Dave Malecek came up with several years ago came to fruition last Friday when his school hosted the Battle of the Bluffs.
Nov 18, 2021
by James Nelson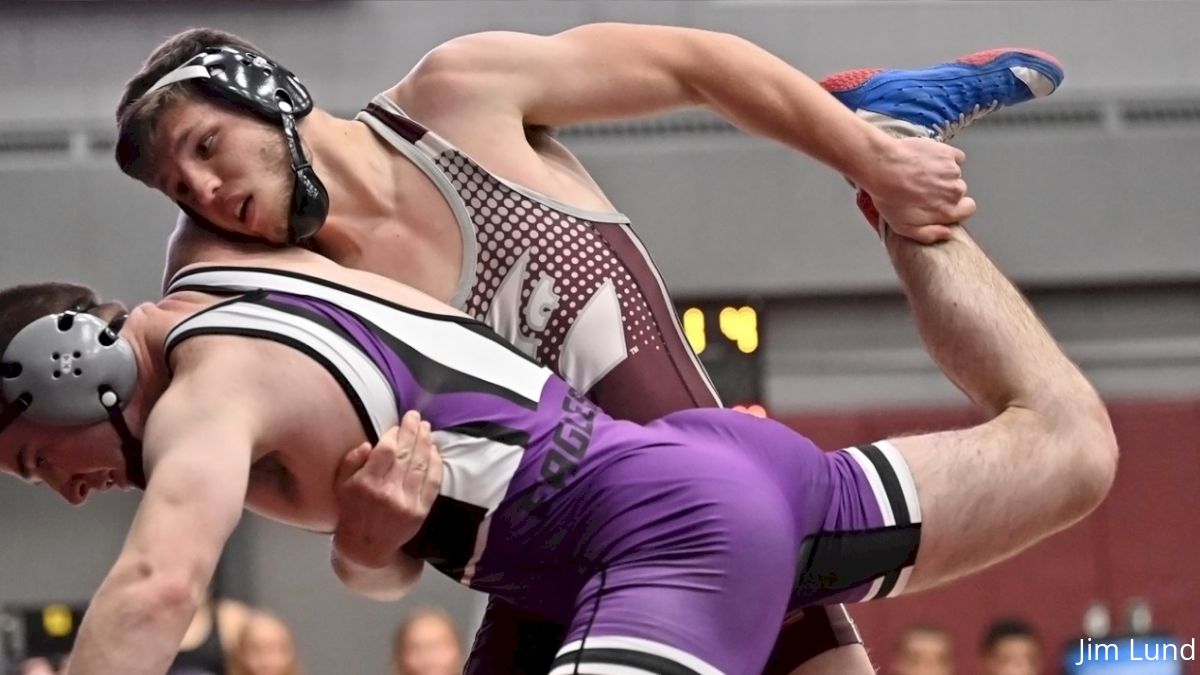 Unlock this article, live events, and more with a subscription!
Get Started
Already a subscriber? Log In
Wisconsin-La Crosse head wrestling coach Dave Malecek jokes he's had three good ideas in his lifetime.
In order, Malecek says the day he decided to ask his future wife to marry him, and then in later years the inception and development of Malecek Team Camps.
Malecek's final lightbulb moment came more recently and last Friday, he saw it deliver on its promise.
Inside La Crosse's Mitchell Hall, just under 1,000 fans witnessed a unique wrestling event — the Battle of the Bluffs, featuring three simultaneous duals between Division I (Wisconsin vs. Little Rock), Division II (Upper Iowa vs. Ouachita Baptist) and Division III (UW-La Crosse vs. University of Ozarks) opponents.
"I've got more ideas, but just three good ones so far," Malecek joked.
The event exceeded Malecek's expectations, and those may have been buoyed following his Eagles' 33-13 victory. Wisconsin topped Little Rock (32-13) and Upper Iowa downed Ouachita Baptist (23-15).
"It was a great experience, cool experience," Malecek said. "It reminded me a lot of the days when the National Duals were held at the (Northern Iowa's) UNI-Dome. It was great seeing my team rubbing elbows with Division I guys in our room.
"The fans I talked to loved it. Three duals going on at the same time with a lot of action, constant stimulation. It was fun."
The idea to host such an event came to Malecek six or seven years ago. He had initial conversations with former Wisconsin coach Barry Davis and Davis was on board. Then Davis announced he was retiring following the 2018 season.
New Badger head coach Chris Bono wasn't as quick to jump on board with the concept, but a couple of years ago Bono reached back out to Malecek and said he was more receptive to the idea.
That's when Malecek's little idea jumped into overdrive and then he had to find opponents.
Bono helped as he had a connection to the Little Rock program.
Moving on to the Division II dual, Malecek hoped to have Wisconsin-Parkside fill one spot, but a coaching change slowed that process and he turned to former high school teammate Heath Grimm, Upper Iowa's head coach, and Grimm helped land Ouachita Baptist.
As far as his team's opponent, Malecek needed to make just one phone call and that was to one of his former wrestlers at Wartburg College — University of Ozarks head coach Le Roy Gardner.
"He was actually the first one I called," Malecek said. "He's done a great job down there building that program, they are going to have some nationally-ranked kids this season. I get him on the phone, and he says let me think about it. Ten minutes later he calls and says, 'We're in.' That is typical Le Roy fashion.
"We would've loved to make it Wisconsin vs. Arkansas, but it was great as it was."
After securing the commitments of teams, the rest was logistics.
"It was kind of a circus," Malecek said. "Six schools, a facility and making travel plans. But it just all came together."
The hope now is to continue the event on a yearly basis.
"We will try to go every year. We'd like to bring here to the La Crosse Convention Center and try to get 5,000 to 6,000 fans to come," Malecek said. "That would take getting somebody from Iowa or Minnesota to come in and face Wisconsin. That might be a hard sale to lock down because of how Division I schedules work, and them having to give up a home date.
"Chris (Bono) would like to bring it to Madison. I'd love to keep it here. It is another one of those things we will get figured out, but we are going to keep it going."
Malecek said the Badgers visit to the Coulee Region of Wisconsin was valuable on multiple fronts.
"What a great way to promote wrestling than bring in Division I, Division II and Division III teams all into one arena at the same time. There were just a ton of benefit that came out of it," Malecek said. "There were a lot of younger kids from this side of the state that had never been to a Wisconsin match before. You've got to appreciate coach Bono and Wisconsin for coming."
Among the other highlights were Little Rock brothers Joseph Bianchi, Matty Bianchi and Paul Bianchi. The trio hails from Two Rivers, Wisconsin, a four-hour drive from La Crosse. Malecek says a large group from Two Rivers made the trek.
On Deck This Weekend
Augsburg Open – Perennial Division III powers Augsburg University and Wartburg College will highlight the entrants, while Wisconsin-La Crosse and Division II Upper Iowa will also send a contingent of wrestlers.
Lindenwood Open – More than 50 teams have registered wrestlers ranging from Division I opponents (Iowa, Iowa State, Michigan State, Purdue, Oklahoma and Oklahoma State) to several Division II, Division III and NAIA institutions.
Life University Open – The defending NAIA national champs Life University will be hosting more than 25 schools, including nine-time NAIA champion Grand View University.
Doug Parker Invitational – Springfield College will host several strong Division III programs including Coast Guard, Messiah, Southern Maine and Williams College.